Looking for the very best giant breed puppy food? There are a few things to consider that will help you make the right choice. Whether you're wondering how much protein is enough, or you want to know what glucosamine helps to prevent in growing large breed dogs, read on!
Quick Review: Top-3 Dog Foods For Giant Breed Dogs
Nutro Ultra Puppy Food

Meat ingredients make up the 26% protein
Flax and chia seeds in this product
A good 1.6% calcium for dog bones

Nutro Max Natural

Made from quality ingredients
26% protein to maintain muscle
Contains flaxseed and green tea extract

Wellness Core Natural Grain

He has no grains and gluten
Contains salmon oil for growing giants
Has 1.6% protein to keep bones strong
What's Special About Giant Breed Dog Food?
When you're buying dinner for a special friend, you want to make sure that he's getting everything he needs for his special needs. And giant breeds have quite a few of these!

A few things to consider when picking out a giant breed dog food include:
Long, strong doggy bones. Whether you've got a Great Dane, Mastiff or a St Bernard, your puppy needs sufficient calcium to build robust bones and strong teeth;
A tendency to develop joint conditions. Unfortunately, our beloved gentle giants can be more prone to complications such as osteoarthritis and hip dysplasia. This means they benefit greatly from puppy foods and dog foods that contain glucosamine and omega fatty acids;
Long puppy hoods! Our not-so-tiny puppies need a longer time than other breeds to reach adulthood. This means the best giant breed puppy food is tailored for extended feeding periods of up to 24 months.
It may seem like a lot to remember, but the good news is that a lot of great brands produce special formulas that cater especially to these requirements. In our reviews, we've covered some of the very best brands — Nutro, Wellness, Blue Buffalo, Orijen, and Fromm, that have ticked all these boxes on our behalf!
On the other hand, no two pups are alike. If you have got yourself a long-haired giant breed best friend, you'll be doing them a favor by keeping your eyes out for something with healthy Omega 3 acids inside. If you've got yourself an active little one who doesn't drink much water, he may thrive with a bit more wet food in his diet.
So your mileage may vary, but we do know one thing for sure…and that's how much we love the little guys!
What The Best Giant Breed Puppy Food Contains
Giant breeds puppies require enough protein to build and develop the lean muscle that typically makes them so beautifully in shape. As adults, they need only to maintain this muscle, so it's normal for grown-up giant breed dog food to have a lower protein percentage on average. Look for around 28% protein as a minimum when you're shopping for your puppy's dinner, while around 23-27% protein for an adult is generally sufficient.
Your giant breed puppy food is also a source of energy, which he will need to source from the fat in their food. Anywhere between 12-14% is a good figure, but you may want to increase this if you have a particularly active — or working — little puppy.
Switching To Giant Breed Dog Food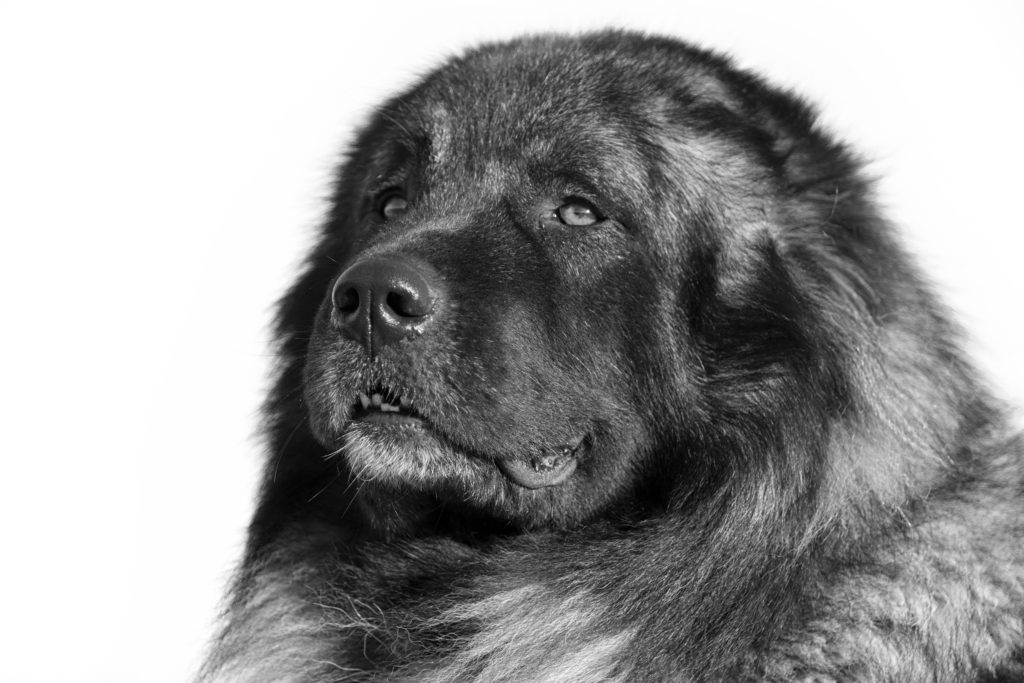 Your grown-up dog needs less energy once he's past the two-year mark. So while the best giant breed dog foods may often have around the same amount of fat, they'll typically provide fewer calories as a whole. It may be helpful to use a dog food calculator to work out how many daily calories he or she should be eating specifically.
The most important thing to be aware of is that your giant breed should always be eating quality ingredients. Try to steer clear of dog foods — wet or dry — that contain multiple ingredients that you don't understand. It shouldn't be overly complicated with dog food, and with something classic like 'chicken' or 'lamb' as the key ingredient, you know you're generally heading in the right direction.
The Best Giant Breed Puppy Food
Wellness Core Natural Grain Free
Pros
Zero grains or gluten to be found inside this Wellness Core dinner, so it's a great choice for intolerant puppies;
Contains salmon oil, which is rich in healthy DHA for growing giants;
Lovely green vegetables such as broccoli and kale will give your little puppy all the vitamins he needs to grow;
Lentils, chicken, turkey, and peas all go toward a healthy 35% protein—an excellent figure for giant breed pups; and
Has 1.6% protein to keep those bones strong.
Cons
We think Wellness is a super brand. This is one of the best giant breed puppy foods we've come across, so no complaints here!
Nutro Ultra Puppy Dry Dog Food
Pros
Not one, nor two, but three key meat ingredients make up the 26% protein in this blend—that is, salmon, lamb, and classic chicken;
Contains oatmeal and brown rice, which are soft on growing puppy tummies;
Flaxseed and chia seeds are two superfoods to be found in this recipe;
A nice selection of vegetables such as spinach and pumpkin to provide your little one with vitamins for functioning and growth; and
A good 1.6% calcium for developing those long, strong doggy bones.
Cons
Some owners may feel that 26% protein is a little on the low side.
Orijen Puppy Food Whole Prey Large Breed
No products found.
Pros
Free range turkey and also chicken are the headliners in this doggy dinner;
Protein in this recipe also comes from eggs, fish, and lentils for a nice mix;
This doggy dinner contains an impressive 38% protein for puppy growth over a longer period;
Two-thirds of the meats used in this blend are either flash frozen or totally fresh (at the time it was made, of course); and
According to fellow doggy owners with giant best friends, this is a massive hit, taste-wise.
Cons
Orijen is definitely a premium brand, so this may be a bit on the expensive side.
Royal Canin Giant Breed Puppy
Royal Canin Size Health Nutrition Giant Puppy Dry Dog Food, 30 lb bag
This Royal Canin diet is made specifically for the giant fluffy friends of the world. With catering to puppies that are expected to weigh up to 100 pounds, this kibble has everything your giant pup needs to achieve healthy growth! This kibble promotes healthy bone growth, meets the unique need of an extended growth period, and is filled with added nutrients to boost your pup's immune system. It's a package deal!
Buy on Amazon
Add to Cart
Pros
Promotes bone growth for an extended period of time
Added nutrients for immune support, bone health, skin health, and more
Probiotics to promote a healthy digestive system
Cons
We can't find any cons with this impressive diet!
Best Giant Breed Dog Food
Picking out a doggy dinner for your giant breed friend? Here are our top recommendations for a nutritious meal.
Nutro Max Natural
Pros
Farm-bred chicken (meal) takes the top spot in our ingredients list, but don't confuse this with by-product meal—you won't find any of those in this blend;
Made here in the States, with high-quality ingredients;
26% protein for lean doggy muscle maintenance;
Well-suited for giant breeds with a special formula that includes glucosamine and calcium for bones and joints; and
Contains anti-oxidants from flaxseed and even yummy green tea extract!
Cons
There are chickpeas and regular peas in here, but sadly there aren't many other vegetables.
Fromm Adult Gold Large Breed Formula
Pros
DHA from salmon oil is a readily absorbed source of Omega acids, keeping your dog's glossy coat in great shape;
Varied sources of protein include chicken, milled fish, lamb, duck, and egg;
Colorful veggies in here ensure your gentle giant's getting enough natural vitamins;
23% protein per cup, which is excellent and not too high or low; and
12% fat, from authentic tasty chicken sources.
Cons
It may be slightly more expensive than some other brands, but it's worth it to know that your special giant friend is getting all that he requires and then some.
Blue Buffalo Large Breed Freedom Grain Free
Pros
As is always the case with Blue Buffalo, real meat takes the spotlight as the #1 ingredient—tasty chicken in this blend;
Glucosamine's inside here for strong, robust doggy bones (for those long doggy walks!);
Totally free from all grains;
Contains sweet potatoes and all the vitamins that come along with it; and
Parsley, blueberry, and other veggie goodness.
Cons
Nope, this is definitely one of the best giant breed dog foods according to us. Five stars!
FAQ
My Great Dane has difficulties chewing kibble, what can I do?
This is a problem that can often plague older dogs who are missing some teeth. Or, they may simply lack the jaw strength to crunch kibble. If you've got a senior dog, you might want to gradually switch them over to special food for (what we like to call!) veterans.
Sometimes, perfectly healthy dogs can have a hard time chewing kibble, too, though. Don't worry, it's very easily fixed—simply moisten his or her food with a small amount of water to soften it. You may even choose to use wet dog food for this instead of water, which will add even more flavor to his dinner. In both cases, you can choose to microwave their food for a few seconds so that it smells more appealing, just don't make it overly hot!
My dog is a mix, so I don't know if he's giant or large. What do I feed him?
Don't despair, this is an easy one! If you've got a mixed breed, you can ask his vet to give you an estimate of how big he'll grow up to be. This will help you feed your dog accordingly, but don't worry too much about this if you can't get advice right away.
In the meantime, you can generally use your dog's weight as a guideline. You'll find that lots of the best giant breed puppy food offers suggestions for feeding amounts that are based on weight. If you've got a puppy who's 10kg, you can simply feed him or her according to the packet. No need to be a pure-breed! If you've got a smaller canine companion, check out our review on the best large breed dog food.
Last update on 2023-09-20 / Affiliate links / Images from Amazon Product Advertising API