Small in stature yet ever so full of love, Maltipoos are one of America's most beloved designer dogs. They make adorable house pets and are exceptionally loyal, so of course, they deserve the very best when it comes to their nutrition. Healthy dog food isn't too hard to find, but finding the perfect kibble also means considering its price, quality, and your dog's unique dietary requirements.In this article, we'll cover how you can pick the best dog food for Maltipoo puppies and adults – what to avoid, what's great for their health, and different potential options for their different life stages. Read on to find out more!
Quick Review: Top-3 Dog Foods For Maltipoo
Solid Gold – Wee Bit

Natural Salmon Flour and Oil Provide Wholesome DHA
A generous portion of superfoods in each cup
28% protein promotes muscle growth

Canine Caviar Dry All Holistic Grain-Free

It does not contain BHA-, BHT-, chicken, gluten, dairy products and eggs.
There are a lot of Omega-6 fats
It has the delicious aroma of the Wild Ocean

Earthborn Holistic Small Breed Dog Food

They are an excellent source of natural vitamins.
Spinach, apples, blueberries and peas provide fiber
31% protein for strong muscles!
A Look At The Best Food For Maltipoo Puppies
Maltipoos are a cross of a Toy or Mini Poodle and a Maltese, so they may be either small or toy breeds depending on their full adult size. They require small-sized kibble just like other little breeds, as this helps them crunch and swallow their dinner. This is particularly important for little Maltipoo puppies, who may be more prone than adults to choking or indigestion from larger kibbles.
Protein
All puppies rely on amino acids for their muscles to form and grow in a healthy manner, and they take these in by digesting proteins. Choosing a puppy food with plenty of high-caliber meat is the first step to picking out the best puppy food for Maltipoos, so you will need to keep your eyes open for kibble which cites animal products as the primary ingredient. Lamb, duck, chicken, venison, beef, and fish are all good-quality meats that your Maltipoo puppy's food should be based on, and 25% protein is recommended as the minimum for most puppies.
Fat
They require at least 13% fat or more, compared to the 10% or that grown Maltipoos need, and this may come from a variety of sources in the best quality kibble. Quality dog food will generally use fish oil as one key fat source, which is good since it gives your dog joint support due to its glucosamine content.
How To Spot The Best Food For Maltipoo Grown-Ups
Protein will always play an important role in your Maltipoo's diet as he grows. However, older Maltipoos will not need as much protein as Maltipoo puppies – 19% protein is a sufficient minimum for your little dog to maintain strong muscles and stay in shape. Protein may be found alongside healthy vegetables and fruits which provide vitamins and fiber to help your pet in numerous ways.
Vitamins and Minerals
There are too many essential vitamins and minerals for us to list the role of each right here, but just to illustrate:
Vitamin B helps your Maltipoo unlock natural energy, allowing him to exercise and play without highs and lows;
Vitamin D enables him to absorb optimal amounts of phosphorus and calcium for strong bones;
Zinc looks after the quality of your pet's skin; and
Iron assists in the movement of oxygen through your dog's body.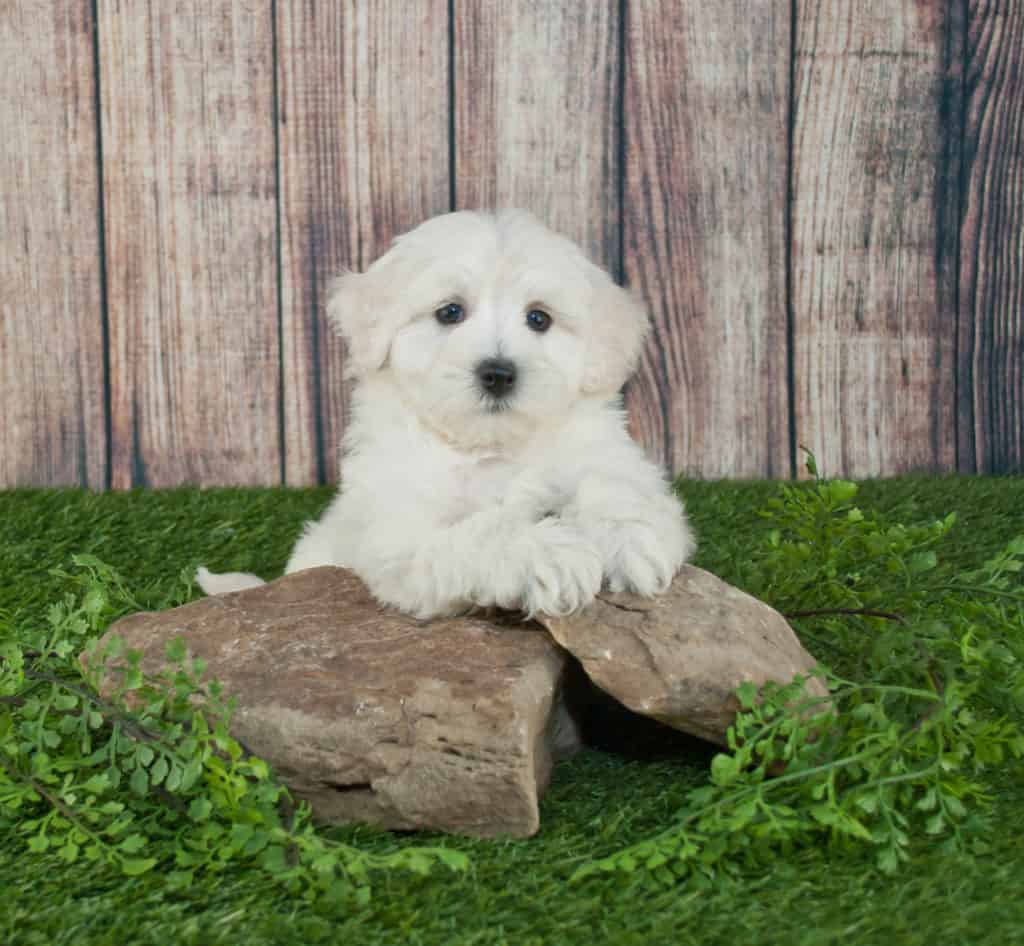 You may also find fortified Maltipoo foods, which contain supplements instead of (or in addition to) fruit and veggies. If you're aiming for the very best for your Maltipoo, try to select a dog food which uses mineral supplements in chelated form – these are more readily absorbed into your dog's body, and you will very easily be able to spot these in the ingredients list.
Recommended Calories
Because they are such small dogs, Maltipoos metabolize their food very quickly and have high-calorie requirements. The best way to know how many calories your Maltipoo needs each day is to use our dog food calorie calculator. Enter his age, weight, and activity level to get a guideline for how much energy he requires each day in total.
A Final Word
The dog food industry is full of good, bad, and (unfortunately) very poor quality products. As a rule of thumb, we highly recommend choosing a Multipoo food which:
Is naturally preserved, naturally colored, and naturally flavored;
Does not use animal by-product meal (e.g. poultry by-product meal or similar);
Is low in 'filler ingredients' of poor nutritional quality. These are generally added just to bulk up a product and can include items such as brewer's rice, wheat, and corn.
The Best Dog Food Brand for Maltipoo
The following brands have received good reviews from owners and produce their kibble in facilities that meet strict quality standards:
Read on for our reviews of the best food for Maltipoos!
The Best Puppy Food For Maltipoo
Solid Gold – Wee Bit
Pros
This kibble is supposedly some of the smallest available – perfect for Maltipoo pups!
Bison, the top ingredient, is rich in iron and essential amino acids for lean muscle growth;
Naturally-preserved salmon meal and oil provide useful DHA and hip-protective glucosamine;
A generous serve of superfoods in every cup offers antioxidants for immune system protection; and
28% protein encourages optimal muscle growth.
Cons
Not designed for gluten-intolerant Maltipoo puppies.
Our Verdict: 5/5
Solid Gold has been crafting delicious puppy kibbles for over four decades. Some of the beneficial fruit and veg in this recipe include apples, pumpkin, kelp, spinach, watercress, and broccoli. Super healthy!
WholeHearted Grain Free Dry Puppy Food
Pros
Packed with beneficial Omega-3 from flaxseed and egg, this will help your Maltipoo's coat shine and nourish his skin;
The top ingredient is chicken, followed by glucosamine-rich chicken meal;
With salmon oil for DHA, this protects your puppy's eyes and promote proper brain development;
Digestion-friendly doggy probiotics support his metabolism; and
It comes with petite kibble pieces that are simple to pick up and crunch.
Cons
Doesn't include too many natural, whole vegetables besides legumes.
Our Verdict: 5/5
The key advantage of this Maltipoo puppy food has got to be the cute little biscuits. Your small-breed puppy won't struggle or have any difficulty grasping this nutritious kibble, which is also a complete and thoughtful blend of high-quality meat and vegetables.
Instinct Raw Boost Small Breed Grain Free Natural Dry Dog Food
Pros
Offers an ideal balance of 33% protein and 15.5% fat – great for small Maltipoos;
Includes natural minerals, fiber, and vitamins from vegetables and fruit, including cranberries, carrots, and butternut;
Chicken meal – a great glucosamine source – is the first key ingredient;
Rich in Omega-6, this Instinct Raw Boost recipe contributes to a glossy, healthy coat; and
It's all-naturally colored and preserved.
Cons
According to some owners, there are fewer freeze-dried 'bits' than expected.
Our Verdict: 5/5
Nutritionally, this is a very solid option for Maltipoos of all ages – lots of owners have reported that this Instinct recipe is the only one their picky small-breed puppies will eat. If you're looking for the best food for Maltipoo puppy, it's perfect for fussy eaters!
Best Dog Food For Maltipoo Adults
Now Fresh Grain Free For Small Breed Adult Dog Food
Pros
Grain- and gluten-free, this Now! recipe is ideal for adult pooches who react negatively to corn, soy, and wheat;
Contains DHA that will encourage better eyesight;
Supports healthy, resilient skin with natural Omega-6 from salmon and egg;
Provides your Maltipoo adult with 27% protein to support his lean muscles; and
It's simply packed with natural fiber and juicy vitamins – from bananas, squash, blackberries, papayas, lentils, and more!
Cons
Not according to our GPF team – this uses good-quality ingredients and little Maltipoos will adore the lovely taste.
Our Verdict: 5/5
Boneless whole turkey is the #1 ingredient, followed closely by egg – a great source of Omega oils. We're very taken with the healthy nutritional profile of this high-quality food and it comes in manageable little pieces for small Maltipoos. Five stars!
Earthborn Holistic Small Breed Natural Dog Food
Pros
Free from potato, and wheat, this zero-gluten, zero-grain formula is made to accommodate most intolerant dogs' dietary requirements;
Spinach, apples, blueberries, and peas provide fiber to assist your little Maltipoo's digestion;
They are also a brilliant supply of natural vitamins;
Relatively high-fat levels encourage sustained, slower energy release; and
31% protein will encourage happy, active Maltipoos through strong muscles!
Cons
Not a single one, we feel!
Our Verdict: 5/5
This Earthborn Holistic small-breed formula continues to be a hit with
Corgi
,
Cocker Spaniel
, and other small-breed dogs. Stellar nutrition, professionally-designed kibble, responsible packaging – and all from a brand which has never been recalled. Excellent!
Canine Caviar Dry All Holistic Grain-Free
Pros
It's a limited ingredient recipe that uses a sole animal protein source – herring – as its first ingredient;
Free from all yucky animal by-products, this is a natural recipe that also skips any potato ingredients for intolerant Maltipoos;
It's also BHA-, BHT-, chicken-, gluten-, dairy-, egg-, and filler-free, which is awesome;
There is an abundance of Omega-6 fats in here – great for Maltipoo coats; and
It has a delicious Wild Ocean flavor which, reportedly, even fussy dogs can't resist!
Cons
This specially developed formula comes with a high price tag, but it's well worth it.
Our Verdict: 5/5
Here is another recipe from a brand with no prior recalls. Nutrition-focused and designed for smooth digestion, this alkaline, allergy-friendly kibble is some of the best dog food for Maltipoos with intolerances.
Purina Pro Plan Small & Toy Breed
Pros
Chicken and rice formula that is great for sensitive stomachs;
Probiotics to support digestive health;
Supports a fast metabolism;
Omega fatty acids for skin and joint health.
Cons
Does include poultry and grains, so dogs with sensitivities may not be able to enjoy this diet.
Our Verdict: 3.5/5
This a wonderful diet that meets your small dog's needs, all while catering to the tiny pups that need a sensitive stomach diet!
FAQ
I'm considering getting a Maltipoo, but my 1-bedroom apartment is quite small. Will he be okay?
We love hearing responsible questions like this – all dogs are family members and they deserve thoughtful owners like you! Fortunately, Maltipoos are very small, light, and well-suited to apartment living. If you live by yourself, you will also likely find your new Maltipoo an affectionate, friendly, easily trained companion. In other words, a perfect companion. If your apartment is small, you may want to consider researching the best mini fridge UK stocks to see what would work best for your dog and apartment.
They tend to love cuddles and make excellent lapdogs, so perhaps one of the only things we'd emphasize is that they don't enjoy being alone very much. A small apartment and a small dog go well together, but your Maltipoo will not be happy if you are away for very long periods each day. Will you be able to walk and exercise him regularly? Can you ensure that you'll be around for some regular, quality one-on-one time with your Maltipoo? Answer yes to both of these questions, and you'll probably be an awesome Maltipoo owner!
I suspect my Maltipoo puppy has fleas, but I am not 100% sure. Can you help?
The most obvious sign that your Maltipoo puppy has fleas is that he's scratching. But because scratching is also common dog behavior, here are some other warning signs that your pooch might be in need of special flea treatment:
His fur may be missing or falling out in spots – this might be due to excess scratching, fussing, or even just a physical reaction to flea bites.
Presence of flea dirt in his coat – these rusty-colored small specks are one sign that fleas are active in your puppy's fur, and you may also find them on the furniture where he sits.
Red rashes or spots on your Maltipoo's skin can also indicate he is reacting to flea saliva.
If you notice any of these symptoms, it's a good idea to take your puppy to the vet.
Helpful Links
Last update on 2023-01-27 / Affiliate links / Images from Amazon Product Advertising API