Good Puppy Food is run by a team of dog lovers. We aim to provide quality facts and information on dogs and puppies, expert product reviews and timely advice, all in one place. Our online resources are designed to help you find exactly what you need, exactly when you need it.
Our Authors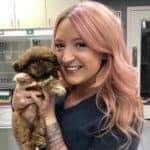 Amber is a licensed vet tech with a degree in veterinary technology. She has 10 years of experience in this field, and she does part time work at airport freeway animal emergency hospital in eyeless, Texas. She is from the Cedar Valley Veterinary Technology program – Class of 2015. Licensed Vet Tech in the state of Texas. Now she also works online in an effort to spread accurate information on animal care and welfare. She has a passion for helping animals, and will continue to do so in every way she can! Follow Amber on LinkedIn or Facebook.
What we do
We bring you only first class, reliable information on dog and puppy food that's science-based and approved by vets. Our reviews bring together all the top brands and foods for different specific breeds, making it much easier for you to choose the best food for your dog or puppy. At GoodPuppyFood.com, we list the pros and cons for you only after hours of careful research. We specialize in bringing you in-depth, reliable information on the different needs of specific needs, from the largest Rottweilers to the tiniest Chihuahuas. 
All the products we feature are carefully selected for premium quality ingredients, solid nutrient profiles and outstanding reputation. We give you quick links to Amazon so you can shop easily, wasting less time and making it stress-free to find the best dog or puppy food.
Why we do it
Dogs are very much loved as part of our families, and it's our responsibility to make sure they're getting all the nutrients and love they need. Whether your dog is a brand new puppy or has been by your side loyally for many years, caring for their health is the ultimate way to show them you'll always be there.
With an understanding of what dogs and puppies need to grow up healthy, strong and happy, you'll be better informed to pick only the best food for your cherished pet. GoodPuppyFood is here to save you time, because as dog owners, we know it's better spent with your best friend!