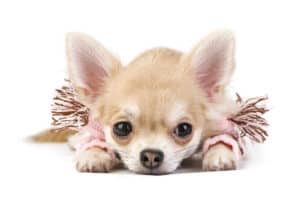 Chihuahuas! Why do we love them so much? Besides the fact that it's
impossible not to
, they are devoted companions for life. Sure, some are more…restrained…than others when it comes to dealing with strangers, but when you become a Chihuahua owner, you've got a best friend till the end.So how do we make the most informed, healthiest, and yummiest choice when it comes to food? Read on!
Quick Review: Top-3 Dog Foods For Chihuahuas
Blue Buffalo LPFN Puppy SB

Genuine, deboned chicken meat
ARA and fish oil-derived DHA
Vitamin-packed veggies and delicious fruits

Royal Canin HN Chihuahua Adult

All-natural fish oil, which has DHA inside
323 k/Cal in each cup means easy feeding
26% protein

Nature's Recipe GFree Small Breed

100% free of all those grains
Calcium, phosphorous, keeps bones fit and strong
Zero milled by-products
Brands That Make The Best Dog Food For Chihuahuas
After reviewing a few top brands, here are our picks. We know the best Chihuahua dog food is ultimately going to be decided by your loyal friend's taste buds, but these are healthy, high-quality brands we can recommend without hesitation:
We review the best specific Chihuahua foods a little further on, but feel free to head on over now if you can't wait to see what's for dinner!
What's In The Best Chihuahua Puppy Food?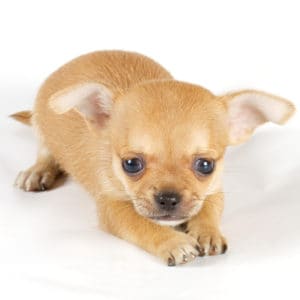 Our very tiny Chihuahua pups are going to be growing very fast—with only around 6 months between weaning and the switch to adult food! To make sure your Chihuahua puppy food is giving him enough energy, look for something with about 50 calories for every pound of body mass. Because they'll need to build strong bones, muscle, and quickly grow to their adult size, try to feed them about 28 to 30% protein, and 17-20% fat. You'll be doing your best friend a big favor if you choose a food that also features veggies, as these are a nice source of the minerals and vitamins that keep them healthy. Don't forget to give your little one lots of water, too!
Now how about we take a look at what's inside the best dog food for Chihuahua grown-ups?
Chihuahua Food For Grown Dogs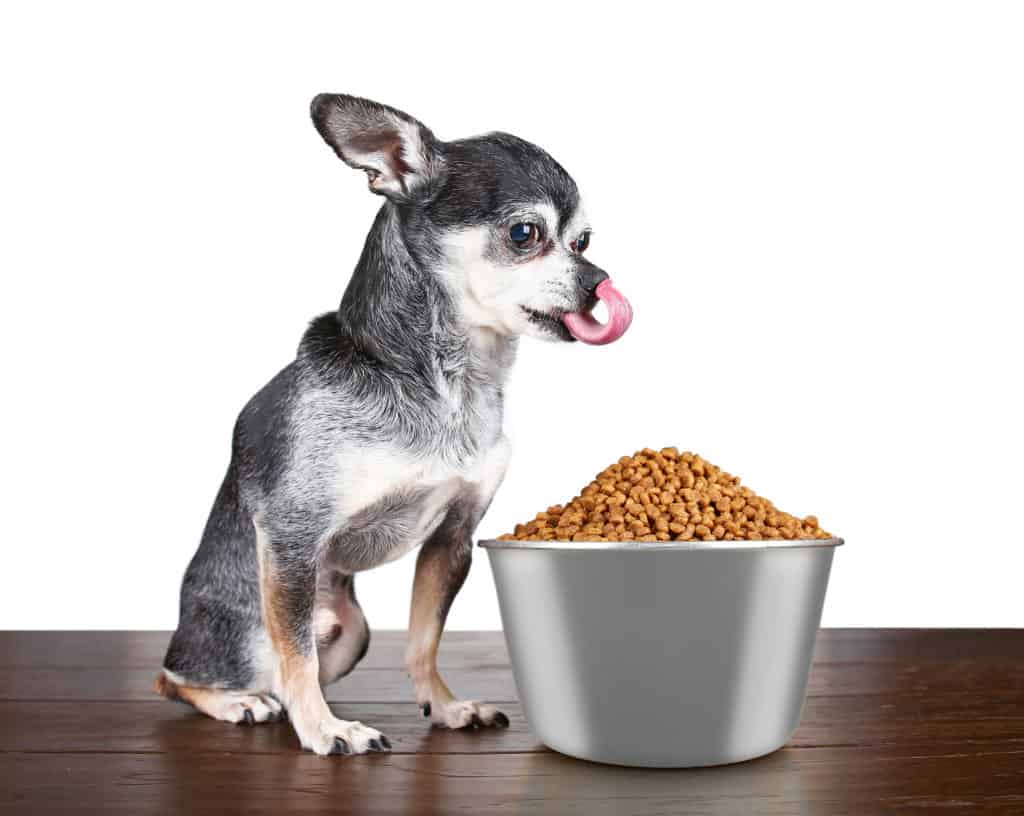 Once your Chihuahua reaches around eight months young, he'll usually start to require less in the way of growth-related ingredients. Your focus will then be providing a balanced mix of nutrients for maintaining a healthy weight. Starting with protein, something around the 25 to 30% range is usually spot on, and adults will require around 35 to 40 calories daily for each pound that they weigh. As is the case with all puppy and dog foods, the best Chihuahua food will have genuine, boneless meat heading the ingredients list. Try to scout out brands that also have authentic and natural sources of lipids/fats, such as chicken fat. Percentage-wise, aim for a figure around 13-15% fat— more for super active Chihuahuas, but probably not much less even if your dog is quite sedentary.
If you can't remember these figures all at once, that's fine, too. We have a Dog Food Calorie calculator that you can check out. Use it along with the serving recommendations on your Chihuahua food bag to figure out how many calories to give him or her a day. Remember, active dogs will always need more calories than those who don't tend to be active, so you may need to tweak these figures a little.
Nutrients In Chihuahua Food
While we stick to human food ourselves, we pride ourselves on being pretty clued-up when it comes to doggy nutrients! If you want to ensure that your Chihuahua's getting all the goodness he really needs, there are a few extra things to keep in mind when you're picking out his dinner.
Joint care – extra small dogs (Chihuahuas included) require glucosamine as puppies; as a smaller breed, they can be more vulnerable to developing hip dysplasia. This often extends to a need for the same when they reach adulthood, so the best dog food for Chihuahuas will add this in. Look for either fish oil, or head to the guaranteed nutrient section to find out whether your Chihuahua food includes glucosamine.
Bone health – Chihuahuas require an optimal balance of the well-known calcium and its partner phosphorus. Aim for about 50mg calcium per kilogram of your pup's weight to prevent brittleness, osteoporosis, and keep your best friend's bones as strong as can be.
Hypoglycemia – Your dog needs to be fed several times daily. As a puppy, your Chihuahua will require even more frequent feedings, sometimes even around 5 to 6 meals each day. This is particularly critical for Chihuahuas, who have incredibly speedy digestive processes. If they go too long without food, they can suffer from sugar shock (hypoglycemia). With his recommended daily calorie intake in mind, pick a food that is suitable for several daily meal times in terms of k/cal per cup.
Dental health – Be sure that your kibble of choice has a small kibble that is designed for small breed dogs. Kibble that is too large can be challenging for your chihuahua to consume, as well as be a choking hazard if they eat too quickly.
Last, but definitely not least, your special fluffy friend always needs vitamins and minerals. When you pick out a food that includes vegetables or supplements in the ingredients section, browse through and see that they're getting their recommended daily amount of A, K, E, C, D, and B vitamins.
Chihuahua Dog Food: Should I Pick Wet Or Dry?
We like to recommend that owners choose the food that suits both them and their fluffy friend. If you find that wet food is a little costly to keep feeding your pup over long periods of time or goes off in the fridge too quickly, you may want to mix it up with dry food. The good thing is, you can do this either by switching between wet and dry each mealtime or even mix the two together in one bowl!
If you're unsure about whether to give your pooch a dry or wet Chihuahua food, you can try out both and see which he takes to more. We know that Chihuahuas, in particular, can be a pretty picky breed. If he doesn't seem to be eating his kibble, but he guzzles down wet food like there's no tomorrow, check that you aren't feeding him food with too-large kibble sizes. Chihuahuas have small teeth and tiny jaws, which is why the best dog food for Chihuahua puppies is gonna have carefully designed kibble to match
Choosing The Best Chihuahua Puppy Food
Your tiny little ball of love depends on you to give him the best possible diet. We've looked at the basics of choosing the best food for Chihuahua puppies, as well as the best brands. So let's review our team's top picks and find out which recipes offer the yummiest, healthiest possible dinner for your tiny friend.
Nutro Wholesome Essentials Small Breed Puppy
Pros
We love that Nutro always places real and natural meats at the top of every single ingredient list. This ain't an exception— you'll find boneless, tender chicken as the starring protein here!
With brown rice, you know your Chihuahua is getting something that is simple to digest and easy on his tummy;
All the natural vitamin awesomeness of sweet potato for bounce and happy Chihuahua health;
There's also DHA within Nutro Wholesome's small dog blend, for great vision and cerebral health; and
With 25% protein, your tiny little one is off to a brilliant start.
Cons
It's priced somewhat higher than some other Chihuahua puppy foods out there, but we think it's well worth it.
Our Verdict: 5/5
Nutro Wholesome is exactly that—wholesome! If you want to give your puppy some natural vitamin-containing food sources, look no further. Zero chicken-based by-products and contains no soy proteins, maize, or even wheat. We adore it.
Blue Buffalo LPF Natural Puppy Small Breed
Pros
Genuine, deboned chicken meat as the headlining ingredient;
ARA and fish oil-derived DHA fatty acids to encourage healthy growth;
None of the common wheat ingredients to be found in here, nor any chicken-based by-products;
There's practically a rainbow of vitamin-packed veggies and delicious fruits in this blend, for natural goodness; and
We like that it features antioxidants for immune health and that these come naturally from flaxseed.
Cons
If you choose a smaller bag, you may find that you're buying it fairly frequently. But is that really a downside?
Our Verdict: 5/5
Everything from pomegranate and kelp to spinach and carrots is included in this lovely well-rounded dinner. And yes, of course, there's a great amount of protein thanks to the egg as well as chicken. We're giving it 5 out of 5 stars as some of the best Chihuahua puppy food we've come across
Royal Canin Breed Health Nutrition Chihuahua
Pros
This formula's developed exclusively with our tiny little Chihuahua friends in mind, meaning extra thought has gone into its mini kibble structure—every last bite!
E Vitamins are a good way to help prevent your little pup from getting scratchy, itchy skin, as well as maintain a strong immune system.
Calibrated fiber content within this recipe means that when they go to the bathroom, you probably won't need to hold your nose so tightly!
28% protein helps our little ones gain muscle mass; and
Tasty chicken is always a big hit with most pups, small and large!
Cons
This does contain some assorted by-products. On the plus side, they're rich in protein.
Our Verdict: 4/5
We think that chicken's a winner every time, so that's one big pro. As well as this, if you've got a picky little pup or one who has a hard time with regular
small-breed puppy food
, the cute little kibble pieces are perfectly crafted for tiny mouths. Meaning little Chihuahua pups can pick them no problem, making less mess around their bowls.
Help Me Find The Best Dog Food For Chihuahuas!
They're so loyal and loving, and no less cute when they reach adulthood. They will, however, require less protein, as discussed. Here are the recipes to look out for when you're after something balanced and complete for your Chihuahua friend.
Royal Canin Breed HN Chihuahua Adult
Pros
Biotin, as well as Omega acids 6 and 3, are to be found in each bite, helping keep your little Chihuahua's coat as sleek as can be;
Glucosamine is included, for protecting your little one's joints each day;
All-natural fish oil, which has DHA inside;
323 k/Cal in each cup means easy feeding; and
26% protein.
Cons
Like the puppy version, it does include various by-products.
Our Verdict: 4.5/5
This makes a nice dinner for Chihuahuas, and it's reasonably priced. Another good thing, we've found, is that other toy breeds seem to love it, too. So while you may have already bought your Pom his own special dinner, at least we know it's yummy!
Merrick Classic Small Breed
Pros
There are healthy grains to give your best friend energy, including barley, quinoa, and brown rice;
You'll also find B12 and A vitamins added in for optimal health;
All kinds of lovely vegetables abound—blueberries, apples, and more;
Glucosamine will assist in combatting hip dysplasia and general joint complications; and
All the multi-coloured goodness—Vitamin B2, B1, C, fiber, potassium, and more—of sweet potatoes.
Cons
Nope, this is one of the best dog food for Chihuahuas!
Our Verdict: 4.5/5
Merrick is frequently recommended by doggy vets because it offers balanced, well-rounded nutrition. Even the pickiest little Chihuahuas will fall head over heels for this chicken feast. And, it's got an awesome 30% protein!
Nature's Recipe Grain-Free Small Breed
Pros
100% free of all those grains that set off sensitivities;
Healthy carbs keep your Chihuahua full of balanced energy between feeds;
Calcium, carefully balanced alongside phosphorous, keeps your dog's bones fit and strong;
Zero milled by-products; and
Specially designed with little kibble bits for our small-breed friends.
Cons
Sorry, nothing to see here!
Our Verdict: 5/5
We are so happy to have found Nature's Recipe, as it's completely safe to feed to pets on a grain-free menu plan. They love the carefully developed kibble size, and it's got a stellar selection of different protein-based ingredients for diversity.
FAQ
What are the Chihuahua puppy food facts about hypoglycemia?
As small little dogs, and as even smaller little puppies, Chihuahuas have a super-fast metabolism along with a small stomach.
This means that they can sometimes tend to burn off the calories from their food before their next mealtime. When this occurs, it's known as hypoglycemia, and can lead to weakness,seizures, or even fainting. The best way to help your pup is to feed him frequently with special Chihuahua puppy food or a small-breed recipe. Aim for at least five feeds a day with puppies. The best dog food for Chihuahua puppies and adults alike will also be higher in energy per unit than regular dog food, which helps to keep them going between each serving.
If you think your Chihuahua is experiencing a hypoglycemic episode, be sure to have them seen by your vet immediately.
What are some games I can play with my Chihuahua puppy?
Your cute little toy breed has short legs to match, so probably won't love chasing a ball that's been thrown for several miles! However, there are so many nice games that you can play to bond with and exercise Mr Fluffy, including:
Tug of war– this game works so brilliantly with a small rope toy, but you can use your pup's favorite sock, glove…or whatever it is! Just wave the toy before your little puppy and he's sure to grab it eventually. Then, gently pull it back and forth. The fun part is letting it go once in a while, which will make your puppy feel like a champion.
'Rolling' fetch – designed for our mini, tiny bundles of love, rolling fetch is simply a toned down version of the game for bigger dogs. Choose a ball or toy that will fit in his mouth. Roll it gently across the floor or toss it a small distance across the room. Don't expect him to understand what's happening right away, but praise your little puppy for bringing the toy back to you when he finally does. He'll love it!
If you'd like to find more games and activities for your Chihuahua, head over to our special Tips page!
Helpful links
Last update on 2022-09-25 / Affiliate links / Images from Amazon Product Advertising API