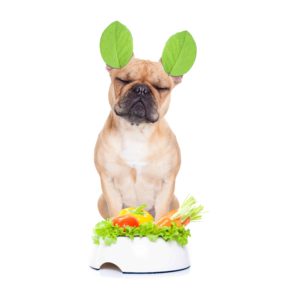 Looking for a vegan dog food recipe that your pooch will love? Humans switch to plant-based diets for many reasons, and fortunately for us, we're living in an age where our pets can join us too – safely! Your reasons for switching to a vegan dog food may be environmental, social, or even religious, but that doesn't mean you need to compromise with a huge selection of awesome kibbles out there for you to choose from. Keep reading to find out what we consider some of the best vegan dog food brands, and discover what you need to keep your eyes peeled for when shopping for vegetarian dog food.
And good news for you plant-based owners out there – every one of the vegetarian dog food recipes we've reviewed here is completely vegan. Read on!
Quick Review: Top-3 Vegan Dog Food
Halo Vegan Dry Dog Food, Garden of Vegan Recipe

Made with zero fake dyes
It does not contain meat, dairy products or potential allergens
This is the award-winning brand that received the 2018 Veggie Awards

Nature's Recipe Healthy Skin Dry Dog Food

Contains zinc and fatty acids for your dog's skin and coat
The protein here is derived from soybean meal
Does not contain synthetic additives

Natural Balance Vegetarian Dry Dog Food

Supplemented with Vegetarian Friendly Vitamins
Ideal for small dogs
It contains sources of important fatty acids
What's in a Vegan Dog Food Recipe ?
Unlike cats, dogs aren't total carnivores. Because they're omnivorous, they get their nutrients from a healthy mix of vegetables, fruits, and – in the wild – meat. But due to health reasons, allergies, intolerances, and more, owners are increasingly on the hunt for meatless recipes that will give their pets all the nutrition they need.
Vegan and vegetarian dog food recipes use only plant-based ingredients to provide your canine best friend with protein, fat, vitamins, minerals, and antioxidants. Most commonly, you'll find featured ingredients such as legumes taking the place of fish, poultry, red meat, and dairy in any vegan recipe worth its salt. In the very best vegetarian dog food brands, you'll also find an impressive selection of superfoods to supplement your pet's diet with 'non-meaty goodness' such as Omega-6, -3, and linolenic acid.
Let's start at the top!
What Plant-Based Ingredients Provide Protein?
Vegan and vegetarian dog food brands typically use any of the following ingredients to give your adult dog a healthy dose of muscle-maintaining, energy-rich protein:
Lentils;
Chickpeas (also known as garbanzo beans);
Maize or corn;
Quinoa or quinoa seeds;
Green peas; and
Processed proteins, such as pea or potato protein.
Happily, these are also a source of valuable dietary fiber, which helps your companion feel satisfied between meals. The digestive fiber found in plant-based ingredients also assists your best friend as he moves food along his gut, making for faster metabolism and firmer stools.
What About The Rest?
In meat-based kibbles, we're used to seeing lipids like chicken fat, salmon oil, and whitefish oil as a source of energy. But you'll also find non-animal-based fats such as canola oil and flaxseed, which manufacturers like to include for their rich Omega-3 content and dietary benefits.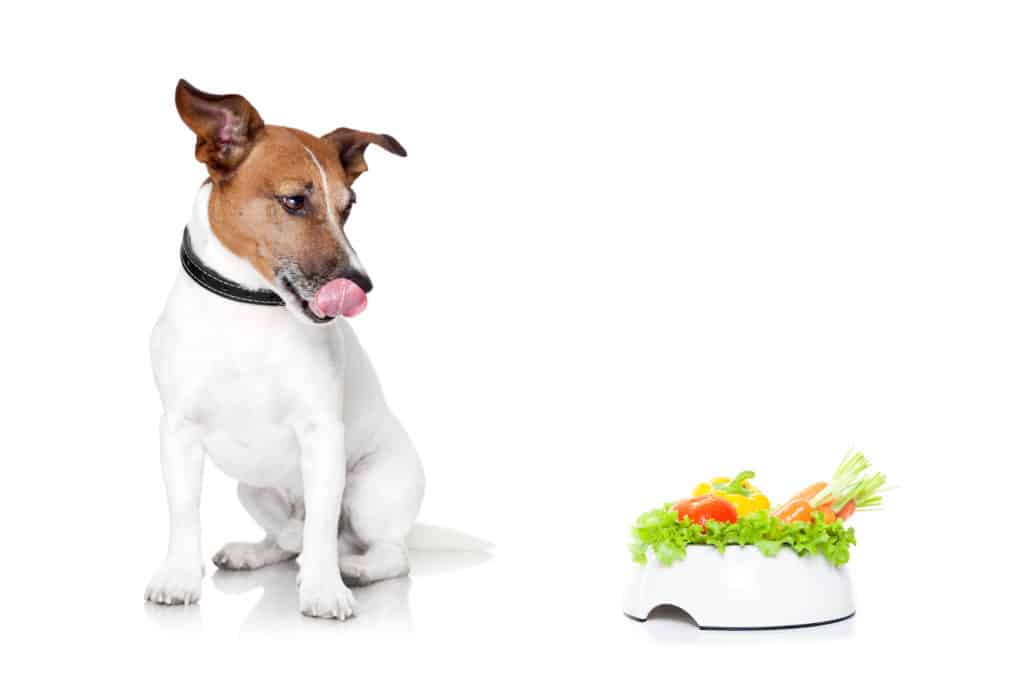 Vegetarian dog food brands use these same meat-free fats to provide your canine friend with fuel for running, exercising, playing, and cellular maintenance. You will likely also find alternative plant oils such as soybean oil in vegan kibbles, which can be a lovely complement to an already well-rounded plant-based diet. Vegan and vegetarian diets have all the same health benefits, if not more when it comes to healthy fatty acids and dietary fibers that other kibbles usually get from animal products.
For obvious reasons, vegan dog food recipes also tend to contain a healthy mix of different vegetables which are a superb source of the essential vitamins and minerals in a dog's diet. In most of the brands we've featured below, for instance, you'll find fiber-rich, vitamin-packed additions such as carrot, spinach, apple, cranberries, and blueberries. All full of color, phytonutrients, and mouthwatering flavor!
How Can I Find the Best Vegetarian Dog Food Recipes?
If this is your first time shopping for vegetarian dog food, you're in for a nice surprise. These days, many top-name brands now produce plant-only kibbles and wet foods so that your pooch can share the health benefits of a meatless diet along with you. There's no need to rely on messy, tiring homemade vegan dog food any longer!
Most of these recipes are much easier to find online than in retail stores, as veterinarians and supermarket chains usually carry a limited supply of traditional kibbles. Below, we've given handy links for where you can order respected vegan dog foods such as Halo Vegan Dog Food, Natural Balance Vegan Dog Food, Nature's Recipe Vegetarian Dog Food, and more.
The Best Vegan Dog Food Brands
We wouldn't blame you for thinking that canines on a vegan diet need to eat home-cooked meals. But as more and more dog lovers make the flip to a more eco-friendly, meatless diet, their pets are facing lots more choices than ever before.
Here are some of the best vegan dog food brands we've come across as we've scoured the net to make your life easier:
Halo Vegan Dog Food;
V-dog Kind Kibble;
Nature's Recipe; and
KetunPet Vegan Dog Food
Royal Canin Vegetarian.
The Best Vegan Dog Food For Your Pooch: Reviews
Halo Vegan Dry Dog Food, Garden of Vegan Recipe
Pros
With chickpeas as the main protein ingredient, Halo Garden of Vegan incorporates good amounts of carbohydrates, fiber, and amino acids to keep those canine muscles strong;
Includes superfoods that are ripe with antioxidants – you'll find flaxseed, sunflower fats, and more that help your pooch maintain a lustrous coat;
Made with zero fake dyes, colors, or flavoring agents;
It's meat-free, dairy-free, and leaves out potential allergens such as wheat, rice, and corn; and
It's an award-winning brand that has won the 2018 Veggie Awards for being an awesome kibble!
Cons
Some have complained that the kibble is a little hard or crunchy – why not soften it a little with water or veggie broth?
Our Verdict: 5/5
Not only is this a great kibble for dogs on a vegan diet, but it's also superb if your best friend has allergies to some of the most common ingredients – eggs, milk, and the usual grain suspects. It's totally vegan, and we give it five out of five stars!
V-dog Kind Kibble Vegan Dry Dog Food
Pros
V-dog Kind Kibble meets all the AAFCO standards for canine maintenance – it's great for adult dogs;
Can be fed to very small pooches (as small as 5 pounds) and it's suitable for dogs of 60 pounds and above;
Dairy-free, egg-free, and 100% vegan, it's free from suspicious fillers and full of nutrition;
Contains healthy traditional grains such as oatmeal, wholesome brown rice, and millet;
With Omega-3 rich flaxseeds and rapeseed oil, it's good for your dog's heart and fur, too!
Cons
Includes some peanuts, which select dogs may not be able to tolerate.
Our Verdict: 5/5
Another five gold stars for this ethical, plant-based dog food that's made in California. V-dog Vegan is designed with the planet and your pet's health in mind and includes deliciously nutritious veggies such as lentils, carrots, and peas. Tasty!
Natural Balance Vegetarian Dry Dog Food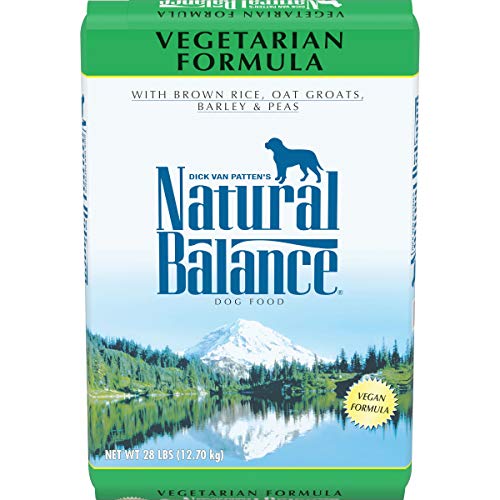 Pros
It offers a healthy 18% plant-based protein from ingredients that include peas, potato, and oat groats. No meat anywhere in sight!
Supplemented with veggie-friendly vitamins, including Vitamin A, B12, E, and D2 so that your beloved pal always has plenty of natural energy;
Featuring superfoods that are replete with antioxidants, such as flaxseed, spinach, parsley, and cranberries;
Perfect for smaller dogs as little as 10 pounds, up to giant dogs weighing over 100 pounds; and
It includes sources of those important 6 and 3 fatty acids which take care of your dog's coat, skin, and well-being.
Cons
Includes some grains, albeit of the healthy variety
Our Verdict: 5/5
Full of delicious bulky fiber to help your grown dog feel full in between meals, this Natural Balance Vegan Dog Food is balanced, holistic, and 100% dairy-free. It's one of the most popular and most highly-recommended vegetarian dog food brands by doggy owners everywhere!
Best Vegetarian Dog Food Recipes
Nature's Recipe Healthy Skin Dry Dog Food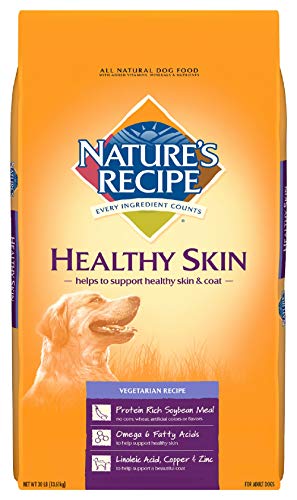 Pros
We consider this an amazing price point for a high-quality, respected brand of dog food – and it's completely free from animal ingredients;
Includes zinc plus fatty acids to keep your pooch's skin and his coat in tip-top shape;
The protein here is derived from soybean meal, a meat alternative that's been used for centuries;
Contains no synthetic additions to flavor or dye this food; and
Provides that grown-up pooch with a lovely 21% of protein – an ideal figure for adult dogs, according to the AAFCO!
Cons
It contains at least one ingredient that's usually considered a filler. We'd like to see brown grain rice instead of brewer's rice, but otherwise, we reckon this recipe's pretty awesome!
Our Verdict: 5/5
Have you got a pooch who suffers from sensitive skin? It can be tough to find a specialized diet for dogs that are vegan and who tend to get itchy, flaky coats. Luckily, this contains all the protein your sweet pet needs to make sure he's fit and healthy while nourishing and soothing his body's first line of defense.
KetunPet Vegan Dog Food – Adult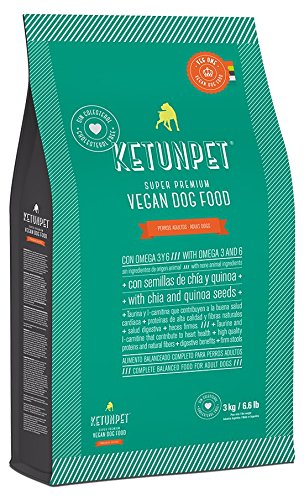 Pros
This provides a generous 22% of veggie-based protein for your best pal, from maize and other delicious plants;
It uses natural flavors to keep your dog's mouth watering for every mealtime, vegetable fats for cellular protection;
Contains antioxidants and fiber from natural chia seeds and quinoa seeds (also protein-rich!);
It's entirely gluten-free, a top choice for pets who react badly to corn, wheat, and similar; and
It's well-received by dogs and their owners everywhere!
Cons
For vegan dog food, it doesn't seem to contain a lot of fresh vegetables.
Our Verdict: 4.5/5
When you think vegetarian dog food, we don't blame you for thinking "expensive!" But here's a brand that offers reasonable prices for a food that's
hypoallergenic
and inclusive of superfoods. We like that it comes in two pack sizes so you can try it out and see how your fluffy pal likes it before making the switch.
Royal Canin Vegetarian Formula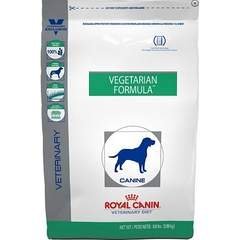 Royal Canin Veterinary Diet Vegetarian Formula Dry Dog Food 17.6 lb
Royal Canin offers a Veterinary grade diet that has the medical stamp of approval. Royal Canin has always been focused on the dietary needs of dogs, so you can rest assured that even without the meat, this diet has what your pup needs. This diet replaces the standard meat options with plant proteins, plant based fats, and other nutritional benefits that come with a well rounded plant based diet.
Buy on Amazon
Add to Cart
Pros
No meat products
Rich in plant proteins and healthy fats
Packed with linoleic acid, zinc, and biotin
Helps to prevent urinary issues by controlling purine levels
Cons
This is a prescription diet, so you will need a prescription from your vet to purchase.
Our Verdict: 4.5/5
This is a high quality vegetarian diet that your dog will love. There's nothing better than offering your dog a diet that so many veterinarians stand up for.
FAQ
Can I create my own vegan dog food recipe?
According to the internet, you can. HOWEVER, while you'll find lots of recipes for vegan or veggie dog food online, it isn't necessarily advisable to try making your own puppy chow. No matter what your reasons are for feeding your pooch a vegan or vegetarian diet, his or her number one priority will always be a balanced diet. Online recipes may not be able to guarantee that your dog is getting all the protein, fat, micronutrients, fiber, and building blocks that they need – and this is particularly important for growing puppies. We recommend that you stick to vet-developed recipes that have met the key AAFCO standards to ensure that your puppy grows up healthy, happy, and well.
Where can I find vegetarian dog food brands?
Vegetarian dog food is usually much less common than conventional recipes. This means that you will usually need to shop online to find good-quality vegan or meatless meals for your puppy. We've recommended some of the best vegan dog food brands above (and the best vegetarian dog food brands, too) so that you can simplify your search for something which will make your pooch happy. As we've noted, it's rarely a good idea for non-professionals (most owners!) to try and design or create a veggie meal plan for canines. Your best bet is to ask your puppy's vet what food they recommend, then use our list to get it delivered straight to your doorstep. Much less trouble!
Helpful Links
Last update on 2023-01-23 / Affiliate links / Images from Amazon Product Advertising API