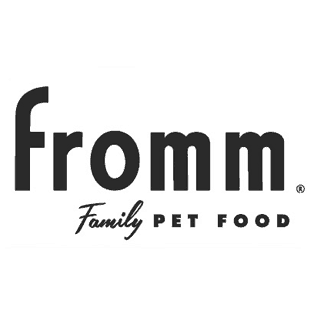 Hey there everyone! We're psyched to be reviewing Fromm today, and hope you're looking forward to learning about one of our favorite healthy dog food brands. Whether you've got a toy, giant, grown or puppy dog, our team has done all the squinting for you when it comes to reading those Fromm dog food labels. We've also done all the leg work for you around checking out which puppy food or dog foods are most suited to your particular little one. So, we're confident in our ability to present an all-American brand that makes some seriously great dog chow!
Quick Review: Top-5 Dog Foods From Fromm
Fromm Heartland Gold Grain Free

14% fat that's naturally from pork
Flaxseed gives a boost of antioxidants to combat cancer
26% protein

Fromm Four-Star Dog Food Salmon A La Veg

25% protein and 16% fat
Natural glucosamine
Easier digestion through probiotics

Fromm Four-Star Canned

Beans give maximum protein
Dry-matter wise, it gives your puppy 1.5% calcium
It's AAFCO-certified for large puppy breeds too

Fromm Four-Star Salmon Tunalini

30% protein
Chicken cartilage means glucosamine
Fat's at 19% and sourced from real chicken

Fromm Gold

Duck has a starring role in this dog food
26% protein
1% calcium, balanced out with its partner phosphorus
Who is Fromm?
They're the Niemans, actually! What we mean is that Wisconsin-based Fromm are first and foremost, a family brand that's been handed down through generations since 1904. If you're the type to be concerned about manufacturing quality, you'll feel good knowing that the family actually operates and owns their own factories near Wisconsin.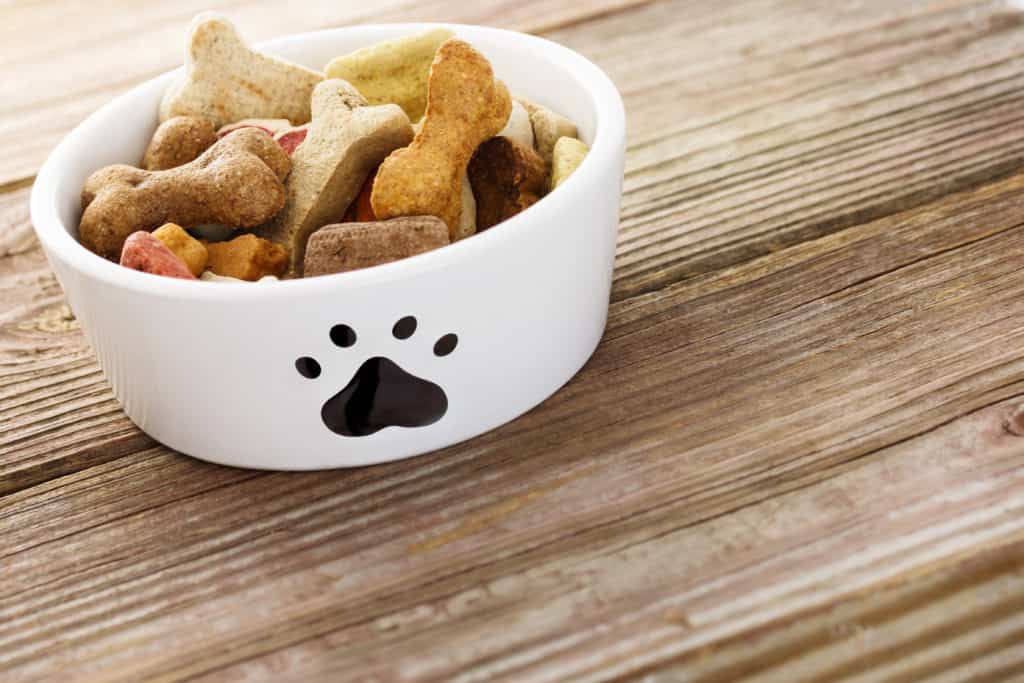 Their first product in 1930 was actually a vaccine for the viral canine distemper disease, and since then they've been making awesome, natural dog food for our pooches that's varied in its focus- but always with our puppy and dog's health in mind. We especially like that they've considered those puppies and dogs who are losing weight, alongside those who have special dietary needs as a result of allergies.
If the first is one of your pups or dogs, then the Fromm Family Classics range is also designed to give him variety while helping him get back in shape- so it won't really feel like dieting! If the second one is more relevant- say you've got a puppy or dog with certain food intolerance- Fromm also includes several great options amongst grain free puppy foods in their Four-Star Nutritionals selection.
What's great about Fromm?
Well, let's start with the fact that Fromm makes no less than three different artisan lines of distinct and specialized dog food. The Classic line's a good place to start, as it involves a whole heap of super chicken options for your senior dog, regular adult dog or dog with a weight loss goal.
Why the Fromm puppy food and Fromm dog food reviews?

Aside from being all-American, family-owned, and responsible yet creative with ingredient choices, we put together the Fromm puppy food and Fromm dog food reviews because we think it's great that they've also:
covered all the stages of your dog's life, from puppy to veteran;
specialized their recipes for big, small and medium dogs and puppies;
drawn from a wide variety of different ingredients to prevent those sensitive or tolerant dogs from having allergic reactions; and
steered away from non-natural preservatives in favor of the more pet-friendly mixed tocopherols
So let's take a good look at the products that make out Fromm Dog Food Reviews and Fromm Puppy Food Reviews so worthwhile!
Fromm Dog Food Reviews
The Fromm Grain Free Dog food Reviews
Fromm Heartland Gold Grain Free
Fromm Heartland Gold Grain Free Puppy 4lb
This
large puppy breed food
is a great example of the way Fromm use so many different ingredients to try and prevent any potential puppy allergic reactions. Because there are a lot of diverse, quality ingredients in Fromm, your puppy won't be eating anything in too large a quantity- this means he'll be far less likely to have any adverse reactions on the off chance he's intolerant to something.
Buy on Amazon
Add to Cart
Pros
14% fat that's naturally from pork;
Flaxseed gives a boost of antioxidants to combat cancer;
Probiotics for smoother puppy digestion and gut health;
Lentils and chickpeas alongside the hearty beef, lamb and egg ingredients for 26% protein!
Great profile in terms of Omega-3 and it's Omega-6 companion; and
Specifically formulated so that larger breed dogs like Great Danes, Rottweilers, Labradors and Pit Bulls can grow up strong and fit!
Cons
We could say that it's slightly less on the economic side compared to other puppy foods for those large breeds, but it's all for the sake of enacting top-of-the-range quality control measures…so, worth it!
Fromm Four Star Grain Free Dry Dog Food, Game Bird Recipe
Pros
Protein's derived from duck, lean turkey, chicken, quail, pheasant, and pea protein to deliver an awesome 29%;
Meets the AAFCO criteria for all those doggy life stages, meaning it's safely able to feed both puppies and those adults with high lean protein requirements, like Pit Bulls;
Minerals include copper, zinc and manganese as well as iron;
Calcium's at 1.2% for super-duper bone structure;
Oh-so-many colorful and yummy veggies for your dog!
Cons
Nope, we're happy as can be with this- and we reckon your puppy or dog will be too!
Our Verdict: 5/5
My gosh is this one POPULAR with dog owners everywhere, including us. Because it's a suitable chow for all life stages, it's great if you've got both puppies and adult dogs. Even better, it's full of so many veggies that we're blown away, it's impressive, even for Fromm!
The Fromm Puppy Food Reviews
Fromm Puppy Gold Dry
Pros
Made not only with chicken and cheese, but with lamb, too, and the headlining ingredient is…duck!
27% protein and an 18% fat level, helping your puppy grow up big and bouncy
Salmon oil gives DHA to your pooch, helping him develop those famously sweet puppy dog eyes!
4% calcium, responsibly balanced alongside phosphorus- slightly towards the higher end of the range compared to a lot of puppy foods
Contains good levels of zinc, manganese, magnesium and iron to counteract deficiencies from lovely vegetables- carrot, celery, alfalfa meal to name a few
Cons
If you're staying away from feeding grains to your puppy entirely, this contains brown rice
Fromm Four-Star Dog Food Salmon A La Veg
Pros
Clearly, salmon's very much the star of this 25% protein puppy food;
Made with safflower oil, which contributes Omega-3 as well as Omega-6. Shiny coats, here we come!
16% fat to give your puppy energy for growing up strong;
There's natural glucosamine in that chicken cartilage!
Loads of the wholesome veggies and fruits that we're always talking about; and
Easier digestion through probiotics such as Lactobacillus.
Cons
Contains grains in the form of rice and barley.
Our Verdict: 4.5/5
The Salmon À La Veg kibble is definitely great as a puppy food. It's also made with plenty of fresh produce. While it's not entirely grain free, it's stayed away from those filler ingredients that make low quality puppy foods look bad like milled corn gluten. This is very much the case with ALL Fromm puppy food, happily enough!
The Wet Fromm Dog Food Reviews
Fromm's pretty much a top-of-the-line, premium contender when it comes to making a choice for your puppy or dog. That's partly because due to their awesome stance on keeping quality right up there while ensuring your puppy has so much choice that his tail won't stop wagging!
Fromm Four-Star Canned Dog Food – Shredded Chicken Entree
Pros
Salmon fish oil takes care of your puppy's DHA requirements, giving him that extra burst for healthy doggy vision and cerebral function;
Beans, beans and even more beans give maximum variety when it comes to the protein he'll be taking in;
It's AAFCO-certified for large puppy breeds too, so your Rottweiler or Great Dane can tuck in;
Dry-matter wise, it gives your puppy 1.5% calcium, along with potassium and zinc;
At only 228 calories for each can, it can be flexibly mixed in or up to each puppy meal without too much concern about whether they'll gain extra pounds.
Cons
Even though it's got a 7% for protein, which is a little on the low-ish side when it comes to wet varieties of puppy food specifically, it's certainly great as a yummy food to mix in with his dry kibble puppy food!
The Hypoallergenic Fromm Dog food Review
Fromm Four-Star Salmon Tunalini Dog Food
Pros
By switching to salmon as the main ingredient, puppies and dogs with allergies to beef can have a little break while enjoying the DHA benefits that come naturally with this fish;
30% protein once again means this one's a superb dog food if you've got yourself a puppy or muscly adult dog like a Rottweiler or Pit Bull;
Chicken cartilage means glucosamine for staving off joint complications, so it's also great for those Great Danes;
Always and as usual, it's practically bursting with natural vitamin goodies like sprouts, cranberries, cauliflower, blueberries, apples, peas and so many more!
Fat's at 19% and sourced from real chicken.
Cons
Sorry, this one's not entirely suitable for those of our doggy friends with sensitivities to egg or chicken.
The Breed-Specific Fromm dog food review
Fromm Gold Adult Dog Food
Pros
Duck has a starring role in this dog food for small, yet grown-up breeds!
17% fat that's from natural chicken to ensure those littler breeds don't run out of energy with their rapid metabolisms;
Amino acid taurine is in here, too, and plays its part in regulating vascular, renal and blood function;
Small kibble size for our little Yorkies!
26% protein, addressing both maintenance and growth through eggs, lamb, fish AND chicken;
1% calcium, carefully (as always with Fromm!) balanced out with its partner phosphorus;
Once again, it's replete with veggies; and
Yet again, it's stuffed full of iron and zinc!
Cons
It's not grain free due to its rice and barley content.
Our Verdict: 5/5
What can we say, at 416 kCal within a cup, we aren't too fussed about the slightly higher price tag compared to other dog foods of lower caliber. It's also got chicory root in it to help keep those nasty worms away!
FAQ
What do veterinary professionals think of Fromm dog food?
Fromm is like the caviar of dog food brands. This diet is high quality, filled with impressive ingredients, and often much more expensive than other diets. While this diet is not as common among pet owners or in the veterinary community in general, it does seem to be popular among those that offer it to their pups. The tasty diets are a hit with hungry pups, and the diet itself seems to be packed with quality ingredients that will help your dog thrive.
What do brands mean when they talk about life stages?
In short, higher quality brands like Fromm tend to create special formulas for puppies, fully adult dogs and seniors. Each of these formulas will have a unique profile according to the AAFCO when it comes to whether or not the dog food you're buying meets the needs of your puppy, adult or senior best friend. If a dog food such as Fromm satisfies these criteria, it means your dog is getting the balanced and complete array of nutrients necessary for it's particular 'life stage'. As we've mentioned before, this usually means puppies will be eating greater quantities of macronutrients for ongoing growth, while lower amounts of things like protein will be present in dog food that's designed for adults.
How do I switch my dog to something from your Fromm dog food reviews?
First up, we're looking to minimize any risk of an upset tummy for your dog or puppy. Switching over to Fromm means taking it slowly and gradually, and can take between 1 to 2 weeks. During this time, you'll want to introduce your puppy or dog to about a quarter of Fromm mixed around with his original food, then gradually level up the proportion to half old and half new after a couple of days or so. Should your puppy or dog be fine during all this, you'll soon be feeding 100% of the quality dog food or puppy food we've included in our Fromm dog food reviews!
So, can I still give snacks to my dog or puppy?
The foods in our Fromm puppy food reviews and Fromm dog food reviews is thoughtfully crafted to address the caloric requirements of your pet's life stage and whether or not they're in need of losing a little weight. This generally means that you'll be feeding him certain amounts at each mealtime according to the guidelines on the packet, or one of our reviews for specific breeds.
Outside of this, there's no reason why your puppy or dog shouldn't be allowed to enjoy some healthy snacks here and there- think things like carrot, broccoli, or even pumpkin. Veggies like these are often a smart way to keep your puppy or dog on top of his vitamins, and using only the examples we've given, he'll be getting good doses of carotenoids, phytonutrients such as glucosinolates, manganese, copper, B vitamins and also vitamins like A and C!
Last update on 2023-01-23 / Affiliate links / Images from Amazon Product Advertising API