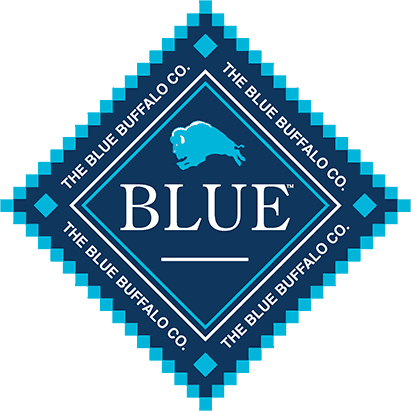 Hi again, fellow puppy lovers! Today, we've put a little something together to help you make an informed choice when you're browsing puppy foods and dog foods for your fluffy best friend. We've always got your pup's health in mind when we're doing our dog food reviews, and think there's little that's more important than knowing what your dog or puppy is eating. Our Blue Buffalo dog food reviews and Blue Buffalo puppy food reviews are brought to you only after carefully thought-through research and many long hours of label-reading.
Here's what we think, and what we LOVE about Blue Buffalo dog food and puppy food so you can spend less time looking online and more time with your trusty sidekick!
Quick Review: Top-4 Dog Foods From Blue Buffalo
BLUE Freedom Grain Free

100% without gluten-containing grains
27% protein
Fat at a healthy 16%

BLUE Wilderness High Protein Grain Free

Protein-rich - 36% total
DHA, Omegas 6 and 3, calcium are all optimal
16% naturally preserved fat

BLUE Homestyle Recipe Wet

05% fish oil-derived DHA for vision
Omega 3 and it's friend Omega 6
Antioxidant-rich, thanks to flaxseed

BLUE Basics Limited-Ingredient Formula

Egg-free and yet a high 20% protein
Contains naturally sourced glucosamine
Great Vitamin E levels, zinc, iron
About the Blue Buffalo brand
Blue Buffalo has got to be one of the nation's MOST popular brands of dog food, which is why we've chosen to makes a specialized Blue Buffalo Dog Food Review for all you dog parents. The reason being, that Blue Buffalo make a huge effort to ensure their puppy food and dog food is Natural, with a capital N!
Who is Blue Buffalo?
American company Blue Buffalo started just over a decade ago when the founder's family dog was going through some health issues. Together with his two sons, the small family team started to design their own, health-focused dog food that's now available in a wide, WIDE range of formulas. Among these, there are countless options which are free of corn grains, wheat grains, and soy flour. A second and equally important fact about who Blue Buffalo is, is that as a brand they've put together an array of high-quality recipes with real, genuine meat as the topmost product. Isn't that the way it should be?
What's special about Blue Buffalo?
Blue Buffalo produces a diverse array of puppy foods and dog foods, so you're free to choose between large, medium and smaller puppy and dog breeds. Each of these recipes is tailored to the energy and nutritional needs of different sized dogs, and there is so much variety that you can choose between large puppy grain-free wet food, small senior dry dog food with grains, medium adult grain-free dry food, and all the combinations in between. Please, though, don't make us do the math!
Why the Blue Buffalo puppy food reviews and Blue Buffalo dog food reviews?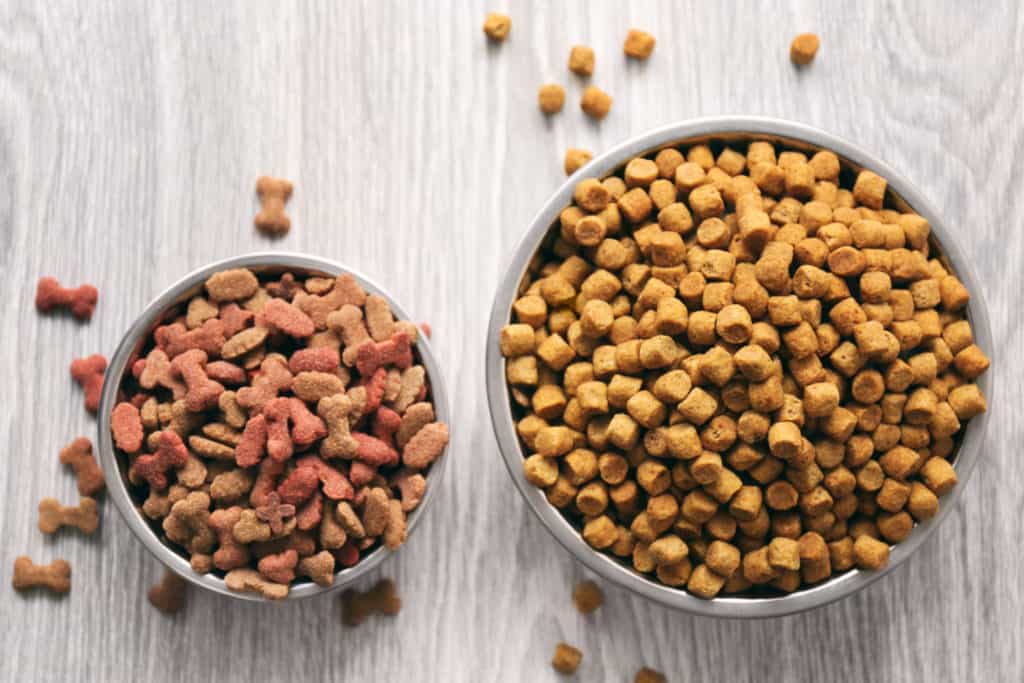 When you're buying Blue Buffalo dog food, you can rest assured about the fact that it won't contain any nasty or scary preservatives, or any non-natural versions of add-ins such as flavorings and colors. Instead, you're giving your puppy or dog a formula which uses vitamin-based preserving agents such as tocopherols and citric acid.
Of course, the amazing number of choices is a massive plus that merits a Blue Buffalo puppy food review in our books. Lots of the many dog food choices you can make with Blue Buffalo also come in another whole range of different flavors, from lamb or turkey and potato, to garden veggies with homestyle chicken, to the delicious-sounding Santa Fe Grill.
So… our list of Blue Buffalo's awesome benefits so far are:
Suitable for gluten-intolerant dogs and puppies
Free from yucky and ambiguous by-product filler meals
Absolutely zero non-natural add-ins to preserve, dye or otherwise mess around with your dog's food
Serious choice among countless options
Special and diverse lines of puppy foods for those with sensitivities
Apart from all this, we've been looking out especially in our puppy food reviews and dog food reviews for those brands that stand out with something extra special. When it comes to giving back to the community, we think Blue Buffalo does a super neat job by getting actively involved with caring for homeless and unadopted pets.
And THAT's why we've chosen to do Blue Buffalo dog food reviews and Blue puppy food reviews for your loyal friend!
Blue Buffalo Dog Food Reviews
The Grain Free Blue Buffalo Dog food Review
Two winners for this one, as we had so much choice!
BLUE Freedom Grain Free Puppy Dry
This one's our favorite, as it's got:
DHA and also ARA, which is one of the lesser talked-about but still crucial fatty acids for cerebral development and good eyesight
100% without gluten-containing grains
27% protein, largely from all-natural chicken
Parsley, kelp, blueberries and other vitamin-rich goodies!
2% calcium, so lovely for puppy bones
Fat at a healthy 16%
BLUE Freedom Grain Free Dry
Pros
Boneless beef that helps make up a minimum of 24% delicious protein
14% fat, so lower than the puppy version, and of course, naturally sourced and preserved
Iron, zinc, and a perfect 9% calcium
This dog food is designed for medium-sized poochies, but can be flexibly fed to all breed sizes if you follow the helpful chart- so think anything from Yorkies to Rottweilers and Great Danes!
Once again, there are more veggies and fruit than we can shake a stick at for bouncy, happy adult dogs!
Our Verdict: 5/5
Grain-free yet abundant minerals and nutrients. That's what we like to see. Cancer-fighting antioxidants and, as always with Blue Buffalo, pretty flexible- this time in terms of which doggies you can feed!
The Blue Buffalo Puppy Food Reviews
BLUE Wilderness High Protein Grain Free
Pros
Here's another great dry kibble that's grain free
Protein-rich chicken formula, with an awesome 36% total for that extra boost
Once again, this is super awesome for breeds which use lots of day-to-day protein for muscle growth and maintenance. Pit Bull puppies, we're looking right at you!
DHA, Omegas 6 and 3, calcium are all optimal
16% naturally preserved fat from (of course!) chicken
Cons
Our only problem is that there aren't more flavors of this awesome puppy food! Yeah, yeah, we know that's not really a problem!
Our Verdict: 5/5
It's products like
Blue Wilderness puppy food
that make Blue Buffalo puppy food reviews so worthwhile and enjoyable. As dog owners, we're so glad that our strong, healthy puppies have options like this one.
BLUE Freedom Grain Free Puppy
Pros
Gluten-containing grains are completely cut out to combat unpleasant allergic reactions
Turkey and chicken meals, after the list-topping boneless chicken!
26% protein, which makes it awesome for Rottweilers, Huskies, Great Danes and Labs
Fat's naturally preserved and at the 15% level
A whopping (or woofing?) 1.1% calcium!
Flavorful, colorful veggies
Cons
Nope, we love it for our large puppies!
Our Verdict: 5/5
Winner, winner, chicken dinner! We're impressed by the
allergen-free
approach that still manages to sound so delicious. Plus, for our larger dog and puppy breeds, this is carefully crafted so as to maintain a balanced profile of the required awesome nutrients for growth and a healthy life.
The Wet Dog Food
BLUE Homestyle Recipe Wet
Pros
Carbs as fillers? No. Carbs for vitamins? Yes! This homestyle formula has potatoes, carrots and other garden veggies. That's so cute…and healthy!
Formulated to both meet and exceed AAFCO requirements for thriving puppies
05% fish oil-derived DHA for vision, brain function and brain growth
Professionally balanced fatty acid mix of both Omega 3 and it's friend Omega 6
Antioxidant-rich, thanks to flaxseed
Cons
A little higher price-wise than dry puppy kibble, but that's no different from any other brand.
The Hypoallergenic Dog food
BLUE Basics Limited-Ingredient Formula Puppy Dry
Pros
Alongside the smoothly digestible turkey, it's got peas and potatoes that are simple for your puppy friend to metabolize
Egg-free, as it's formulated to suit those puppies with sensitive tummies and allergies
Small kibble size for easier crunching
Probiotics like Lactobacillus for problem-free digestion
26% protein and 1.2% calcium
Cons
One of the downsides of having a puppy who can't eat the popular meats like beef or chicken is that a lean meat replacement will not often have sufficient natural fat to make up the required daily fat. That means canola oil is the main fat source for this special puppy food.
Our Verdict: 4.5/5
Feeding your puppy with a puppy food that's high vegetable oil is only necessary if you've got a puppy who cannot tolerate certain meats. There's absolutely no need to worry about this if you've got a pup who has sensitivities, however, because it's a million times better than having a sick puppy dog on your hands.
BLUE Basics Limited-Ingredient Formula Adult Dry Dog Food
Pros
This formula is especially great for those adult dogs who are in need of a little weight loss for optimal health.
Skips chicken and beef to cater for those dogs with specific meat sensitivities
Egg-free and yet a high 20% protein
Contains naturally sourced/occurring glucosamine that's from the turkey meal (gobble, gobble)
Great Vitamin E levels, zinc, iron and all the lovely fruit and veggie ingredients
Cons
Canola oil is the fat source once again, and once again it's miles better than having your dog feel sick!
Our Verdict: 4.5/5
Egg-free, free from those meats that commonly induce allergic reactions, and still high in glucosamine, Vitamins and lean-meat based. We've heard that dogs on this Blue Buffalo Basics food absolutely love it- they sure don't look sad about being on a healthier diet!
FAQ
What do veterinary professionals think of Blue Buffalo dog food?
Blue Buffalo is incredibly well known in the pet food community, therefore, it's well known in the veterinary community as well. With so many owners turning to Blue Buffalo to feed their furry friends, veterinary professionals have had to become familiar with this diet! Blue Buffalo is one of the higher tier budget foods on the market, and seems to meet a variety of needs in the pet health realm. Blue Buffalo is particularly known for its ability to help underweight dogs gain weight, as well as fuel active pups that burn more calories than the average pup each day.
How do I know which one to pick from the Blue Buffalo Dog Food Reviews?
We reckon it's cool that Blue Buffalo products make it super easy to understand which product might be the best dog food or puppy food for your pet. First up, there's the long-raging debate about wet and dry food. There's a lot about this in our breed-specific articles, and in short, there are pros and cons for each- the choice is yours (or your dog's)!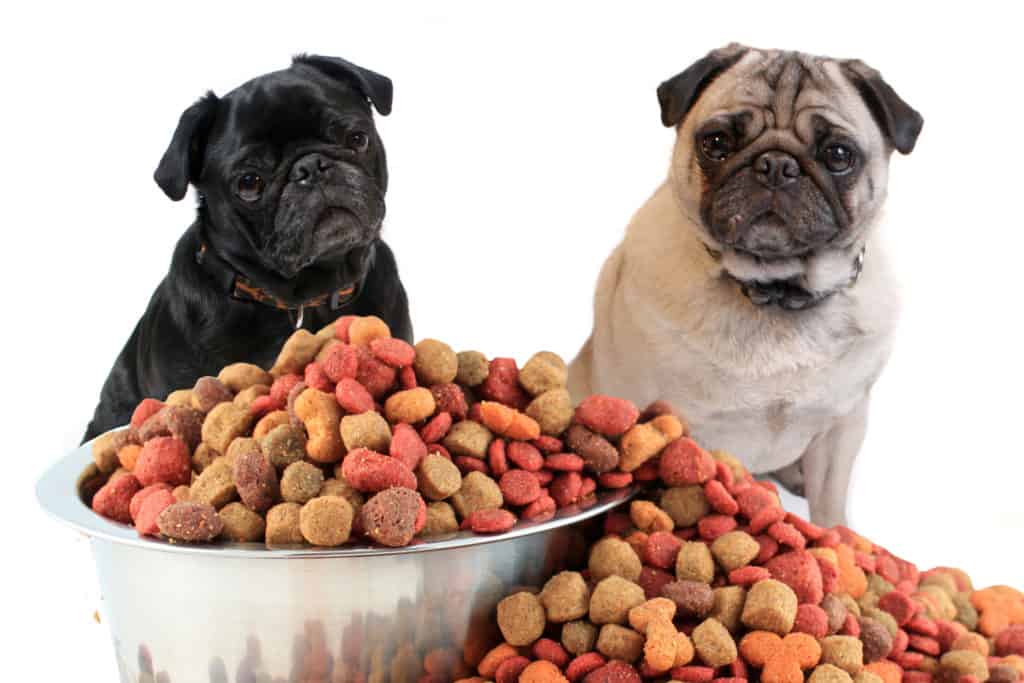 Choosing between different brands of dry dog food may seem a little trickier, but hopefully, our Blue Buffalo dog food reviews have made things a little simpler and more time-efficient. If your dog or puppy is allergic to gluten or any of the wheat, soy or corn fillers in his food, you're in good hands with Blue Buffalo because it's always grain free. However, dogs and puppies with specific food intolerances are best off sticking to the Limited-Ingredient formulas in case they're sensitive to specific meat or egg products.
Lastly, our Blue Buffalo puppy food reviews have picked out what we believe are the best products for growing pups, as they're high in healthy, yummy protein, smaller-kibbled and great DHA sources! For adult dogs, a high amount of protein isn't strictly necessary, so we suggest you choose something that's tailored for mature dogs, like the adult dog food we've picked out at the bottom of our Blue Buffalo dog food reviews.
Can I mix up dry puppy food and wet puppy food together?
Sure you can! It's a fantastic way to ensure your puppy's actually getting sufficient moisture in his or her diet. Because some dogs don't tend to drink enough of the plain old good stuff, mixing together wet and dry food can help boost your puppy's moisture intake. At the same time, it's a sure-fire way to give your little one some variety when it comes to texture and taste, in the same way that some owners mix in a little water with their puppy's dry puppy food.
Last update on 2023-01-27 / Affiliate links / Images from Amazon Product Advertising API