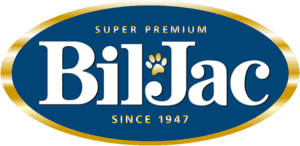 Puppy mums and puppy dads, so lovely to see you here again! We've prepared a lovely Bil Jac Dog Food Review for you about one of the potentially less well-known dog food brands. Let's find out what
Bil Jac
is all about, and what they've got on the menu for our special friends!
Quick Review: Top-5 Dog Foods From Bil-Jac
Bil-Jac Grain Free

30% protein, 15% fat
Vitamin E will act with zinc
Pea fiber to keep digestion smooth

Bil Jac Small Breed Puppy

Good for smaller puppy, 1 - 20 lbs
Oatmeal's super-gentle on digestion
Protein 27%, fat at 16%

Bil-Jac Chunky Stew with Chicken

There are only 103 kCal per tray
Mixing in with kibble as a lovely topper
8% protein, 3% fat

Bil-Jac Large Breed

23% protein
Vitamin E and zinc
For larger dogs between 50 and 120 lbs

Bil-Jac Sensitive Solutions

Protein's at a healthy 26%, fat's at 17%
Vitamins D, B, A
Linoleic acid to take good care
Who is Bil Jac Dog Food?
Bil Jac is an Ohio-based family company. They have a serious stance about using real chicken as the top protein ingredient for our puppies and dogs because for over 65 years they have been striving to give our best friends all the nutrients that their carnivore ancestors needed for survival and fitness.
Bil Jac also started selling their dog food out of their own kitchen, which is pretty neat. They are still family-owned and run, which makes it more impressive that recently the brand has become more recognized worldwide, especially in markets such as Korea, Japan, Canada, and Chile.
What makes Bil Jac special?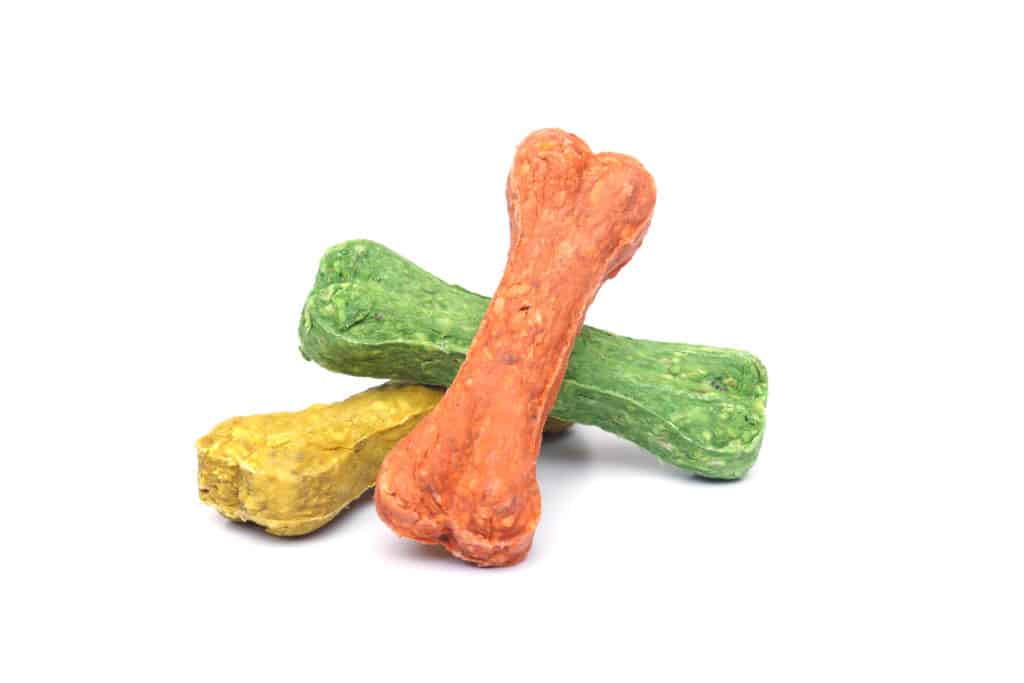 Well, Bil Jac states that 5 lbs of chicken go into every 6 lb bag of puppy food. Now that's pretty impressive, if you ask us! Interestingly, they make frozen fresh meat-based dog food and treats, which includes options that you can serve right after thawing it.
The brand also features whitefish in their sensitive tummies range, which helps with immune support. Vitamin E and Vitamin C alongside this also help to keep your puppy or dog from adverse reactions to their food. They also offer some weight management recipes, which can be good for grown dogs who have put on a few pounds, to keep them at a healthy and recommended weight.
Why the Bil Jac food reviews and Bil Jac puppy food reviews?
Bil Jac makes special puppy food and dog food for our large, small, and medium canine companions. This always makes it a little easier to pick out the right dog food, given that a carefully crafted size-specific formula will tend to have the nutrients that are required for staving off common health conditions. Within their larger puppy and dog formulas, Bil Jac features chondroitin and also glucosamine to help combat the more prevalent joint problems. Their recipes for smaller puppies and dogs have smaller (mini!) kibble sizes, as well as a slightly higher energy content.

We've chosen to put together Bil Jac puppy food reviews and Bil Jac dog food reviews because we like that the brand offers:
Grain-free stew and kibble options, to accommodate for the needs of gluten-intolerant puppies and dogs;
Chicken as the number one ingredient in a large proportion of their kibbles;
Zero use of gluten meals as protein, given that Bil Jac only use carbohydrates alongside real meat sources, and never as a replacement for them;
Their special proprietary Nutri-Lock system is potentially a beneficial approach of cooking ingredients that is softer on doggy tummies.
So, let's have a little look together at how Bil Jac might help your puppy or dog live a healthy life and have some happy, tasty mealtimes!
The Bil Jac food reviews
The Grain Free Bil Jac Food Reviews
Bil-Jac Grain Free
Pros
At least 30% protein in this excellent adult blend, with two different main proteins- chicken, and peas- to help counteract overexposure allergies;
15% fat for bouncy, happy, well-exercised dogs;
Vitamin E will act with zinc to maintain and boost the health and appearance of your beautiful dog's coat;
Suitable for those dogs who need to be on a limited ingredient diet, as it's got zero beef;
Pea fiber helps to keep digestion smooth and easy-peasy!
Cons
There are very few common allergens in here besides chicken, so all around it's pretty great.
Our Verdict: 5/5
We like this very much, we're always pretty happy when a dog food brand offers a great gluten-free option. Bil Jac does this well, keeping protein high by using real, natural sources of meat, and pea starch for energy, too!
The Bil Jac Puppy Food Reviews
Bil Jac Small Breed Puppy
Pros
Good for those smaller puppy pooches of between 1 and 20 lbs;
Oatmeal's super-gentle on digestion;
Protein's right up there at 27%, so your pooch will be getting all the building blocks that are so essential for quick and healthy development;
Fat's at 16%, which is a relatively high figure for dogs, but perfect for smaller growing puppies;
Blueberries, apples, and cranberries will all give antioxidants and vitamins to your little pup!
Cons
Has by-products of chicken, although, as we've noted before, these are intensely protein-rich.
Our Verdict: 4.5/5
With 412 kCal in each cup, your small puppy will be getting good amounts of energy at each of their 3-5 daily recommended meals. Smaller teeth need smaller, bite-sized pieces to chew on, and that's another reason why we like this size-specific Bil Jac kibble for little dogs.
Bil-Jac Puppy Select Formula Puppy Food
Pros
This kibble works so well with water mixed in, as this makes it softer and more easy to chew for those pups who are in the latter stages of weaning;
At the same time, it offers a whopping 28% protein, and because this is predominantly from chicken, your puppy will be getting all his essential amino acids;
18% fat, so plenty of fat calories;
Omega acids in here will play a key role in lustrous coats, healthy skin, and cerebral function;
There are a lot of vitamin supplements in here, alongside minerals such as copper, iron, manganese, potassium, and zinc.
Cons
Contains synthetic preservative BHA, so if you're trying to go all-natural you should be aware of this;
Includes by-products as both meal and organs.
Our Verdict: 4/5
There aren't any real fruits or veggies that we can spot in this formula, but we're pretty happy with the fat, protein, and other macronutrients that are all present in the recommended amounts. This puppy food recipe also includes oatmeal for both protein and soft, smooth, trouble-free digestion. Four out of five stars!
Large Breed BIL JAC Puppy Dry Food
Pros
24% protein is super for larger puppies, who have a sustained period of growth and development;
Same goes for the 17% figure for fat, although this is pretty much at the higher end of the recommended daily fat for larger dogs so you'll need to take him out exercise and fun!
Glucosamine will help to fight against the joint problems that so many larger puppy breeds are prone to;
Fish meal's also an ingredient, and another rich source of natural protein;
Lower calorie content per cup than the Bil Jac Puppy Select and Bil Jac Small Breed blends- perfect for larger puppies.
Cons
You'll see that there are by-products such as organs and meal in here, although they do provide glucosamine.
Our Verdict: 4/5
With glucosamine to help with healthy joints, fewer kilojoules and calories in each cup, and a whole range of different minerals, there are a lot of good things to say about this large breed puppy food. Although the label boasts less fat than the Puppy Select version, we've noticed that this is only 1% less. Oh well, more excuses to romp around with your puppy!
The Wet Bil Jac Dog Food Review
Bil-Jac Chunky Stew with Chicken
Pros
There are only 103 kCal per tray, meaning that you won't need to worry too much about overfeeding your grown dog;
It's also just perfect for mixing in with kibble as a lovely topper and for some excellent variety;
8% protein, alongside Omega acids for keeping up coat health;
3% fat;
Now for those veggies- this stew contains both sweet potato and peas for a mix of protein, vitamins, and softly-digestible fiber!
Cons
There is some potato in here, so not for dogs who aren't able to take in any potato.
Our Verdict: 5/5
While we can't 100% guarantee that this hearty stew doesn't contain gluten, we don't see any grains. Tapioca starch is gluten-free if not cross-contaminated, so have a quick check with your vet, if you are unsure, but otherwise, this looks like a great dinner for dogs of all sizes (and dogs of all shapes, yes!). Five stars out of five!
The Large Breed Bil Jac Dog Food Review
Bil-Jac Large Breed Adult
Pros
23% protein, with the top ingredient being natural chicken;
Oatmeal is another protein-yielding, gently digestible ingredient in this kibble;
Flaxseed will give your adult dog antioxidants for immune system health;
Vitamin E and zinc help to keep coats shiny and skin healthy;
Perfect for all larger dogs between 50 lbs and 120 lbs. Woof woof!
Cons
By-products are the key source of the glucosamine in this formula, as opposed to natural fish oil;
Contains corn, so not OK for dogs who need to be on a gluten-free diet.
Our Verdict: 4/5
By-products do have some advantages of their own. In this case the fact that they are a rich source of glucosamine, which helps to reduce the risk of hip dysplasia, cartilage degradation, and osteoarthritis in larger dogs. And this formula's definitely designed for big dogs, such as Great Danes, St Bernards,
Mastiffs
, Rottweilers, larger
Huskies
, and
German Shepherds
.
The Hypoallergenic Bil Jac Food Review
Bil-Jac Sensitive Solutions
Pros
Chicken's our top ingredient here;
Protein's at a healthy 26%, a figure that's just great for maintaining lean muscle mass, and it's from whitefish too;
Fat's at 17%, so if you've got an active and energetic best friend, this is great;
Supplemented with vitamins such as D, B, A, alongside antioxidants from flaxseed;
Vitamin A will work together with linoleic acid to take good care of your dog's first line of defense- his skin.
Cons
Contains milled and whole by-products of chicken;
Seeing as it is made with corn meal, it's no good for dogs who need their diets to be gluten-free.
Our Verdict: 4/5
Grown dogs aren't always going to require up to 26% protein, but that's one of the reasons that this Sensitive Solutions blend is so great for all breeds- it meets the higher recommended protein requirements for muscly breeds such as Rottweilers and
Pit Bulls
. We see heaps and heaps of minerals in here too, which is always a big plus.
FAQ
What do veterinary professionals think of Bil Jac dog food?
Bil Jack dog food has a reputation for being one of the first quality dog foods on the market. With focusing on quality protein and even having grain free options for dogs with sensitivities, this diet made a name for itself before premium dog foods were readily available in stores. While many other quality dog food brands are available on the market now, this brand is still considered a wonderful option for dog owners on a budget.
Can I give my puppy raw meat?
There are two schools of thought regarding whether or not it's alright to feed your puppy or dog with raw meat. On one hand, those owners who believe it's a good idea will often argue that raw meat was the diet of our canine friend's ancestors. This much is true, for sure, and if you've got a Husky, you probably won't have a hard time imagining him chowing down on some tasty steak between his sled runs! Other advantages that supporters of raw diets often cite are better dental health, skin, and all-around higher energy levels.
On the other side of the fence, there are quite a few vets who believe that puppies and dogs shouldn't be eating raw meat for pretty much the same reasons that humans shouldn't. These include the potential risk of bacterial infection and the danger of choking and digestive tract damage that can come along with eating anything that might contain whole bones. It's even been argued that raw meat, eggs, and so forth will contribute to dietary imbalance if fed to your dog for a long time.
What is BHA in puppy food?
BHA is a synthetic (lab-developed) agent for preserving your puppy or dog's food. You will find this in some kibbles like the one we've included in our Bil Jac puppy food review. It preserves by acting as an antioxidant, quite like Vitamin E, which is all-natural. There are always pros and cons associated with the use of chemical agents for preservation. With BHA, and with BHT, another common add-in, these have been shown to act as carcinogens (cancer-causing chemicals) in studies of rats. On the plus side, they will keep your puppy's food preserved for longer than the natural alternatives of things like citric acid, Vitamin E. All manufacturers have to state whether they include these ingredients within their dog foods, so that you can make an informed choice for your fluffy friend.
Last update on 2023-01-29 / Affiliate links / Images from Amazon Product Advertising API