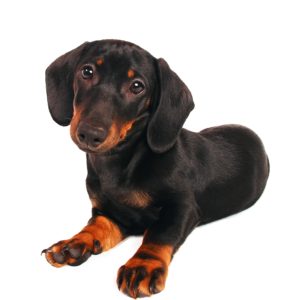 Dachshunds — we love the cute little monsters! If you've just been joined by new Dachshund family member, you're on the right webpage. We've been busy researching all the top brands to find the best dog food for Dachshunds. If your hungry little hound (yep, they're hounds, despite their size!) in need of top puppy food, we've got six great recipes for you to check out. Read on to find out about the criteria we use to make our decisions, and why these delicious puppy food options deserve to be in your best friend's
doggy bowl
!
Quick Review: Top-3 Dog Foods For Dachshunds
Blue Buffalo Wilderness HP GFree

36% protein for energy and growth
Includes omega fatty fish meal
It's a full, yet grain-free dinner.

Natural Balance Limited Ingredient Diets

Totally filler-free
Contains fiber - rich sweet potatoes
Provides your little dog with brain-healthy DHA

Taste of The Wild GFree High Protein

At least 32% protein is guaranteed in this mix
Egg provides more omega acids for smooth coat
Dachshund gets 18% fat from omega-3
A Look At The Best Food For Dachshunds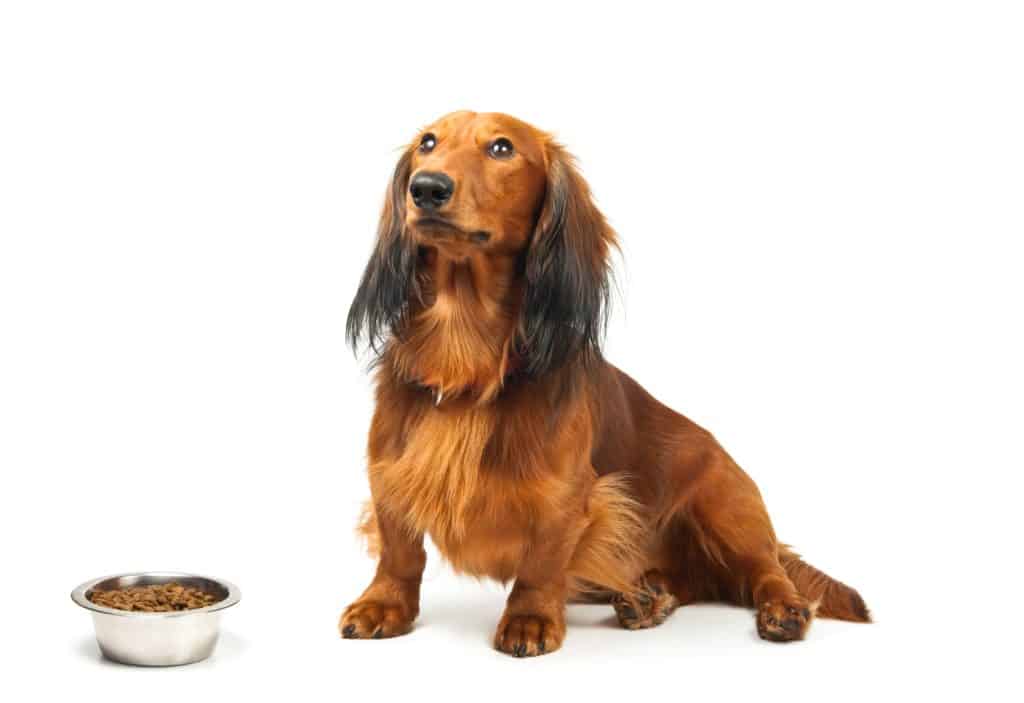 Their short little legs might not give it away, but Dachshunds were bred as hunters. They are determined little creatures with lively temperaments, so quite often they have pretty lively appetites to match. While it's crucial to find the best food for Dachshunds, then, it's also important to watch that they don't over-indulge.
Despite being big in nature, Dachshunds are small when it comes to their physical build. They've got quite rapid metabolic process going on inside those cute bodies, therefore, and need an appropriate small-breed kibble to ensure they don't run out of energy. Choose a brand which makes small-kibble puppy food and uses wholesome ingredients, and you're off to a great start already.
But what else makes up good food for Dachshunds? If you're wondering about what nutrients your fluffy friend needs, this next section has got you covered.
How To Spot The Best Puppy Food For Dachshunds
Dachshunds never really get big — on average, they're between 15 and 33 pounds when they're finished growing. But while they're in those early months, they need a fairly high amount of protein and energy. The best puppy foods for Dachshunds that we've reviewed generally contains anywhere between 25% and 30% of this vital (but tasty) macronutrient. Most of them contain animal fat (above 13%), while some will use plant-based lipids like Omega-rich canola oil. The first is preferred by lots of owners, but you'll also find very healthy puppy food for Dachshunds with only the latter. Let's round it all up!
For The Little Ones…
The very best puppy food for Dachshunds:
Should contain DHA – also known as docosahexaenoic acid, it's a special fat which puppies and dogs aren't able to create on their own. DHA assists with your pup's growth by helping his eyesight and his neural development, and you'll be able to find it in fish oil;
Should give him or her a nice serving of vitamin- and fiber-rich veggies, although healthy traditional grains and supplements can sometimes be found in their place;
It shouldn't use poor-quality by-products – "red flag" ingredients include corn gluten meal, poultry by-product meal, and white/brewer's rice; and
It will be naturally, as opposed to synthetically, preserved.
For Grown-up Dachshunds
Your little Dachshund pup will become an adult about nine or so months after birth. This is when it becomes pretty important to switch your grown dog to an adult Dachshund formula over the course of about a week. As you'll see in our reviews below, these blends usually contain:
Less total (or dry matter) protein;
A smaller total amount of fat; and
Fewer calories in total per kibble cup.
Is Wet Food Better Than Dry Dog Food For Dachshunds?
We typically tell owners that variety is a good thing when it comes to wet or dry chow. But there are certain times in a pup or adult dog's life when canned food is more appropriate. If your Dachshund is getting on a bit in age, he might appreciate a canned meal over kibble — it will generally be more gentle on his jaws or teeth. Similarly, little Dachshund pups without fully-developed jaws might prefer a soft food mashed into their kibble until they are slightly older.
Either way, you'll want to keep an attentive eye on how your best friend takes to his dinner. Every Dachshund is different, so sneak a peek at him during mealtimes and see whether his current food is working out well for him.

The Best Dachshund Food: Brands We Love January 2020
Blue Wilderness offers the best puppy food for Dachshunds (in our opinion), this time with a grain- and soy-free chicken blend for small pooches.
Halo creates a dog food for Dachshunds that are still growing, and it's a pretty ethical choice, too.
Orijen makes very meat-rich formulas for little puppies who want to grow big and strong—on high-quality ingredients!
Taste of the Wild continues to impress us with its exotic-sounding flavors, and ingredients list to back it up.
Natural Balance creates a limited ingredient Dachshund formula that's the best dog food for dachshunds with skin allergies we could find; and
Wholehearted makes a simple recipe for little doggy breeds, with only one meat (chicken) protein — yet all of the good stuff your grown Dachshund requires.
Now for a close-up inspection — what's the best dog food for Dachshunds?
The Best Puppy Food For Dachshunds
Blue Buffalo Wilderness High Protein Grain Free, Natural Puppy Dry Dog Food
Pros
Thanks to a special Wilderness kibble design, your pup's teeth will be getting clean while he eats!
Gives your cute Dachshund 36% quality protein for energy and growth;
Contains nutritious peas, delicious cranberries, and vitamin-packed blueberries — all very well-chosen complex carbs;
Includes Omega fat-rich fish meal (which also has glucosamine); and
It's a complete, and yet grain-free dinner that's naturally flavored.
Cons
Our Verdict: 5/5
Most puppy owners will have thought about trying Blue Wilderness. If you haven't yet, this American brand makes some of the very best dog food for Daschunds thanks to its cleverly-balanced formulas. And if you've got another cute pooch in the family as well, it's safe to feed to medium-sized dogs like
Corgis
and certain cross-breeds.
Halo Natural Dry Dog Food, Puppy
Pros
Uses farm-grown veggies for fiber-rich carbohydrates;
Contains health-boosting antioxidants from both flaxseed and all the lovely fruits inside;
Because it only features one meat — chicken — it's great for intolerant Dachshunds;
The kibble bits are very cute and small, making them ideal for little puppy dogs; and
Gives your sweet pooch 28% protein.
Cons
This contains soy ingredients; and
It can be considered slightly pricey.
Our Verdict: 4.5/5
Health-wise, this stands up to scrutiny! It's made from non-GMO fruit and an array of colorful vegetables so that your Dachshund gets enough fiber and vitamins. With chicken as a top #1ingredient, there's ample protein for those busy little growers!
Orijen Puppy Formula Dry Dog Food
Pros
This contains traditional wholesome chicken meat, as well as all the nutrient-rich organs that are valuable for your pup's growth;
With Omega-rich eggs, your Dachshund puppy will have a killer coat!
Includes more than 80% of the ingredients inside this particular recipe are from animals, rather than carbs or grains;
Top-notch preservation techniques are used to keep those ingredients full of nutrition; and
It's preserved only with all-natural ingredients.
Cons
Somewhat pricey with respect to other puppy chows!
Our Verdict: 5/5
If quality, quality, and quality are at the top of your priority list as an owner, Orijen puppy food is the way to go. Quality meats and a healthy mix of traditional carbs make this a filler- and nasty by-product-free formula. Perfect for all doggy breeds, including your little Dachshund.
Best Dog Food For Daschunds: Adults
Taste of The Wild Grain Free High Protein Dry Dog Food
Pros
At least 32% protein is guaranteed in this mix;
Your little Dachshund gets 18% fat from Omega-3-rich canola oil;
Other proteins in here include ocean fish, lentils, beans, and lamb;
Egg provides even more Omega acids for a slick, glossy coat; and
It's a great source of all-natural fruit and veggie fiber, so no filler ingredients!
Cons
Nope, this has long been one of our favorite formulas for small dogs — nothing's changed there!
Our Verdict: 5/5
This Taste of the Wild blend is made at Diamond facilities in the States. Because you can feed puppies of up to 40lb with this mix, it's ideal even for those who've got larger Dachshunds.
Natural Balance Limited Ingredient Diets Dry Dog Food
Pros
All-naturally colored, this adult and puppy food for small-breeds also skips the fake synthetic preservatives;
Perfect for Dachshunds who've got food sensitivities, as it contains only a small number of ingredients;
Totally filler-free;
Contains fiber-rich, easily broken-down sweet potato (which is also bursting with potassium!); and
Provides your little dog with brain-healthy DHA.
Cons
Be aware that while it's formulated for pups and grown dogs, it still only offers 21% protein. That's somewhat low for a lot of puppies.
Our Verdict: 4.5/5
With these Small Breed Bites, your Dachshund will have an easy time chowing down. It's also designed so that the kibble will clean their cute little teeth, helping to keep their breath fresh and plaque-free.
WholeHearted Grain Free Small-Breed Adult Dry Dog Food
Pros
With 27% protein and 16% fat, this is a super-balanced and deliciously complete formula for grown pooches;
With egg, flaxseed, and salmon fish oil, this offers lots of nourishing Omega fats for your Dachshund's fur;
It includes gut probiotics which make it suitable for pooches who have sensitive tummies;
Of course, chicken's the very top ingredient; and
It's 100% gluten-free.
Cons
It would only take a few more real vegetables to make this a perfect recipe!
Our Verdict: 4.5/5
Salmon oil aside, this is pretty much a one-meat formula. There's a generous amount of protein nonetheless, thanks to fiber-packed chickpeas and lentils. This product's some of the best dog food for Dachshunds, with only five-star reviews that we can spot!
FAQ
How do I know if my Dachshund pup is grown up or not?
As a very rough guide, small-breeds most frequently mature between the ages of 9 and 12 months young. It can sometimes be a tad tricky to tell whether your Dachshund is growing because of muscle gain or weight gain at first, so we suggest you start looking at a body condition score chart when your pup enters this age range. It will show you how to tell if your Dachshund is simply becoming heavier because he's growing longer, or whether he's now getting too many calories from a puppy formula.
Why do some dog foods include fruit ingredients?
There are some health benefits behind the inclusion of fruit in dog kibbles. Essentially, they provide natural minerals and some of the essential vitamins that keep your pooch in good health. One example that we often see in dog food is carrot — this not only provides Vitamin A but also beta-carotene (an antioxidant) some microorganisms which are good for his gut. Fruits also give your Dachshund a nice dose of fiber, which contributes positively to a healthy colon.
Sometimes, you might come across a good dog food for Dachshunds which does not feature much fruit or veg. In these instances, there's no harm in chopping up some apple or beans as a snack for your fluffy friend!
Helpful Links
Last update on 2020-01-19 / Affiliate links / Images from Amazon Product Advertising API