Lots of puppies adore wet food, and not just for the taste alone. It's full of moisture, smells appetizing, and often makes a pleasant change from the usual dry kibble. For owners, canned puppy food is also super-versatile – we can feed it as an entire meal, mix it in with dry kibble for dogs who need a softer meal, or use it as a topper or treat. And while it keeps for a reasonable amount of time in the fridge, it never seems to last that long in the first place – our pooches just love it!If you're hoping to find the best wet dog food for your puppy, grown, or senior dog, look no further. We've put together a little background on how you can pick the perfect soft dinner for your beloved companion, and reviewed the Top 10 Best Canned Dog Foods just below. Read on to discover the ideal dinner for your best friend!
Quick Review: Top-6 Canned Dog Food
CANIDAE Grain Free Pure Dog Wet Food

Does not use grain and has no fillers
It contains calcium and phosphorus
Eggs, sunflower and salmon oil provide omega fat

Merrick Lil' Plates GF Small Breed Wet Dog Food

They offer many important nutrients
Contains no wheat, no grain, no soy
It uses chelated minerals

Best

Sensitive Stomachs

Food

Natural Balance Limited Ingredient Wet Dog Food

Uses only chicken
Contains zero wheat, gluten, soy, grains, or corn
Designed to facilitate the digestion of your dog

Blue Buffalo Senior Wet Dog Food

Contains Omega-6 and Omega-3
Uses fish oil
It is balanced and complete

Nulo Adult & Puppy GF Canned Wet Dog Food

It promotes healthy weight control
Contains 10% of healthy turkey meat protein
Includes fiber from garbanzo beans and carrots

Wellness CORE Natural GF Wet Dog Food

Only nutritional macro and micronutrients
Offers 11% protein
It includes only 318 calories per can
What's the Best Wet Dog Food Diet for Dogs?
The best tasting canned dog food will not always be the healthiest option for your furry friend, so in this article, we'll start with a few important tips to help you make the best choice.
Choose a Size- and Age-Appropriate Formula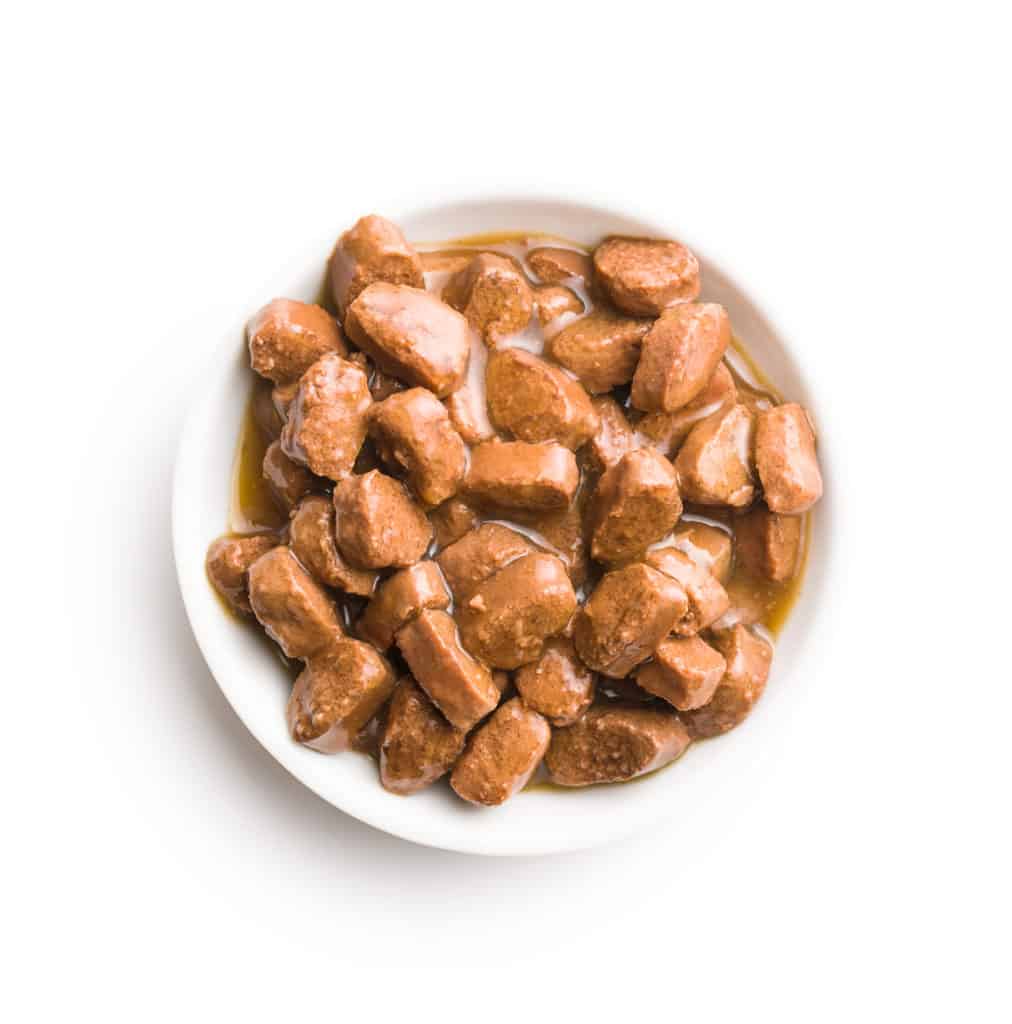 First and foremost, finding the best food for your puppy is always about choosing a nutritious, balanced, and holistic recipe that's designed precisely for his size and life stage.
If you've got a young Mini Poodle or Maltese, look for a puppy food – or even better, a small-breed puppy food. Have you got a grown-up Golden Retriever? The best canned dog food for your pooch could be any number of large-breed wet foods that have the right kibble size and nutritional content for maintenance. If you've got a senior Doberman, you'll want the best soft dog food for giant-breeds, and so on.
Avoid Low-Quality Ingredients
Second, the best wet dog food will be as natural as possible. You don't necessarily need to feed your pooch with the best organic dog food, but certain ingredients are always best avoided. Some should be avoided because they are potentially harmful, such as BHA and BHT – these are synthetic preservatives – and some are best avoided due to their low nutritional merit.
The latter are typically cheap ingredients called 'fillers', and they can include anything from corn gluten meal to chicken by-product meal – you can spot these because they are nutritionally inferior to whole meats and (regular) meat meals. Since canned food is often a tasty treat in comparison to kibble, it's easy for companies to pack them full of ingredients that could result in weight gain over time. It's up to you to understand what it's in highest quality canned foods, and we'll help you do just that.
So, what is inside the very best soft dog food? Let's take a look!
Inside the Best Wet Dog Food
There are are many broad categories of puppy food out there – typically, the biggest distinction is between canned, wet dog food (also called soft food) and dry kibble. Kibble is relatively easy to understand; it has a long shelf-life once opened if it's stored properly, and on the whole, it is more affordable than canned soft puppy food.
But what else is different about wet food? And how do you understand the nutritional analysis so you can know what's in it? Here are several pointers to be aware of:
Compared to dry dog food, canned foods have lower protein content – rather than 25%, 30%, or above, you will see figures such as 8%, 9%, and 10% on the label. This is because wet dog foods contain more moisture than kibble, and thus each serving has a lower percentage of protein. If you calculate the real, dry-matter protein content of dog food (there are many formulae online), you will find that most canned foods offer more than 40% protein on a dry-matter basis.
In case you're wondering, wet dog foods will typically contain between 70 and 90% moisture. It's exactly why they are such a great way to hydrate those puppies or dogs who don't drink very much water of their own accord. It's also great for dogs with medical conditions that require them to stay extra hydrated!
Even the best soft dog food needs to be refrigerated after it's opened. Typically, you can saran wrap the opened can and store it safely for up to 2 days in a regular refrigerator. Some of the best wet dog food brands even make cans with convenient lids!
Lastly, you do not need to stick to either wet or dry food for your puppy – the two can generally go very well together as a tasty, exciting treat come dinnertime. And mixing up a canned pate, loaf, or similar is as simple as it sounds if you read the manufacturer's serving suggestions properly. All you need to do is substitute in the right amount of wet food and stir a little bit. Voila!
What Kind of Dogs Need Canned Food?
Whether you're searching for the best wet dog food for puppies, or you're after the best soft dog food for senior dogs, there's something for every pooch in this article. But before we dive into our reviews, here's how you can tell if your best friend will benefit from wet food over regular kibble.
Newly weaned puppies don't have strong enough teeth to start crunching kibble right away. Soft food is a great way to introduce your little one to solid kibble, as it is a nice half-way between his mother's milk and serious kibble.
Older dogs or dogs with dental problems may find that dry dog food is too difficult to eat – it may even be painful if they are missing a tooth or two. Wet dog food helps them get the nutrients and energy they require, with less fuss and fewer messes around the dinner bowl.
Dogs with medical conditions that require a bit of extra hydration. For example, kidney disease, those prone to constipation, and any other condition that benefits from a wet food diet.
Lastly, as we noted, some puppies don't drink very much water. If your pooch is super-active and yet still won't lap up his water, you can use wet food as one means of getting more hydration into his system.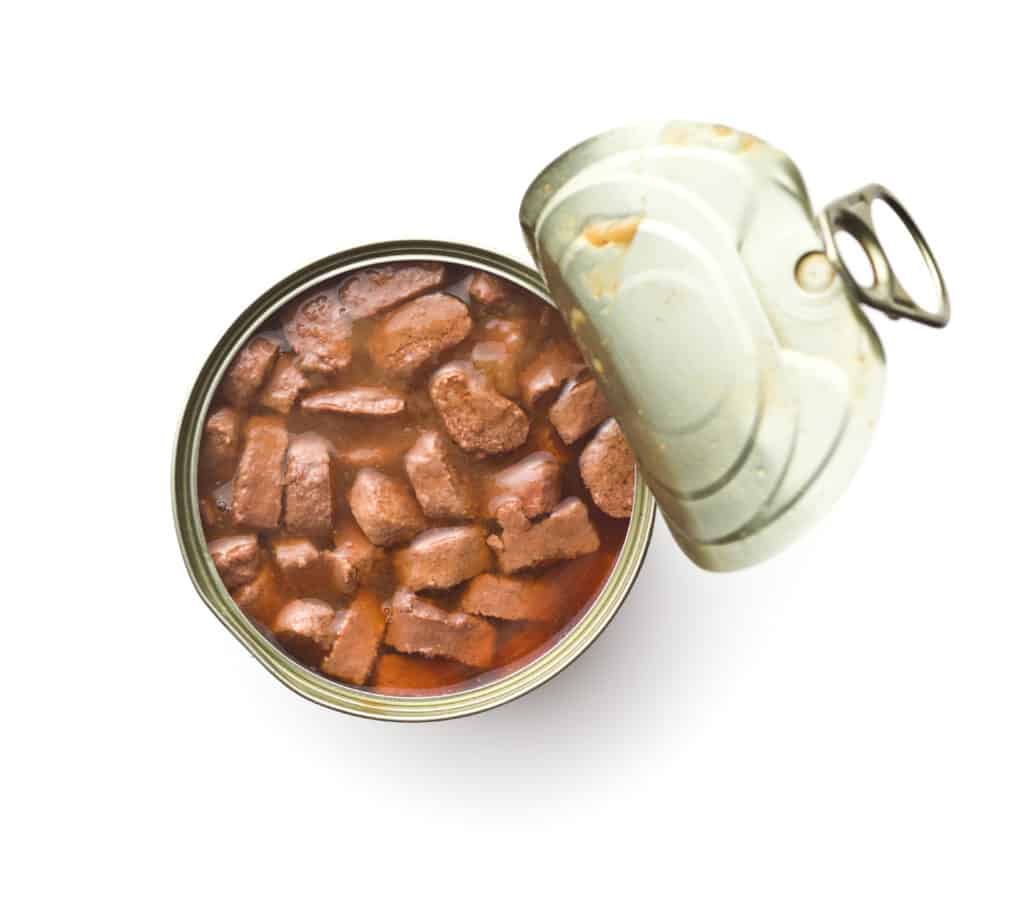 The Best Wet Dog Food Brands For Puppies and Adults
Overwhelmed with so much choice? New to the world of puppy and dog food? Don't worry, our team of dog lovers is here to help you navigate!
If you're unsure what the best wet dog food brands are, here's a list of manufacturers that create the top 10 best canned dog foods:
CANIDAE – A huge line of grain-free kibbles has made CANIDAE very popular with owners everywhere. This brand has a reputation for creating healthy, hypoallergenic, and zero-gluten recipes, but they also make some of the best soft dog food on the market;
Solid Gold – Instantly recognizable by their distinctive colors, Solid Gold dog foods are another one of the best wet dog food brands if your pet prefers a softer diet. They craft puppy food, canned options for all-breeds, and make some of the best wet dog food to mix with dry kibble;
Wellness CORE – We never fail to be impressed by the great quality of ingredients that Wellness CORE recipes contain. They don't use synthetic chemicals to preserve their wet food, and you won't ever find meat by-products in their formulas;
Merrick – For super high-quality puppy food at an affordable price, Merrick always delivers. They manufacture some of the best wet dog food for small dogs in their Lil' Plates line of products;
Nutro – A reliable brand in the dog food industry, Nutro's recipes include grain-containing and zero-gluten recipes and are very popular with owners. They have great variety within their numerous ranges, and use good ingredients to craft high-protein formulas;
Nature's Variety Instinct – Instinct doesn't just produce great kibble, its wet dog foods are also nutritious and use high-grade meats for good overall protein content. We recommend their canned food for senior dogs very highly;
Blue Buffalo – Blue Buffalo offers owners lots of choices when it comes to the best soft dog food, you can choose from their Blue Basics range for dogs with allergies, and they also have a high-protein Blue Wilderness range that's inspired by what wolves eat in the wild!
Nulo – While relatively new to the dog food scene, Nulo has still been around for ages. Since 2009, they have been building up an extensive selection of healthy, natural foods that include some of the best dog canned food out there; and
Natural Balance – Natural Balance crafts a massive range of different Limited Ingredient kibbles and wet dog foods. If your puppy can't eat chicken, there's always another option – beef, chicken, lamb, turkey – you name it, and all without fillers or grains!
Keep reading to find out which brand is right for your puppy, grown dog, or senior pooch!
The Best Wet Dog Food For Puppies
CANIDAE Grain Free Pure Dog Wet Food
Pros
This contains the right calcium, phosphorus, and calorie ratios for both large and small puppies;
Naturally flavored with delectable chicken broth, this is a nutrient-rich formula with a savory taste your puppy will adore;
Uses no gluten-including grains, and has no fillers;
Contains a controlled amount of thoughtfully-selected ingredients, making it ideal for those puppies who have allergies; and
Eggs, sunflower oil, and salmon oil provide both types of essential Omega fat, so that coat stays glossy and your pup's skin stays strong!
Cons
This CANIDAE recipe gets 5 stars from us – and no cons!
Our Verdict: 5/5
Gently simmered for the maximum possible natural flavors, this grain-free CANIDAE growth formula sounds tempting, even to us! It offers chondroitin, glucosamine, DHA, Omega fats, and plenty of protein. Perfect for puppies of all sizes and different breeds.
Nutro Puppy Wet Dog Food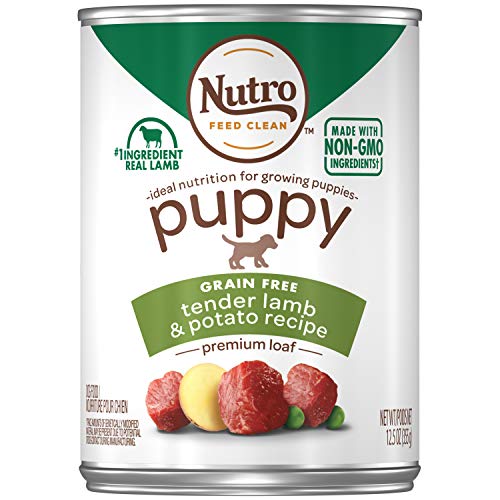 Pros
The top ingredient inside this Nutro Puppy food is farm-raised, non-GMO lamb;
Offers a lovely 9% protein that will fuel your puppy's growth;
Naturally flavored with broth and organs, this recipe contains all the critical nutrients your puppy needs to be happy and fit;
It's gluten-free and thus suitable for intolerant pooches; and
Features yummy veggies such as yams, carrots, and peas.
Cons
Includes potato – so if your puppy is intolerant, pick one of our other excellent recipes!
Our Verdict: 5/5
Here's some of the best wet dog food for puppies we could find – it's perfect in terms of nutrition and easy on your little one's tummy. It has plenty of protein, with a dry-matter count of 53%!
Merrick Classic Grain Free Canned Dog Food
Pros
Made with only natural colors, preserving agents, and flavors, this is great both as a topper and as a balanced, complete doggy dinner;
Most of the calories in here come from protein, with some slow-release fats, and limited carbohydrates;
Uses boneless tasty beef as the very top ingredient, followed by hydrating beef and chicken broths for flavor;
There are plenty of natural fruit and vegetable vitamins in here, such as peas, carrots, green beans, and blueberries – these provide fiber to keep your dog full between meals; and
It includes both flaxseed and salmon oils for higher Omega fat content. Ideal for your sweet puppy or grown dog's coat!
Cons
Affordably priced, complete, and made from great ingredients, we can't find fault with this Merrick wet food!
Our Verdict: 5/5
This Cowboy Cookout recipe has a tantalizing beef flavor that all dogs will fall for instantly – as well as this, it includes delicious apples and sweet potatoes for extra vitamins and great fiber content.
Royal Canin Mature Adult Canned Food
Pros
Supports hydration
Quality protein (chicken & pork)
Added nutrients for skin and joint health
B12 for immune support
Cons
Does contain chicken for dogs that are prone to poultry allergies
Our Verdict: 5/5
This is a delicious diet that will take care of your aging dog's needs, and help to assure you that your older pup has everything they need to thrive.
Best Wet Dog Food For Small Breeds
Merrick Lil' Plates Grain Free Small Breed Wet Dog Food
Pros
Starting with boneless whole turkey, this Merrick recipe contains plenty of wholesome meats for a total 8% protein;
Organs and supplements offer lots of critical nutrients which encourage healthy development;
There's also good amounts of low-GI, fiber-rich carbohydrates for your little dog's digestion, including sweet potato, apples, and green beans;
USA-made, this small-breed-specific recipe has no wheat, grains, or soy; and
It uses chelated minerals so that your little pooch can absorb more of that nutritional goodness!
Cons
Includes potato ingredients.
Our Verdict: 5/5
This is some of the best wet dog food for small dogs such as
Shih Tzu
,
Corgis
,
Yorkshire
Terriers
,
Dachshunds
,
Poms
, and
Chihuahuas
. It's high in useful fat and provides 96 calories in each little bowl. Great as a snack, or simply serve more for a full meal – even if it's not Thanksgiving!
Solid Gold Wet Dog Food
Pros
Nutritionally complete, this holistic, natural recipe has everything your small- or medium-breed puppy requires to grow up healthy and strong;
Uses sweet potatoes for increased fiber content, making this a digestible recipe that's gentle on the tummy;
With lean turkey and whitefish for protein, this formula contains a selection of different meats for delicious variety;
Includes 9% for muscular development; and
It's grain-free and uses healthy microorganisms to enable better digestion.
Cons
Our Verdict: 5/5
With 95% beef and 582 calories per cup, your active puppy will get everything necessary for his daily walk from this excellent, high-quality Solid Gold growth recipe. It's balanced perfectly for a holistic approach to puppy development and has amazing reviews from puppy owners!
Best Canned Dog Food For Sensitive Stomachs
Natural Balance Limited Ingredient Diets Wet Dog Food, Grain Free
Pros
Filler-free and made with no synthetic add-ins, Natural Balance's LID wet food is the perfect choice for dogs with digestive problems;
Includes coat-friendly, skin-protective Omega acids from canola oil, zinc supplements, Vitamin E, and selenium;
Uses only chicken meat and no other types of animal protein – great if your pooch isn't able to eat other meats;
Contains zero wheat, gluten, soy, grains, or corn; and
With plentiful vegetable fiber from colorful sweet potato, it's designed to make your pooch's digestion much easier.
Cons
Includes potato, and some dogs may not be able to eat chicken.
Our Verdict: 5/5
If you're after the best wet dog food for
sensitive stomach
, this is our pick. We love its simple yet nutritious adult formula, and it's fortified with all the important minerals and vitamins for your dog's health.
The Best Senior Wet Dog Food: Reviews
Blue Buffalo Blue Basics Grain-Free Senior Wet Dog Food
Pros
Includes lean turkey as the core protein ingredient;
With no eggs, dairy, corn, or wheat, this limited ingredient blend contains very few potential allergens for most dogs;
Includes great amounts of Omega-6 and Omega-3, which help reduce unnecessary shedding and maintain your pet's coat health;
Uses fish oil to give your older dog glucosamine, protecting his joints; and
It's balanced and holistic to ensure your senior pet's mobility and strength.
Cons
Includes potato, an ingredient which some pooches aren't able to eat.
Our Verdict: 5/5
This is definitely among the best soft dog food for older dogs, and because it's a limited formula, it's also some of the best canned dog food for allergies, too. Turkey is known as a great provider of antioxidants and lean protein, so your older pooch can maintain healthy muscle tone and feel full between meals.
Nature's Variety Instinct Original Grain Free Recipe Natural Wet Canned Dog Food
Pros
Whole duck, the first ingredient, is a high-quality lean protein which is full of important amino acids;
Naturally flavored, this recipe uses duck broth for both minerals and a savory taste your dog will love;
Includes the very nutrient-rich ingredient of duck liver for added minerals and soft texture;
Has natural pea fiber which allows for easier digestion; and
Gives your older dog 48% protein.
Cons
None – all the ingredients in here are very well-chosen and provide great nutrition for your older dog.
Our Verdict: 5/5
If you're after the best wet dog food for seniors, this is one of our top picks thanks to its use of chelated minerals and its soft loaf-style texture.
Best Grain Free Canned Dog Food
Nulo Adult & Puppy Grain Free Canned Wet Dog Food
Pros
A grain-free blend, Nulo's appetizing recipe is 100% safe for older dogs, and younger adults with gluten allergies;
Fortified with all the essential minerals and vitamins your dog requires, this is a balanced and entirely complete soft food which supports your pet's muscle maintenance for mobility;
With a lower carb count than lots of other recipes, this also encourages healthy weight management;
Contains 10% healthy protein from real meats such as whole turkey; and
Includes fiber from garbanzo beans and carrots.
Cons
None – it's highly recommended for grown dogs!
Our Verdict: 5/5
Nulo's low-GI formula not only encourages better weight management for dogs on a grain-free diet, but it's also easy to chew, digest, and enjoy – making it some of the best soft dog food for senior dogs.
Best Canned Dog Food For Weight Loss
Wellness CORE Natural Grain Free Wet Canned Dog Food
Pros
There is a great range of different meat proteins to be found in here – great both for flavor and to keep your pet's diet interesting!
Supplements such as calcium, iodine, selenium, and zinc will keep your best friend in top health while he loses weight;
There are none of the most common ingredient fillers in here, just nutritionally important macro- and micronutrients;
Offers 11% protein – that's plenty – and relatively low fat; and
It includes only 318 calories per can.
Cons
This is heartily recommended by us and other owners, and we couldn't find anything to complain about!
Our Verdict: 5/5
With no soy or corn, this grain-free Wellness CORE formula is calorie-controlled to help prevent obesity and weight-related health complications in adult dogs. With lots of fiber, it also encourages your dog to stick with a healthy amount by keeping him full between meals!
FAQ
What's inside the best wet dog food for seniors?
The best canned senior dog food should contain enough protein for your older pooch to maintain good muscle mass. It is sometimes said that older dogs don't require as much protein in their diets as adult dogs, but there is no reliable scientific evidence to support this claim. Just like 2-, 3-, or 4-year old adults, they use their muscles for mobility and exercise – which comes from amino acids in their dietary protein.
The best wet dog food for seniors should contain glucosamine – as dogs get older, they may be more vulnerable to stiff joints or osteoarthritis. Glucosamine helps combat this by building cartilage and cushioning your senior dogs' joints. The best canned dog food for senior dogs should also be easy to chew and digest – this is especially important if your older dog is missing some teeth or has difficulty crunching kibble. Stick to these two key points and consider what your senior dog's unique dietary needs might be – is he gluten-intolerant? Does he have a sensitive stomach? Then, browse our special diet pages, or check out our article on the Best Senior Dog Food; you're sure to find something ideal for your pooch!
What is dehydrated puppy food?
The concept of dehydrated puppy food is perhaps less well-known among owners than plain old wet food or kibble. Quite simply, however, it mostly refers to fresh meat or food which has had the water removed from it. This is an affordable, healthy method of preserving the product over time. When your puppy is ready to eat, you simply add the water back into the formula to rehydrate it – this restores it to a chewable, appealing texture and taste.
Commercially drying or dehydrating puppy food can prevent bacteria from growing in it when it is packaged, stored, and so forth. When done correctly (by manufacturers, for example), dehydration does not reduce the nutritional goodness of the food very much – along with the fact that it doesn't require chemicals, this is one of the key advantages of dehydrated puppy food.
Helpful Links
Last update on 2020-07-29 / Affiliate links / Images from Amazon Product Advertising API