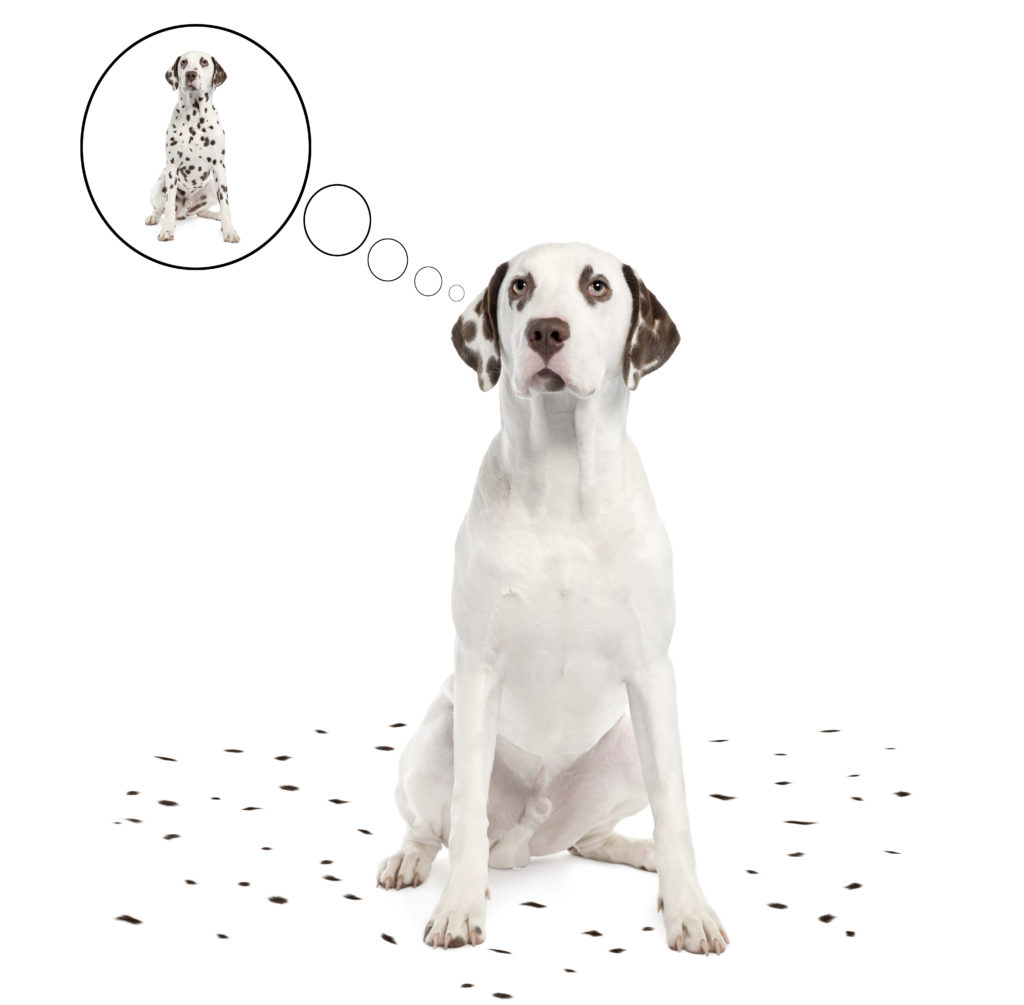 Has that sweet puppy of yours been leaving fur around the house? On the couch, perhaps, or maybe all over the carpet? Shedding is an inevitable part of life when you're a dog or puppy owner, but it can be managed and reduced in several ways. Brushing your dog is one way to keep the shedding at bay, and according to this blog post for dog ownersgetting an air purifier can help to remove dander from in the air, reducing the amount that ends up around the house. However, a balanced diet can also improve the condition of your best friend's coat for longer-term benefits. So what's the best dog food for shedding? What key ingredients does it contain, and what brands make a yummy, healthy formula that your puppy or grown dog will love? In this article, we'll have a look at the answers to these questions. So that you can spend less time vacuuming and more quality time with your best friend!
Quick Review: Top-3 Dog Foods For Shedding
Merrick Whole Earth Farms GF Dog Food

Do not use any poultry by-products
Uses prebiotics
It is designed to increase its power supply

Nature's Recipe Healthy Skin Dry Dog Food

Added copper supplements combat disease
Contains fatty acids
Uses natural ingredients

Nutro Limited Ingredient Diet Wet Dog Food

Uses lamb liver for a rich source of minerals
These include zinc oxide and copper
Contains sunflower oil & vitamin E
What's The Best Dog Food For Shedding and Dry Skin?
No matter how much you (hypothetically) supplement your dog's diet, the best dog food is always going to be complete and properly balanced. Always make sure the kibble you're considering includes all the macro- and micronutrients that your dog needs to thrive before you switch over to a new formula, regardless of how well it claims to fix or cure shedding.
The simple fact is — your dog will never stop shedding entirely unless he's hairless! What you can do to reduce the extent to which he sheds, however, is choose a complete, natural diet. Ideally, this will also contain a few extra ingredients that are known to reduce dry skin and improve his coat.
Omega Fatty Acids
Often found in ingredients such as salmon oil and flaxseed, Omega acids play a crucial role in maintaining the membranes of your dog's skin cells. These polyunsaturated lipids are an important part of a balanced doggy diet, and because your dog's fur is (clearly!) rooted in his skin, they can help to reduce the extent of his shedding. Try to pick out dog foods that feature fish oil of some sort, and/or which include other sources of Omega acids, like sunflower oil or flaxseed.
Minerals and Vitamins
Since skin problems are the main cause of your dog's shedding, it's best to choose not just a healthy recipe, but one that will also promote optimal skin health. A good recipe will use natural ingredients or supplements that provide your puppy with Vitamin E, which has long been known for its beneficial skin care properties. Vitamin E can also assist in soothing itchiness and dryness if those are triggering your fluffy pet's shedding problems, and helps maintain that first protective barrier against disease.
Other helpful minerals to keep your eyes peeled for include selenium and zinc. Both are essential for your pup's vital functions and his daily processes, but they also help to enhance the condition of their coat and skin. In most of the dog foods we have reviewed, you will find these already included as part of a holistic skincare formula, so there is no need for you to add further supplements to your pup or grown dog's diet.
Limited Ingredient Formulas
If you've tried a dog food that ticks all these boxes and still aren't getting results, it may be that your dog is shedding as a reaction to some ingredient in his food. If your pup's fur loss is due to an intolerance, it will most likely remain a problem unless that ingredient is removed from his diet — and it's why a limited ingredient formula can sometimes be the answer to your best friend's shedding problem. We have looked at several recipes below which are either hypoallergenic or limited in their ingredients, but we do suggest that you also seek a vet's advice if you feel that your dog may be intolerant to something in his food.
The Best Dog Food For Shedding Control: Brands We Love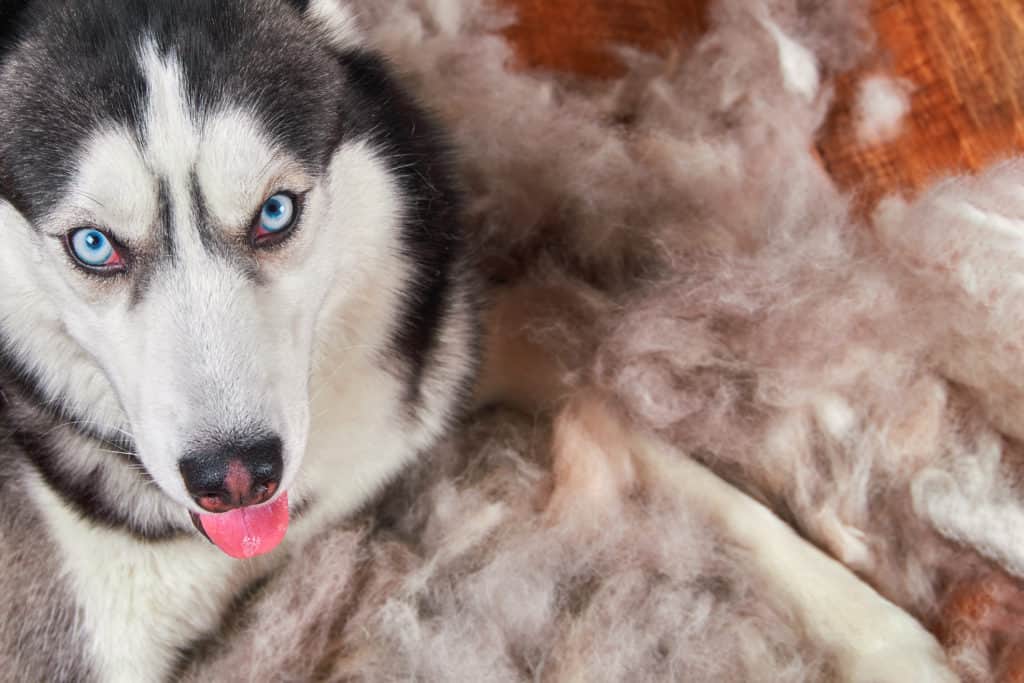 Where should you be looking, then, for a brand you can trust? Some are more well-known than others, but our nutrition-focus has led us to these top manufacturers if you are after a healthy, natural recipe that will help your best friend stop shedding so much.
Reviews of The Best Dog Food For Shedding: Puppies
AvoDerm Natural Puppy Dry & Wet Dog Food
Pros
With 26% protein from glucosamine-containing chicken meal, your puppy will have a good amount of amino acids to develop strong muscles;
There's no corn, wheat, or any soy ingredients in this formula;
Contains Vitamin E that helps counter dryness, itchiness, or flaking;
Omega fats in avocado and flaxseed are key in your puppy's diet and help maintain his health; and
Features B Vitamins for energy!
Cons
Nope, we're satisfied with this healthy skin and fur blend from Avoderm!
Our Verdict: 5/5
Avocado provides plenty of ALA — an Omega fat that enables your pup's skin to stay strong and supple. Because shedding is often down to dry skin, kibble like this can treat the root of the problem.
Merrick Whole Earth Farms Grain Free Dry Dog Food
Pros
Your puppy will never grow out of this food, it's designed for every life stage;
Doesn't use any poultry by-products or any fake colors;
Salmon oil has plenty of Omega-3 acids, including EPA and DHA, both contributing to lower blood pressure and protecting your pup's skin;
Uses prebiotics that will make digestion much easier for your little one; and
Affordably priced, this is developed to enhance his nutrition as well as stop shedding.
Cons
None, this is one of the best recipes we've reviewed for shedding puppies.
Our Verdict: 5/5
Reasonably priced, this American-made formula uses delicious vegetables and fruits for more fiber. With Omega acids to keep your pup's skin in top form, it's some of the best dog food for shedding.
Diamond Naturals Premium Dry Dog Food
Pros
Offers your little puppy 25% protein;
Fish meal and real salmon are the top ingredients, both are sources of glucosamine that aids puppy joint development;
Contains zinc, which plays a role alongside selenium to help your puppy's skin function;
Omega acids and Vitamin E also benefit your little pup's coat; and
It's easy to break down as well as hypoallergenic, making it an ideal choice for sensitive little pooches.
Cons
This formula does include potato.
Our Verdict: 5/5
If you're after vitamins, fiber, and antioxidants, you'll find all three in this formula — it contains chia seeds, papaya, and kale, among other ingredients! Protein-rich and packed with Omega fats, it's a great dog food for shedding little puppies.
Best Dry Dog Food For Shedding: Adults
Diamond CARE Sensitive Skin – Hydrolyzed
Pros
Perfect for grown dogs large, medium, and small, it's an all-breeds recipe that makes it handy for owners with multiple dogs;
Provides selenium, zinc, and Vitamin E that are all excellent skin-care supplements;
Rich in Omega acids from hydrolyzed salmon protein – it won't trigger allergies but still gives a good dose of DHA;
Omega fats also come from sunflower oil, salmon oil, and flaxseed; and
It's totally potato-free and zero-grain, making it all around a great recipe for your intolerant or allergic pet.
Cons
This only offers one kind of meat. That's usually ideal for dogs which are shedding due to skin sensitivities, but your pooch might enjoy variety if that doesn't apply to him.
Our Verdict: 5/5
Hydrolyzed protein formulas are a great solution for pooches who are losing fur because of a reaction to their diet. This Diamond CARE Recipe meets a lot of other important criteria if your dog is allergic or intolerant to certain ingredients.
Nature's Recipe Healthy Skin Dry Dog Food
Pros
Contains all the essential minerals for your adult dog to keep his skin healthy — including Vitamin E and zinc;
Added copper supplements combat disease;
Includes fatty acids to promote good skin and reduce shedding;
Uses natural ingredients, with venison meal as the top ingredient; and
It's also available as a whitefish recipe if your dog doesn't fancy venison!
Cons
Contains some potato ingredients.
Our Verdict: 5/5
Ideal for mature dogs, no matter what breed, Nature's Recipe Healthy Skin has been formulated and balanced to improve your pet's coat and keep any shedding to a minimum. At this price, it's a very reasonable choice for dog parents with many pets!
Best Canned Dog Food For Shedding
NUTRO Limited Ingredient Diet Adult Natural Wet Dog Food
Pros
Uses lamb liver for a rich source of minerals;
These include zinc oxide and copper, both beneficial for your grown pooch's skin;
As a limited ingredient recipe, this formula skips all the potential allergens that might be triggering fur loss;
Sunflower oil and Vitamin E supplements help decrease the likelihood of thinning coats; and
All the ingredients you'll find in here are either natural or healthy, approved supplements.
Cons
We'd like to be able to know the exact levels of Omega acids in this food, but otherwise, it's a great formula.
Our Verdict: 4.5/5
USA-made with only a few core ingredients, this natural mix is a healthy option if your best friend needs to restrict the number of ingredients that might be causing shedding.
Science Diet Sensitive Stomach & Skin
Pros
Nourishes skin and promotes gut health
Added probiotics for immune support and GI support
Packed with Vitamin E and Omega fatty acids
Cons
Does contain chicken, so dogs with poultry allergies may not be able to enjoy this diet.
Our Verdict: 4/5
This is a wonderful diet option for the sensitive pups of the world that need an extra boost in their diet.
FAQ
What's a regular amount of shedding?
The answer to this question will be different for distinct breeds, and it also depends on how old your dog is. You will even find variety within breeds; for example, some Dachshund breeds shed less than others. Unless you are extremely concerned or notice a large change in the extent of (non-seasonal) shedding that your dog exhibits, it's normal for all dogs to shed at some point. With a balanced diet, you will likely be able to reduce shedding, but you'll never be able to stop it completely — it's only natural.
Should I be shampooing my dog to reduce shedding?
You can brush or shampoo your dog if you're concerned about how much fur is getting dropped around your house — his vet might sell or recommend a brush that is most suited for your particular dog's fur. This won't necessarily stop him from losing fur in the first place, however, it will allow you to control the amount of dog hair that gets stuck to the furniture!
If you are going to shampoo your dog, use a special product that is canine-friendly; if you're looking for shampoo products, you could have a look at some of the best puppy shampoo for your breed. Not all human shampoos are designed to be sensitive on doggy skin. Make sure you rinse all the shampoo out properly – or dog conditioner if you're using it. Oh, and we suggest you brush your pup or dog outside the house so you don't make more of a mess indoors by mistake!
Last update on 2021-06-09 / Affiliate links / Images from Amazon Product Advertising API