Been thinking about switching over to a different puppy food? If you've been considering a brand that uses only natural ingredients, our Eagle Pack dog food reviews will give you more information on this wonderful option. After scouring the internet and squinting over those ingredients lists, we've put together everything we could find that would help you make a convenient, but well-informed choice for your little pup. Read on to find out who Eagle Pack dog food is made by, where exactly it's produced, how we rate their ingredients, and whether there are any recalls that you should know about!
Quick Review: Top-5 Dog Foods From Eagle Pack
Eagle Pack Natural Dog Food Original

This gives adult dogs 23% protein and 12% fat
There are fish meal from sardines and anchovies
Includes bacteria that are good for the intestines

Eagle Pack Natural Large Breed

25% protein for large breeds
Contains inulin, suitable for the digestive tract
Maintains strong muscle tone in large canines

Eagle Pack Natural Original Small Breed

Contains no preservatives, flavors or colors
Does not contain wheat and soy for small breed
Gives dogs 27% protein

Eagle Pack Natural Wet Canned

Uses high quality, vitamin B-rich chicken liver
Includes Omega acid-rich flaxseed
Uses zero unnecessary filler ingredients

Eagle Pack Natural Power Adult

Suitable for both small breeds and larger dogs
30% protein from pork and chicken
Uses chicken fat - source of linoleic acid
About Eagle Pack Dog Food
Who Are Eagle Pack?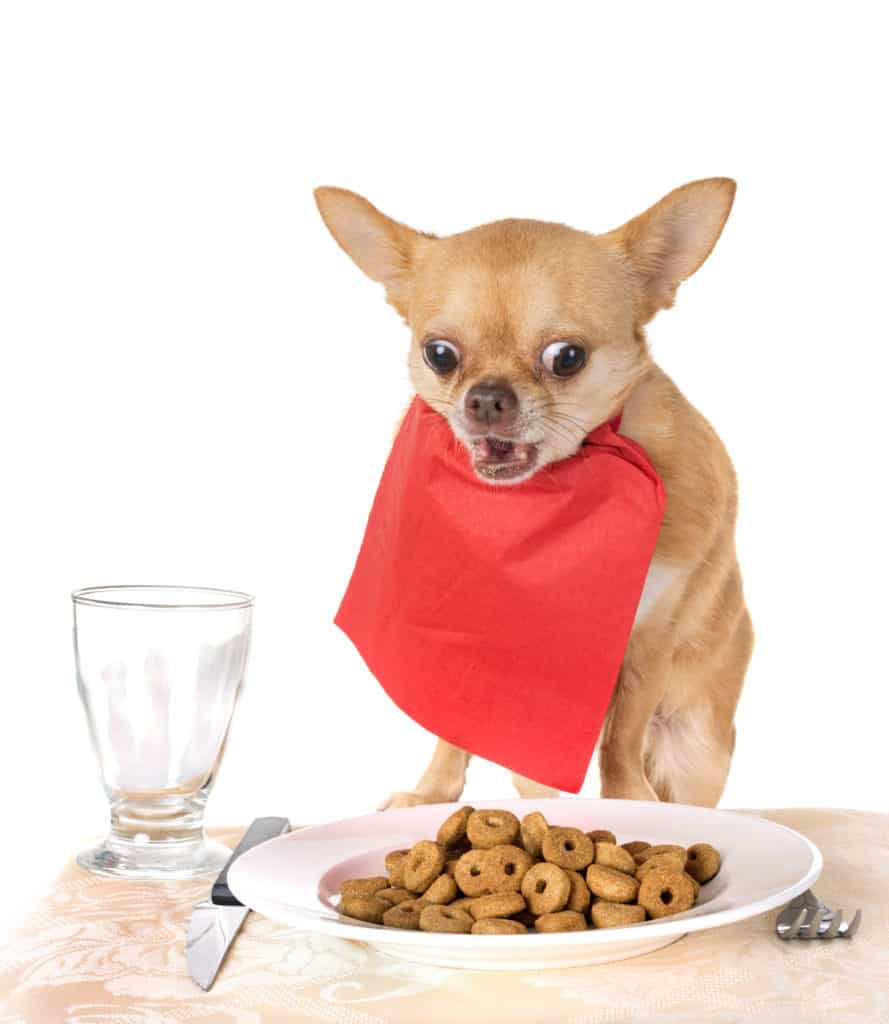 Eagle Pack dog food is one of WellPet's brands. Puppy owners may know WellPet as the owner of Holistic Select kibbles, and the firm also owns the Wellness brand of pet chow. But while Eagle Pack was only acquired 9 or so years ago, it has a much longer history in the dog food industry that spans over two decades.
The kibble itself is produced in Indiana facilities by WellPet, and Eagle Pack's strict standards mean the brand goes above and beyond FDA requirements for safety. In most of the recipes, you'll find a healthy mix of natural proteins, wholesome grains, and supplements that are required to meet the AAFCO's regulations.
What's Special About Eagle Pack?
With an established brand name and a loyal following — that includes owners, as well as dogs — Eagle Pack kibbles, are USA-made. Here's what you'll find from the brand as a whole, and in our Eagle Pack dog food reviews below:
Size-specific dry puppy formulas – these go right from a small-breed mix up to chow for giant-sized puppies with long growth periods;
Size-specific adult dog formulas – which will make it simple for you to pick out the right mix for your Dachshund, Chihuahua, or Great Dane;
Eagle Pack Power adult dog food – a popular protein-rich recipe that's developed especially for super-active or working pooches; and
Canned formulas – these include all-life-stages cans that are pretty versatile as toppers, for mixing and as complete dinners.
Here's what you won't find in Eagle Pack Dog Food:
Strange or confusing preserving agents;
Non-natural dyes and flavoring chemicals; or
Nasty by-products from meat manufacturing processes.
One unfortunate caveat is that right now, Eagle Pack isn't making any grain-free puppy (or adult) formulas that we know of. But given the upward trend in demand for grain- and gluten-free doggy dinners, we're expecting that to change at some point!
Eagle Pack Dog Food Recalls
We've searched all over and haven't found any reliable evidence of an Eagle Pack dog food recall to date — not in the FDA database nor on any other site. That's good news for us puppy owners!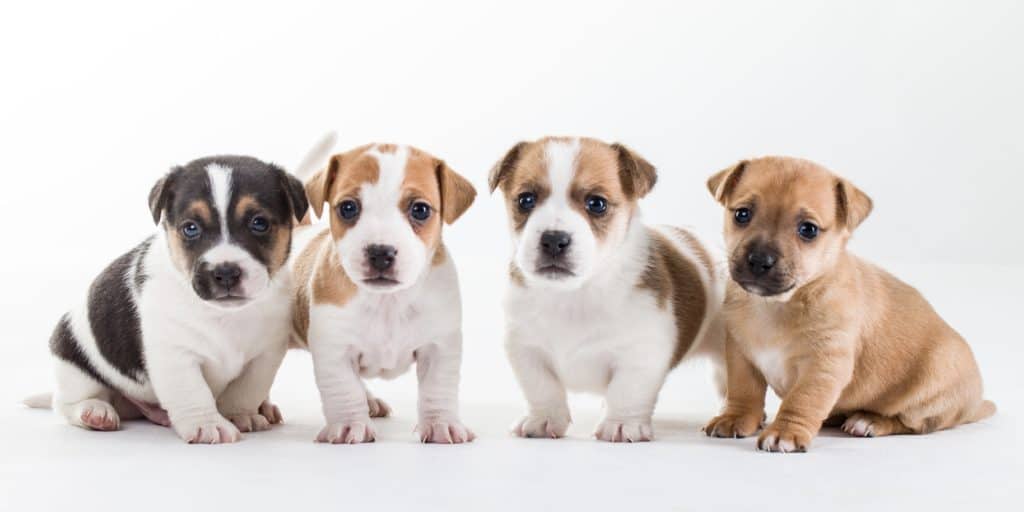 Why the Eagle Pack Puppy Food Reviews and Eagle Pack Dog Food Reviews?
We've scrutinized Eagle Pack's safety procedures and they are very rigorous, making this a high-quality brand of dog food when it comes to manufacturing and hygiene. They have no recall history when it comes to kibble or wet food, and they reportedly exceed even the AAFCO's standards on quality assurance.
Only one of their products falls a little short with regard to our own protein level preferences, and there are no cheap, suspicious fillers to be alarmed about. No (meat) by-products are used in any of their recipes, and we've heard only golden reviews from our fellow dog owners. Natural preservatives like mixed tocopherols and rosemary extract are used in place of potentially harmful chemicals, and real animal meat meals top most of the ingredients lists.
But what we like most is that for this level of quality, the average price of Eagle Pack dog food is pretty agreeable. When you have more than a couple of dogs, that's definitely worth noting — so let's get reviewing!
Our Eagle Pack Dog Food Reviews
The Original Eagle Pack Dog Food Reviews
Eagle Pack may not yet make any grain-free options for our furry buddies, but their original dog food formula is worth a review!
Eagle Pack Natural Dog Food Original
Pros
Traditional grains such as barley, brown rice husks, and oatmeal are helpful sources of digestive fiber, making this good for dogs with sensitive stomachs, too;
It gives grown-up dogs a suitable 23% protein and 12% fat;
There's also fish meal from sardines and anchovies, which helps up the glucosamine content;
Contains natural and added Vitamin E — which makes for nice doggy coats; and
Includes gut-friendly bacteria which also have a useful role in your dog's digestion.
Cons
Not a suitable choice for dogs who are gluten-intolerant.
Our Verdict: 4.5/5
With lamb meal as a top natural ingredient, plus chicken and fish meal to boost the protein, this is both balanced and an affordable option for grown dog owners. There are quite a few nice inclusions for optimal digestion too, meaning that unless your dog is intolerant to specific ingredients, it's likely soft and gentle on his tummy.
The Large-Breed Eagle Pack Dog Food Reviews
Eagle Pack Natural Dry Dog Food Large Breed Dog Food
Pros
With 25% protein, it contains a perfect amount for our bigger breeds, like German Shepherds and Mastiffs;
Because most moderately active, grown-up large-breeds won't require huge amounts of fat either, the 12% that this recipe offers is a good amount;
This offers a healthy added dose of dysplasia-fighting glucosamine;
Includes inulin, which is useful for your dog's digestive tract; and
Supports firm muscle tone in bigger canines with multiple animal proteins.
Cons
This includes rice but doesn't actually specify what sort — white, or brown.
The Eagle Pack Puppy Food Reviews
Eagle Pack Natural Dog Food Original Small Breed
Pros
Smaller 'bits' make this a manageable chow for small-breeds like Dachshunds, Yorkies, Corgis, and Shih Tzu;
It's totally free of synthetic preservatives, as well as flavors and dyes;
While it isn't entirely grain-free, this small-breed recipe has no wheat and is soy-free;
Gives growing and already-grown pooches 27% protein; and
It's designed to promote lovely sleek coats, with fatty acids like ALA from flaxseed.
Cons
While this doesn't feature any veggies besides peas, it's all-around complete and a nutritious choice for smaller dogs.
Our Verdict: 4.5/5
With protein-rich brewer's yeast and antioxidants from various sources, here's a natural small-breed recipe with lots of angles covered! Your pooch gets fiber from dehulled barley and oatmeal, while delicious white meats will provide lean protein.
Eagle Pack Natural Dog Food Large & Giant Breed Puppy
Pros
Contains generous Omega acid content from ingredients like real salmon oil and flaxseed;
With brown rice and oatmeal, it's developed to be gentle on your little pup's stomach;
There are no cheap by-products included, and only natural methods have been used to preserve this food;
Prebiotics will make your large puppy's meals even more digestible; and
There are brain-boosting DHA and skin-healthy Vitamin E supplements in here, for manageable coats!
Cons
This will only give your pup around 23% protein — this is a fairly low figure compared to the 25% minimum we usually suggest.
Our Verdict: 4.5/5
When shopping for your large-breed puppy's dinner, make sure the manufacturer specifically states that the formula meets the needs of large puppies. It might sound obvious, but this should offer peace of mind that the calcium-phosphorus content stacks up appropriately against your dog's calorie intake.
The Canned Eagle Pack Dog Food Reviews
Newly-weaned pups and veteran pooches quite often love a tasty topper. Or, when we mix some delicious meaty wet food into their biscuits. In this section, we've included a wet Eagle Pack dog food review for your best fluffy friend!
Eagle Pack Natural Wet Canned Dog Food
Pros
With 9% protein content, this is about 41% in dry-matter terms;
Uses high-quality, B vitamin-rich chicken liver for both flavor and nutrition;
Helps hydrate your pooch in a way that dry food alone never will;
Includes Omega acid-rich flaxseed; and
Uses zero unnecessary filler ingredients.
Cons
At 524 k/Cal per can, please make sure you read the feeding instructions properly!
Our Verdict: 4.5/5
We're liking this healthy recipe for its natural ingredients — with both turkey and chicken as protein sources, it's also a nice hearty flavor. Ground brown rice may not provide exactly the same benefits as whole brown rice, however, it's a natural source of doggy fiber that you'll find in both this and other Eagle Pack dog foods.
Eagle Pack Power Dog Food Reviews
Specially formulated so that our energetic dogs get enough energy, Eagle Pack Power provides a welcome serving of beneficial natural proteins. Looking at the ingredients and guaranteed nutrition, it may be our top Eagle Pack choice for grown-up dogs!
Eagle Pack Natural Dog Food Power Adult
Pros
It's suitable both for small-breed requirements and for larger dogs like Mastiffs and Labradors;
Provides them with 30% protein from pork and chicken;
Uses chicken fat — a linoleic acid source — for long-lasting energy;
Contains useful glucosamine which has positive effects on your dog's joints; and
The protein content is supplemented with flaxseed and peas!
Cons
We think this is a five-star formula, but if you're being picky, there aren't any colorful fruits or green vegetables in here.
Our Verdict: 5/5
The ingredients in Eagle Pack Power are painstakingly chosen to give that optimal balance of muscle mass and energy. If your dog is a busy bee, a hunter, or a working animal, this formula will provide energy over time thanks to its high fat, rather than carbohydrate makeup.
FAQ
What do veterinary professionals think of Eagle Pack Dog Food?
Eagle Pack Dog Food has an impressive reputation for having some of the most strict protocols when it comes to their manufacture process. Not only do they take the production process seriously and try their best to exceed expectations, they only offer the very best in terms of ingredients. Any company that is on a mission to bring quality dog food to the consumer world is renowned in the veterinary world, and is on the list of favorites!
Someone told me that meat meal is unhealthy for my puppy. Why, and should I avoid it?
Many owners love seeing real meat right at the top of their puppy's ingredients list. It's not hard to see why — boneless chicken sounds both tastier and more natural. However, there's nothing really unhealthy about products like chicken or fish meal. A lot of the products in our Eagle Pack puppy food reviews contain meat meal because they offer more nutrients (or at least more protein) than regular meat per unit weight.
Why? This is because meat meals are dry and the fat has already been taken out of them — you'll often see this fat listed separately, elsewhere the ingredients section. Compared to real or boneless chicken, for instance, chicken meal can sometimes provide up to four or five times more protein, so it is a matter of personal preference. Some owners will prefer less processed real animal meat, and others would rather focus on nutrient concentration.
What you do probably want to look out for is the presence of meat by-product meal in your puppy's food. Unlike (regular) meat meal, this is generally a cheap and poor-quality waste product from elsewhere in the production process.
Some formulas are designed for working dogs…is my dog a working dog?
Chances are, if your dog is considered a 'working dog' – you'll definitely know it! Generally, this term is used to refer to service animals or trained canines that perform a specific role. A few examples include:
Guide dogs, who are up and about as much as their humans;
Herding dogs, which might round up cattle on farms; and
Police dogs, which you will find performing forensic or 'sniffing' duties.
When it comes to pet food, however, you'll find that a high-protein or high-energy formula may also be a good choice even if your dog isn't performing a duty. They are tailored for dogs who tend to be active and use lots of energy. So, if your pooch is just a very active little guy for long hours each day, he may do better on a blend like the Eagle Pack Power formula above.
Helpful Links
Last update on 2021-09-13 / Affiliate links / Images from Amazon Product Advertising API