Have you heard of 4Health? If you have, you may have been wondering whether it's something your puppy or dog would thrive on. You might have also been a bit confused when you heard 4Health mentioned along with the Tractor Supply Company…because, huh? In this article, we'll explain it all for you. We've covered all the ins and outs of who makes 4Health dog food, what's in it, and what you can expect for your dog. So, let's get reviewing!
Quick Review: Top-4 Dog Foods From 4Health
4health Small Breed Grain Free Adult

Lentils and peas provide extra protein
Contains natural flavors and preservatives
27% protein

4health Puppy Formula Dog Food

Contains vitamin E for healthy skin and coat
DHA helps in brain development
Has no synthetic additives

4health Grain Free Adult Wet Dog Food

Both flavors include a vitamin-rich liver supplement
Zero wheat, zero soy, zero corn
Contains moisture, which do not often drink water

4health Sensitive Stomach for Adult

25% protein
Offers zinc for skin health
It's totally grain-free
About 4Health Dog Food
Who Makes 4Health Dog Food?
The Schell and Kampeter-owned Diamond Pet Foods are behind 4Health. The Missouri-based company operates manufacturing facilities in the States only and is also known for Kirkland, Diamond, and other dog foods.
The '4Health' brand itself belongs to Tractor Supply Company, and includes not only premium ingredient dinner recipes for dogs and cats, but treats, too! The privately-owned label actually produces a pretty extensive selection of different lines and formulas, which we'll look at a little more closely in this article.
What's Special About 4Health?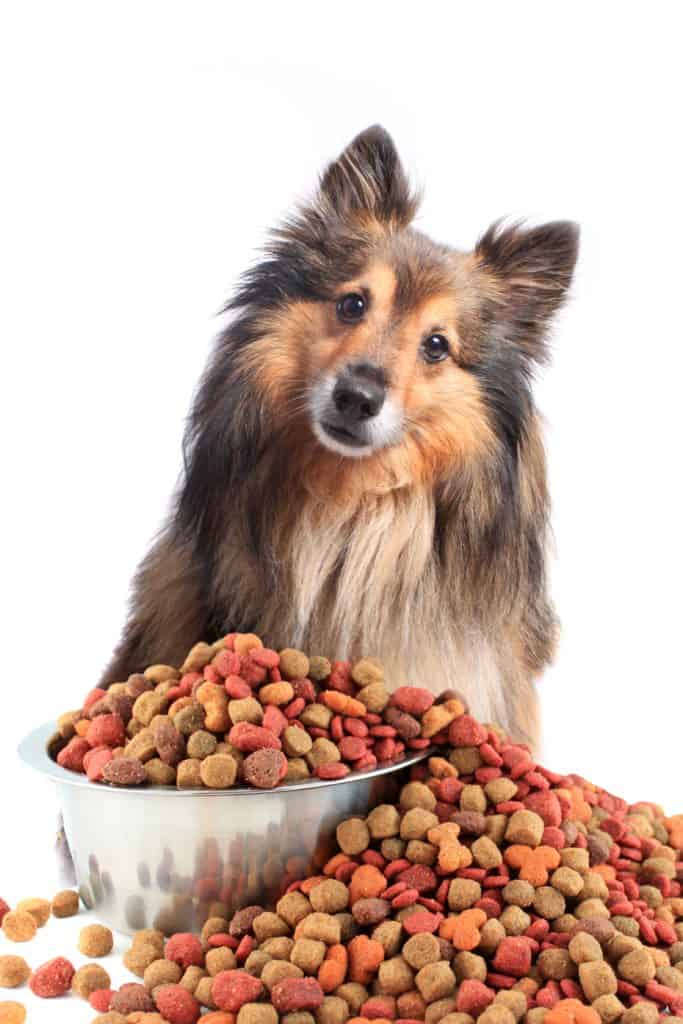 First up, 4Health is healthy. Because the Original line of foods alone contains 9 different kibbles at the time of writing, we weren't able to review every single one. But the brand claims of 'no fillers or additives' appears to hold up. None that we reviewed — and none of the many more that we browsed — had any 'fillers' or unnecessary additives in their ingredients lists.
Instead, for recipe after recipe, we found plenty of wholesome ingredients like authentic meat and veggies, 'tummy-friendly' grains like oatmeal, and plenty of beneficial additives like DHA and Omega acids.
And, besides being an affordable yet healthy (even premium) brand, there are other reasons why a lot of owners choose 4Health. One is that this brand offers a wide variety of different diets — we counted dozens of different flavors and sizes that result in heaps of choices for us owners. These include:
4Health Grain Free Dog Foods – while most of its products skip the corn, wheat, and even soy, 4Health does make totally grain-free wet and dry foods for both puppies and adults;
4Health Untamed Dog Food – here, you'll find the more enticing flavors, such as 'Highland Lamb and Lentil', or 'Farm and Stream' that are made from 'novel' meats;
4Health Special Care Dog Food – these are 4Health hypoallergenic or limited ingredient options, which include sensitive stomach and skin food;
4Health Original Dog Food – which includes wet and dry dog food as well as the popular 4Health Performance Dog Food; and (of course)
4Health Puppy Food.
While the last one — 4Health Puppy Food — isn't technically a separate brand, we thought it was worth mentioning. That's just because, as puppy owners, it's usually one of the first things our eyes are trained to spot!
4Health Dog Food Recalls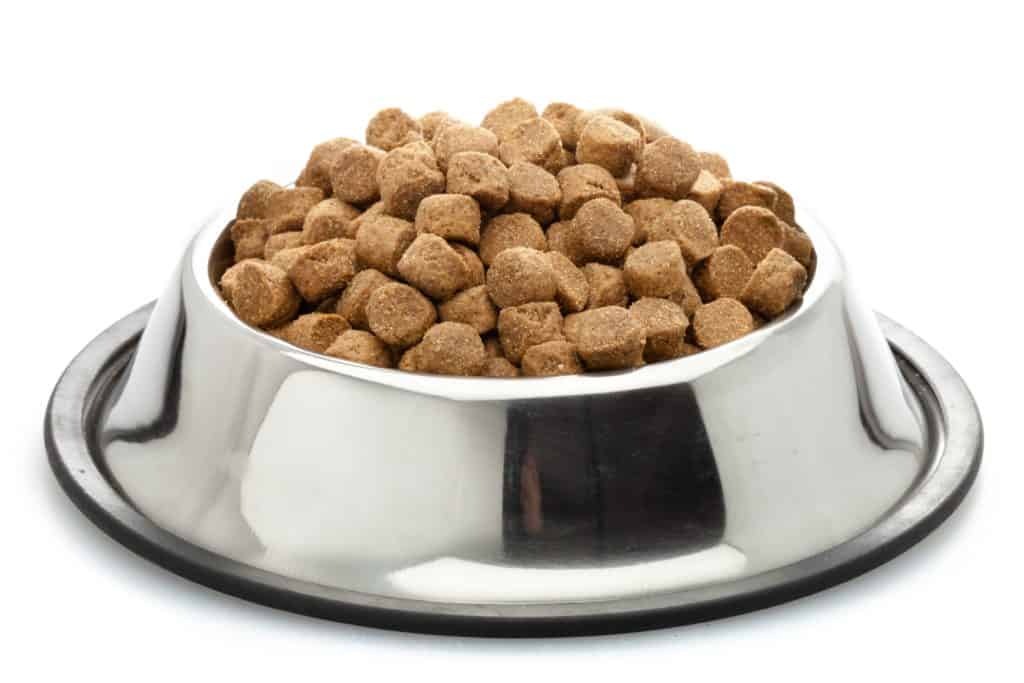 When looking into dog food recalls, it's often a good idea to take a 'bigger picture' approach and consider what has been recalled from the manufacturer rather than just the brand. Because 4Health is made at Diamond pet food plants, the latest relevant recall took place in 2012.
This was a pretty large, but voluntary, recall of all Diamond's foods with specific use-by dates. These were due to potential contamination of the foods with Salmonella. No 4Health food, however, was found to be tainted.
Why the 4Health Puppy Food Reviews and 4Health Dog Food Reviews?
Here are the top reasons we've chosen to look more closely at 4Health:
4Health does not include corn or wheat within any of its dog foods. It's a plus even for dogs who are totally fine with gluten, given that these are often considered common allergens;
The brand uses what they call 'premium ingredients'. To discerning dog owners like us, that claim holds water — real animal and vegetable ingredients make up a lot of the ingredients list, with the rest being recognizable and standard supplements;
It's reasonably priced despite the high quality ingredients;
4Health doesn't use fake colors, flavors, or even synthetic preservatives; and
There really is something for every dog, with many senior, puppy, and special diet options.
Our 4Health Dog Food Reviews
4Health Grain Free Dog Food Reviews
First, we've taken a closer peek at a delicious-sounding 4Health Untamed dog food dinner…
4health Grain Free Adult Dog Food
Pros
25% protein and 14% fat for your adult pooch;
Includes non-meat tasty proteins such as lentils and peas;
Supplemented with Vitamin E for protection against diseases;
Fatty fish and flaxseed acids promote gorgeous, manageable fur; and
Features dog-specific probiotics that enable smooth digestion.
Cons
Unfortunately, there aren't any fiber-rich fruits or vegetables to be found here.
Our Verdict: 4.5/5
If you've got a breed with a beautiful coat, like a
Golden Retriever
,
Husky
, or
Lab
, there's plenty in here to help him keep it that way. And no matter what breed you've got, they'll probably love the taste of delicious whitefish!
4health Small Breed Formula Grain Free Adult Dog Food
Pros
Lentils, chickpeas, and iron-rich regular peas provide additional protein alongside the beef and lamb;
Provides your grown pooch with selenium and zinc for smooth, optimal skin condition;
Contains only natural flavors and preservatives;
27% protein; and
At 350k/Cal a cup, it's made for regular feeds!
Cons
Doesn't include any colorful or leafy vegetables.
Our Verdict: 5/5
It's almost always a good thing to see varied proteins in dog food, and this
small breed
formula is created to satisfy our little ones' tastebuds! Ideal for breakfast, lunch, and dinner!
The 4Health Puppy Food Reviews
In this section, you'll find our delicious original 4health puppy food and 4health grain free puppy food reviews. Let's see what's on the menu…
4health Puppy Formula Dog Food
Pros
Contains probiotics that aid your little pup's digestion and metabolism;
This is a corn-, wheat- and soy-free blend, helping your pup avoid some of the most common grain allergens;
Includes Vitamin E that helps your best friend keep a healthy coat and skin;
DHA assists in your puppy pal's cerebral development; and
Has no synthetic additives!
Cons
No, we like it! This blend also includes lovely blueberries and apples, as well as vitamin-rich tomatoes and spinach!
Our Verdict: 5/5
With 27% protein and 1.2% well-balanced calcium for our growing pets, this food offers a well-rounded nutrient profile. You'll even find zinc and Omega acids to keep puppy's coat healthy, and L-Carnitine for energy. Great!
4health Grain Free Puppy Formula Dog Food
Pros
27% protein, which is a healthy lean protein figure for little pups of all sizes;
That includes a diverse selection of different proteins, such as fish, egg, and legumes;
Vitamins are both natural and supplemented into this blend, with real sources including raspberries and tomato;
Provides DHA to your pup; and
Includes skin-healthy selenium and zinc.
Cons
Our Verdict: 5/5
We use several 'must-have' criteria to judge whether a dog food is good. Then, we have got more 'picky' checkboxes that must be ticked for a formula to be considered 'pretty darn good'. This chicken-flavored puppy blend meets all of those — five stars!
The 4Health Wet Dog Food Reviews
4Health does offer several types of canned food, however, you'll need to physically slog to the store for most of them. Here, we've reviewed two flavors that you can get in one pack without having to leave the house!
4health Grain Free Adult Wet Dog Food
Pros
With 9% protein and real chicken or beef as the headlining ingredient, both flavors provide enough lean protein for healthy muscle maintenance;
The two flavors both include liver, a nutritious, vitamin-rich addition in moderate amounts;
They are both supplemented with your dog's required minerals, including iron, copper, manganese, and zinc;
Zero wheat, zero soy, zero corn (of course, it's grain-free!); and
Offers moisture for dogs who don't frequently drink water.
Cons
Nutritionally, this meets our high standards for grown dog food, but it lacks real vegetables.
Our Verdict: 4.5/5
In one pack, your adult dog can enjoy two different flavors — we like that! It offers a decent amount of protein and high-quality animal ingredients, like vitamin-and mineral-rich liver. We're giving it 4.5 stars.
Hypoallergenic 4Health Dog Food
4Health
4health Special Care Sensitive Stomach Formula for Adult Dogs
Pros
25% protein;
Contains Menhaden oil that's a known source of DHA;
Supplemented with Vitamins A, B, D, and E;
Offers zinc for skin health; and
It's totally grain-free!
Cons
The top ingredient for this particular blend is potatoes. That's neither protein-rich nor suitable for intolerant dogs.
Our Verdict: 4/5
Sometimes, the only thing that really matters is whether your dog can get the right nutrition without being sick. That doesn't mean your pooch needs to miss out on healthy additions that won't set off his stomach, though! Our 4Health dog food rating for this food is pretty good, as it includes menhaden oil, Vitamin E, zinc, and antioxidants.
4health Special Care Sensitive Skin Formula Adult Dog Food
Pros
Hydrolyzed salmon protein aims to reduce the likelihood of intolerances;
Contains Omega-6 from sunflower oil and real salmon oil to provide Omega-3;
Together, these work wonders for dogs who've got sensitive skin!
The limited ingredient formula lets you easily keep a close eye on what your dog's taking in; and
Gives your dog 25% protein in each meal.
Cons
Well, there are no fiber-rich fruits or vegetables, but that's what Limited Ingredient Diets are all about — so no cons here!
Our Verdict: 5/5
There's nothing fun about watching our best friends itching or suffering from sensitive skin. With all the awesome goodness of fish oil, Vitamin E, selenium, and zinc, this may be a good solution to make your fluffy pal feel better.
FAQ
What do veterinary professionals think of 4Health Dog Food?
4Health dog food is one of the few diets that veterinary professionals recommend for owners looking for a high quality and grain free diet on a budget. 4Health certainly goes out of their way to base their diets around ingredients that are beneficial for your furry friend, leaving out the ones that are known to cause allergies. Since so many dogs suffer from skin irritation and GI upset from common diet allergens, 4Health appears to be a wonderful solution to these problems.
How do I know which 4Health dog food is grain free?
4Health has four official ranges of kibble — Original, Grain-Free, Untamed, and Special Care. Obviously, the Grain-Free products are totally gluten-free and contain zero grains. That means no rice or oatmeal, either.
However, there are also grain-free kibbles within the Special Care and Untamed lines of 4Health dog food, like the Sensitive Stomach option in our 4Health reviews above. What we can't ever assure anyone is that a diet will be free from cross-contamination. As 4Health, like so many other brands, is manufactured at a larger plant that produces other dog foods, it's important to keep in mind that the facilities may sometimes be used to handle grain ingredients.
How can I make my puppy's fur shine?
Great question! It's always fun when your puppy is happy and healthy — but if he's super-handsome, too, that's a nice bonus! For lovely fur, a good well-rounded diet should be the first step. As you'll see in our 4health puppy food reviews, Omega acids are commonly included in kibble to help that natural luster shine through. They include DHA, EPA, and the slightly less 'famous' GLA.
At the same time, you can also help your puppy's fur shine by brushing his coat to get rid of dust and nip any tangles in the bud. Usually, you can also shampoo your pup a healthy amount with special pet shampoo. Make sure you rinse your fluffy friend properly, however, as leaving some shampoo or conditioner in his fur will take away from the shine. And here's a funny one — you can also give him a little 'buff' when you dry him off. Hope that helps!
Helpful Links
Last update on 2023-09-15 / Affiliate links / Images from Amazon Product Advertising API