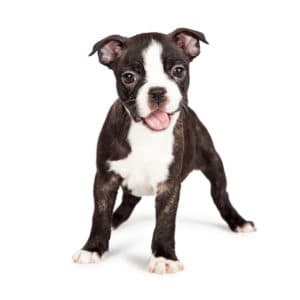 If you've just welcomed a cute new puppy into your family, you might be wondering "What's the best puppy food for Boston Terriers?" A particularly clever breed of silky-coated pooches, they'll need more than just any old no-brand kibble, right? You're spot on — Boston Terriers need certain specific nutrients and a carefully designed type of kibble to make mealtimes enjoyable. In this article, we'll tell you why, how, and some of the brands you might want to look out for.
Quick Review: Top-3 Dog Foods For Boston Terriers
CANIDAE Grain Free PURE

30% protein
With lentils and alfalfa - a lot of fiber
In the composition of fat and eggs from flaxseed

Hill's Ideal Balance Adult Natural

There are no unwanted preservatives or fake paints
Provides your little dog with beta-carotene
It is designed for a holistic and balanced diet

Blue Buffalo Wilderness High Protein

It contains no grains
Contains blueberries
36% protein and 16% healthy fat
Picking The Best Food For Boston Terriers
The most appropriate food for your Boston Terrier will be small-breed dog food. While your own pooch may weigh in at anywhere between 15 and 25 pounds fully grown, they generally have the picky eating habits and fast metabolisms that characterize small breeds. They do best — like all small dogs — with kibble that's suitably designed for their small jaws and relatively high in calories.
So what else should the best Boston Terrier food contain? Do they need a lot of fat? What about glucosamine? Are Omega acids important for this breed? Read on to find out!
What's Special About The Best Dog Food For Boston Terriers?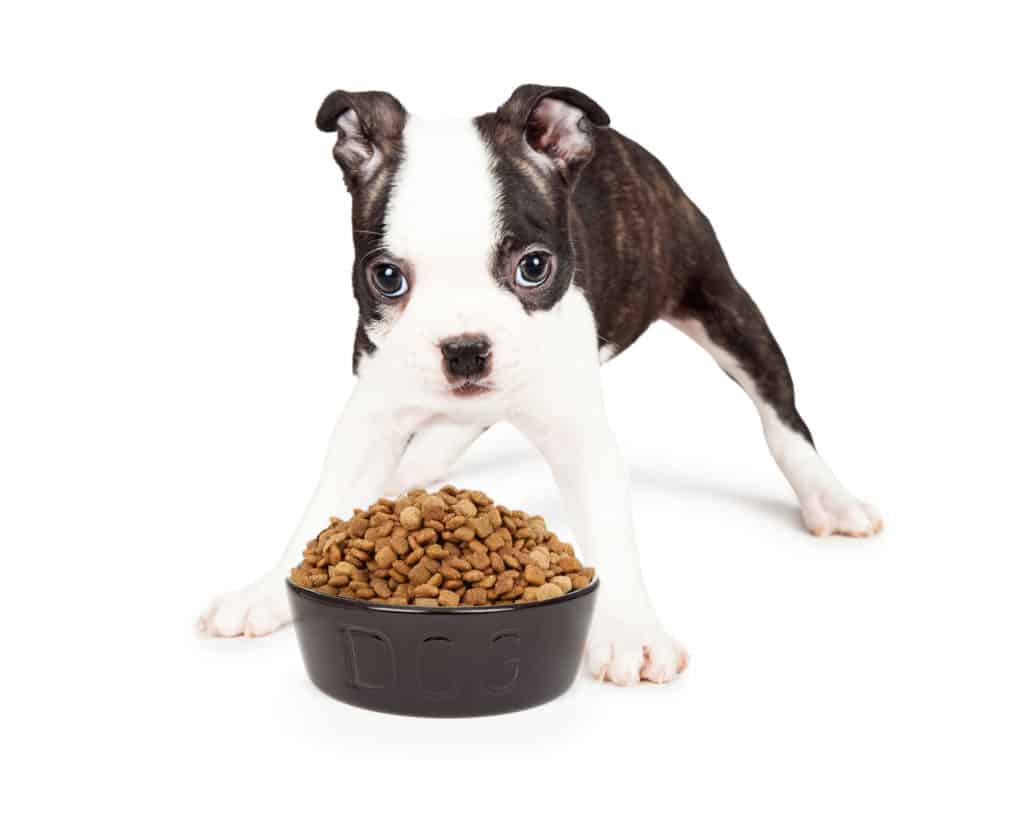 To recap, Boston Terrier dog food should be designed for the needs of smaller pooches. Like English Bulldogs, they are brachycephalic, which means that they have short noses and a narrow trachea. Because obesity can worsen their (potential) breathing difficulties, you as an owner should ensure they maintain a healthy weight.
So, as well as taking care to exercise your Boston Terrier puppy enough, try to pick out a food that won't give him or her too many unnecessary calories. You can do this by picking out healthy, balanced food for their life stage, which includes quality meat proteins and as few 'fillers' (cheap, less nutritious ingredients) as possible.
The Best Puppy Food For Boston Terriers
Getting a new puppy is so exciting, and picking out the right kibble is all part of the adventure. So what kind of Boston Terrier puppy food will your little one need? Here's what small dogs like your little pooch will require to stay fit and grow up strong:
Lean meat proteins, ideally making up a large portion of the total protein in their kibble;
Protein should comprise 25% or more of their food;
At least 15% healthy, recognizable sources of fat — like chicken fat, salmon oil, or similar;
Omega acids for keeping the shine in that beautiful Boston Terrier coat;
DHA for optimal nervous system development; and
A kibble design that's manageable for their cute little jaws!
Adult Boston Terrier Food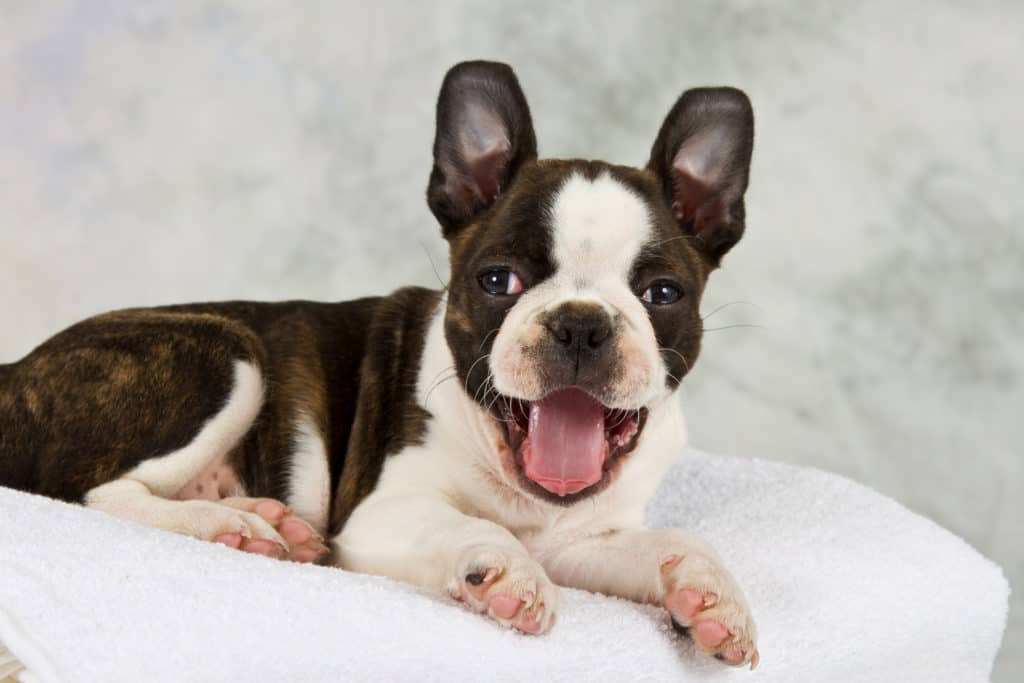 Boston Terriers grow up pretty fast in comparison to bigger dog breeds. If you have a large-breed pooch as well as your Terrier — like a Husky, Doberman, or similar — you'll notice that your small-breed is growing much quicker. Typically they mature within several months, after which they won't be in need of such high-calorie food. Here's a nice overview of what the best dog food for Boston Terriers looks like when they're all fully grown:
Protein should generally be lower than it is in a Boston Terrier puppy food, and around the 21% mark rather than 25%+;
They won't be needing as much fat, either, so around the 12%+ mark is a good target;
As they age, they might require glucosamine to keep their little joints working well; BUT
Your grown-up Boston Terrier will still need smaller pieces of kibble than a larger-breed dog will!
What Micronutrients Should I Look Out For?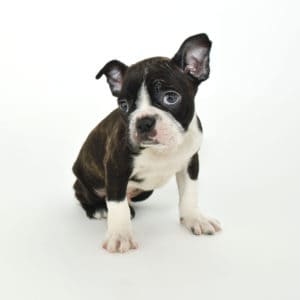 It might not be fun to read the fine print on dog food labels, but don't worry — we've done that for you in our Boston Terrier dog food reviews! But the more you know, the more equipped you'll be to understand a kibble packet if the recipe changes, for instance.
The minerals your Boston Terrier needs to stay healthy include are listed just below. They all serve different purposes in keeping your puppy or adult in top form — whether that's at the cellular level or on a larger scale. You will often find that these aren't described as clearly as this on their dog food packaging, however, so expect to see more scientific supplement names instead. Here's why your Boston Terrier needs different minerals!
Iodine has a role in proper thyroid functioning;
Copper is important in dogs' tissues and nerves;
Iron helps carry oxygen around in your pet's blood;
Selenium plays a role as an antioxidant;
Calcium keeps those doggy teeth and bones in great shape (and it needs to be balanced with phosphorus);
Fluorine appears as fluoride, and also has teeth benefits;
Manganese aids canine digestion and lets them take in more of the essential macronutrients in their food; and
Zinc helps in skincare.
The best way to make sure your Boston Terrier puppy is taking in enough of each important nutrient — as well as their key vitamins — is to purchase kibble that meets the AAFCO's standards for development. Adults will require a maintenance Boston Terrier food. Not only will these have at least the minimum recommended levels of minerals, but they'll also have all the vitamins that help your little dog thrive!
The Best Boston Terrier Food: Brands We Love
When picking out a brand, we recommend you stick with well-known companies — here are some that we have looked into (and some we've even reviewed in more depth!). If you want to learn more about each of the manufacturers or brands in our Boston Terrier dog food reviews, check out our Brand pages!
Best Food For Boston Terrier Puppy Dinners
Taste of The Wild Grain Free High Protein Dry Dog Food
Pros
This recipe contains at least 28% tasty animal and non-animal proteins;
Includes a good amount of DHA for your Boston Terrier puppy;
There's also healthy fiber and antioxidants from the fruits in this blend;
Gives that little puppy 17% fat from multiple quality sources; and
It also offers a range of essential micronutrients, so your little pup can stay fit and grow up strong!
Cons
Our Verdict: 5/5
Technically, this is a suitable formula for Boston Terriers at any stage of life — that gives you as an owner plenty of flexibility if you've got several different pups. It's affordable, from a respected brand, and doesn't use any cheap fillers in order to bulk it up. A very good bunch of pros, we'd say!
CANIDAE Grain Free PURE Dry Dog Food
Pros
Fish meal and chicken together make this a rich source of lean protein;
If you're after specific figures, that's 30% protein;
With lentils and alfalfa, your little Boston Terrier will have plenty of fiber;
Contains 500 mg of glucosamine in every kilo, helping your dog avoid joint problems; and
Omega fats from flaxseed and egg are great for your Terrier pup's skin.
Cons
This has a total of 520 calories in every cup, which is quite a large amount — perhaps too much if your puppy is already at risk of becoming overweight.
Our Verdict: 4.5/5
Ingredients-wise, we like what we see. There are plenty of whole ingredients (as opposed to processed content or by-products) and a healthy dose of natural glucosamine. Just be aware of the particularly high-calorie count if your Terrier isn't getting much exercise.
Fromm Heartland Gold Grain Free Puppy
Pros
Gives your growing pooch 27% protein;
Contains 18% pork fat;
Provides DHA, healthy chondroitin, and also glucosamine from the salmon oil content;
Has real leafy greens inside, like lettuce and alfalfa; and
It uses lots of varied animal proteins to keep things interesting!
Cons
This might be considered a tad pricey by some puppy owners.
Our Verdict: 4.5/5
Grain-free's
one nice option should your puppy have allergies. With Fromm's all-breed puppy food, he'll also get a delicious mix of meat proteins and veggie carbs to keep him full of energy.
The Best Boston Terrier Food For Grown Dogs
Blue Buffalo Wilderness High Protein Grain Free, Natural Adult Dog Food
Pros
Carefully crafted to meet the AAFCO's doggy maintenance standards, here's a blend that won't give your adult pooch too many calories;
It doesn't contain one single grain so Terriers on a grain-free meal plan can enjoy this no problem;
Made with cute little pieces of kibble that won't be difficult for your pooch to crunch on;
Features blueberries, which are rich in both vitamins and antioxidants; and
Provides your little one with 36% protein and 16% healthy fat.
Cons
Some might consider this price a little expensive if they are feeding lots of pooches.
Our Verdict: 5/5
This high-protein Blue Buffalo recipe ticks all our healthy boxes as far as small-breed chows are concerned. There's a suitable amount of fat and varied amino acids from multiple all-natural ingredients. We like it!
Hill's Ideal Balance Adult Natural Dog Food Dog Food
Pros
Flaxseed's a great ingredient as it offers Omega acids and antioxidants for your pooch;
There are no unwanted preservatives or fake colors in here;
Contains whole oats, apples, barley, and carrots for fiber (and vitamins!);
Provides your little dog with beta-carotene; and
As with all Hill's formulas, it's designed with input from real nutritionists — for a holistic and balanced meal!
Cons
There's some brewers rice in here, which isn't very nutritious; and
Contains other grains, making it an unsuitable choice for gluten-intolerant Boston Terriers
Our Verdict: 4.5/5
Hill's has a long-standing reputation for creating biologically appropriate pet food. Some of their products are healthier than others, nonetheless, and we consider this one of their particularly healthy formulas. With no synthetic agents for flavor or coloring, it's just right for grown pooches!
Fromm Gold Small Breed Adult Dry Dog Food
Pros
Tailored for small dogs, this has 17% fat from chicken and fish (salmon) oil;
Contains DHA and glucosamine from salmon;
First ingredient on this list is chicken;
Contains brewer's yeast, which is great for those Terrier coats; and
Includes vitamin-rich carbohydrate sources, such as celery and sweet potato. Nom nom!
Cons
There is some white rice in here, so it's not okay for grain-free dogs.
Our Verdict: 4.5/5
Fromm's excellent range of different flavors has earned the brand a strong following among owners! In this small-breed recipe, you'll find everything from essential macronutrients to trace minerals and fiber — and it gives your little pal a nice 435 k/Cal per cup.
Wellness Core Small Breed Dry Food
Wellness CORE Natural Dry Grain Free Small Breed Dog Food, Turkey & Chicken, 12-Pound Bag
Wellness Core offers a well balanced grain free kibble for small breed dogs. By eliminating the grains from this diet, your Boston Terrier can be free of any itchy allergies that plagued them with their previous diet containing grains and other common allergens. This diet also offers a variety of different flavors, meaning your pup can potentially escape their allergies to certain meats, along with giving them a tasty variety to choose from. In addition to the elimination of potential grain allergens are the added nutrients that help promote your Boston's overall health. This diet contains probiotics, vitamins, phosphorus, and calcium. You can rest assured that your canine friend is receiving the well rounded nutrients they crave.
Buy on Amazon
Add to Cart
Pros
Grain free
Comes in a variety of flavors and meat options
Added probiotics for gut health
Beneficial nutrients such as vitamins, phosphorus and calcium
Moderate calorie count to help keep your Boston terrier slim
Cons
Many of their diets do still contain meats other than what's advertised as their main protein, so you may need to search through the ingredients if you are trying to avoid a specific allergen
Our Verdict: 4/5
This is a well rounded grain free diet that helps to eliminate any potential allergens, as well as offer added nutrients for your Boston's overall health.
FAQ
Why is there no specific 'Boston Terrier puppy food'?
You've raised a very good point, there are no breed-specific puppy kibbles on the market just yet for our Boston Terrier friends. Given the growth in popularity of breed-specific formulas, however, we reckon it's only a matter of time. Until then, don't worry — your Terrier will absolutely be getting a complete and properly-balanced formula with any of the AAFCO-certified dog food that we've reviewed. Pick out a chow that's healthy, suitable for his life stage and that meets the dietary requirements that we've researched for you. Then use our dog food calculator to see how much to feed him and you're both on the right track!
How much puppy food does my Boston Terrier need? He is 4 months old.
You already know your pup's age, so you're ready to think about how big he might be when he's fully grown. If you have seen his (dog!) father before, this is the best possible guide for how large he will grow up to be. Factor in his activity level — low, medium, or high — and then look at how many calories he will be using each day. Based on how many calories there are in each separate cup of his puppy food (and each cup is around 224 grams), you'll be able to tell how much to give him each day. Find out more in this blog post!
Alternatively, the clever little dog food calculator that we designed (and mentioned above) will save you some of the effort. Check it out here!
Last update on 2023-01-26 / Affiliate links / Images from Amazon Product Advertising API