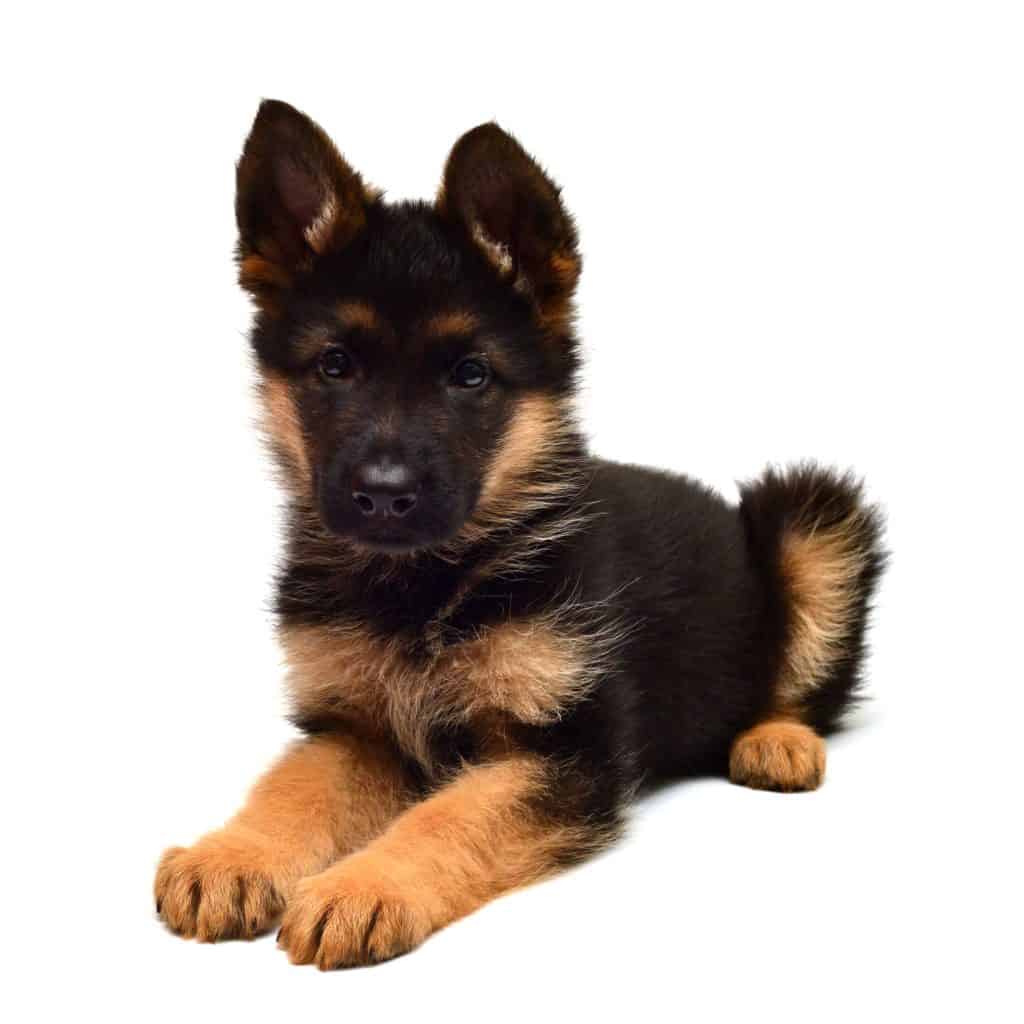 Hello, fellow German Shepherd lovers! Congratulations on being the owner (or being owned by) one of the USA's most beautiful, affectionate pooches! If you're wondering what's in- and what's not in- the best dog food for German Shepherd puppies or grown-ups has got in it, you've found yourself in the right place.
We've been chatting with awesome German Shepherd owners such as yourselves, some vets, and been doing some serious research into what makes a healthy and wholesome dog food for German Shepherds or a super puppy food. What we've come up with is some in-depth information for you on the ingredients you should be looking for when browsing the best puppy food for German Shepherds and why, as well as those your little friend's puppy food or dog food doesn't ever need. Finally, we've made you some recommendations on which are the best dog foods and the most awesome puppy foods for German Shepherd puppies as well as mature, fully grown German Shepherds.
Quick Review: Top-3 Dog Foods For German Shepherds
BLUE Wilderness High Protein Grain Free

This delivers a whopping 36% protein
No artificially-derived flavors
Free from soy, free from wheat and free from corn!

Taste of the Wild Grain Free

18% crude fat
Well balanced Omega 6 and 3 levels
Zero flavors, preservatives or colors that are artificial

Wellness Core® Natural Grain Free

Formulated with probiotics
35% protein derived mainly
14% fat from natural chicken
What should I consider when I'm buying dog food or puppy food for German Shepherds?
The starting point when deciding on or against a dog food for your German Shepherd is almost always going to be either the ingredients label or the nutrition facts. So what stuff should we be looking for in a good dog or a puppy food for German Shepherds?
Recommended Calorie Intakes
In total, your less active and more sedentary fully-grown German Shepherd will need an approximate caloric intake of 1,300-1,600 kCal daily. If you've got a super bouncy German Shepherd, this figure might be higher, and if you've got a working dog, he may need something as high as up to 2,100 kCal from his dog food each and every day.
Good German Shepherd puppy food ideally will have a calorie content that's higher than this, and overall vets recommend 40kCalper lb of body weight on a daily basis. For example, a 50lb puppy may burn somewhere around 2,000 calories from puppy food over the course of each day.
Healthy weight guidelines
Of course, each and every German Shepherd puppy is going to have different requirements when it comes to calorie intake, and some may grow faster or slightly slower in the same way that adults dogs (or humans, for that matter!) may be more or less active. It's often best practice to keep an eye on your puppy, to see if he is becoming over or underweight by looking for a few signs:
If you can't feel a German Shepherd puppy's ribs, it's possible that he is getting a little over the recommended range for daily puppy food. If his ribs are feeling particularly prominent, on the other hand, he may be in need of a few more daily calories from a higher quality puppy food like the puppy foods we've recommended.
German Shepherd puppies of a healthy weight should have a body condition score of between 4 and 5. What this means is that your puppy's ribs and hips should be easily felt, but his tummy shouldn't stick out too much on each side. Healthy and hearty German Shepherd puppies will always be a little rounder than adults, but they should still have the noticeable "abdominal tuck" that gives German Shepherds' bodies real definition.
If your German Shepherd puppy is panting too much after only a little bit of light exercise, this is another sign that he may benefit from a little less puppy food!
Natural protein puppy food and dog food from high-quality sources
Same as other dogs, German Shepherds will always do, look and feel better when they're getting quality protein that is sourced from real meat within their puppy food, or within their dog food. The best dog food for German Shepherds (and puppy foods, for that matter) will typically list a top ingredient like de-boned chicken, bison or something that's got a real name and is definitely from a whole animal.
By-product meals are the opposite of this, pretty much, as they provide protein but tend to be made from ground animal parts that we wouldn't normally pick for our German Shepherds. Think chicken beaks, intestines, spleens and so forth- stuff that is deemed unsuitable for human consumption. In short, great puppy food for German Shepherds, like the best dog food for German Shepherd adults, will avoid the use of animal by-product meals as much as it can.
Where fat should come from: the bad and the good
Fat and protein together should be the key dietary sources of energy in the best German Shepherd puppy food, and the best food for their grown-up versions. When looking at the label for German Shepherd dog food or puppy food, you'll be able to tell the best food for German Shepherd puppies from a lower quality product if you see that it contains fat from a recognizable source. Ingredients like lamb fat, or for example, pork fat are generally food indicators of this. You'll mostly be compromising on the quality of your German Shepherd's puppy food if you choose a dog food with mysterious ingredients like "lard" or "poultry fat" as the main fat source, instead of a dog food that incorporates real animal fat sources you can easily place.
As noted by the AAFCO, the best dog food for fully developed German Shepherds should be comprised of at least 22.5% protein and a bare minimum of 5.5% crude fat. This 'crude fat content' for our German Shepherd's dry kibble actually works out as giving him 12% of his daily calories from fat, which is why you'll often see higher figures on the side of dog food packages.
Grain-free options
When it comes to the issue of grain-free kibble, you'll find a whole range of different opinions online. Generic dog food brands often claim that grains such as rice, corn, and wheat are digestible and not harmful for dogs. This is often a topic of much discussion amongst dog owners, but what we DO know for a fact, is that carbohydrates such as the grains we mentioned are not required by any German Shepherd, either. In fact, there is no actual carbohydrate that is needed by your German Shepherd in order to function or to have a healthy and happy life. So why are carbohydrates often found in food for German Shepherds?
They give food for German Shepherd's a long shelf life
Carbohydrates are central to kibble structure
Most commonly, carbs are included in dog food for German Shepherds because they are cheaper than protein sources such as real meat.
Grain-free dog food often tops the list of things to look for in the best food for German Shepherd puppies and their adult counterparts because our German Shepherd friends can be particularly at risk of displaying wheat intolerances.
Other important factors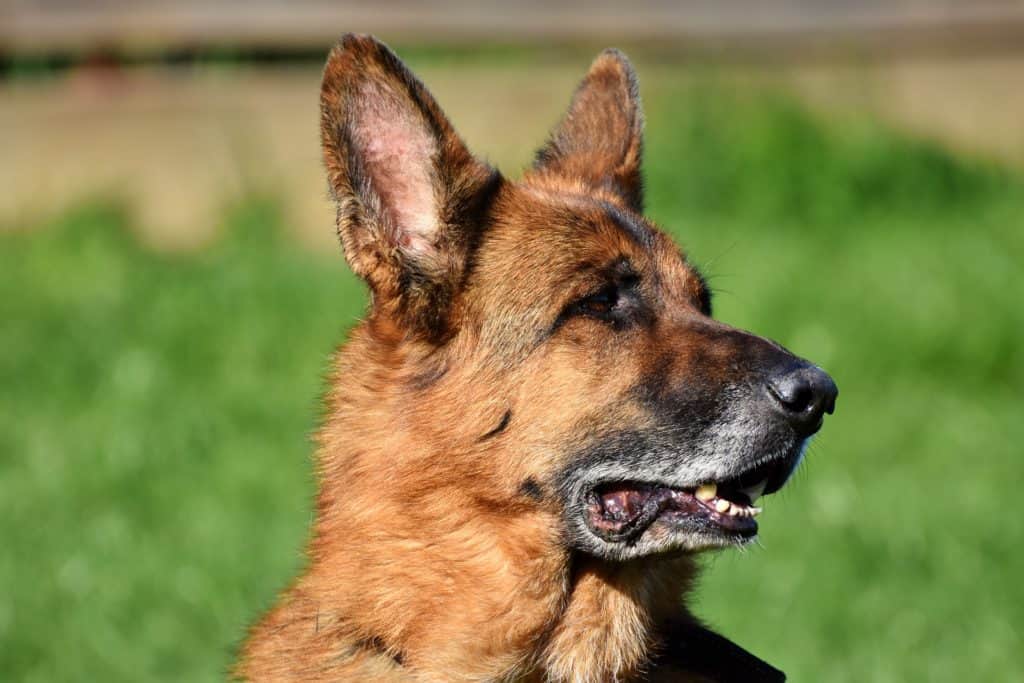 Vitamins are a super duper way your German Shepherd can achieve that extra bit of bounce in his step, and that extra enthusiasm when you play together! Similar to humans, German Shepherd puppies and grown-up German Shepherds should be getting this from original fruit and vegetable sources. The best German Shepherd puppy food will swap in useful ingredients like sweet potatoes for carbohydrate content in place of fillers like grain and wheat, as sweet potato also gives your puppy's food a bunch of nourishing vitamins.
With this in mind, the best dog food for German Shepherd puppies and grown-up doggies should provide a variety of vitamins. Like with other mammals, this will commonly mean vitamins K, A, B1, B2, E and C from ingredients similar to spinach, kale, carrots, tomatoes, or broccoli. It's also going to contain calcium, which needs to be balanced in the proportion of 1.2 to 1 with phosphorus for bone strength and growth. This is absolutely critical for German Shepherd puppies, so look out for a calcium level between around 1-1.5% in his puppy food, if you can.
How do I pick a good specialized German Shepherd food?
We've mentioned that German Shepherds as a breed are more susceptible than other dogs to wheat and gluten allergies. Going grain-free is often a good starting point to avoid any chance of your German Shepherd suffering itchiness, increased scratching behavior, or even black and purple patchy spots.
The best dog food for German Shepherd puppies potentially could be structured kibble-wise to address the fact that they have (cuter and) smaller jaws, as German Shepherd puppies won't tend to have all their (42!) adult teeth till they're around 6 months old. Nom nom!
The best dog food for German Shepherd puppies will contain the essential nutrients that we've outlined above, alongside things like:
Chondroitin and glucosamine for bone and joint support;
L-Carnitine; and
EPA and DHA which aid in fighting osteoarthritis, and can be naturally sourced from fish oil.
The best dog food for adult German Shepherds:
As promised, we've rounded up the top picks we stumbled upon while researching the best dog food for German Shepherds.
23% nourishing protein content, most of which comes from chicken sources and chicken meal
Contains a nice, balanced composition of Omega-6 and it's colleague Omega-3 to help reduce symptoms of food allergies in German Shepherds
Prebiotics facilitate and assist in smoother and easier doggy digestion
Fat levels in this dog food make 13% of his daily fat calories, which is right on the recommended mark
1% calcium, balanced in a 1.2:1 ratio with phosphorus for doggy teeth!
Cons
It also contains a fairly high amount of chicken by-product meal, which is typically considered a filling agent. On the plus side, this is where your adult German Shepherd's chondroitin and glucosamine are coming from!
Our Verdict: 4/5


We are happy that the nutrient profile is right on with what's considered healthy nom for German Shepherds who are eating to maintain. 'Cause it's crafted specifically for German Shepherd adults, it has a rough kibble texture for supporting their dental health!
22% protein, perfect for maintaining a healthy adult doggy weight
Royal Canin offer a German Shepherd adult food with easy-to-digest proteins to put as little stress as possible on their already sensitive digestive systems
It's supplemented with EPA that's sourced naturally alongside DHA from fish oil
Contains zinc as well as the more commonly featured phosphorus and calcium
Cons
Coming in at the 17% fat mark, it may provide a few too many fat calories for less active German Shepherd adults.
Contains chicken by-product meal as its top ingredient, rather than a natural chicken source
Our Verdict: 4/5


Royal Canin produce a strong contender amongst the best dog foods that is suited to German Shepherds past the 15 months mark, despite the slightly high(er) fat content. To be fair, this is probably a perfect figure if you are walking or romping around with your German Shepherd a lot, as they can be pretty active dogs!
Taste of the Wild have whipped together a formula that's naturally grain-free
Protein stands at 32% guaranteed minimum
18% crude fat
Well balanced Omega 6 and 3 levels
Zero flavors, preservatives or colors that are artificial
Cons
None really, it's even all USA-made!
Our Verdict: 5/5


We're comfortable and confident recommending Taste of the Wild yet again as a top caliber dog food for mature German Shepherds because of it's solid nutrient mix, quality and sustainably sourced ingredients and complete lack of artificial preservatives.
Can you tell me how to choose food for my German Shepherd puppy?
We certainly can! In a similar way to grown-up German Shepherds, pups of this breed require the core macronutrients of protein and fat- in that order- for growth and development.
What's different, however, is that you'll be needing to choose a specific puppy food for German Shepherd puppies that is formulated to supply these macronutrients in higher levels than an adult dog would need. This is because the best food for German Shepherd puppies should be the primary source of their energy and the building blocks for all the lean muscle they'll be developing.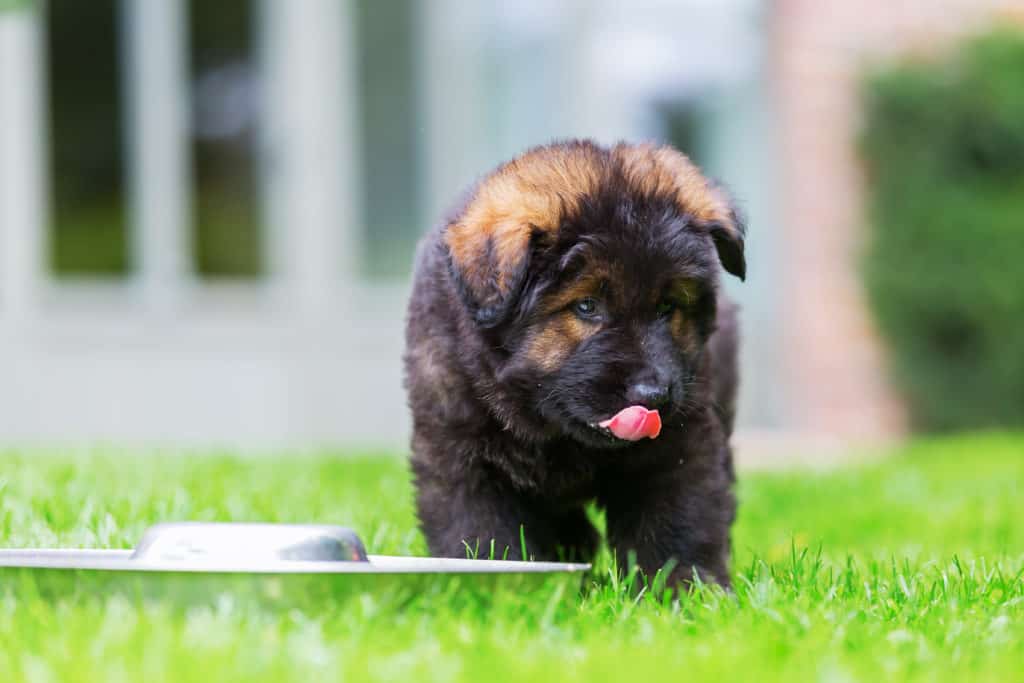 As a minimum, 27% is a relatively healthy amount of protein for less active German Shepherd puppies, and this figure will be higher for those which are more energetic or naturally larger. It's possibly more crucial for German Shepherd puppies to take in this protein from real meats- think lamb, boneless chicken, venison or even bison!
Regarding fat intake for German Shepherd puppies, around 14%-19% is generally a good figure. Once again, make sure to have a look at whether this fat is coming from identifiable sources, and try to avoid puppy foods that are vague about the ingredients they contain!
Best dog foods for German Shepherd puppies:
At least 0.9% calcium which is balanced out by phosphorus, so our little friends can start developing those strong bones and teeth!
333 kCal in each cup
Protein is at least 28% for developing puppies
One of best dog foods for German Shepherd puppies who continue growing for a little longer, up to 15 weeks old
Cons
Like Royal Canin's dog food for German Shepherd adults, the puppy food version incorporates ground by-product from chickens
Our Verdict:


We're happy to recommend Royal Canin's product among the best puppy food for German Shepherds, and they've even designed the kibble to be smaller than the adult version. Isn't that adorable?
The highest listed ingredient for this excellent puppy food is boneless chicken, followed by chicken meal and pea protein!
This delivers a whopping 36% protein for lean muscle growth and development
2% calcium, which contributes to robust German Shepherd puppy skeletons and teeth
Fatty acids for your puppy's lustrous coat and helps counteract skin irritation if you've got a German Shepherd puppy with sensitivities
Barley grass, parsley, blueberries, and cranberries give your little puppy a huge and colorful range of vitamins and antioxidants
No artificially-derived flavors
Free from soy, free from wheat and…you guessed it, free from corn!
Cons
Our Verdict: 5/5


We absolutely think this is one of the best German Shepherd puppy foods we've come across. In fact, we've fed it to our own German Shepherd, and she just adores it.
Formulated with probiotics, another puppy food that considers a German Shepherd's sensitive tummy!
Flaxseed and salmon oil both contribute to your puppy's DHA intake
Wellness have managed to put a whole load of real veggies and fruit in here- there's kale, spinach, blueberries, broccoli, parsley, sweet potatoes and more! Talk about vitamin content!
35% protein derived mainly from chicken and chicken meal
14% fat which is naturally preserved from natural chicken fat sources
Free entirely from added grain fillers such as soy, corn, wheat.
Cons
Nope, not really. To us, this is another winner!
Our Verdict: 5/5


Wellness Core make what we rate as amongst the best food for German Shepherd puppies. Its nutrient profile is outstanding, and it is free from artificial add-ins whilst being a valuable source of natural protein for German Shepherd puppies. 5 stars out of 5!
FAQs
Q: At what point do I stop feeding puppy food and start considering adult mature dog food?
A:There does come a point at which even the best food for German Shepherd puppies will be inappropriate for your growing friend. When your German Shepherd puppy is at a point where he's 85% to 90% of his target mature weight, in other words when he's around 8.5 to 10 months grown. At this time, you'll be able to start replacing his German Shepherd puppy food with one meeting the recommended nutrient profile of an adult German Shepherd dog food.
Q: What foods can German Shepherds be allergic to?
A: It's been estimated that something like one out of every seven dogs is prone to canine allergies. German Shepherds, in particular, can be more vulnerable to skin allergies which you'll most commonly see manifesting as irritated, reddening skin or increased biting and scratching behavior. Common examples of foods which can trigger allergies in German Shepherds are wheat, corn, and soy, which is why some of the best food for German Shepherds is entirely grain-free. More surprising but also quite frequent allergens include meats like chicken and beef, and dairy products.
It's also worth noting that the best dog food for German Shepherds also contains flaxseed oils or fish oil, as these are relatively rich in Omega-3 to help tone down the itching and swelling of your German Shepherd's skin if he's allergic. If you start to get an inkling that your German Shepherd has an allergy, however, always consult your vet straight away.
Helpful Links