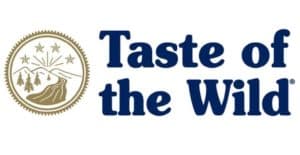 Taste of the Wild makes some of America's most popular dog and puppy food. But does their kibble live up to the brand's glowing reputation? What's inside their different formulas, how much variety can you expect from this brand, and why might you switch over to Taste of the Wild? Our Taste of the Wild Dog Food Reviews will answer all these questions and then some, as we bring you all the highlights — and lowdown — from our research. We've read the packaging, spoken to fellow dog owners, and even searched what vets have to say about the brand behind the tasty-sounding formulas. So, let's have a good look at Taste of the Wild puppy food!
Quick Review: Top-4 Dog Foods From Taste of the Wild
Taste of the Wild Grain Free Premium

25% protein for strong muscles
It is full of healthy fiber and nutritious vitamins
Pacific Stream uses pure salmon for taste

Taste of the Wild Grain Free High Protein

For puppies of all sizes - 29% protein
Contains fruit antioxidants
It is 100% gluten free

Taste of the Wild Grain Free Real Meat

Contains 40% protein in terms of dry matter
Egg and flaxseed for omega acids
Contains inulin, which is well absorbed by calcium

Best

Limited Ingredient

Food

Taste of the Wild PREY Limited Ingredient

Supports growing, adult and mature dogs
Contains Omega, a healthy oil for the heart
Provides your puppy DHA
About Taste of the Wild
Who Are Taste of the Wild?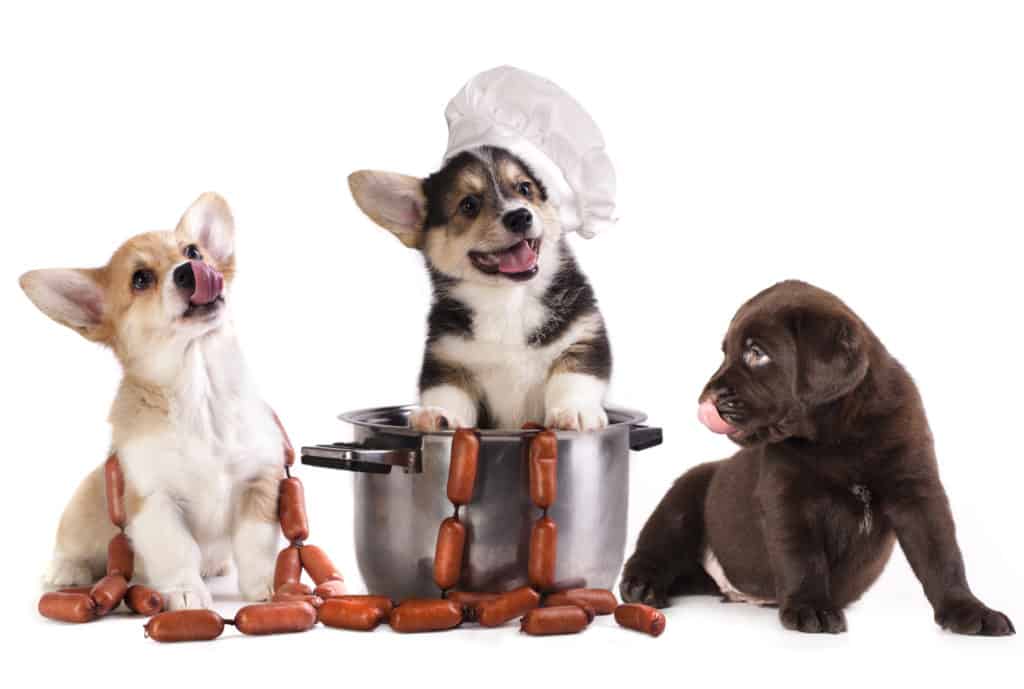 Taste of the Wild is a very well-known international dog food brand. While they don't have THE largest range of puppy foods that we've ever come across in our research, Taste of the Wild still gives us owners considerable choice. Produced by Diamond Pet Food (yep, another Diamond brand!), its kibbles are all made here in the States. Diamond, a Schell and Kampeter brand, has several plants in South Carolina, Arkansas, Missouri, and California where the products in our Taste of the Wild food reviews are manufactured.
Taste of the Wild first hit the shelves just over a decade ago during 2007, and all of its dry puppy food and dog food is made without grains. They are heavily focused on using natural ingredients only and feature real animal proteins at the top of their ingredient lists. While they do not advertise themselves as a 'human grade' dog food brand, they use quite high-quality ingredients and don't rely on animal by-product meals to keep their prices affordable. They also make cat food and wet canned stews for dogs.
What's Special About Taste of the Wild?
The premium quality and affordable price of their kibbles are what makes Taste of the Wild such a hit with owners. It can be hard — let's be honest! — to find a brand that offers a variety of delicious recipes, uses natural ingredients and doesn't break the bank, but Taste of the Wild has managed.
They produce 12 dry dog foods in total, and two are puppy-specific recipes. While some are grown-up formulas for maintenance, a large proportion of these are also all-life-stages mixes that suit pregnant and veteran pooches. Also in these 12 recipes, you'll find 3 limited ingredient formulas, called Taste of the Wild PREY. These use a select number of core ingredients and are a good option for sensitive, allergic, or intolerant dogs of different sizes.
So in total, there are three main lines of dog and puppy food to look out for:
Taste of the Wild formulas – This is a catch-all category of grain-free dinners, which features 'unique' proteins like bison, boar, and smoked salmon;
Taste of the Wild canned dog food – Which includes five stews from various meats, in naturally-flavored gravy; and
Taste of the Wild PREY – In this line, you'll find three different recipes for both your growing and adult best friends. These limited ingredient Turkey, Angus Beef, and Trout recipes contain zero GMO ingredients, no grains, and no milled by-products. With only 4 core ingredients, they boast no rendered animal ingredients, making them ideal for sensitive dogs or pups with dietary intolerances.
Taste of the Wild Dog Food Recalls
Good news, puppy lovers! We only know of one Taste of the Wild dog food recall since the brand began producing puppy and dog chow in 2007. This was during 2012 and occurred when Diamond Pet Food recalled numerous different brands from the shelves due to potential salmonella contamination. Other brands affected by the recall included 4Health, Diamond, CANIDAE, Kirkland, and Wellness.
Why the Taste of the Wild Puppy Food Reviews and Taste of the Wild Dog Food Reviews?
As well as having well-rounded puppy food and dog food formulas, you'll find a lot of the beneficial 'extras' that we love in Taste of the Wild recipes. That includes pro- and prebiotics for easing up canine digestion, non-GMO ingredients within certain ranges, sustainably sourced meat in others, and natural fiber from authentic vegetables.
They implement quite strict quality assurance procedures, according to their official website, and rely only on long-term trusted suppliers for ingredients. That means that each month, there are thousands of quality checks carried out on Taste of the Wild foods before they reach consumers. Developed by animal nutritionists and vets, their safety and development processes are thus very reliable on the whole.
Why else have we made Taste of the Wild dog food reviews? Because:
They may not manufacture breed-specific recipes, but they have an extensive selection of all-encompassing formulas (doggy life stages and different sizes);
Taste of the Wild is USA-made in adherence with pretty stringent safety guidelines;
Their choice of ingredients is very nutrition-focused with no dodgy by-products;
They use only natural preservatives, non-synthetic colors, and natural flavors; and
There's no corn nor any wheat in any Taste of the Wild dog foods.
How about some Taste of the Wild puppy food reviews, then?
Our Taste of the Wild Dog Food Reviews
Taste of the Wild Grain Free Dog Food Reviews
Taste of the Wild is known among owners for its many grain-free dog and puppy formulas. Overall, they are of a very decent standard and yet, they're reasonably priced. Here are two of our top gluten-free formulas!
Taste of the Wild Grain Free Premium High Protein Dry Dog Food Pacific Stream Adult
Pros
At the 25% protein mark, it's developed to keep those strong muscles in shape;
With no eggs, beef, or chicken, it's one pretty good option for dogs who need to avoid certain inclusions;
It's full of healthy fiber and nutritious vitamins, both from garden vegetables and superfood fruits;
Contains all the mineral supplements that your pooch needs to stay happy, healthy, and in great shape (along with those fruit and veg!); and
Uses sustainable, ethically-sourced salmon for that awesome Pacific Stream taste!
Cons
Contains potato, which some of our fluffy friends need to avoid.
Our Verdict: 5/5
It's hard to find fault with this nutritious, delicious adult recipe. As you'll see in all our Taste of the Wild dog food reviews, ingredients are selected for their nutritional role, and thoughtful flavor combinations make it an appealing choice for mealtimes. Five out of five stars!
Taste of The Wild Grain Free Premium High Protein Dry Dog Food Wetlands
Pros
While it's grain-free, this blend still contains lots of nutritious veggies, with phytonutrients and beta carotene for optimal health;
With 32% protein and 18% fat, it's perfect for even the most energetic dogs;
Uses easily-digested, high-quality protein sources like roasted quail and smoked turkey for lean muscle mass;
Includes natural prebiotics and digestive fiber from chicory root; and
Cons
Our Verdict: 5/5
Another 5-star formula for grown-up dogs, which uses high-caliber ingredients yet keeps the price affordable. Little dogs like
Boston Terriers
and
Corgis
and giants like
Great Danes
will adore the meaty flavor.
Taste of the Wild Puppy Food Reviews
Little pups need sustained energy to keep them going all through the day. With high-fat and protein-packed recipes like these, they'll be able to skip the grains entirely while getting enough of, well, everything that they need to thrive!
Taste of The Wild Grain Free Premium High Protein Dry Dog Food High Prairie Puppy
Pros
Contains 28% protein, with real buffalo and lamb meat meal as the top two inclusions;
You'll also find delicious sweet potato in here, with peas, blueberries, and raspberries for antioxidants and fiber;
Supplemented with all the essential minerals your pooch needs, including Vitamin E and zinc;
Comes with cute little kibble pieces that your puppy can easily chew; and
Is entirely grain- and gluten-free.
Cons
Our Verdict: 5/5
Designed for puppies big and small (that includes giants!), this Venison and Bison formula is probably the brand's most popular product to date. And why not — with its excellent protein, Omega acid, and fat content, this novel protein recipe supports healthy muscle (and all-around) growth.
Taste of the Wild Grain Free High Protein Real Meat Recipe Southwest Canyon Premium Dry Dog Food
Pros
For puppies of all sizes, it's a great protein source, with 29% in total;
As it includes Omega fat-rich salmon oil, your pup will also get DHA to keep his eyes and brain in top form;
The different proteins include boar, beef, fish meal, and lamb meal for a tempting Southwest Canyon flavor;
Features antioxidants from fruits like raspberries and tomatoes; and
It's 100% gluten-free, so grain-intolerant pups can tuck right in!
Cons
Our Verdict: 5/5
Competitively priced and providing 360 k/Cal per cup, it's also designed for large-breed puppies. Your
Retriever
,
Labrador
,
Pit Bull
or
German Shepherd
pup's growing body will get all the protein, fiber, and fat that it needs for optimal growth with this tasty recipe.
Taste of The Wild Grain Free Premium High Protein Dry Dog Food Sierra Mountain
Pros
Contains 15% fat for longer, slower energy release;
Gives that little puppy a lovely 25% protein from lean sources like lamb meal and lentils;
Uses salmon oil as an all-natural, lipid-rich source of Omega acids, DHA, and glucosamine;
Contains B, D, E, C, and A vitamins that will pep up your pooch naturally; and
It's all-natural when it comes to colors, flavors, and preserving agents!
Cons
Our Verdict: 5/5
Superfoods like flaxseed, blueberries, and sweet potato offer a vast array of healthy micro- and macronutrients. Antioxidants from these natural sources will aid your little pooch's immune system, and DHA assists in healthy cerebral development. Perfect for your growing furry friend!
Taste of the Wild Canned Dog Food Reviews
Why not give your dog a meaty treat that's also full of moisture and veggies? This canned stew is an ideal choice for picky pooches, with a tantalizing flavor that will keep them happy at mealtimes!
Taste of the Wild Statewide High Prairie
Pros
With 8.5% protein, this provides generous amounts of protein on a dry basis;
Contains tomatoes and berries for Vitamin C and antioxidants;
Suitable for growing large-breed puppies in terms of calcium, calories, and phosphorus;
With 82% moisture, it's ideal if your little fluffy friend doesn't take much water in; and
It's all-naturally flavored with no meat filler ingredients.
Cons
Our Verdict: 5/5
As your best pal grows larger, he can continue eating this delectable beef and gravy recipe without needing to switch to a different formula. And because it's an all-breeds and all-life-stages blend, feel free to buy it in bulk for all your pooches!
Taste of the Wild Grain Free Premium Wet Canned Stew Dog Food
Pros
Contains more than 40% protein on a dry matter basis;
There's both egg and naturally-preserved flaxseed in here for Omega acids, keeping that coat nice and silky;
Most of the meats in here are roasted or smoked for extra flavor — so this meat-rich formula offers smoked turkey and roasted quail, among other things;
Contains inulin, a helpful digestive prebiotic that boosts calcium uptake; and
Features real fruits like blueberries and veggies such as vitamin.
Cons
There's some potato in here, so it might not be appropriate for dogs who can't tolerate this starchy carbohydrate.
Our Verdict: 5/5
We are happy to see so many varied protein types in this delicious duck stew. With antioxidants and natural vegetable fibers, it promises to be soft on dogs who have sensitive tummies, and what's more, it sounds mouthwatering! Formulated to help keep those doggy muscles lean and maintained.
Taste of the Wild Reviews: Limited Ingredients
Does your dog need to avoid specific meat ingredients? In this PREY limited formula, there is one main animal protein and some salmon oil for good measure. It's a great hypoallergic blend for dogs of all ages.
Taste of the Wild PREY Turkey Limited Ingredient
Pros
As an all-life-stages recipe, this supports growing, adult, and mature dogs — of all sizes;
Provides 30% protein from one meat (turkey) and one legume source (lentils);
Contains heart-healthy sunflower oil with Omega fats;
Provides your puppy with DHA, which assists in neural development; and
With Vitamin E, selenium, and zinc, it's a great skincare blend.
Cons
Nope, it's perfect for even picky dogs!
Our Verdict: 5/5
There are loads of healthy probiotics in this PREY blend, meaning that dogs with fussy tummies will have an easier time digesting it than they might with a regular food. No preserving, flavoring, or coloring agents are added to this mix, making it a natural mix of ingredients.
FAQ
Why are there no small-breed-specific recipes in your Taste of the Wild puppy food review?
Taste of the Wild does make some small-breed kibble for your Maltese, Chihuahua, Dachshund, or Yorkie. In fact, we've reviewed the excellent Appalachian Valley Small Breed recipe on our Best Small Breed Puppy Food page and given it a 5-star Taste of the Wild dog food rating — check it out! There's no particular reason why there aren't breed-specific recipes in our reviews on Taste of the Wild dog food, but we've picked out the best formulas for as many puppy needs as possible.
While breed-specific kibbles and cans do have strong benefits in general, you'll also find that a size-specific kibble can often also give your puppy everything they need to flourish and have a nutritious diet. If you're looking for the best possible breed-specific recipe for your puppy, you'll find that we've reviewed a whole bunch of different top-quality formulas in our different Breeds pages. So have you got a Corgi? Boston Terrier? Or Shih Tzu? Visit our breed pages to see what we recommend!
What do veterinary professionals think of Taste Of the Wild food?
Though Taste of the Wild is not sold in veterinary clinics, it is considered one of the more acceptable store bought dog foods on the market. With having options for growing dogs, adult dogs, those with dietary intolerances and more, Taste of the Wild is able to safely cater to different types of canine friends. However, it is important to be aware of the higher protein counts in this diet for those dogs that suffer from urinary or kidney complications. They may still be able to enjoy this diet, but we still recommend a discussion with your vet to be safe.
My puppy is carrying his kibble away to eat it in the other room, little bits at a time. Why?
This is quite an interesting question, but rest assured that your dog is not the only one! The most likely reason for this, vets believe, is because of a deeper instinct to protect their food. If your pup grew up in a litter where he was competing with other puppies for food, this may be a habit that has helped him get enough food in the past.
If you've got yourself more than one fluffy companion, it's possible that your puppy is protecting his kibble from your other pet. You might help them feel a bit safer if you feed them in separate rooms, at different times, or both. One last reason is that your pup may want to eat with you, his human. Is he carrying his kibble toward you — is the 'other room' your dining room or lounge? He may just want to be in your presence while he tucks in!
I've seen chocolate dog treats before; is it okay to give my little puppy a small piece of chocolate?
Short answer: definitely not! Even tiny servings of chocolate can lead to upset tummies in our canine companions. Give them any more than that, and the theobromine in the chocolate can lead to runny stools, pain, vomiting, and have other toxic effects. Chocolate is also a source of caffeine, which is bad — and potentially lethal in certain quantities — for any pooch.
We certainly do not recommend feeding any chocolate treats to your puppy, therefore, even though white chocolate (which is supposed to contain 0% cacao) is 'okay' in theory. To avoid potential cross-contamination or unhappy accidents, it's always better to be safe than sorry. Hide your chocolate away where a curious puppy won't be able to get at it and avoid the stress and costly vet bills.
Helpful Links
Last update on 2021-06-09 / Affiliate links / Images from Amazon Product Advertising API