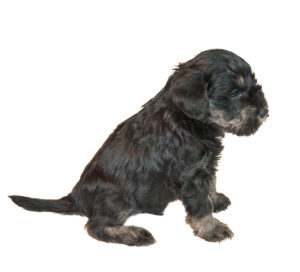 Miniature Schnauzers are loved for their brave, affectionate, and quick-to-learn natures. Your little Schnauzer's ancestors were bred as rat-hunting dogs on German farms during the 1800s, and as a result, Mini Schnauzers tend to be easily trained.Their small bodies and speedy metabolisms mean they have high protein and fat requirements, and they need to be fed more frequently than larger dog breeds. Keep reading on to learn more about how to feed your Miniature Schnauzer for optimal health and use our reviews of the best dog food for Miniature Schnauzers to guide your search!
Quick Review: Top-3 Dog Foods For Miniature Schnauzer
Diamond Naturals Small Breed Puppy Dog Food

Contains 22% fat and vegetable carbohydrates
Contains beneficial digestive bacteria
Uses other useful non-meat ingredients as protein sources.

CANIDAE Grain Free Pure Dry Dog Food

This dinner is perfect for sensitive little tummies!
Lentils, peas and alfalfa are rich in wholesome fibers
Provides 30% muscle protein

Castor & Pollux Organix Grain Free Dog Food

It's gluten-free for intolerant Schnauzers
Naturally preserved and colored
Includes nutrient-rich foods.
What's in the Best Food for Miniature Schnauzers?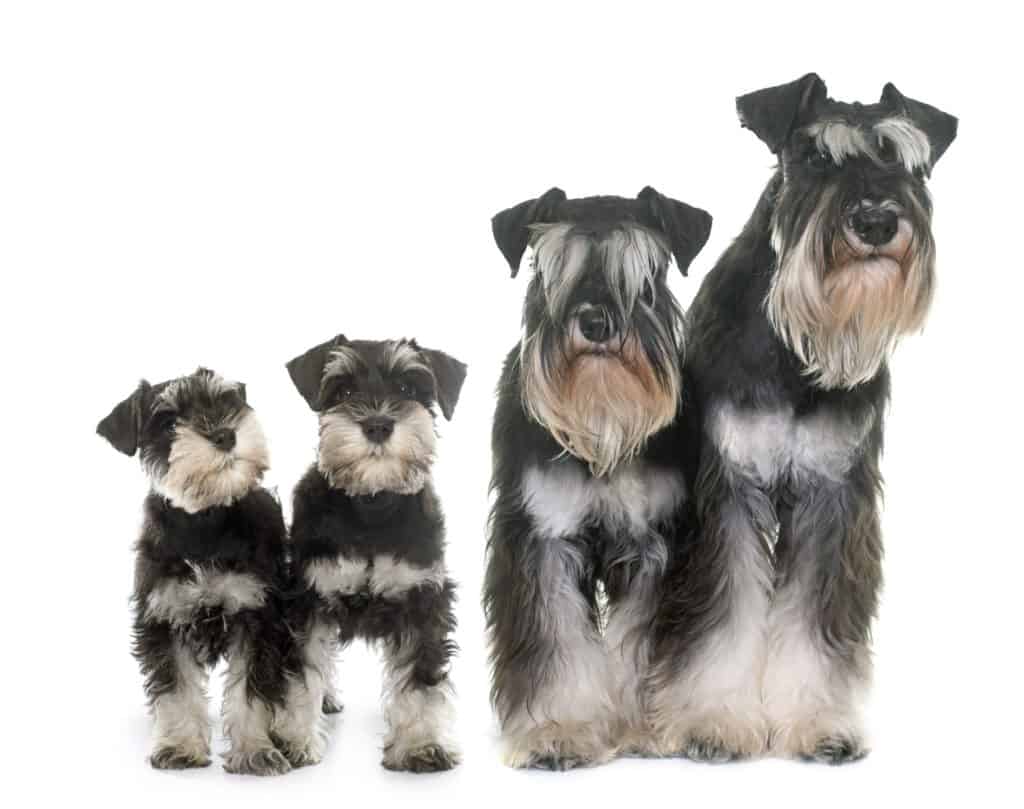 To maintain proper energy levels throughout the day, Miniature Schnauzers need to consume enough calories. Given a Schnauzer's small stature and relatively lightweight builds, it can come across as surprising that they need more k/Cal per unit body mass than larger dogs. However, a grown-up Mini Schnauzer might require 320 and 730 k/Cal depending on their body mass and whether they are sedentary or active.
They need a complete, age-appropriate, and nutritious kibble to get the right balance of fats, vitamins, minerals, and proteins in their diet. It's best to begin your search by examining the top ingredient listed on a dog food label and disregard any products which list confusing ingredients that you can't understand.
Dog Food Tips for Miniature Schnauzers
Use these tips to find the best dog food for Miniature Schnauzers:
DO choose a kibble with chicken, lamb, duck, or another whole meat as the top ingredient. Other equally healthy 'first ingredients' include meat meals like beef meal, pork meal, or similar;
DON'T confuse meat meals with meat by-product meals like chicken by-product or poultry by-product meals;
DO aim for 18% crude total protein or more when shopping for an adult Miniature Schnauzer kibble. The best products will also balance this with at least 10% fat;
DON'T settle for any kibble which uses ambiguous fats like tallow or lard. Instead, opt for a food with recognizable fats – chicken fat is a healthy and popular example, and the same goes for salmon, fish or sunflower oil;
DO choose the right grains for your dog – or no grains at all if your dog is gluten-free. Some are less nutritious (e.g. brewer's rice or white rice) than others (e.g. whole brown rice or oatmeal);
DON'T purchase any dog or puppy food which lists harmful preservatives, such as ethoxyquin, BHT, or BHA; and
DO choose a kibble that aids digestion. These will include fruits and vegetables for fiber, any of the nutritious grains we've just listed, and/or gut-helpful bacteria like probiotics and prebiotics.
Best Food for Miniature Schnauzer Puppy Dogs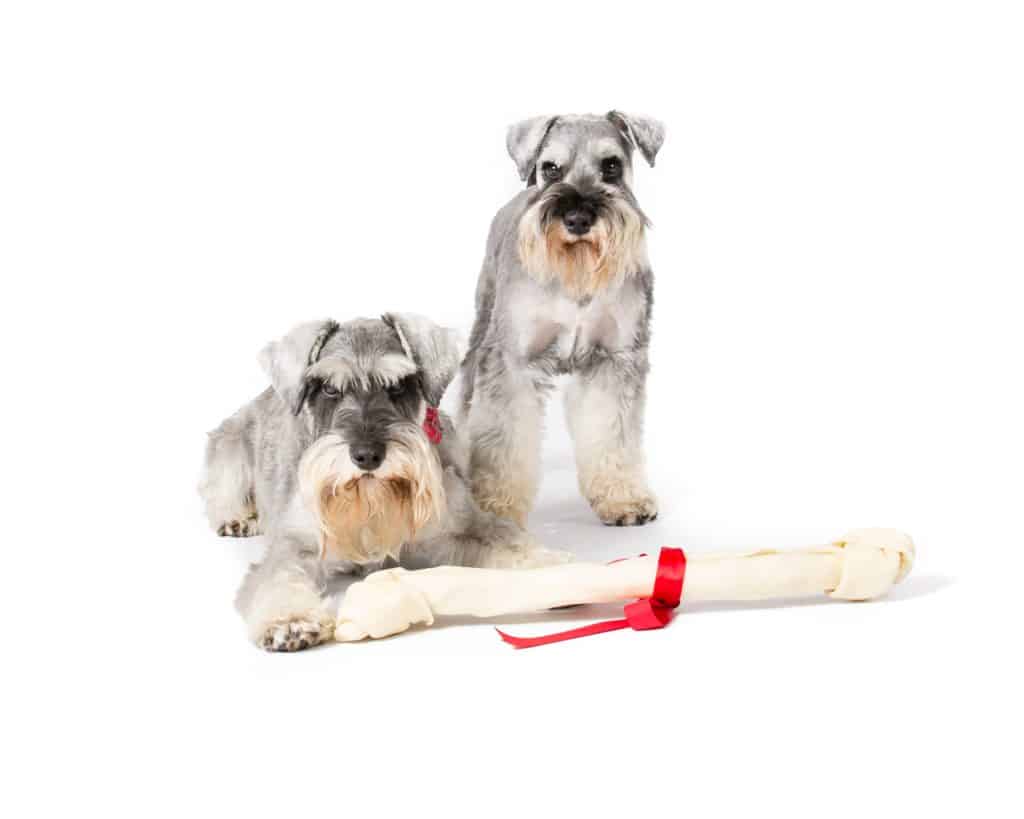 Compared to an adult, a Miniature Schnauzer puppy might need anywhere between 225 and 430 k/Cal daily, depending on his age and weight. What they do require is more protein – 25% and upward is a recommended figure for Miniature Schnauzer puppy food. They also need dry dog food with higher fat content; good products will have around 13-18% fat.
Like adults, puppies also need healthy sources of vitamins and minerals to maintain their health. Apart from essential A, C, E, D, B, and K vitamins, there are also a few inclusions which separate regular or good kibble from the best puppy food for Miniature Schnauzers.
The very best dog food for Miniature Schnauzer puppy dogs will include:
Omega fat sources, such as fish meal, eggs, fish oil, flaxseed, and similar;
DHA, typically also found in the above sources – this encourages healthy brain development; and
Glucosamine – frequently found in meat meals and fish oils, this supports your small dog's joint development.
Probiotics or digestive support- Since Mini Schnauzers are prone to GI complications, the best diets will contain probiotics, prebiotics, or added fiber for aid in digestion.
Low or moderate fat – Since Mini Schnauzers are prone to digestive disorders and pancreatitis, a condition that is often triggered by fatty and greasy foods, you will want to be sure that your diet of choice is low in fat. The best diets will have anywhere between 10%-15% fat.
Last, but perhaps most importantly, your small-breed Mini Schnauzer will have a hard time grasping and breaking up his kibble if the pieces are too large for their mouths. Just like large-breed dog food has large-sized kibble, you will find that food for Miniature Schnauzers is developed for smaller jaws. Good brands will often show a life-size picture of their kibble so that you can make an appropriate choice for your pet.
Best Food for Miniature Schnauzers: Brands We Love
In our opinion, a great dog food brand is one that can consistently be relied upon to use high-grade ingredients. It should have a clear and transparent recall history so that consumers can make a clued-up decision, and will typically sell kibbles that are designed by animal health professionals.
Here are some brands that we have hand-picked because we know they make the cut:
Reviews: Best Puppy Food for Miniature Schnauzers
Castor & Pollux Organix Grain Free Small Breed Recipe Dry Dog Food
Pros
USA-made in organic facilities, this formula includes high-caliber chicken, sweet potatoes, and peas for protein and fiber;
Coconut oil gives your Schnauzer healthy fats and an immune system boost;
Naturally preserved and colored;
Includes nutrient-rich items such as chicken liver, sunflower seed meal, flaxseed, and salmon oil; and
It's gluten-free for intolerant Schnauzers.
Cons
While it's delicious and high-quality, this Castor & Pollux recipe is not cheap!
Our Verdict: 5/5
Organic, humanely raised ingredients have been combined in a thoughtful and scientific way to promote your pet's nutrition and enhance his health. Prebiotics and other gut bacteria are added for easier breakdown and maximum nutrient absorption.
Farmina Natural Grain-Free Small & Medium Breed Puppy Formula Dry Dog Food
Pros
Over 90% of the protein in this kibble comes from meat ingredients;
A low-GI recipe, this will encourage healthier puppy metabolism throughout the day;
Using non-GMO ingredients only, the Farmina team have created a veggie-, fruit-, and supplement-rich blend for better health;
Naturally preserved and flavored, this also includes salmon oil, herring, and egg for Omega fats; and
Its carefully-crafted pieces are perfectly adapted for little Mini Schnauzer jaws.
Cons
None that we're able to pick out!
Our Verdict: 5/5
This Farmina recipe offers 42% protein, 22% fat, and a wholesome array of antioxidant-rich ingredients. An ideal dinner for any growing Mini Schnauzer puppy!
Diamond Naturals Small Breed Puppy Dry Dog Food
Pros
Veggies, fruits, and supplements give a holistic and rich profile of vitamins and minerals;
Uses cage-free, whole chicken for a total 32% protein;
Contains useful digestive bacteria for Mini Schnauzers with tummy problems;
Features 22% fat and low-GI vegetable carbohydrates for controlled energy release; and
Draws on other healthy non-meat ingredients as protein sources, like peas and egg.
Cons
Nope, we've picked another 5-star recipe!
Our Verdict: 5/5
Great for the growth of strong puppy muscles, this high-fat, high-protein formula will give your little dog plenty of energy and beneficial nutrients. It offers DHA for better eyesight and sharp vision while promoting great brain development.
Reviews: Best Dog Food for Miniature Schnauzer Adults
Nulo Adult Grain Free Dog Food
Pros
The small, cute kibble bits are very suited for little jaws;
Contains skin-protective fatty acids that encourage better coats;
Uses 85% meat ingredients for a total 33% protein, including turkey, salmon, and trout ingredients;
Real carrots, apples, and blueberries offer fiber and ample vitamins for your little Schnauzer's immune system; and
At 441k/Cal per cup, it easily will meet the high calorie and energy requirements of your grown Mini Schnauzer.
Cons
No cons according to us – this is a very popular kibble with small dog owners.
Our Verdict: 5/5
This Nulo kibble has received plenty of thumbs-ups from Mini Schnauzer owners, and according to many of them, it's the only recipe which their fussy dogs will eat. It's of Omega acids for radiant coats and made from great ingredients.
CANIDAE Grain Free PURE Dry Dog Food
Pros
With no wheat, grains, or soy, this chicken and fish meal dinner is perfect for sensitive little tummies!
Vitamin E, zinc, and selenium supplements encourage better skin health for a stronger protective barrier against disease;
Lentils, peas, and alfalfa are rich in healthy fibers for your adult Mini Schnauzer;
It uses fewer than 10 main ingredients, so you can easily tell what your food-sensitive dog is eating; and
Provides a total of 30% protein for awesome muscle maintenance.
Cons
Not suitable for potato-sensitive dogs.
Our Verdict: 5/5
Let's face it – Mini Schnauzers can be fussy eaters, to say the least. If food sensitivities are a concern in your household, try this
CANIDAE
formula for a protein-rich, nutrient-packed solution to your dog's needs!
Blue Buffalo Basics Limited Ingredient Diet, Adult Small Breed Dry Dog Food
Pros
The first delicious ingredient is whole, lean turkey – a superfood!
Rich in Omega-3 as well as Omega-6 acids, it will also help maintain and enhance that Mini Schnauzer's coat;
Little-bite pieces make for easier mealtimes as your dog will chew and crunch his kibble with no stress;
Features cold-preserved nutrient bits that are optimally prepared to retain their benefits; and
Includes 22% protein and 15% fat – an ideal ratio for already-grown Schnauzers.
Cons
Nope – we've picked all the very best foods for your little family member!
Our Verdict: 5/5
Generous glucosamine levels will help your Mini avoid or slow down the development of joint conditions. It's a balanced, naturally-preserved, and holistic recipe for all-round positive nutrition! As we noted, another 5-star formula!
Royal Canin Miniature Schnauzer
Pros
Quality protein from chicken meal
Added nutrients for optimal skin and coat health
Fat levels that manage their weight and prevent GI complications
Kibbles designed for their muzzles
Cons
Dogs with poultry allergies may not be able to enjoy this diet.
Our Verdict: 4.5/5
This is the perfect diet for your schnauzer friend that comes with veterinary approval!
FAQ
What is typically considered a small-breed dog and why must they eat so often?
Every dog is different, and not every dog is pure-bred – so the answer to this question will vary, depending on who you ask. Some small-breed dogs will be larger than others, and some of the smallest can be considered Toy breeds. However, the most commonly accepted definition of a small breed is any dog that:
Is less than 16 in tall at maturity; and
Has a body mass of below 22 pounds when fully grown.
Scientifically, smaller mammals have a greater surface area to volume ratio – they lose body heat faster and therefore they burn energy more rapidly than larger dogs. In other words, the metabolic rate of a Chihuahua, Maltese, Shih Tzu, Corgi, Pug, or Pom is higher than it is in a big dog such as a Doberman, German Shepherd, Goldendoodle, or Mastiff. If they don't eat frequently enough, they can use up the energy in their systems and become hypoglycemic!
Can my Miniature Schnauzer puppy eat peanut butter? Is it safe?
Peanut butter is a great dietary source of B vitamins, fats, and protein for puppies. It's perfectly okay to give your puppy moderate amounts of PB, but the more natural it is, the better. That means no artificial sweeteners such as aspartame, xylitol, or similar, and it also means that homemade peanut butter is usually the healthiest. It's easy to make peanut butter by putting unsalted peanuts in the food processor and blending them for a while – it may not keep for as long as artificially preserved PB, but you'll know exactly what is inside and what isn't.
So stick with a healthy amount of peanut butter, and remember that it's just a treat to be fed in small amounts now and again. Other than this, it is safe for puppies – although we highly recommend you leave out the sandwich and the jelly!
Helpful Links
Last update on 2022-09-21 / Affiliate links / Images from Amazon Product Advertising API