Welcome to our review of Purina puppy food and dog food! Most of you will be familiar with the brand, given that Nestlé-Purina are the second-largest maker of pet foods worldwide. If you're already feeding your little puppy with Purina, you'll know that it's both economical and reputable in terms of safety and nutrition. But what are the benefits of the different products? What's Purina One? How about Beyond? Is there a Purina grain free dog food? Let's take a look together and find out!
Quick Review: Top-5 Dog Foods From Purina
Purina Beyond Grain Free Recipe

Suitable for the tiniest toy dogs
Protein's at a wholesome 27% and fat at 16%
Glucosamine, and zinc, for joints and skin

Purina ONE SmartBlend Healthy

Naturally-derived DHA from fish oil
Carrots and peas give iron and vitamins
28% protein, along with 17% fat

Purina Pro Plan FOCUS Classic Entree

With only 203 kCal in each 5.5oz
This one pretty economical
10% protein, 7% fat

Purina Beyond GFree - Chicken and Egg

Vitamins E, A, K, D, B and C
1% calcium, balanced phosphorus
16% fat

Purina HA Hydrolyzed

18% protein, 8% fat and 314 kCal per cup
Made with some antioxidants
For dogs and puppies of all ages
Who is Purina?
Purina wasn't always Nestlé-Purina. In fact, the company's history dates all the way back to 1894, when three Americans surnamed Danforth, Robinson, and Andrews started up a farm animal-feeding business in St Louis. They were renamed Ralston Purina a few years later and opened their first center for pet care and nutrition in 1926 in Missouri. If we fast-forward a little more to around 1963, Purina started making their signature Puppy Chow with the red-and-white checkerboard trademark that we all now know so well.
Since then, they've published research related to pet care, branched out into specialized lines for doggy and cat treats, and gone nation-wide with their charity initiatives. As a result, there are so, so many lines of different Purina puppy and dog foods, from Pro Plan, through Puppy Chow and Purina One, to Beneful and Beyond.
What's special and unique about Purina?
We are just LOVING the new Beyond range that Purina has released. The entire range is made with ingredients that can be tracked all the way back to their original source. Recipes are crafted with input from a nutritionist, and none of their kibble production is outsourced to other companies- it's all made in the U.S., too. The Beyond line includes the gluten-free formulas we've included in our Purina Grain Free Dog Food Review and bonus Purina Beyond Dog Food Review- they're both made with real and natural meat as the top ingredient and include veggies for vitamins.
We're also liking the fact that Purina makes so many different kinds of food for our puppy friends. Some are made without any by-products, and most feature zero synthetic flavoring, coloring, or preserving agents. Some lines, such as the Pro Plan dog foods include specialized formulas for giant-, large-, and small-sized dogs and puppies. The Purina One line, on the other hand, always puts real meat at the top of the ingredients list, and contains no 'filling' agents at all.
Why the Purina dog food reviews and Purina puppy food reviews?
Well, there are so many different Purina dog foods and puppy foods that we just had to take a look! The brand is exceptionally popular, economical, makes super-healthy options, and even have heartbreakingly sweet and helpful blogs all about puppies.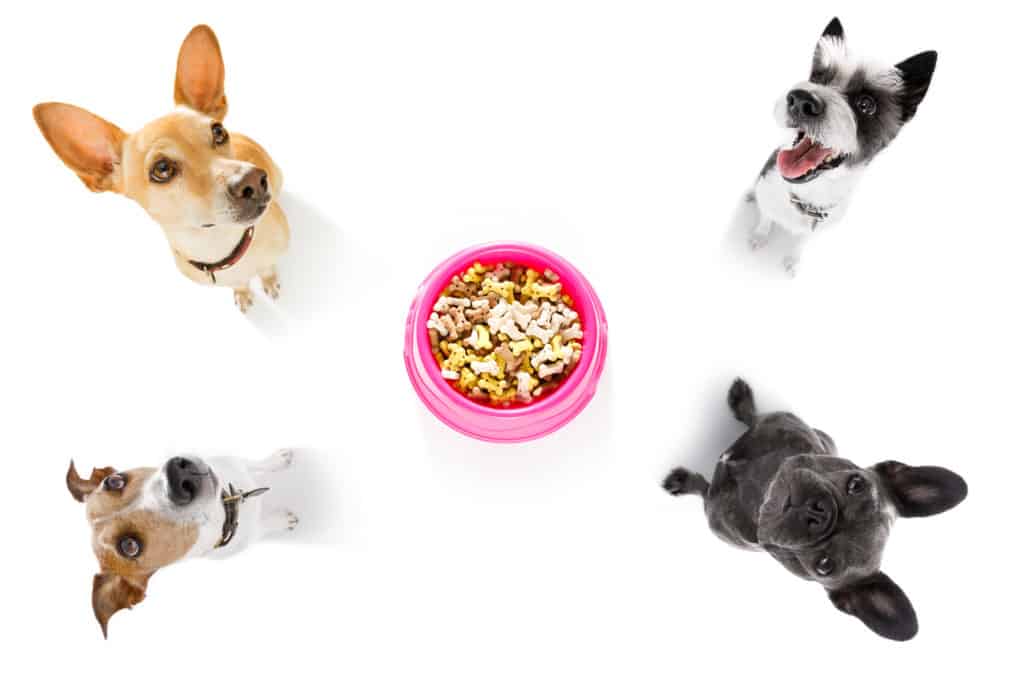 As noted, they:
Are as serious as can be about safety when it comes to the ingredients in your puppy's food and the way in which it is produced;
Have a natural puppy and dog food line that uses non-GMO ingredients;
Have an admirable stance on sustainability, including the mission to create zero landfill waste within 2 years;
Make senior dog food, size-specific kibbles and chow, weight management, and hypoallergenic options;
Make a delicious-looking line of treats.
What do you think? Let's take a look at what Purina product might best suit your fluffy best friend!
The Purina Dog Food reviews
The Purina Grain Free Dog Food Reviews
Purina Beyond Grain Free Recipe Adult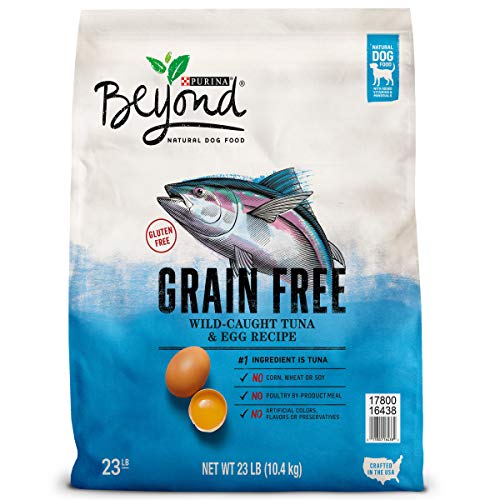 Pros
Nothing artificial in the way of by-products, preserving agents, flavors, or even colors;
Tuna's probably going to be a welcome change of protein for dinner for your dog, and egg, too!
Suitable for the tiniest toy dogs of 3 lbs to the largest giants who weigh over 100 lb;
Protein's at a wholesome 27% in this blend, with fat at 16% for energetic or active dogs;
Glucosamine, and zinc, for joints and skin, respectively.
No artificial add-ins for coloring, flavoring, or preserving this food- and zero strange by-products from poultry.
Cons
Peas are the only green veggie in here, but that's still great, we reckon!
Our Verdict: 5/5
The lack of by-product and artificial add-ins is what we love best about this, and the fact that it can be flexibly fed to all your adult dogs- large and small- to provide a holistic diet. Multiple protein sources are hard to argue with, too, unless you've got a dog with certain allergies.
The Purina Puppy Food Reviews
Purina ONE SmartBlend Healthy
Pros
Oatmeal and rice are two easily-digestible grains in this recipe, and oatmeal's also a source of delicious protein;
Kibble that crunches when your puppy munches- for clean teeth and less tartar!
Naturally-derived DHA from fish oil;
Carrots and peas give your puppy iron and vitamins;
28% protein, along with 17% fat are two healthy figures for your growing fluffy friend!
Cons
Made with by-products from chickens, although, this is also fairly high in joint-healthy glucosamine;
Not suitable for puppies on a grain- or gluten-free diet, as it's made with corn and milled soybeans.
Our Verdict: 4/5
Some of the ingredients here aren't exactly optimal, but as a complete recipe that's also balanced, Purina One is pretty much all-around healthy. It's got those essential nutrients and supplements for bouncy and happy puppies, too, like DHA and glucosamine.
Purina Puppy Chow Natural
Pros
27% protein;
1% calcium for resilient puppy bones;
Suited for puppies of all breed sizes, from Daschunds to Labs, to Great Danes;
Rice makes this formula easily digestible for little puppy tummies;
Contains DHA from natural fish oil;
No artificial agents for preserving, flavoring, or coloring in this food!
Cons
Top, leading ingredients in this chow are corn products and by-products from chicken.
Our Verdict: 3.5/5
This is the Natural version of Purina Puppy Chow, which skips out on the synthetic add-ins like flavors. It's got plenty of vitamin supplements and minerals, as well as beef and chicken.
Purina Pro Plan SAVOR Shredded Blend
Pros
Both DHA and fellow amino acid EPA in this recipe to promote good cerebral function;
At least 28% protein, most of which is from chicken;
Fish meal gives your puppy some glucosamine, which plays a large role in keeping up joint health in bigger pups especially;
Suitable to feed to your puppy until he's up to eight months old;
Contains 18% fat;
Minerals in here include manganese, copper, iron, zinc, and potassium.
Cons
Made with grains, such as corn and also wheat;
There are milled by-products from poultry in this formula, too.
Our Verdict: 3.5/5
There are no veggies, and both by-products and grains can be found in this recipe. However, if you're looking at the mineral, vitamin, protein, and fat percentages, everything's there for development, energy, and growth. It's also got those Omega acids that are important for shiny coats!
The Wet Purina Puppy Food Review
Purina Pro Plan FOCUS Classic Entree
Pros
Brown rice is very gentle indeed on canine digestive systems, so this should be an easily digestible formula;
With only 203 kCal in each 5.5oz can and feeding instructions that are easy-as-pie to follow, varying your pup's diet with this wet food will be super-simple;
As is very often the case with Purina, we consider this one pretty economical;
10% protein, good for a wet food that's designed for growth and development of lean muscle;
7% fat is just spot on for a wet puppy food.
Cons
There aren't any veggies in this formula;
Contains some 'meat' by-product, which is an ambiguous ingredient.
Our Verdict: 4/5
Wet puppy chow's pretty much always super as a 'topper' for kibble, and an interesting way to make sure that your little one gets sufficient moisture in his daily diet. This recipe's pretty neat as a first solid food, too, as you can mix it with water for that initial foray into real puppy food!
The Purina Beyond Dog Food Review
Purina Beyond Grain Free Recipe Adult
Pros
Apples, peas, and supplements to give your adult dog Vitamins E, A, K, D, B and C. Not the whole alphabet, but pretty good, right?
1% calcium that's optimally balanced against phosphorus;
16% fat, so ideal for dogs with a lot of lean muscle such as Rottweilers and Pit Bulls;
Contains glucosamine, which is excellent for joint health, and zinc, which is great for skin care;
No milled by-products, and no grains at all.
Cons
There's egg in this one, but it's clearly stated on the label, so no confusion here.
Our Verdict: 5/5
We really like Purina Beyond because it has no wheat, and is free of gluten. The fat's naturally preserved, and there are zero synthetic agents for coloring or flavor. Just good, hearty nutrition.
The Hypoallergenic Purina Food Review
Purina HA Hydrolyzed
Pros
18% protein, from soy molecules that have been broken down into smaller pieces;
At 8% fat and 314 kCal per cup, you won't need to worry too much that your dog's getting excess energy- although you may need to feed a little more to ensure your puppy's getting enough calories for growth;
If your puppy can handle hydrolyzed chicken, this formula also comes in chicken flavor for a nice change;
Made with some antioxidants for healthy cell function;
It's developed to be appropriate for dogs and puppies of all ages who are susceptible to tummy upsets, or at risk of pancreatitis.
Cons
Corn starch is this food's first ingredient- not real meat.
Our Verdict: 4/5
Soy's the main protein source for this veggie dog food, and this helps puppies and dogs with allergies to develop the lean muscle they need without having to eat any of the meats they may be allergic to. Soy's considered a 'novel' source of protein in dog foods, meaning pups and adults alike are less likely to have been exposed to it and developed allergies over time.
FAQ
What do veterinary professionals think of Purina dog food?
Purina is one of the all time favorite store bought dog foods in the veterinary community. It can be challenging to find a diet that is not only affordable for the average pet owner, but also has something to offer in terms of quality. Purina is passionate about the ingredients in their diet and how they serve our furry friends, and it always shows in their recipes. With having so many options in terms of diet, every dog owner can find a veterinary approved diet for their pup.
What is a hydrolyzed dog food, exactly?
Allergic reactions tend to take place within your pup's body when his immune system recognizes some molecule as potentially harmful. When this happens, you might notice such symptoms as sneezing, itchiness or runny, watery eyes. It's best to take your puppy to the vet if you notice anything like this, as they may find it necessary to put him onto a hypoallergenic food, or something with hydrolyzed protein.
The protein molecules in hydrolyzed protein puppy foods and dog foods have been broken into much smaller pieces if they haven't been broken entirely into their constituent amino acids. In this smaller form, they are less likely to be triggers for an allergic reaction. The HA dog food we've recommended in our Hypoallergenic Purina Dog Food Review is soy-based, so if you've got a puppy who cannot handle any of the more popular meats that are so common in puppy foods, this could be a great option.
My puppy won't stop begging for human food! What do I do?
It can be so funny at first, and maybe even cute when your puppy shows an interest in your human dinner. But after a while, yes, it might make you wonder whether something's the matter with his puppy food! If your puppy is begging for food at the dinner table, it's not necessarily because something's wrong with his own kibble, and there are some simple steps you might want to try before you start stressing out.
Puppies can quite easily be trained using positive reinforcement, so if they're begging at the dinner table each night and you give them a little nibble of food to keep them quiet, they'll probably think something like "Hey…that worked!". If you simply ignore your pup's begging, they will most likely realize it isn't working anymore and quit the behavior. Do bear in mind that this might take a little while, but be patient and you'll both soon be able to eat in peace.
Last update on 2022-05-19 / Affiliate links / Images from Amazon Product Advertising API