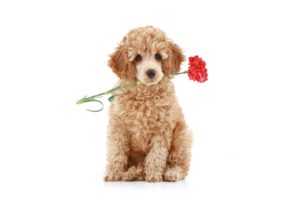 Have you got a sweet mini Poodle or a teeny toy Poodle to look after? Or a huggable standard Poodle who you want the very best for? Our beloved Poodles are some of America's favorite dogs, and often form close bonds with their humans. Playful and intelligent, they make a welcome addition to any family and fit in quickly with other pets, and deserve only the best kibble available! Today, we'll discuss the best dog food for Poodles – what's in it, how to spot it, and the brands that you can trust to keep your fluffy sidekick nourished and happy.
Quick Review: Top-3 Dog Foods For Poodles
Nulo Small Breed Grain-Free Dry Dog Food

Smaller size eat comfortably
Sources of protein help maintain optimal muscle mass.
This salmon recipe contains absolutely no cereal.

Solid Gold Small & Toy Breed Dog Food

Provides 30% protein
Vitamin supplements improve the health of the dog.
Contains real salmon oil

ACANA Heritage Dry Dog Food

The puppy will enjoy a delicious meaty taste.
Gives your Poodle 29% protein
It's also a great choice for adult pooches
Picking The Best Food For Poodles
Poodles come in a range of sizes, however, you'll probably quite quickly be able to tell which one of three (broad) categories your puppy or dog falls into. This, in turn, is the first thing to consider when you're online shopping for the best Poodle food or Poodle puppy food.
Toy Poodles are often only around 10 inches high and weigh under 10 pounds.
Miniature Poodles typically are slightly taller and weigh more, the general cut-offs being about 15 inches tall and 17 pounds light. Both toy and mini Poodles require small-breed kibble which is designed for their smaller muzzles.
Standard Poodles aren't technically small-breed dogs, so they won't have as much difficulty eating a regular-sized kibble. Usually falling somewhere between 15-24 inches tall and 45-70 lb, they are generally okay with a non-breed-specific recipe.
The best food for your pet Poodle won't just be about kibble size, as it will also need to be nutritionally balanced for their activity level and life stage. However, this is perhaps the most important unique factor to keep an eye out for – if your mini or toy poodle is struggling to eat in the first place, he won't get any nutrients at all!
That said, what else should you be considering when looking for that perfect doggy dinner?
What's Special About The Best Dog Food For Poodles?
Protein Requirements
All Poodles rely on a diet that is rich in lean protein – for growing Poodle pups, this is particularly essential for healthy muscle development. For adult and senior canines, protein plays an equally critical role in helping them maintain that strength and mobility.
The best dog food you can purchase for your Poodle will list a protein-rich, healthy, and high-quality animal meat as the top ingredient. By high-quality, we mean recognizable and minimally-processed meats such as:
Fish – salmon, Menhaden, or ocean fish;
Turkey, chicken, duck, or other game birds; or
Beef, venison, lamb, and other red meats.
Often, you'll notice that these are supplemented with non-meat proteins such as beans, peas, and other pulses. Because these also include healthy fiber, they are good ingredients to find in Poodle food.
How Much Fat?
Mini and Toy Poodles are known for the quick rate at which they metabolize their food and burn energy, so a small-breed recipe is the best way to ensure they are getting sufficiently high fat levels – 13% fat is a common recommendation made by vets.
As puppies, this fat requirement will be especially high, and you can expect your Mini or Toy Poodle pup to need at least 15% fat in their kibble. Standard poodles may not burn as much energy and will require a bit less. Try to ensure that you are choosing a brand which uses naturally-preserved, good-quality fat such as chicken fat or salmon oil – vague or hard-to-pronounce fats are generally not recommended in dog food.
The best dog food for Poodles should be "complete and balanced" for either maintenance or growth, depending on whether your pooch is an adult or still young. This is the most effective way to be sure that your dog is getting all his recommended minerals and vitamins.
Differences In Diet in Toy Vs. Standard Poodles
If you're wondering if there are any differences in the diet recommendations and feeding guidelines from Poodle to Poodle, you are valid in your concerns. There are some differences to be aware of, and we'll dive into them for you.
Since toy and mini poodles are quite small in their puppy stages, they fall into the same category of risks with hypoglycemia. Due to this, it's important to split their daily meals into a minimum of three meals a day. While it is recommended to do this for your standard Poodle as well, it's not as critical, and they will likely be okay with 2 meals a day.
Toy and mini Poodles are much smaller than standard Poodles, meaning they will need a smaller kibble in order to enjoy their food. Make sure you are offering a small dog kibble for your smaller Poodle friends.
Another factor to consider is the difference in amount of food that you'll need to offer a standard Poodle versus a toy Poodle. Since the standard Poodle can weigh up to 50 pounds more than a toy poodle, they will of course have to be fed according to their larger weight range.
The Best Poodle Food: Brands We Love
Haven't got time to review every brand on the market? Don't worry – we get it! Here are some of our top picks when it comes to a dog food brand that is safe, reliable, and always high-quality.
Nulo;
Tiki Dog;
Solid Gold;
Nutrisca; and
We've selected these options based on a solid review of each recipe they offer. In our Poodle puppy and dog food reviews, you'll find some small-breed recipes for mini and toy Poodle owners, as well as all-breed formulas for owners of Standard Poodles. There's something for every dog here!
Best Puppy Food For Poodles
Nulo Small Breed Grain-Free Dry Dog Food
Pros
A smaller size of kibble enables toy and mini Poodles to eat in comfort;
Bacterial additions promote a healthy gut environment for digestion;
Plentiful sources of lean protein enable your pet to maintain optimal muscle mass;
Totally grain-free, this salmon recipe is perfect if you have a gluten-intolerant Poodle; and
The very first ingredients are whole salmon, protein-rich turkey meal, and fish meal.
Cons
This small-breed mix is slightly more costly than a few other brands we've reviewed.
Our Verdict: 5/5
To keep your little puppy going between mealtimes and help prevent hypoglycemia, this Nulo recipe uses healthy veg such as chickpeas and sweet potato.
Tiki Dog Aloha Petites Grain-Free Dry Dog Food Baked
Pros
Developed for all different life stages, here's a healthy recipe that's full of nutrients from liver, veggies, and superfoods;
Offers 28% protein and 16% fat to meet all your little dog's energy and muscle requirements;
Rich in Omega acids, this will protect your Poodle puppy's skin and help his body's defenses;
Includes nutritious, colorful and tasty vegetables for an added boost of vitamins and fiber; and
We've seen great reviews for this food for owners of picky pooches!
Cons
Not designed for larger standard Poodles.
Our Verdict: 5/5
Nutrient-wise, this boasts a wide range of essential supplements, as well as natural vegetables. Tiki Dog creates recipes that are exclusively for little breeds, meaning your cute little Poodle will benefit from a specially designed formula for his health.
ACANA Heritage Dry Dog Food
Pros
This zero-grain, no-potato, and gluten-concentrate formula makes a great dinner for intolerant Poodles of all sizes;
Naturally preserved and naturally flavored, this blend uses good-quality veggies, meat, and organs for a holistic and balanced dinner;
With pork, lamb, and beef, your little Poodle will never get bored with the tasty meat flavor!
Gives your Poodle 29% protein; and
It's also a great choice for adult pooches!
Cons
It's slightly expensive, due to the exceptional quality of the ingredients used.
Our Verdict: 5/5
With glucosamine to protect your little Poodle's hips and elbows, as well as DHA for his vision, this formula is some of the best dog food for Poodles. It's holistic, professionally developed by nutritionists, and uses only the very best meats.
Royal Canin Toy Poodle Puppy
Pros
Unique flat and square kibble to fit the toy poodle mouth
Made to be easily digestible for toy poodle puppies
Enriched with fatty acids to promote the growth of their beautiful coat
Ingredients to help stimulate a healthy immune system
Cons
Since these kibbles are so tiny, it's not the best option for standard poodles
It does not require the proper bone support for a growing standard sized Poodle
Our Verdict: 4/5
This is a wonderful diet option for toy and miniature Poodles. While it is not ideal for standard Poodles, we can't find anything wrong with this creation for our tiny Poodle friends.
The Best Dry Dog Food For Poodle Adults
Solid Gold Small & Toy Breed Wet & Dry Dog Food with Real Protein
Pros
Provides 30% protein from lentils, fish, beef, peas, and eggs, among other sources;
Mineral and vitamin supplements will boost your dog's physical well-being so he's fit and healthy;
Lots of vegetables are included to give your pooch some fiber and vitamins – including lettuce, watercress, and beets;
Totally grain-free, it's one very highly recommended option for gluten-intolerant pets; and
Includes real salmon oil, a natural and rich source of glucosamine and Omega fats.
Cons
Our Verdict: 5/5
Filler-free and available in ever so many different flavors, this recipe uses top-quality authentic meat and zero filler ingredients. A top-notch option for the littler Poodles among us!
Nutrisca Dog Food
Pros
Offers ample Omega-6, which improves your Poodle's skin and the condition of his coat;
High in healthy fat (from chicken), it promotes sustained energy release;
Cranberries and carrots provide vitamins for your Poodle's cellular and metabolic functions;
30% protein will support your dog's muscle maintenance; and
DHA from fish oil can help his brain function – for a smarter Poodle!
Cons
Our Verdict: 5/5
We've had great reviews of this dog food from owners, who report that the kibble size is just perfect for their standard Poodles. Despite this, it's also suitable for larger dogs as well, which may save you shopping time in the long run!
Diamond Naturals Small Breed Dog Premium Dry Dog Food
Pros
25% protein and 15% fat are optimal starts for a complete, holistic, and perfectly balanced diet;
Selenium, Vitamin E, and zinc are great for your little Poodle's skin health;
This recipe contains kibble bits that are easy for your Mini or Toy Poodle to chew;
Omega acids from egg and flaxseed help to maintain a gorgeous silky coat; and
There is no wheat or corn in this Diamond Naturals formula.
Cons
Includes ground white rice, which has only limited nutritional benefits.
Our Verdict: 4.5/5
Diamond Naturals dog food is known for its generous superfood inclusions – in this recipe alone, there are chia seeds and flaxseeds for antioxidants, plus kale and coconut for vitamins. A holistic and thoughtfully developed formula that's just right for little Poodles.
FAQ
Should I cook food for my puppy instead of buying kibble?
At GoodPuppyFood, we recommend dog food which has been specially developed by nutritionists and vets. Reputable manufacturers such as the ones on our Brands page tend to hire professionals to create their recipes, and usually, these are full-time staff who can give their input and answer any nutrition questions that arise.
Giving your puppy a home-cooked diet will mean putting in the time and effort to do plenty of research. While it's possible to create a tailored meal plan that works for your puppy, you will likely need to consult his vet for advice, as well as reputable online sources. You will likely need to keep revisiting the diet or meal plan you have created to ensure that it continues to be relevant for his life stage and lifestyle, making adjustments where and when it is necessary. All in all, it is highly advisable not to assume that you can give your puppy everything he needs from a home cooked diet.
How can I stop my puppy from eating my cat's biscuits?
Snacking on cat food isn't entirely healthy for your puppy, as cat food often tends to contain more protein and a greater amount of fat than dog kibble. Over time, it can contribute to unwanted weight gain even in growing pups.
Try feeding your puppy and your cat separately, either at different times or in different rooms. You can close the door while your cat eats, for instance, or you can use a wireless dog fence that keeps puppy out of the relevant feeding area. You might also teach him the "No" command, or put your cat's biscuits on a higher level where your puppy can't jump to reach it. There are many ways to stop your puppy from eating your cat's food, but it's a good idea to find one that works for you if you want to avoid health problems.
Helpful Links
Last update on 2022-01-20 / Affiliate links / Images from Amazon Product Advertising API