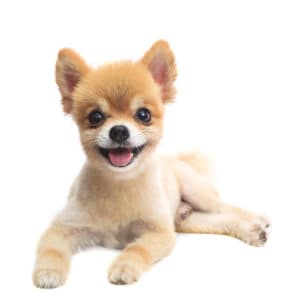 Cute, fluffy, and ever-so-cuddly, Pomeranians have been capturing hearts since the 1700s. They've long been a favorite of small-breed fans, and always make up for their small size with lots of affection. If a little Pomeranian sweetheart has just joined your family, you're in the perfect place. We'll explore the best dog food for Pomeranians with you and review their pros and cons in our hand-picked reviews.Let's go!
Quick Review: Top-3 Dog Foods For Pomeranians
Halo Natural Small Breed Dry Dog Food

Includes lots of delicious, natural fiber
It's perfectly sized for your Pom puppy's mouth!
Designed for maximum nutrient absorption

Wellness Complete Health Natural Small Breed

Brown rice is easily digested.
With 26% protein, an adult pom will get everything
Superfoods, boost pet's immune system

NutriSource Small Breed Dry Puppy Food

There are no by-products in this high-quality formula.
It satisfies all the needs of the puppy.
Gives that growing dog a nice 32% protein
The Best Food For Pomeranians: What's Special About It?
Poms are some of the smallest, shortest, and lightest dogs on the USA's list of most popular breeds. As adults, they rarely exceed 8 pounds fully grown, and don't tend to get much taller than 29cm. They are ideal house pets and don't eat vast quantities of food, making them perfect companions for brand new owners.
When it comes to the best food for Pomeranians, their tiny jaws and high energy requirements are perfectly suited to most small-breed dog foods. Compared with large-breed (or even all-breed) dog food formulas, these offer:
A smaller kibble size for their little teeth;
Higher protein and fat levels; and
Greater calories to keep their metabolisms going.
With this background info, you're already halfway to finding the best Pomeranian food out there. But what's right for one Pom won't always be ideal for your own dog, and you'll also need to consider your little pooch's age, weight, and the amount of exercise he's getting.
In this next section, we'll look at exactly that.
Inside the Best Food For Pomeranians November 2019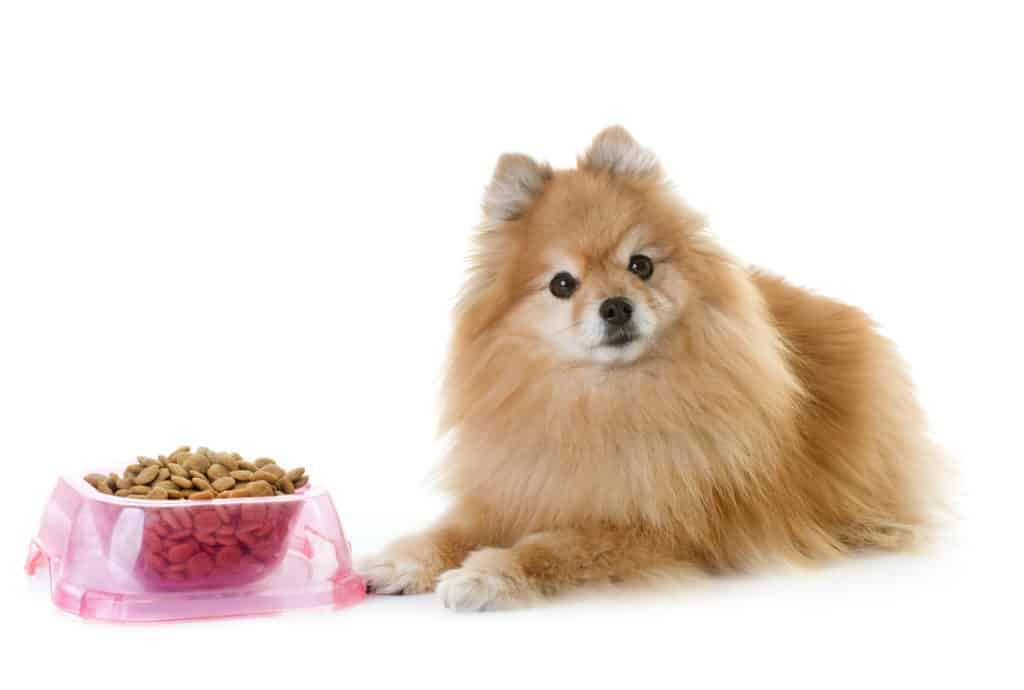 The best dog food for Pomeranian puppy dogs must satisfy all his nutritional requirements – for growth if he's a puppy, and for maintenance, if he's already fully grown. It should therefore be:
A rich source of lean, healthy, animal proteins (at least 23% for the best Pomeranian puppy food and 19% for adults);
Considerably higher in lipids and fat than a large-breed kibble;
Full of AAFCO-recommended minerals (e.g. copper, iron, selenium, etc) and vitamins (e.g. Vitamin B, D, K); and
A good source of dietary, digestive fiber.
You will find plenty of healthy small-breed dog food recipes that also go a bit further for your Pom's health. Many puppy formulas contain fish oil, for instance, which provides your little sidekick with both DHA and with glucosamine. Some include prebiotics, for smoother and easier digestion, and others contain fruit and veggie inclusions for an immune system boost.
When you find one or more of these nutritious features in a recipe, you're another step closer to the best possible kibble for your Pom!
What is the Best Dog Food for Pomeranians, Wet or Dry?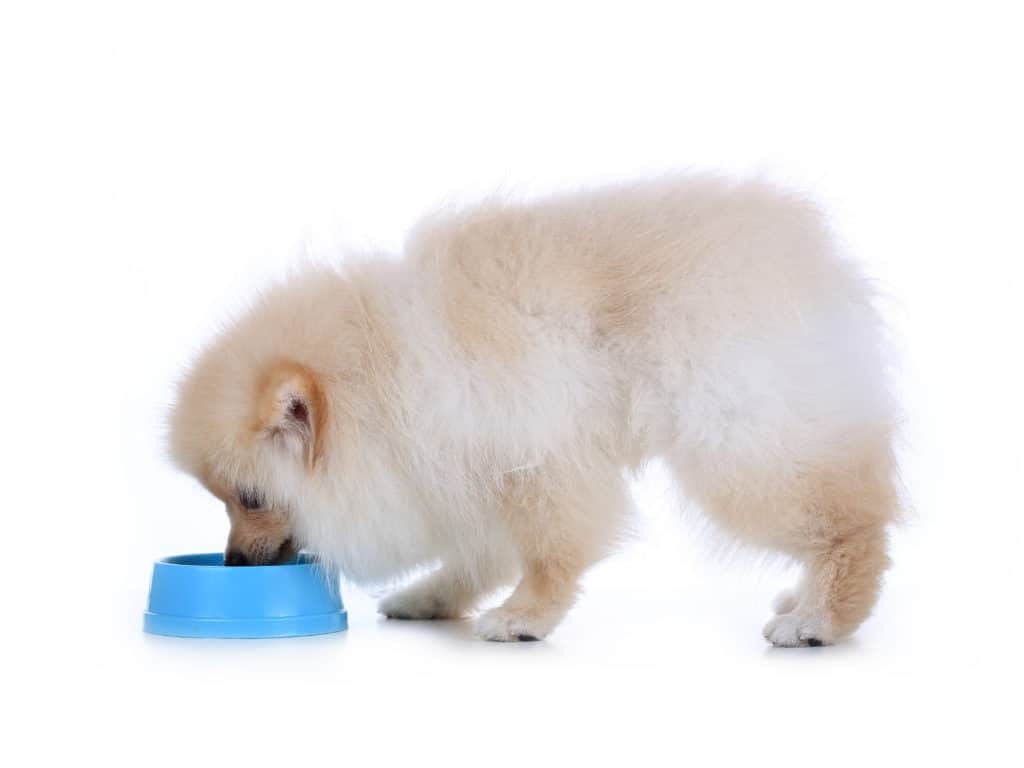 Whether your Pom prefers wet or dry food will be completely a matter of personal taste. Some Poms adore canned, soft pates and stews, while others will enjoy the crunch of delicious dry biscuits.
One thing worth noting is that Poms have quite narrow jaws, which occasionally leads to dental complications such as tooth loss or overcrowding. Poms with less than optimal dental health may find soft food much easier to bite and chew, and the same goes for little puppies. When they reach a later stage in their lives, too, such problems may be a little bit worse.
If this describes your pet, we recommend you try mixing your Pom's canned food and his dry kibble together so that he finds it easier to eat.
The Best Pomeranian Food: Brands We Love
Halo: A reliable brand to turn to when you're after digestible, healthy ingredients that have been minimally processed;
Nutrisource: A solid safety record and very nutritious recipes make NutriSource a top contender for the best Pomeranian food we could find;
Instinct Raw Boost: Known for their special mixes of uncooked and conventional kibble, Instinct crafts Pom food with an extra nutrient kick;
Wellness: One of our all-time favorite dog food brands, Wellness does grain-free recipes very well. They make a toy dog recipe that's perfect for small Pomeranian mouths.
Blue Wilderness: Protein-packed Blue Wilderness foods always contain very good quality ingredients and are never artificially preserved; and
Bil Jac: A respected producer of meat-rich, high-quality dog food, Bil Jac makes a tasty chicken recipe with all the protein that your sweet Pom requires.
It's time for our in-depth reviews of the healthiest, most highly recommended Pomeranian foods out there!
The Best Dog Food For Pomeranian Puppy
Halo Natural Dry Dog Food, Small Breed
Pros
Only natural colors have been used in this recipe, and the same applies to preserving agents and flavors;
There are zero unhealthy meat meals, and whole, non-factory farmed chicken is the key meat ingredient;
This is designed for maximum absorption of the main nutrients in this kibble;
Includes lots of delicious, natural fiber; and
It's perfectly sized for your Pom puppy's mouth!
Cons
Our Verdict: 5/5
Halo uses humane meats and non-GMO vegetables to create a holistic recipe for your Pom's health. This all-life-stages Halo recipe is packed full of positive things, helping your Pom be at his fittest!
NutriSource Small Breed Puppy Food
Pros
There are no meat by-products to be found in this healthy, high-quality chicken puppy formula;
It's balanced, meeting all your puppy's nutritional needs and helping him grow up strong;
Offers your Pom Omegas 3 and 6 from fish meal, so that fluffy little coat can shine;
Supplemented with prebiotics as well as probiotics, it's very soft on your puppy's gut; and
Gives that growing dog a nice 32% protein.
Cons
Doesn't provide your puppy with much vegetable fiber.
Our Verdict: 4.5/5
Fortified with Vitamin C, this balanced growth recipe is a good way to ensure your little one has enough vitamins every day. There's no need to supplement this complete formula, and your Pom pup will adore the real tasty chicken!
Instinct Raw Boost Grain Free Recipe Natural Dry Dog Food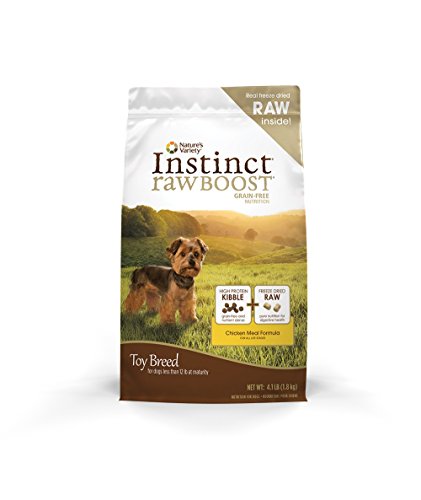 Pros
With 34% protein and 15.5% fat, this is optimally balanced for your little Pom's growth;
Includes glucosamine, which has incredible benefits for preventing joint complications;
Among the quality proteins in here, you'll find salmon meal, chicken meal, and real turkey;
Contains coconut oil, liver, pumpkin seeds, and other wholesome, nutritious superfoods; and
Good bacteria are added for easy breakdown and dogs with sensitive tummies.
Cons
Some owners may prefer whole meat – rather than meat meal – at the top of the ingredients list.
Our Verdict: 5/5
Gluten-free Poms will love this recipe, which offers not only a deliciously appetizing chicken flavor but also antioxidants and Omega fats. Radiant, fluffy coats, here we come!
Best Dog Food For Pomeranian Adults
Wellness Complete Health Natural Dry Small Breed Dog Food
Pros
Protein from both peas and boneless chicken assist in maintaining lean muscle;
Contains nutritious sources of slow-release energy, such as 14% fat and low-GI veggies;
Brown ground rice makes for an easily digestible dinner;
With 26% protein, your grown Pom will be getting all he needs; and
Superfoods full of antioxidants will give your pet a lovely immune system boost.
Cons
This contains grains, making it an unhealthy choice for gluten-averse pooches.
Our Verdict: 5/5
USA-made and full of delicious, quality ingredients, this is perfect for little grown Poms. We like that it is rich in protein and uses no soy or corn. Instead, appetizing blueberries, apples, and sweet potato for fiber!
Blue Wilderness Toy Breed Formula
Pros
Very high in protein, this recipe has egg, chicken, fish meal, and peas, among other ingredients;
Provides 16% fat, a good figure for sustained energy release;
That fish meal also gives your Pom Omega fats for his beautiful coat and supple skin;
Uses barley grass, kelp, and other fiber-rich inclusions to boost digestion; and
As a respected brand, Blue Wilderness has a great safety record.
Cons
Not suitable for adult dogs on a limited ingredient diet.
Our Verdict: 5/5
Natural and wholesome ingredients form the basis of this nutritious recipe, then chelated minerals ensure your Pom will get the most possible benefit from its carefully developed formula. With added veggies and colorful, vitamin-rich fruits included, it's some of the best food for Pomeranians!
Bil Jac Small Breed Select Dry Dog Food
Pros
This formula's #1 ingredient is whole, succulent chicken;
Easy to swallow and chew, small-breed owners highly recommend this kibble size for little dogs;
Uses sweet potato and oatmeal as dietary fiber to ease up your dog's digestion;
It's balanced, holistic, and full of nice fruits like apple and cranberries; and
At 406 kCal/cup, it's ideal for the speedy metabolisms of smaller canines.
Cons
Our Verdict: 4.5/5
Thoughtfully formulated and full of premium inclusions, this protein-rich small-breed kibble is ideal for grown Poms who need to maintain muscle mass while managing their weight. With both supplements and tasty veg, it's highly recommended!
FAQ
What is 'raw food' and 'raw feeding' exactly?
This is a great question, with a pleasantly straightforward answer! Simply put, raw food describes an uncooked doggy diet of animal meat, organs, and bones. It also can cover uncooked vegetables, egg, or fruit – basically any food that has not been cooked. Raw feeding is sometimes described as a trend or a fad by owners, but you don't have to feed your dog raw food exclusively for him to be on a raw diet. If you want to get technical about it, throwing your dog a bone can be considered raw feeding!
In the dog food market, you will often find raw food in frozen form; due to the very short shelf-life of raw food, you will rarely find fresh meat in pet stores or on the internet. One example of raw food is Orijen's freeze-dried range of meats, and another is the frozen kibble bits in the Instinct Pomeranian food above.
Are Pomeranians usually considered picky eaters?
Yes, they are! This is a common observation among Pom owners, but it doesn't necessarily apply to all Pomeranians. A lot of the time, this problem can be solved by changing one of a few things. Try these tips:
Check that your Pom's food is appropriate for his size. Most dogs will be put off after a while if their food is a struggle to pick up, chew, or swallow. With small breeds such as Pomeranians, it's especially important to make sure that his kibble doesn't also pose a choking hazard.
Your Pom may simply be bored with eating the same flavor kibble each and every day. A good thing to do in this instance would be trying out one of the other Pomeranian foods we have recommended. Based on his or her age and life stage, you will find more than one great option to pick from above.
Reconsider the amount of 'non-meal' food your Pom is eating. Too many snacks, excess scraps, or sneaky eating from another pet's bowl may be at the root of his lost appetite. Don't forget to check with the other members of your household, as someone else may be doing the sneaky feeding!
Helpful Links
Last update on 2019-11-17 / Affiliate links / Images from Amazon Product Advertising API