With their gorgeous coats and playful natures, Maltese make awesome pets! Since they are so small (yes, and cute!), they do require some special care. Ensuring they get the right nutrients, in the correct amounts, means a little bit of careful choosing when it comes to Maltese dog food. Don't worry if you've never had a Maltese before. The best small-breed dog food principles will still apply to these little sweethearts, and in this article, we'll look at exactly what those are. Read on to find out more!
Quick Review: Top-3 Dog Foods For Maltese
Earthborn Holistic Small Breed

Contains 400 K / cal energy in each cup
Made from white fish and chicken
Gives Maltese puppy 31% protein

Purina Beyond Small Dog Food

Chicken meal, which is good for your dog's joints
Egg and chicken - 30% protein in this formula
This is a natural recipe

Natural Balance Original Ultra

Only natural flavors and natural colors are used
Includes Omega acids and DHA from fish oil
It contains some vegetables and fruits
What's The Best Dog Food For Your Maltese?
Brave yet gentle and agile, our Maltese best friends are well-suited for domestic life! With an average adult weight of between 3 and 4 kilos, they fall very neatly into the toy dog category. Like other small-breed dogs, they have high metabolic requirements and can be prone to sensitive stomachs. But with the right high-quality proteins, and balanced, appropriate formula, there's no reason your Maltese puppy can't live their happiest, healthiest life!
What's Special About The Best Dog Food For Malteses?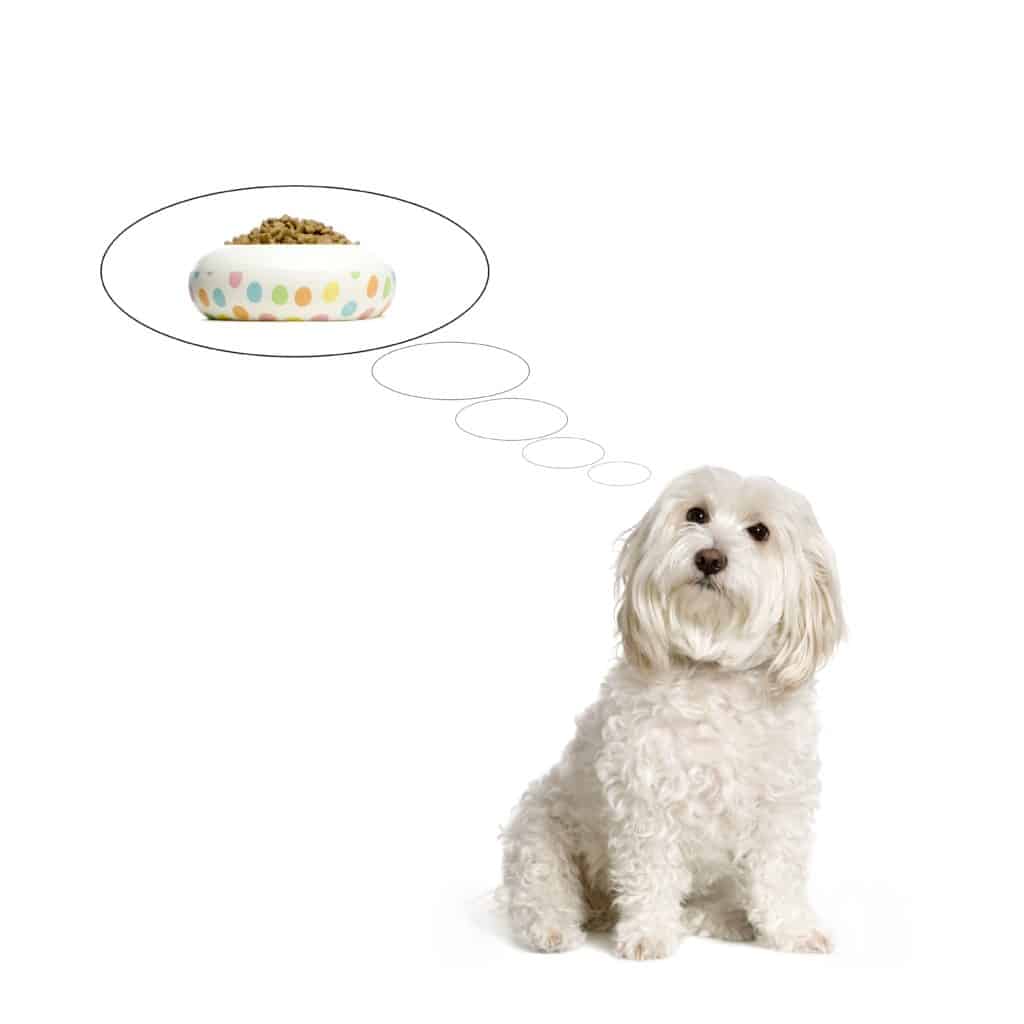 Picking out the right Maltese dog food means choosing a blend that's designed for small-breed pooches. But at the same time, it's very possible to find healthy food that meets these requirements — even if it's not branded as a small-breed chow. Here's how!
Make Sure There's Enough Protein
Perhaps the most critical thing to ensure is that your Maltese pup or adult is getting sufficient protein from their kibble. With puppies, it's essential that they take in more good-quality protein than adults. It means they might require something like 27-30% protein from healthy meats such as fish and poultry, while adults may be just fine with a figure like 25%.
Give Your Pooch Get Enough Energy
Compared to bigger puppies and dogs — Labs, Rottweilers, and Dobermans — our Malteses require a high amount of calories per unit of their body weight. 40lb per pound daily is a commonly cited figure for small dogs like Yorkies, Chihuahua, and Shih Tzu, meaning Maltese dog foods usually offer close to 400k/Cal per cup and about 14-18% fat per serving. And, your pooch gets extra health points if the food contains DHA- and glucosamine-providing fats like joint-healthy salmon oil!
Make Sure The Kibble Is Designed For Pups
While it's great if a diet has all of the above qualities, it won't mean much if the kibble is difficult for your tiny pup to consume. When you're purchasing a puppy food for your Maltese, just be sure to assess the kibble size and make sure this is a suitable option for them. This way they can enjoy a tasty diet without any complications!
What Else Does The Best Maltese Dog Food Contain?
When it comes to micronutrients (and the makeup of food in general), there are some key basics that any great dog food should have. Maltese dog food is definitely no exception. Because vitamins and minerals have a fundamental role in helping your pooch stay fit, the best Maltese dog food will contain:
Key trace vitamins, in AAFCO-approved quantities — Vitamin K, A, C, B, D, and E;
Minerals such as iron, copper, calcium, and manganese — these aid in cellular-level processes, and may be found in veggies or supplements;
Fiber — fruit, healthy grains, and vegetables contain fiber that help your puppy digest his food comfortably; and
Fatty Omega acids — which help your Maltese maintain a lovely coat and healthy skin.

How many times a day should your Maltese puppy eat?
Similar to any other small and toy breed dogs, Maltese puppies can experience dangerous hypoglycemia that can threaten their wellbeing. Due to their tiny stomachs and high speed metabolism, their bodies digest and use the energy they consume through food quickly.
Because of this, your Maltese can experience low blood sugar if they do not eat often enough. While your Maltese puppy is in the 2 month-8 month weight range, it's important to feed them at a minimum of three times a day. By doing this you can offer them a pick me up once their blood sugar begins to drop, and help them maintain their active and loveable personality throughout the day.
How much should you feed your Maltese puppy?
Since it's so critical to make sure your Maltese puppy receives the calories needed to keep their blood sugar in a safe zone. Since each puppy food will likely have a different calorie amount per cup of food, most Maltese puppy owners prefer to know the ideal daily calorie amount for their furry friends.
We've got your back, and determined that your Maltese puppy requires 55-65 calories per pound of body weight each day. So for example, your 4 pound Maltese puppy will need at least 220 calories per day, ideally split between 3 meals.
Maltese Health Conditions That Diet Can Impact
While your Maltese puppy will likely live a long and healthy life with you by their side, there are some medical conditions to be aware of. Some common conditions that put the Maltese at risk include:
Heart conditions: Unfortunately, these furry bundles of fun are at risk to different types of heart disease. In order to best prevent these conditions, it's important to offer your Maltese a superior quality food that is low in sodium.
Dental disease: The Maltese and other toy breeds are known to struggle with dental disease. Even the most well maintained set of teeth will likely have a run in with dental complications at some point in their life. To best prevent this, it's important to offer your Maltese a hard kibble each day to help break apart the tartar on their teeth. You can mix in wet food as well as long as they are consuming some type of kibble as well.
GI Upset: Your Maltese may struggle with a sensitive tummy from time to time. In order to treat their stomach with the love it deserves, try your best to only offer high quality and low fat food and treats for them to enjoy each day.
The Best Maltese Food: Brands We Love
CANIDAE – As our CANIDAE review covers in more detail, this is a brand with many, many grain-free formulas for all kinds of dogs. That includes small-breed pooches like Malteses;
Merrick – Well-known and well-loved by small dog owners, Merrick Lil Plates offer the high-protein, high-calorie nutrition that our Maltese pups (and adults) thrive on;
Earthborn Holistic – Earthborn Holistic makes stellar recipes for small dogs, thanks to their generous protein content and the manageable structure of their kibble.
Purina Beyond – This line of Purina food is naturally preserved and colored, with no meat by-products. As well as being a customized formula for little pups and pooches, it's a big step up health-wise from some other Purina lines.
Nulo – Nulo kibbles include probiotics and quite a fair amount of meat-based proteins. There are no corn or wheat ingredients in these no-filler dog foods for your Maltese.
Natural Balance – With Natural Balance, you can expect 'good' ingredients like fish oil and lots of animal protein. As the brand has pretty stringent safety standards, they have a good reputation for quality with dog owners.
So, let's zoom in — for a closer look at some of the best Maltese dog food around.
The Best Food For Maltese Puppy Dogs
ANIDAE Grain Free Pure Petite Small Breed Raw Coated Dry Dog Food
Pros
With Vitamin E supplements and Omega acids, it's great for your little one's skin;
It's perfect for growing pups on a gluten-free meal plan;
Its small kibble pieces will make chewing and swallowing a breeze;
Each little piece is coated with freeze-dried salmon, to boost its tantalizing natural flavor; and
There are 8 recognizable main ingredients, making it appropriate for intolerant Maltese puppies.
Cons
The downside is that this food will only give your pup 24% protein.
Our Verdict: 5/5
We like it best when puppy foods contain 25% protein or more. Otherwise, this recipe is hard to fault — especially if your best friend's on a limited diet. And with lentils, garbanzo beans, and peas, it also offers variety from numerous non-meat proteins.
Merrick Lil Plates Grain Free Small Breed Recipe
Pros
This is totally free of poultry. No turkey, chicken, or similar fowl to worry about for dogs with game bird allergies;
Includes a very generous amount of glucosamine, which is a definite plus;
It's totally grain-free, so there are no corn fillers or any gluten-containing seeds;
There is 38% protein in here, with 70% of the total recipe being either fish or meat ingredients; and
With salmon oil as an ingredient, your puppy will also be getting DHA.
Cons
Our Verdict: 5/5
We're super fans of Merrick Lil Plates, and we've even fed it to our own small-breed dogs. One extra bonus that we feel is worth mentioning — it's also suitable for grown-up pooches. And at a reasonable price. What's not to love?
Earthborn Holistic Small Breed Natural Dog Food
Pros
As well as natural spinach, apples, and blueberries, this blend has plenty of supplements that will keep your toy dog in great form!
Contains 400 k/Cal of energy in each cup, which is ideal for small dogs;
Made with white fish and chicken, both of which are quality proteins;
Gives your Maltese puppy a generous 31% protein; and
As an all life stages food, you can feed this to your adult Maltese, too.
Cons
Our Verdict: 5/5
We like this blend enormously; it's grain-free, potato-free, and yet full of protein and healthy fat. With natural Omega acids from egg and flaxseed, it's also great for your little dog's coat, keeping it glossy and gorgeous.
Best Maltese Dog Food For Adults
Purina Beyond Small Dog Chicken, Barley & Egg Recipe Adult Dry Dog Food
Pros
Chicken meal provides a healthy dose of glucosamine, which is a good thing for your dog's joints;
Egg and chicken both contribute to the 30% protein in this formula;
It's a natural recipe in terms of preservatives and colors;
This Beyond blend is made with small, bite-sized kibble bits; and
While there are no by-products at all, there is spinach for Vitamins K and C.
Cons
We wouldn't mind seeing a few more veggies in here; and
It's not suitable for gluten-free pooches.
Our Verdict: 4/5
With all-natural fat and high-quality protein sources, this blend has all that your little dog needs to thrive. While it's lacking a little bit in real fruit and veg, it's quite budget-friendly and designed with all the nutrients for a grown-up Maltese.
Nulo Small Breed Grain Free Dry Dog Food with BC30 Probiotic
Pros
83% of the protein in this Nulo blend is from meat;
So that means no egg, or chicken — great for intolerant Malteses;
It's made with natural sources of fiber to smoothen out your dog's digestion;
Provides 31% protein and 17% fat; and
With fruits like blueberries and apple, it offers plenty of vitamin goodness.
Cons
We're not going to poke any holes in what's essentially a very good recipe!
Our Verdict: 5/5
This Nulo formula is reasonably priced and skips out on a lot of common allergens. On top of its balanced nutrient profile, it also features prebiotics, which promote good gut health. All round, an excellent blend.
Natural Balance Original Ultra Dry Dog Food, Small Breed Bites
Pros
You'll find ample several different protein sources in this formula, from chicken at the top of the list to duck and peas close after;
Only natural flavors and natural colors are used;
Provides 410 calories per cup, which is appropriate for a small dog's high metabolic requirements;
Includes Omega acids and DHA from fish oil; and
It contains some veggies and fruits — although just in small amounts.
Cons
While it's technically formulated as an all life stages recipe, we would recommend a product with more protein for Maltese puppies.
Our Verdict: 4/5
When it comes down to fat calories and protein, this blend falls a bit short as a puppy food. Nonetheless, it's actually quite a good choice for grown Maltese dogs, with varied proteins and no meat by-products.
FAQ
Can I let my Maltese run around in the garden?
All dogs deserve a chance to run around daily. If your garden is 100% safe from hazards such as traffic and wild animals, there's no reason not to let your dog have a runaround! We highly recommend you check and double check your outside space before you let your Maltese run freely, though — even if you've got a wireless dog fence or a GPS dog tracker.
Why? There are several reasons, actually. Electric dog fences and trackers may keep your pets from running away, but they don't keep them safe from diseases or poisonous plants. Always keep a good eye on your Maltese while he's running outside, or at least ensure you can check on him frequently from a nearby spot. Do some research into poisonous plants that might grow in your garden, and you will be able to make a better decision. Did you know, for example, that dogs react very badly to daffodils, tulips, and azaleas?
My Maltese puppy has got brown food marks around his face! What do I do?
A few food stains might not look nice, but they are usually not something to worry about! If your puppy has got no other symptoms beside food stains, you can wipe his face on a daily basis to avoid browning or discoloration of the fur around his mouth. You may also find this occurs more frequently when he's tucking into wet food, so try to keep his face dry and clean. According to the American Maltese Club, you can also try giving your pooch filtered water (or distilled) as an alternative to tap water, and you might also trim the fur around his mouth.
In some cases, however, you might want to check in with his vet. If you suspect that your pooch might be getting brown stains around his mouth because of food allergies, or if they are 'tear-like' stains around his eyes, it's better to get professional advice.
Helpful Links
Last update on 2023-09-19 / Affiliate links / Images from Amazon Product Advertising API