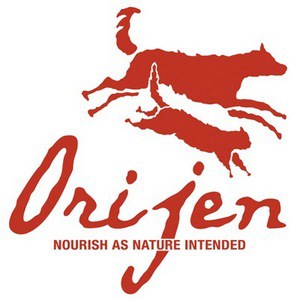 Have you heard of Orijen? If so, you've probably heard all about their delicious doggy blends. Or, perhaps you've heard great things, but just never realized it was spelled this way! Well, either way, we're big fans of Orijen puppy food, and their grown-up formulas, too.In this article, we'll look at who the brand really is, what makes them unique, and why we consider their recipes such a top caliber choice for your puppy.
Quick Review: Top-5 Dog Foods From Orijen
Orijen Original Dog Food

Suitable for large and small dogs
Includes meat and proteins
There are no artificial preservatives

Orijen Large Breed Puppy Food

An excellent dose of glucosamine for larger dog joints
Includes DHA for puppy development
38% protein

Orijen Regional Red Dog Food – Freeze-Dried

Real vegetables and fruits
Only 15% fat
It has a whopping 90% meat content

Orijen Tundra Dog Food – Freeze-Dried

Good mix with trout and quail
Fresh when frozen, and quick to prep within a few minutes
Offers 37% protein

Orijen Senior Dog Food

A healthy level of 15% fat from animal sources
Offers meat from five separate types of animals
Contains healthy vegetable fibers
Who Is Orijen?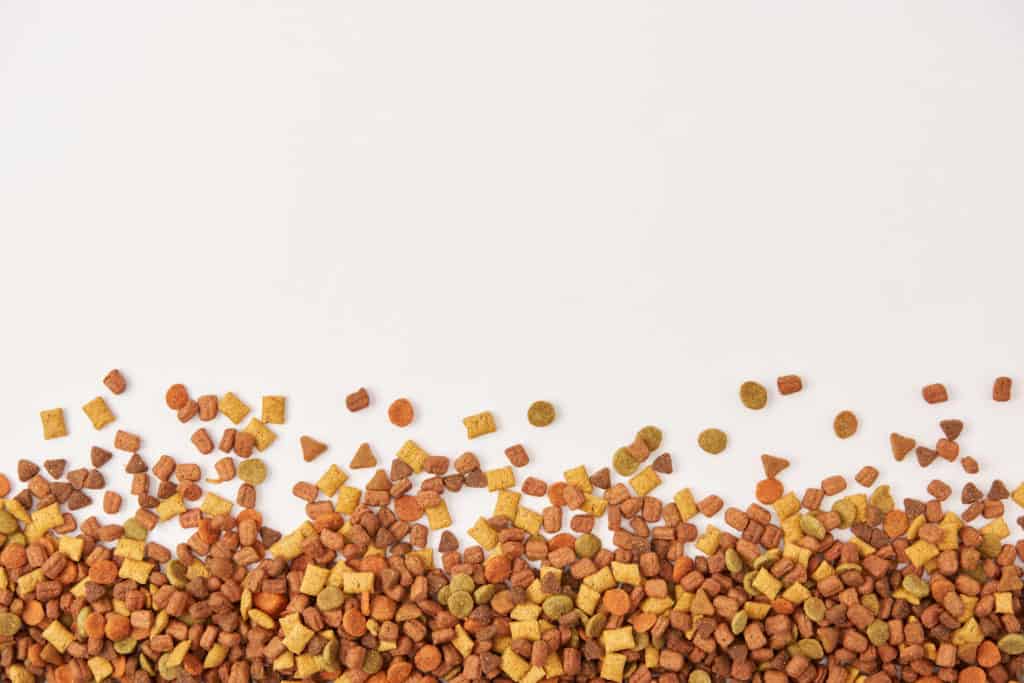 Orijen has won Eco Excellence, Best Brand, and Innovation awards as a pet food producer. Orijen pet food is available in dozens of countries worldwide, and the Canadian brand is owned by Champion Pet Food, which also produces ACANA for dogs and cats.
One of the first things you'll notice when you spot Orijen kibble is the phrase "Biologically Appropriate". It sounds brilliant, except…what on earth does that actually mean to us dog owners? Isn't all dog food biologically appropriate?
This is simply a term the brand came up with to describe what they feel is best for dogs. That is, our pets have evolved with the physical features of hunters, with jaws, teeth, and insides that match. Orijen pet foods are designed to reflect those needs in the best possible way, so they feature ample protein-rich and high-caliber animal ingredients. So, it's a very good thing!
What's Special About Orijen?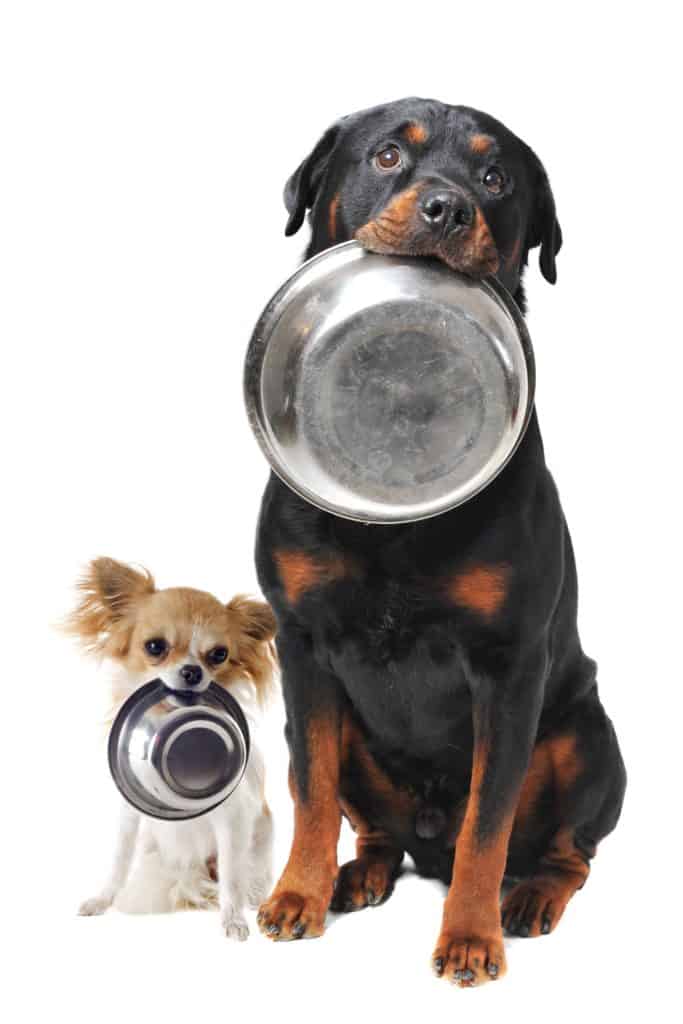 Considered one of The Very Best dog food brands by many, Orijen includes high proportions of real animal (or 'prey') ingredients in its kibble. They offer top-quality meat ingredients that have been preserved in optimal ways such as flash-freezing or air-drying, ensuring that your pup has access to every beneficial ingredient.
For example, Orijen Original Dog Food, as well as being totally zero-grain, has an 80:20 meat to veg and fruit ratio. This also means it's ideal for those of us with gluten-intolerant puppies, and it provides them with 38% protein per cup.
Orijen manufactures its food in Canada — Alberta, to be precise — and offers eight different types of dry kibble:
Puppy;
Large Puppy;
Orijen Original Dry Dog Food;
Orijen Fit Trim;
Orijen Senior Dog Food;
Orijen Six Fish Dog Food;
Orijen Regional Red Dog Food; and
Orijen Tundra Dog Food
It also produces three more freeze-dried kibbles:
Adult Dog;
Tundra; and
Regional Red.
Orijen Dog Food Recalls
We've looked high and low for you, but there is no evidence of Orijen dog food having been recalled — not on the FDA or anywhere else. Just over a decade ago, some of the brand's cat chow was recalled in Australia, and this was due to a treatment the food had undergone due to national laws Down Under.
As far as we know, there are no instances of Orijen dog food having been taken off the shelves or recalled in the States.
Why the Orijen Puppy Food Reviews and Orijen Dog Food Reviews?
We are very big on healthy dog food. Even with our favorite brands, we always read the labels every time to ensure what we've claimed in the past still holds true. That goes for all the foods we've reviewed here, and we can't help loving Orijen's recipes. They are:
Meat-rich;
Varied in their protein sources;
Manufactured under safe and reliable conditions;
Grain- and gluten-free;
Naturally treated (preserved, colored, and flavored); and
There is no skimping on quality with fillers or by-products.

One caveat we can think of with regards to Orijen dog food is that it can be seen as fairly pricey. In other words, if you choose to compare Orijen products with those of other brands, it is definitely not the most economical option.
On the other paw, we reckon it's well worth it for such a healthy mix of super-quality ingredients. And our dogs adore it, so it's probably delicious!
Our Orijen Dog Food Reviews
The Grain Free Orijen Dog Food Reviews
We have good news for you no-gluten-please puppy owners — all Orijen dog foods are made entirely without grains. Here are some of the most popular choices among dog owners.
Orijen Original Dog Food
Pros
38% protein – that's a great figure both for our growing pups and for grown dogs;
Suited for large- and small-breed canines alike, and that includes the more energetic, active breeds such as Pit Bulls and Boxers;
Features great levels of joint-optimal glucosamine, from natural animal sources;
Includes not only delicious meats like turkey and mackerel but non-animal proteins like lentils and beans; and
There are no fake synthetic preservatives anywhere in this food!
Cons
Chicken-intolerant dogs won't be able to enjoy this particular recipe.
Our Verdict: 5/5
Freeze-dried for the best possible (natural) preservation of nutrients, this features contains only 19% carb content. Rather than wheat or similar fillers, these include navy beans, peas, pumpkin, butternut, carrots, and more. Yum!
Orijen Adult Dog Food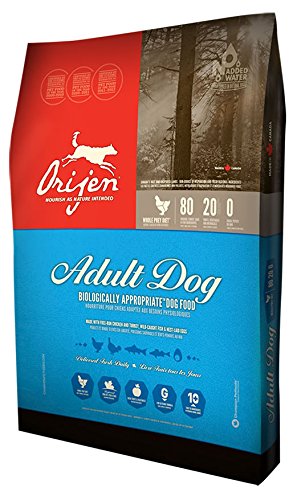 Orijen Adult Dog Food 28.6lb Bag
Along with healthy meats, you will notice this grown-dog blend includes pears, apples, and super-foods like pumpkin and blueberries. All meat ingredients get delivered daily to Orijen and are from regional farmers and other sources.
Buy on Amazon
Add to Cart
Pros
Free-range Alberta chicken (with safely ground bones) is the key meaty ingredient;
Also includes two types of fish — herring and walleye;
No fat added;
Contains 800 milligrams of both chondroitin and it's partner glucosamine per kilo; and
There's DHA, which aids eye and brain processes.
Cons
There's no fat added, however, this food contains 35% in total so is not recommended for dogs who don't get exercised much.
Our Verdict: 5/5
Ethical ingredients abound in this formula, and it has all-natural calcium at 1.6%. Helping your dog keep his bones robust and resilient!
The Orijen Puppy Food Reviews
Orijen Large Breed Puppy Food
Pros
In a six kilo bag, Orijen guarantees that you'll find at least half a kilo of egg, 0.75 kilos of turkey, and 1.6 kilos of chicken. Yum!
Features a great healthy dose of glucosamine for those larger doggy joints;
Includes DHA for puppy development;
38% protein; and
Omega acids will be helping your pup grow a polished, glossy coat.
Cons
Not suitable for chicken-intolerant pups.
Our Verdict: 5/5
Nourishing and vitamin-rich, with natural fibers, this is specially developed with all the nutrients to help our larger dogs avoid hip dysplasia and similar complications.
Orijen Puppy Food
Pros
38% protein, containing all of those building blocks that your pup would get in the wild;
Includes 85% genuine meat – flounder, turkey, herring, and chicken;
The first ten inclusions are all fresh egg or meat;
Includes fiber- and vitamin-rich kale, spinach, zucchini, cranberries, and more; and
Is suitable for pups that are anywhere between 2 and 30 kilos in weight.
Cons
We've already mentioned that Orijen is slightly pricey and that it often features chicken. So, we've run out of cons to mention!
Our Verdict: 5/5
A superfood for puppies, well-rounded and nutritious. Some of our team who've raised pups on this can report that it seems to have lip-smacking results — in other words, delicious!
The Wet Orijen Dog Food Reviews
Orijen's stance on canned dog food is crystal clear — the brand doesn't have an in-house canning facility. So, rather than outsource its production elsewhere, it's not planning to produce any canned foods in the near future. Instead, owners can choose from among the brand's Freeze-Dried options.
These come as 'Medallions', which are easily broken into several pieces then topped up (rehydrated or reconstituted) with warmed water.
Orijen Regional Red Dog Food – Freeze-Dried
Pros
Contains no chicken, nor any potato, making it a healthy and safe option for intolerant puppies and grown pooches;
Sustainable practices are used for these fish and red meat ingredients;
Real veggies and real fruits (we can't help but notice that there are plums in here, which is beyond adorable);
Only 15% fat; and
It has a whopping 90% meat content.
Cons
Our Verdict: 5/5
Natural glucosamine will aid in protecting those doggy teeth, while fiber from wholesome veggies helps their digestion. None of those highly-processed fats or carbs are to be found here, just all-around goodness.
Hypoallergenic Orijen Dog Food
Looking for a chicken-free recipe for your dog? We already know that each and every Orijen blend is grain-free, so here's one that skips the chicken, too.
Orijen Tundra Dog Food – Freeze-Dried
Pros
If your dog isn't a huge chicken or potato fan, he'll find little to complain about with this dinner recipe!
Contains Omega-rich sunflower seeds for soft and lovely doggy skin;
A nice blend of non-chicken meats is included, with trout and quail featured;
Fresh when frozen, and quick to prep within a few minutes; and
Offers 37% protein.
Cons
Needs to be kept frozen until it's served.
Our Verdict: 5/5
Never fear if you haven't got a lot of freezer space, this is a healthy freeze-dried alternative to cans and will only take up 1 pound of space. We only wish our dinners were so quick to prepare…
Orijen Senior Dog Food Review
As our dogs get on in years, their needs change too. It's pretty helpful, then, that Orijen actually has produced their own white paper that includes a look at senior pooch needs. Find it in the helpful links below.
Orijen Senior Dog Food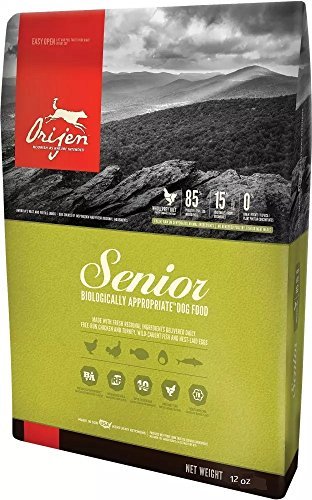 Pros
Includes healthy levels of protective glucosamine from cartilage, among other ingredients;
A healthy level of 15% fat from animal sources;
Offers meat from five separate types of animals;
Provides a natural mix of different meats, which covers a range of older doggy needs (iron, zinc, magnesium); and
Contains healthy vegetable fibers.
Cons
None that we're able to spot, which is great!
Our Verdict: 5/5
Your older dog will be getting glucosamine from this senior blend, this is sometimes found in supplements to help counter joint complications such as
arthritis
and more general stiffness. He'll also be getting Omega acids to help care for his skin and coat needs. All round, yummy goodness — five stars!
FAQ
What do veterinary professionals think of Orijen Dog Food?
Orijen is seen in the veterinary world as a high quality store bought diet for our furry friends. Though their price tag is a bit higher than others on the market, the quality of their diets make up for it. With having varied meat sources and grain free options, this diet is perfect for the pups that struggle with food sensitivities. They even have two different puppy diets, meaning your small breed and large breed pup can get exactly what they need in terms of growth.
Why is the best dog food often more expensive?
Many factors can influence the price of a product (in general!), but you'll find that the most common determinant of price when it comes to dog food is the quality of the ingredients used. Alongside this, you can expect to pay more for kibble that is manufactured using special methods.
One example is to compare Orijen dog food — which uses a high proportion of dried, fresh, or frozen meat — with a no-name brand from the supermarket. The supermarket dog food may not mention any specific processes used to retain nutrient integrity, because these aren't used. Rather, you may find cheaper, but lower-quality processes have been used to keep the kibble edible for longer. Expect synthetic chemical preservatives in the supermarket brand, for instance.
Quality meat and non-meat ingredients are also more expensive than those which can be bought in bulk, often termed 'fillers'. You will find little to no 'fillers' in good quality dog food, such as Orijen. Cliche as it sounds, most of the time you really are paying for quality.
What is a dog food recall?
There are actually two ways that dog food can be recalled. A 'recall' is when a manufacturer's product gets removed from sale, or the product is amended in some way. The latter occurs when the food has been found in some way 'defective or potentially harmful' (FDA, 2010).
When dog food companies find something to be unsatisfactory with their own product and take it out of sale to change it, we have a voluntary recall. The other, an FDA issued recall, may take place when dog owners or the FDA itself notices something wrong with the product on testing it.
If you are keen to keep track of recalls on dog food, you can check regularly with the FDA on their website.
Helpful Links
Last update on 2022-09-21 / Affiliate links / Images from Amazon Product Advertising API