Is your pooch getting a little overweight? Perhaps it's time for a more balanced, well rounded approach to your puppy or dog's health. If you are concerned about your puppy putting on the pounds, don't despair! In this article, we'll examine and review some of the best dog food for weight loss that we could get our paws on. We'll also give you some useful advice on how you can spot a quality weight loss dog food yourself, and the brands that we trust every time. Read on to find out more about the best dog food for weight loss!
Quick Review: Top-5 Dog Foods for Weight Loss
Blue Buffalo Freedom GF Healthy Weight

This formula contains 330 K/cal per Cup
It's rich in antioxidants and Omega acids
Minerals that provide a healthy charge of good

Merrick Grain Free Healthy Weight

Contains fiber for older dogs
Includes only 370 calories per cup-sized serving
Loaded with healthy antioxidants

Solid Gold – Fit & Fabulous – GF Weight Control

This wet canned food is holistic and healthy
Offers 7.5% protein and only 355 calories
Contains super foods for antioxidants

AvoDerm Natural Weight Management

Contains vitamin E
Uses superfood ingredients
It's rich in beneficial Omega acids

Purina Pro Plan Weight Management

Uses EPA and glucosamine
This recipe is only 9% fat
It uses quality lean meat
What's The Best Dog Food For Weight Loss?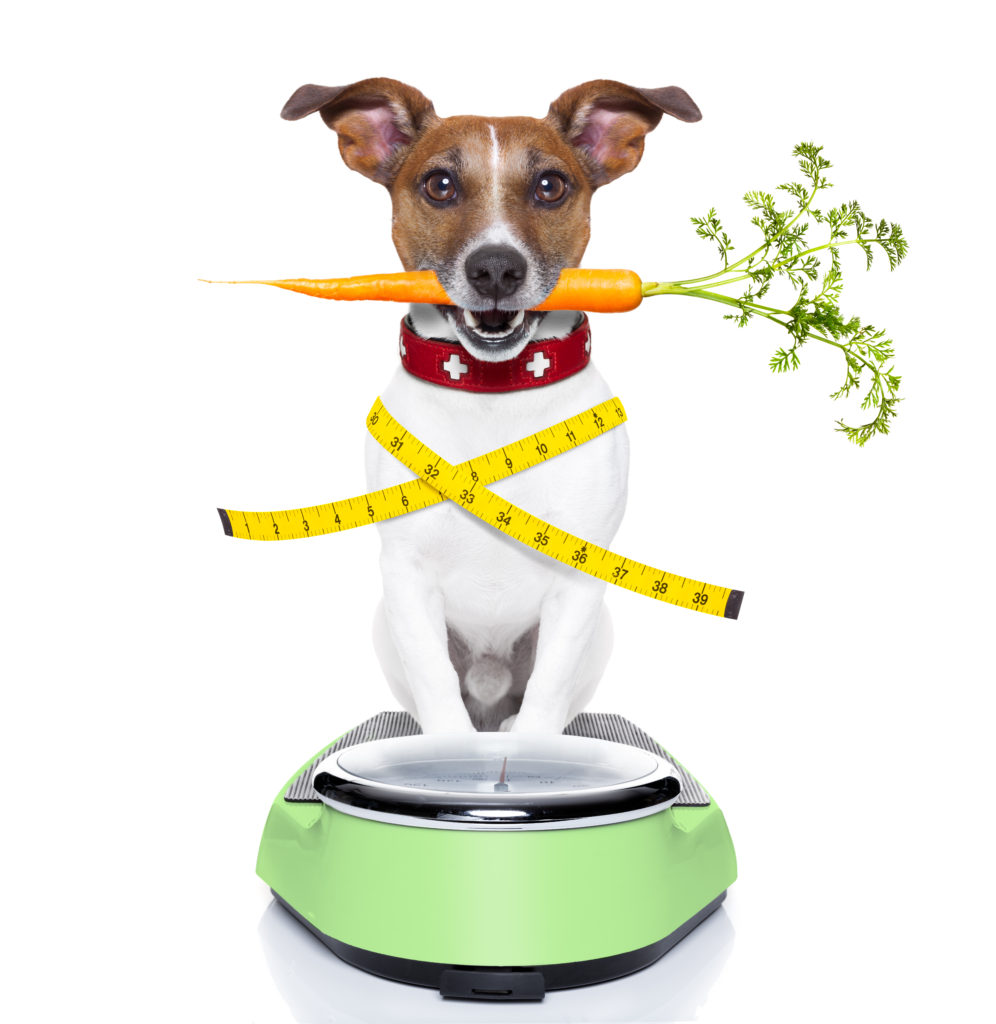 An ideal weight loss diet is focused on controlling the number of calories that your grown dog or puppy eats each day. If your pooch is gaining weight, he is consuming more calories on a consistent basis than he burns through activity and exercise — something that a weight loss formula will aim to correct.
It's important to know, however, that even the best dog food for weight loss is not a silver bullet. As an owner, it is your responsibility to ensure that you aren't under-exercising your pooch or feeding him too large of a portion at each meal. You will also need to try and control any potential snacking or excess treats that he's getting, or your well-intentioned efforts may not pay off any time soon!
Which Dog Breeds Need Weight Loss Dog Food?
Some breeds are more susceptible than others to weight gain, for different reasons. Labradors can get very enthusiastic about their food in general and eat too much, while Dachshunds may find it more difficult to get as much exercise as they should thanks to their short legs. Dobermans, in turn, are often more prone to medical conditions such as hyperthyroidism that are linked to obesity — so make sure you check with a vet if you are ever concerned about your dog's weight.
Whatever the reason for his obesity, however, the very best dog food for weight loss will always be designed so that your pet doesn't have to feel hungry in between meals. In general, there are three key factors to look out for.
More Protein…
Protein is not only an essential macronutrient in your dog's diet, but also it takes longer for omnivores to digest. A weight loss kibble that is high in protein will keep your dog feeling satisfied for longer between meals while giving him the amino acids he needs to build and maintain critical muscle mass.
Less Fat…and Fewer Calories
Fat is full of energy, and an excess of this macronutrient can sometimes be the cause of weight gain in pooches. Before you settle for the lowest-fat formula you can find, however, be aware that manufacturers will sometimes lower a formula's fat levels by reducing its meat content. Your dog's food should not contain less protein or use low-quality ingredients simply because it features less fat, so keep a sharp eye out when you are shopping around.
Check out some of our dog food for weight loss reviews to learn about the best kibbles we've come across!

Losing Weight Safely
Though the goal is to help your overweight pup lose weight, you want to make sure that you are doing it safely. In order to help you understand what goes into a proper weight loss regime, we'll list a few tips below:
Switching your dog to a lower calorie diet
Controlling portions and making sure you are not overfeeding
Do not attempt any crash diets such as greatly limiting their food intake or attempting to fast your dog
Offer low fat treats, and limit daily treats if they were getting a lot before
Add in a brief daily exercise such as a quick game of fetch, short walks around the neighborhood, and any other easy activities
Speak with your vet in order to rule out any other medical causes and come up with a plan of action
The Best Dry Dog Food For Weight Loss: Brands We Love
Reviews of The Best Dog Food For Weight Loss
These are our top picks of the best weight loss dog food, including formulas for both adults and puppies. In here, you'll find some grain-free recipes, some high-protein blends, and the best canned dog food for weight loss, too!
Earthborn Holistic Natural Food For Pet Weight Control
Pros
Uses natural ingredients, such as eggs, chicken meal, peas, and flaxseed;
Contains vegetable and fruit fiber that will help your dog feel full;
Apples, blueberries, and carrots also contain vitamins for your dog's daily functioning;
Fatty Omega acids will protect your best friend's skin; and
With 25% protein and only 7% fat, it's an ideal ratio for a weight loss dog food.
Cons
It's for grown dogs only!
Our Verdict: 5/5
We can't fault this recipe, which has been carefully designed specifically to help your dog feel satisfied while losing weight.
Blue Buffalo Freedom Grain Free Natural Adult Healthy Weight Dry Dog Food
Pros
100% grain- and gluten-free, the pea and sweet potato fiber in this recipe will help your dog feel full while assisting his weight loss;
With reduced fat calories, this formula provides 330 k/Cal per cup;
It's rich in antioxidants and Omega acids;
It's naturally preserved, naturally colored, and made with zero meat processing by-products; and
Features chelated minerals that offer a healthy boost of goodness.
Cons
20% protein may be a slightly lower figure than some dog owners are looking for.
Our Verdict: 5/5
For
small
– and
large-breeds
alike, this Blue Freedom kibble offers a nutritious and specially-designed dinner. Your dog will also get plenty of natural fiber from sources like kelp, parsley, barley grass, and cranberries. Yum!
Wellness CORE Natural Grain Free Reduced Fat Dry Dog Food
Pros
Boneless turkey and chicken meal are rich, natural. protein sources that support your adult dog with muscle maintenance;
It's a totally zero-gluten recipe, so ideal for intolerant adult pooches;
Offers a limited 360 calories in each cup;
Perfect for large, giant, and smaller breeds; and
It's all-naturally colored, flavored, and preserved.
Cons
Nope, this is a really great recipe, at an economical price!
Best Senior Dog Food For Weight Loss
Merrick Grain Free Healthy Weight Dry Dog Food Recipe
Pros
A zero-grain recipe, this contains an ideal amount of fiber for weight loss in senior dogs;
Contains 600 mg of glucosamine per kilo, which will help older dogs with joint flexibility as they age;
Natural ingredients like boneless beef and chicken meal are coupled with delicious, fiber-rich fruit and veg for an optimal weight loss formula;
Includes only 370 calories per cup-sized serving; and
It's fortified with healthy antioxidants to help your best pal fight off disease.
Cons
Our Verdict: 5/5
This is by far the best senior dog food for weight loss, in our books. The salmon oil in this recipe offers many nutritional benefits for veteran pooches, while the rich protein content will help support your dog's muscles to keep him strong.
Best Canned Dog Food For Weight Loss
Solid Gold – Fit & Fabulous – Grain-Free Natural Holistic Weight Control
Pros
Sweet potatoes, as well as beans, are included to help your pooch feel nice and full throughout the day;
Filler-free, this wet canned food is holistic and healthy;
Offers 7.5% protein, and only 355 calories in each can;
A reduced recipe, this Solid Gold formula only provides your best friend with 3.5% fat in total; and
Contains superfood inclusions like spinach, flaxseed meal, and blueberries for antioxidants.
Cons
Nope, it's affordably priced, too!
Our Verdict: 5/5
Here's a deliciously low-fat formula that's perfect for grown-up pooches on a natural diet. Quality and balance are key in this USA-made formula, and it's all-naturally preserved, too.
Best Small Breed Dog Food For Weight Loss
AvoDerm Natural Weight Management Dry Dog Food
Pros
With only 8% fat and 329 calories in each cup, this is a precisely formulated recipe that's great for little dogs;
A nutrient-rich recipe, this provides all the trace minerals and vitamins that your small-breed needs to thrive;
Contains Vitamin E that help your (grown) little one's skin stay healthy;
Uses superfood ingredients such as kelp, flax meal, and avocado for maximum nutrition; and
It's rich in beneficial Omega acids.
Cons
Ground white rice, one of this recipe's top ingredients, doesn't offer much in the way of nutrition. We typically prefer to see meat and animal proteins at the top of the ingredients list.
Our Verdict: 4.5/5
After the very best small breed dog food for weight loss? Or are you searching for the best weight loss dog food for Beagles? Either way, here's a complete, holistic recipe that contains nutritious avocado for all the lovely nutrients that pooch requires!
Best Large Breed Dog Food For Weight Loss
Purina Pro Plan Weight Management Adult Dry Dog Food
Pros
Uses EPA and also glucosamine to aid your large or giant dog's joint health;
With 26% total protein, your adult furry friend will be getting an optimal range of amino acids for their daily maintenance needs;
Features prebiotic wheat bran fiber for maximum digestibility and to keep your dog feeling full;
This recipe is only 9% fat; and
It uses good-quality lean meat, with chicken as our top ingredient.
Cons
There are a few fillers in this recipe, such as corn gluten meal, brewer's rice, and there are also milled by-products.
Our Verdict: 4/5
Purina has earned itself a respected name in the dog food industry. This Pro Plan recipe contains 374 calories in each cup and yet contains everything that your large (50 lb+) pooch will need to lose or maintain weight at a healthy level.
FAQ
My dog is on a special weight loss formula and yet he's still gaining weight. What am I doing wrong?
As we mentioned, switching to a weight loss formula will not instantly solve all your dog's dietary problems. Several of the most common mistakes include:
Feeding your dog too much food in general – when your dog's servings are too large, he will still be at risk of consuming too many calories compared to his recommended daily intake. The feeding suggestions on your dog's kibble bag should be taken as a rough guide only — it's always a good idea to use a dog food calculator to get a better idea of his recommended energy intake.
Not exercising your dog enough – regardless of how healthy your dog's food is, your pet will always need sufficient activity to stay in top form. Try to find out how much exercise is recommended for your dog's breed and his life stage, then get active together!
Should I ask my vet about my dog's weight gain?
If you feel concerned at all about your dog's weight, don't hesitate to talk to his vet. There are plenty of non-medical (lifestyle) reasons why your fluffy best friend might be putting on weight, but if you suspect that something else is at play, get professional advice. Even if nothing is wrong medically, your dog's vet may have some valuable advice about the healthiest, most effective way to get him back in shape.
Helpful Links
Last update on 2022-09-22 / Affiliate links / Images from Amazon Product Advertising API