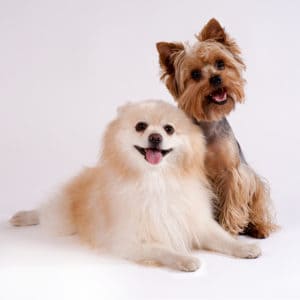 Who doesn't love a small breed? Not only do they tend to make excellent cuddle partners, but they're just as cute as can be! In this article, we'll help you pick out the best small breed puppy food for your fluffy friend by giving you
tips
and nutritional advice. We'll also review some of our recommendations for the best puppy food for small breeds — the what, the why, and the "How does it taste?". Don't worry, we've used real doggy reactions for the last one!
Quick Review: Top-3 Dog Foods For Small Breed Dogs
NutriSource Formula Breed

Mildly digestible oatmeal
Zero unnecessary by-products
32% protein from real meat and fish

Merrick Lil Plates Small Breed

No artificial additions
Lamb is a great ingredient, peas and lamb
15% fat from chicken sources

Taste of The Wild GF HP SB

Omega acid from salmon oil for healthy vision
Blueberries and cranberries, give vitamins
32% protein to keep your little dog's tail wagging
What Makes Small Breed Puppy Food Different?
First up, a small breed is generally considered to be a dog that grows up to 25 pounds or less as an adult. If you're lucky enough to have yourself a cute little toy breed, such as a Pomeranian, Maltese, or Pug, they may end up only being 10lb when fully grown! So while these dogs themselves are small, there's a range of different sizes and shapes to keep in mind when shopping for small breed dog food.
Here's one important thing to remember: the best small breed puppy food doesn't need to be the most expensive. By following some general rules, you'll be able to make your own informed decision. Just bear the following few things in mind when you get started reading those nutrition labels:
Small breed dogs have super-fast digestion. Well, compared to other breeds, at least. Small dogs have a larger surface area-to-volume ratio than bigger dogs, so they need more resting energy just to stay warm and perform basic functions.
They need special nutrients for bones and joints. While these ailments are commonly associated with larger dogs, our little Yorkies, Poodles, Chihuahuas and medium Corgi are not immune to developing dysplasia, arthritis, and ligament complications. They require adequate levels of health-boosting glucosamine for well-being.
Small breeds grow up quickly! Breeds such as Poms, smaller Terriers, and similar tend to have only 6- 9 months of puppyhood before they are ready to move on to grown-up food. The best dog food for small breed puppies is going to be made for this relatively quick growth.
Your little dog may need small kibble. You're not alone if your small dog has ever struggled to get his teeth into (or around) a mouthful of kibble. Regular dog food or a large breed blend may be more than just tough to swallow — it can be a choking hazard for small doggies.
Small breeds can have sensitive tums, too. It's not always the case, nor is it scientifically proven that small breeds are more susceptible to sensitive stomachs. But as dog owners, we're all responsible for making sure that those pooches with sensitive tummies get the food they deserve. Head to our Best Dog Food For Sensitive Stomachs page if you're looking for a food that's yummy yet gentle on the tummy.
These basics are a great start to finding the healthiest, and hopefully the yummiest dinner for your best friend. Shall we look a little more closely at the nutrients your puppy needs?
What's In The Best Dog Food For Small Breed Puppies?
For small breed puppies, the most critical thing to remember is that they must be fed pretty frequently. This could mean a minimum of five mealtimes a day for young, small pups under 3 months old.
Don't worry, though. Big and small puppies alike tend to need less frequent mealtimes as they get older, so this may drop to between 3-4 daily servings of small breed puppy food as your little one grows.
Here's another reason not to be alarmed — while small breed puppies should eat more often than large ones, they tend not to need as much food each time they eat. Some small breed pooches will only ever grow up to about 10 pounds, and that's something like 400 grams of food a day!
If you want a good calorie guideline for smaller breed puppies, try and look for formulas that will give them roughly 40-50 k/Cal daily per pound of their mass. Because they are definitely going to require more protein than their adult counterparts, you should also know that the best small breed puppy foods will have about 28-30% protein.
You'll find that the amount of fat varies amongst the best small breed puppy foods. A good guideline — but not a golden rule — is to look for a dinner that contains around 18-20% fat. This is generally a sufficient amount of the macronutrient to ensure that your pet has enough energy to build new cells and grow up strong. And while we're on the topic, there are some special fats to keep an eye out for. Omega acids, such as those found in fish oil, are a good way to keep your pooches coat manageable and lustrous. They also help to protect their skin, which is why lots of pet owners like to look out for DHA and EPA when scouting out the best small breed dog food.
Ready For Adult Small Breed Dog Food?
For adult dogs who don't get ample exercise, around 40k/Cal/lb daily is a more appropriate figure. Both adults and puppies may need a little more if they are heavily active. If it's too much to take in at once — for example, if you've got a whole family of Chihuahuas! — you may prefer to use our calorie calculator.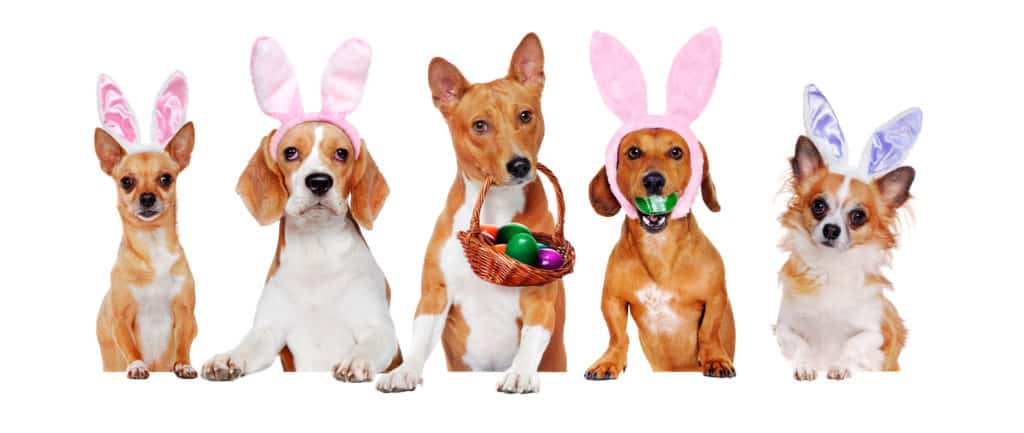 As with puppies, protein is one of the most important things to look out for when choosing a small breed dog food. While your dog is unique, try not to pick out food with less than 25% protein unless you have been told otherwise by your vet. This tends to be a rough average for the AAFCO-regulated small breed dog foods we've looked at.
Of their daily intake, your small-breed adult should get about 15% from fat. This (as with all their nutrients!) can be from either canned or dry food. If you choose wet food, it's a good idea to keep a close eye on the length of time that you've stored it in the refrigerator. Unless the label specifies otherwise, try not to leave an open (but saran-wrapped) can in there for more than 48 hours.
What Brands Make The Best Small Breed Dog Food?
Here's a short but sweet overview of the brands we trust every time:
Fromm – a name you can always turn to for healthy dog and puppy food, with a lovely nutritious mix of high-quality meat and non-meat ingredients;
Taste Of The Wild – a brand that makes excellent, lip-smacking grain-free recipes, you'll love Taste Of The Wild's unique — yet super delicious—small breed dog food flavors;
Merrick – if you haven't come across Merrick small breed dog food before, you are going to adore their name for it. Just keep your eyes peeled for "Lil' Plates", available in quite a range of flavors;
Bil Jac – here's a brand that uses lots of real meat when making dog food. Because protein is ever so important for puppy growth, that's definitely a good thing!
Nutrisource – established in 1964, Nutrisource has been using top-quality ingredients to craft our doggy dinners for over half a century. They offer grain-free meals, as well as a large range of diverse flavors;
Wellness – it's hard to find a bad dog food made by Wellness, and in fact, we haven't come across one yet! Balanced, specially formulated blends make Wellness food a healthy choice for small breed puppies and adults alike;
Royal Canin – is a veterinary approved diet that meets each and every one of your dog's nutritional needs, all while aiming to prevent common ailments that can result from an improper diet.
So, here are our reviews of the best small breed puppy food, and our best small breed dog food reviews, too!
The Best Small Breed Puppy Food
Three excellent brands, three differently-flavored doggy feasts. Take your pick, and let's see those little tails wagging!
Bil Jac Small Breed Puppy Dry Dog Food
Pros
Yams and oatmeal, as well as authentically delicious chicken make this Bil Jac recipe a nice mix of healthy ingredients;
Contains 5lb of tasty chicken per medium 6lb bag, and a similar ratio for the larger versions;
Made with mini-sized, manageable kibble pieces that your little puppy can cope with;
Less fat than regular Bil Jac puppy food, but still a healthy 16%; and
Made with oatmeal, which can often be soothing and more easily digested than other carbohydrates.
Cons
Contains maize ingredients; and
Also includes some assorted by-products;
Our Verdict: 4/5
We know first hand as owners that Shih Tzu and Yorkies find this totally delicious. And according to others' reviews, it's popular with other breeds, too! This includes some owners who report that this particular blend is a hit with fussy dogs and even dogs with sensitive tummies.
NutriSource Chicken and Rice Formula Breed
Pros
Stellar reviews, with real chicken heading the ingredients line-up;
Softly digestible oatmeal makes this blend gentle on sensitive tummies;
Zero unnecessary by-products;
A nice affordable price that won't leave you flustered; and
32% protein from real meat and fish.
Cons
Some owners might find that if they have a particularly inactive pup, the 21% fat figure is a little on the high side.
Our Verdict: 5/5
If you consider yourself an ethically-motivated consumer, Nutrisource has used humanely certified birds in this blend. One of their emphases is on choosing bio-available ingredients. That means this food is formulated to be absorbed as much as possible, rather than using filler ingredients.
Wellness Complete Health Natural Dry Small Breed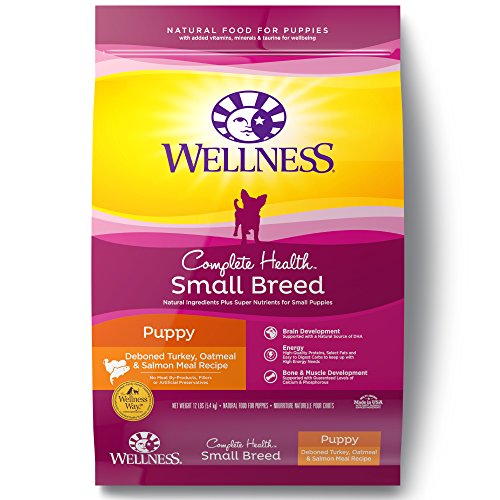 Pros
Made with DHA for keeping those little eyes as healthy as possible;
No questionable by-products, no maize, and no soy products;
Zero non-natural add-ins for color or flavor;
Contains real greens (and other colored vegetables!) for natural healthy vitamins; and
28% protein, plus 19% fat.
Cons
Nothing to see here, we've always been huge Wellness fans!
Our Verdict: 5/5
Naturally without any grains, this Wellness Core blend combines delicious turkey with tantalizing salmon. Tailored specifically as a small breed puppy food, you'll find manageable kibble pieces as well as a higher calorie count per cup. Perfect for our growing pooches!
Royal Canin Small Breed Puppy Indoor
Pros
Made specifically for small breed and indoor puppies;
Digestible proteins and probiotics for gut health;
Immune system support with added antioxidants;
Added omega fatty acids for skin and coat health as they grow.
Cons
We can't find a single con with this impressive diet!
Our Verdict: 5/5
This is the ideal diet for the small breed puppy in your life. It meets each of their needs and then some!
Best Small Breed Dog Food Reviews
Here are some of what we consider the best small breed dog food options. Hand-picked for you by our team!
Fromm Gold Adult Dog Food Small Breed
Pros
1.45% calcium in each (small doggy-sized!) bite, keeping your little buddy's bones strong;
Around 26% protein and 17% fat in dry-matter figures;
Salmon oil's the natural source of healthy DHA in here;
Genuine hearty chicken, meal from fish, duck, and egg provide at least four different sources of yummy protein; and
Your doggy will love the healthy vitamins from authentic veggie sources, such as celery and sweet potato.
Cons
Some pooch owners might consider this percentage level of 17% fat a little high. If you're concerned about your little dog's weight, we recommend you take a look at his Body Condition Score.
Our Verdict: 4.5/5
If your pooch weighs under 70 pounds fully grown, this Fromm small breed dog food is a great choice. At 425k/Cal in every cup, it's AAFCO-approved for the daily maintenance needs of our little doggies.
Merrick Lil Plates Grain Free Small Breed
Pros
Totally, 100% grain free. This small breed dog food's perfect for our gluten-intolerant pooches;
Zero fake colors and no artificial extras (preservatives, flavors);
USA-made, cooked in quality-controlled kitchens at Merrick!
Boneless lamb makes a nice top ingredient, followed closely by sweet potatoes, delicious iron-filled peas and natural lamb meal; and
15% fat from instantly recognizable, all-natural chicken sources.
Cons
We're loving this food, to be honest, and can't find anything wrong with it. It's even got glucosamine and Omega acids to protect your small dog's coat and joints.
Our Verdict: 5/5
Nutritious, hearty, and probably a welcome variation from regular chicken-based foods, this small breed dog food is going to be a hit with your little pooch. At 30% protein, your best friend is going to have a good amount of protein for maintaining his muscles.
Taste of The Wild Grain Free High Protein Small Breed
Pros
No grains in here, this is a friendly formula for gluten-sensitive little pooches;
You'll also find Omega acids from salmon oil, alongside DHA for healthy vision;
Lip-licking superfood berries such as blueberries and cranberries provide vitamins;
Venison, garbanzo beans, lentils, lamb, and more make a super-varied protein feast; and
32% protein to keep your little dog's tail wagging!
Cons
Nope, it's soft on the digestive system and nutrient-packed. We're big fans.
Our Verdict: 5/5
This one's a real hit with both us and our fellow small breed dog owners! The Appalachian Valley blend with venison is such a nice change of taste for Yorkies, Poms,
Spaniels
, and other dogs who are used to poultry flavors. Plus, it's made with natural antioxidants to help keep them healthy and strong.
FAQ
Dog food is so expensive, can I feed my Yorkie with Large Breed Dog Food?
It's true that not all of us can afford premium dog food all the time. Especially as it sounds like you have a large dog — they certainly can eat a lot!
Nonetheless, it's best to stick to the general rules we've suggested. Small dogs like your Yorkie almost always have a much faster rate of metabolism than large or even medium breeds. By feeding your small puppy or dog with recipes that have been developed for larger bodies and slower metabolisms, you may risk him not getting enough calories to keep him going between mealtimes. Hypoglycemia is, unfortunately, a very real condition that can affect even the healthiest dogs if they aren't getting sufficient energy. If you want to keep your costs low, you may want to order your dog food in bigger quantities — sometimes you can save a considerable amount when you plan ahead!
My Chihuahua is pregnant! Can I feed her as usual?
Congratulations, that is so exciting! Here's some more great news — sometimes the answer will be right on the dog food packet. The best small breed dog food will clearly state whether it's alright to keep feeding the same food to your Chihuahua. This information can often be found in the feeding guide on the side or back of the packet, although sometimes it's in smaller font underneath the usual table. If you don't find the information you require, ask your vet for advice. She or he may be able to recommend special food with the right nutrients for your pregnant pooch.
An important note! Be prepared to make adjustments to the amount of food or number of daily feeds that you give your little best friend. Because she's going to require a lot more in the way of resting energy, you'll almost always have to feed her more. As every dog is different, you'll be best off going to her vet to get advice. Good luck, and we're so happy for you!
Helpful links
Last update on 2023-09-19 / Affiliate links / Images from Amazon Product Advertising API