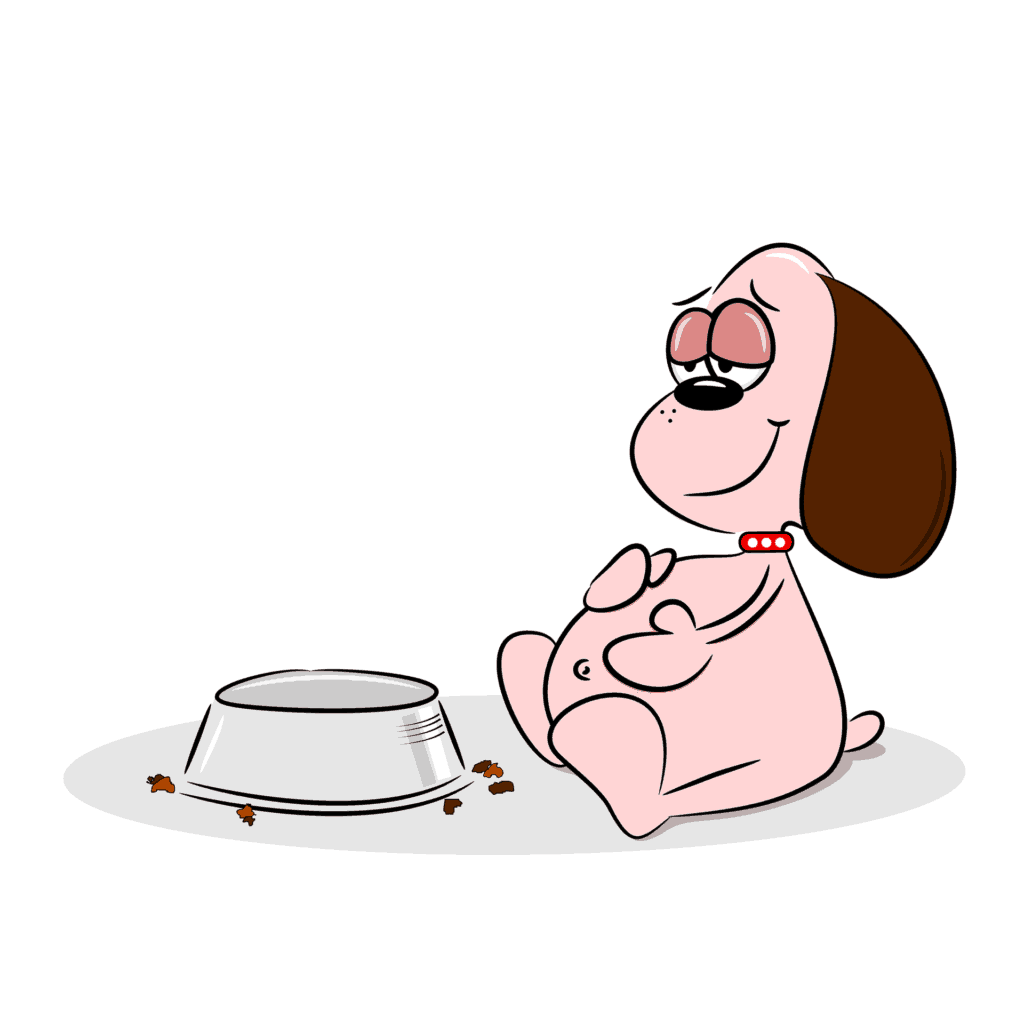 What should you do if your puppy can't keep his food down? How can you tell if you've got a puppy with a sensitive stomach? And why, oh why, won't your little puppy eat his food?
No puppy mom or dad wants to see their little one suffering, so a puppy with a sensitive stomach is probably something to sort as soon as possible. It's actually quite common for puppies to have more sensitive stomachs than their adult counterparts, as a lot of the time this is due to their still-developing immune and digestive systems. We understand that it can be a little stressful, but a lot of the time it isn't a reason to panic.
Luckily, with a few dietary changes and puppy foods for sensitive stomachs, we can often have this under control quite quickly. We've put together some of the signs that your puppy might have a sensitive tummy, as well as some of the market-leading brands that offer potential solutions.
Quick Review: Top-3 Dog Foods For Sensitive Stomachs
CANIDAE Grain Free PURE

No potential allergens
30% protein from fish meal and chicken
Added probiotics for easier digestion

Nutro WHOLESOME ESSENTIALS

Contains glucosamine
26% protein and 353 kCal/cup
Suited for puppies of up to 200 pounds!

Purina Pro Plan Focus

30% protein and 20% fat<
Vitamin E and zinc will help combat skin problems
Contains 1.1% calcium
How do I know if my puppy has a sensitive stomach?
It is possible that your puppy has a sensitive stomach if he's:
Vomiting (either immediately or a little later);
Passing a lot of gas;
Patches of hair loss or signs of severe irritation on the skin;
Suffering from diarrhea or loose stools; or
Feeling itchy and scratching at sensitive spots on his body.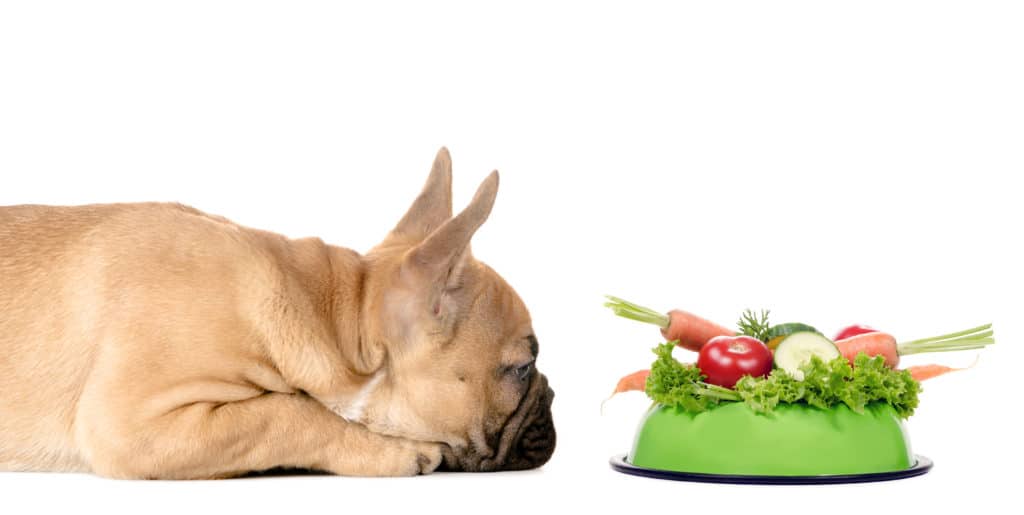 A lot of the time, a sensitive stomach can be the result of your puppy being intolerant or sensitive to particular ingredients. Not to be confused with allergies (which are far more serious and require immediate vet attention), sensitivities and intolerances will require your puppy to avoid certain ingredients. He will most likely need to switch to puppy foods for sensitive stomachs.
What are the characteristics of a limited ingredient diet?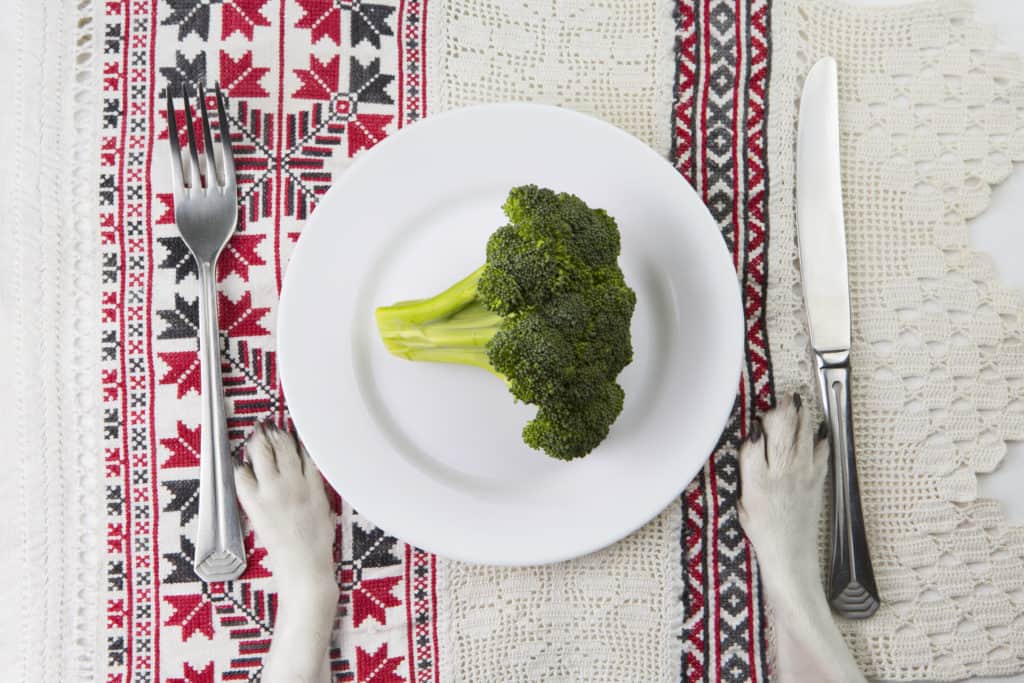 'Limited Ingredient Diets', or 'Limited Diets' are often just ways that different brands describe puppy foods for sensitive stomachs. These foods generally use 'novel' proteins and/or cut out different ingredients that commonly trigger adverse reactions. Some examples include puppy foods for sensitive stomachs that:
Are grain free – and so include zero wheat products, corn products, or soy;
Feature a single protein source – so puppy owners can know exactly what is (and, more importantly, what isn't) in their best friend's food;
Feature 'novel' protein sources – such as venison, bison, or rabbit, rather than chicken or beef;
Use hydrolyzed vegetable proteins rather than meat – for puppies who may have more than one meat allergy.
So while it may sound super-complicated, it's actually the exact opposite! A lot of the time, puppies with sensitive stomachs will just need to steer clear of whatever ingredient is triggering their symptoms and they'll be A-OK.
How do I keep my puppy healthy if he has a sensitive stomach?
First and foremost, give him high-quality puppy food that's designed especially for his specific needs. There are also several things that your vet might suggest, including:
Making sure your puppy's getting balanced amounts of fiber in his diet, for easier digestion. For puppies who can handle gluten, whole brown rice and oatmeal are often good examples of gentle fibers.
Keeping track of what your puppy eats. If you know what your fluffy friend ate before he felt off-color, you may be able to pick up on trends or patterns that can help you avoid certain foods. You can trial and error with foods and treats, but there are natural alternatives available.
Avoiding overexposure to one specific protein. Puppies have still-developing digestive and immune systems. When they eat the same meat-based protein over and over without variety, they may be more prone to developing a hypersensitivity to it.
What are the best puppy foods for sensitive stomachs ?
CANIDAE Grain Free PURE
Pros
No potential allergens from grain — so no soy, corn products, or wheat;
30% protein from fish meal and chicken, plus non-meat sources like egg and lentils;
Chicken's right at the top of this ingredient list, and we always like real meat;
Added probiotics for easier digestion, plus fiber from real veggies;
DHA for cognitive growth and Vitamin E to soothe your puppy's skin.
Cons
If it's actually chicken that's causing your puppy to have sensitive tummy issues, you may want to consider another one of our limited ingredient suggestions.
Our Verdict: 5/5
Although 12% fat may be quite low for smaller breed puppies,
Canidae Grain Free
Pure offers 520 kCal in every cup. That's enough for healthy puppy development, and we love that it's got so many great reviews from happy puppy mums and dads!
Fromm Four Star Grain Free
Pros
With quail, chicken, and pheasant as a hearty meal, your puppy will be getting some nice variety and a diet that relies less on one key ingredient;
Even if your little pup gets tired of game bird, Fromm offers a huge range of other flavors that are similarly grain free and without artificial flavoring, coloring, or preserving agents;
29% protein and full of antioxidants;
With grain free Fromm recipes, your pup has less exposure to gluten-related sensitivities;
Helps to keep worms at bay by featuring chicory root amongst the natural ingredients.
Cons
We loved it when we first discovered it, and we haven't stopped since!
Our Verdict: 5/5
Puppy owners have only good things to say about this puppy food for sensitive stomachs. It's suited for all puppy sizes, and thanks to its grain free formula, it's a safe bet for little ones with sensitivities.
Wellness Simple Limited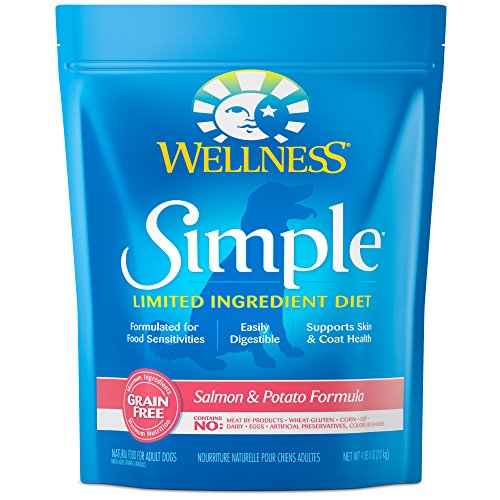 Pros
Wellness Simple recipes are always made from one single novel protein – in this case, salmon.
Contains both added probiotics for gut wellness, and fiber for easier, smoother digestion;
Zero chicken, which is a common allergen for sensitive canines – and zero grains!
Made with natural antioxidants and Omega healthy acids from flaxseed, for lovely coats and skin;
12% fat – although this is from canola oil and salmon rather than a natural animal source, it may be essential for some intolerant pups;
Suitable for the smallest dogs all the way to dogs who weigh 125 pounds!
Cons
25% protein is well within the recommended range for developing little puppies, but is also slightly lower than some other puppy foods for sensitive stomachs;
Contains potato, which some sensitive pups can't tolerate.
Our Verdict: 4/5
While there aren't many natural veggies in this, there are zero non-natural preservation agents, and no synthetic colors, flavors, or vague by-products. Salmon's such a healthy source of heart-healthy oils, so we're happy – 4 stars out of 5!
Merrick Limited Ingredient Diet Grain Free
Pros
Protein from only one animal source, a good way to keep track of what your puppy's eating—in this case, it's lamb!
Potato- and grain-free to reduce the possibility of sensitivity-related symptoms;
Chickpeas, vitamin-packed regular peas, and lentils add an extra boost for 26% total protein;
Suitable for all doggy ages; and
Made with chondroitin, Omega acids, and glucosamine for healthy skin and joints.
Cons
Bear in mind that the recipe's changed recently to feature chickpeas in place of sweet potato, so just don't get confused with the old one!
Has vitamin supplements instead of natural veggies and fruits — but it's still all there!
Our Verdict: 4.5/5
Merrick puppy foods
for sensitive stomachs are made with only a small amount of carefully selected key ingredients. Not only does this recipe contain high-quality protein and loads of vitamins, but it gets great reviews from Moms and Dads of puppies with sensitive stomachs.
Nutri Source Grain Free Seafood
Pros
A diverse range of different animal protein sources here – but no beef or grains to be found;
Contains at least 25% protein and 15% naturally-derived fat from chicken;
Made with loads of minerals, like zinc, manganese, iron, and copper;
Also features glucosamine for joint care and to help prevent hip dysplasia;
Designed to be a low-glycemic and gently digestible food, it's great for avoiding diarrhea or gassy tummies.
Cons
Not suitable for puppies who react badly to poultry- or chicken-derived proteins.
Our Verdict: 4/5
Little sensitive puppy stomachs should find this nutrient-packed, grain- and beef-free recipe a nice easy meal to digest. It's suited for smaller puppies and adult dogs of up to 85 pounds, although you'll need to feed your puppy more than an adult dog would require to meet all his energy needs.
Large Breed Puppy Foods For Sensitive Stomachs
Nutro WHOLESOME ESSENTIALS Puppy
Pros
Contains glucosamine, which is great for taking care of joint health in larger-sized puppy breeds;
2% calcium – perfect for powerful puppy bones and teeth!
Zero synthetic preservation chemicals, flavors, or artificial colors;
26% protein and 353 kCal/cup, ideal for slower-growing large puppies;
Suited for puppies of up to 200 pounds!
Cons
There isn't a lot in the way of real veggies here, although you'll find split peas and peas for fiber and vitamins.
Our Verdict: 4/5
The only further thing we could ask for is some leafy, colorful veggies for vitamins. Nutro Wholesome Essentials offers the AAFCO tick of approval for a whole and balanced puppy food. And, it's both yummy and soft to digest!
Small Breed Puppy Foods For Sensitive Stomachs
Purina Pro Plan Focus
Pros
30% protein and 20% fat that will keep your little or tiny puppy going (and growing!) between mealtimes;
Loads of vitamin supplements – there's everything from A to D-3, B-12 and E in here!
Vitamin E and zinc will help combat skin problems for intolerant dogs;
Contains 1.1% calcium for lovely robust bones;
Features glucosamine that will keep your small pup's joints healthy.
Cons
Definitely not one for gluten-intolerant puppies – this blend contains both milled corn gluten and wheat;
FAQ
When should I see the vet?
It can be challenging to know when your dog's sensitivities become so severe that you need to see the vet. In order to help you better understand how to react, let's discuss some serious symptoms that you should always stay on top of.
First, let's mention that vomiting always warrants a trip to the vet. Vomiting in dogs can point to multiple different causes, and should always be checked out by a vet, especially if your dog is vomiting often after his meals. Next, you should be aware of any loose stool or diarrhea that persists for more than 24 hours. If your dog experiences recurrent diarrhea that does not seem to resolve, you should visit your local vet. Last, be sure to keep a close eye on any dog that experiences chronic itching. If your dog is constantly itchy or scratching themselves to the point of having sores, it's best to visit your vet.
If your dog is simply gassy, a little itchy, or even just not as thrilled about his food, it's safe to hold off on the vet and just search for a diet option that better suits your pup. Just be sure to keep a close eye out for any worsening of their symptoms.
Why do puppies get sensitive stomachs?
As mentioned, some puppies may have allergies to specific ingredients, while others may be intolerant. Some common ingredients that can trigger the symptoms of intolerance are grains such as wheat, barley, or corn. Somewhat surprisingly, meats such as beef and chicken are among the 'usual suspects' when a puppy is having reactions like gas, diarrhea, vomiting, or even itchy skin and ears.
Every puppy or dog is unique, but some breeds are more susceptible to intolerances than others. Terriers like Yorkies may be more likely to develop sensitive tummies over time and need to stick to a puppy food for sensitive stomachs. It's possible that the condition may become more pronounced over time—but don't worry. With a good start on a sensitive puppy food, you'll be doing the best you can for your fluffy friend.
Can I give my puppy table scraps if he has a sensitive tummy?
Generally, it's not a great idea to encourage your puppy to share your dinner by giving them table scraps. It's even more strongly suggested that you avoid this if you've got a puppy who has a sensitive stomach. With a complete and balanced puppy food for sensitive stomachs, your little one will already be getting all the nutrients he needs for healthy development. He'll also be getting all the calories he needs for growth and feeding him table scraps can contribute to obesity.
For pups who already have sensitive tummies, it's possible that feeding little bits from your meals may make the problem worse. Without a complete list of ingredients that are triggering his symptoms, you may end up accidentally feeding him something that sets off an intolerance.
With so many sensitive stomach puppy foods, how can I pick the best?
Good question! We've tried to cover the many needs of different puppies – namely larger breeds, small breeds, and those who prefer wet foods. If you're not sure which one your puppy enjoys best, it's a good idea to experiment. There's no harm in trying one brand one month, and a different brand the next, if you make the change over a week or so. Just try not to give your puppy's little tummy any more shocks than it has already been through!
When switching your puppy over, try to do so by mixing in some of the new puppy foods for sensitive stomachs with the old. Gradually increase the amount of new food each day till he's completely on the new food.
Last update on 2023-09-20 / Affiliate links / Images from Amazon Product Advertising API