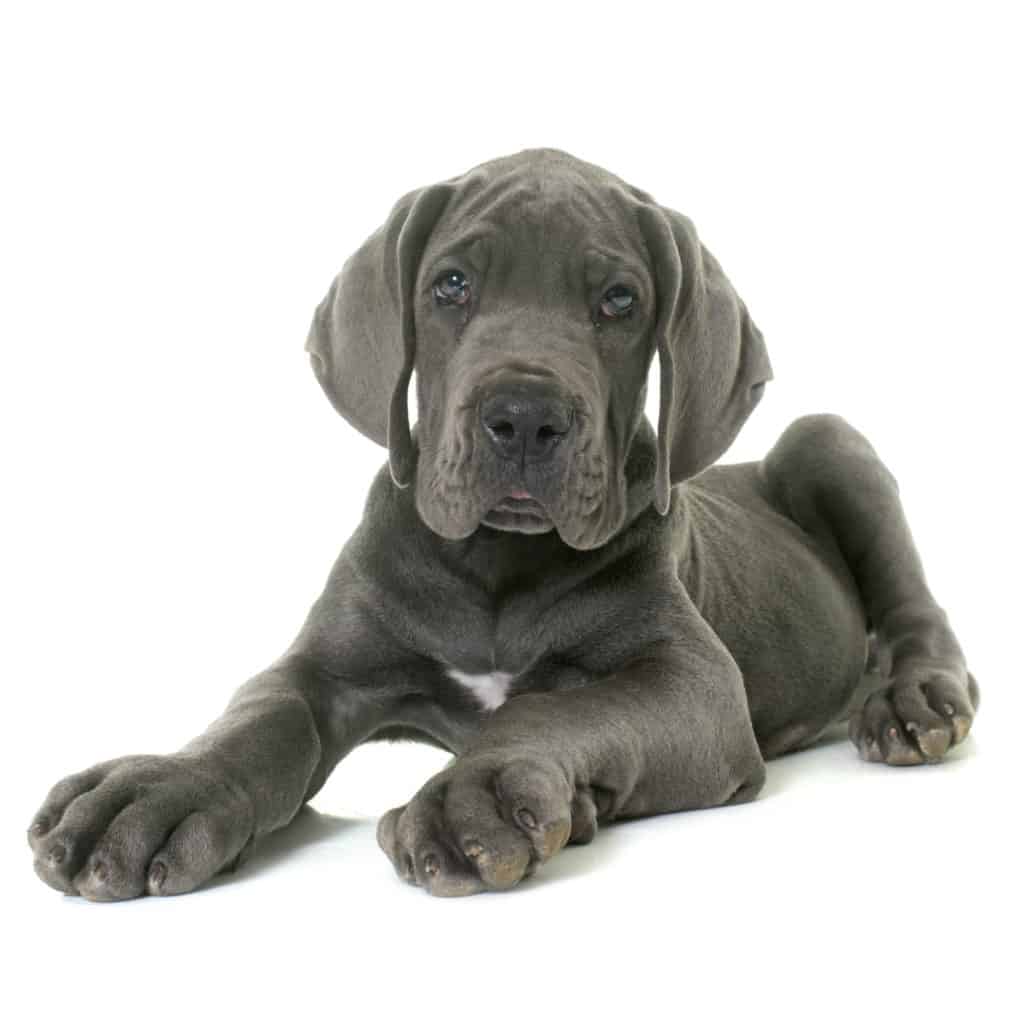 Wondering how it's possible to give your Great Dane the most awesome dog food or puppy food for the happiest and healthiest possible life? Or maybe you've just 'bought that doggy in the window' and got yourself a new Great Dane puppy? Either way, congratulations on owning one of the most beautiful giant-breeds in the whole world.
Picking out the best dog food for Great Danes is crucial from Day One, and what's suitable for your Great Dane on Day One won't be the same as what's best for her as she grows bigger and, well, Greater!
Quick Review: Top-3 Dog Foods For Great Danes
Holistic Select Natural Dry

100% free of nasty meat by-products
24% protein as a guaranteed minimum
Calcium is at the 1.3% mark

Eagle Pack Natural Dry

DHA at 0.05% minimum
5% calcium that has been balanced with phosphorus
Fat is at 12%, which is derived from chicken fat

Rachael Ray Nutrish Natural Dry

Farm-raised and bone-free chicken
Real veggies designed for giant Great Danes
Contains zinc and potassium
What should be inside the best dog food for Great Danes ?
Did you know that caloric content isn't actually required by law when it comes to dog food?  In actual fact, as a Great Dane Mum or Dad, you'll often be required to search online for this information to ensure that you're not unintentionally feeding too many daily calories to your Great Dane puppy or to your Great Dane adult. But how much is too much, and how little is not enough?
Calorie intake will depend on different things…
Great Danes are quite clearly one of the largest of the giant-breed dogs in the States. If you've got one of these gentle giants while she's still a puppy, you may know that Great Danes usually grow from around 2 lb at birth up to anywhere over 100 lb, and sometimes all the way up to 200! But before you start worrying about how you could possibly carry all that dog food from the car to the house, it's a good idea to understand what factors will determine the necessary caloric content of your Great Dane's dog food for a healthy life. Here are some of the things you'll want to consider:
Life stage– the best dog food for our Great Dane puppies is going to have higher caloric content, giving them the necessary energy for growth and for developing their long, elegant, and strong bones. For adults, the best Great Dane food will have a calorie content that allows you to aim for between 2500-3500 kCal at least, daily.
Activity level– whether your Great Dane is active or more sedentary will determine whether she will require a higher or lower calorie intake. The best Great Dane food for both active and less active adults will be around 375-450 kCal a cup, and it's up to you to give them more or fewer cups depending on how much they exercise. The best puppy food for Great Danes will have a slightly lower calorie profile of between 350 and 400 kilocalories in each cup, but also be higher in protein and fat. We cover how many cups daily of Great Dane puppy food are recommended a little further on in this article.
General height, weight, and size– The best Great Dane food will allow you to feed greater or lesser amounts to your adult and mature Great Dane depending on her physique when she is fully grown. Larger adults, usually males, will require a larger amount of daily calories than smaller adults or females.
…but every one of the best Great Dane foods must have protein and fat!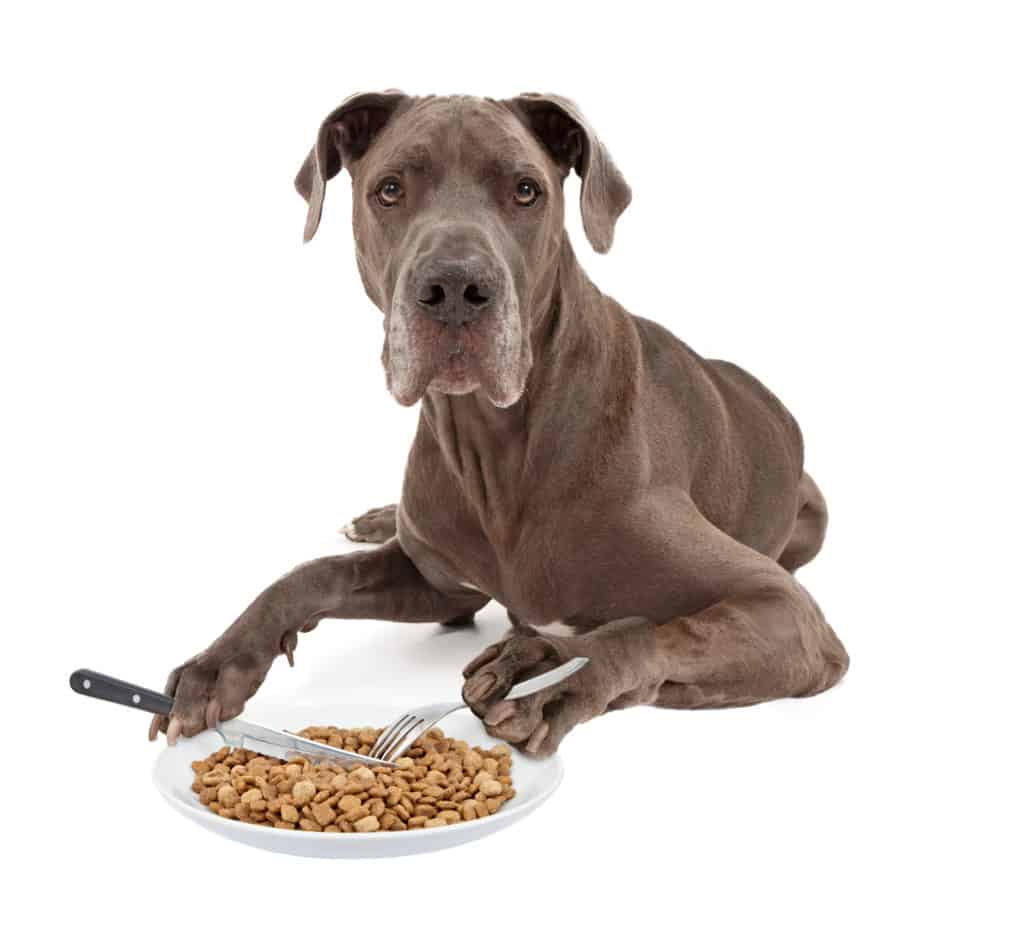 The Best Food For a Great Dane
Your Great Dane is relying on you to make sure their protein and fat comes from reliable, healthy, and responsibly sourced ingredients. For both of these essential macronutrients, it's important to make sure you are able to easily identify the main source of meat protein in the diet, and the exact origination of the fat that is found in the food.
A diet that is packed with protein and fat from real animal tissue is essential in a Great Dane diet.
The best Great Dane food or puppy food will list something like beef, lamb, venison or chicken as the top ingredient, so you know that you're looking at a high-quality dog food or puppy food for Great Danes. If you see something that makes you a little confused- like by-product meal for protein, or lard rather than pork fat for fat, then it's probably not a great dog food, sorry!
The best Great Dane food has little to no carbohydrate fillers
Next up, we look for conventional 'filler' ingredients, which can be anything from soy flour to ingredients including corn gluten meal. These ingredients typically only play a role in structuring kibble and giving your Great Dane's dog food or her puppy food a longer life on the shelf. Great Danes can be quite sensitive to gluten and wheat products in their dog food or their puppy food, so it's often best to ensure that you are choosing something which has either a very low level of these or is entirely free from grains.
Naturally preserved, flavored and colored dog food
The best Great Dane food should be yummy, healthy, and store well without having to use artificial add-ins. Usually, the best Great Dane food or dog food for giant breeds will advertise this fact on their dog food labels, as it is, after all, something worth noting. When you can see that a dog food label mentions "tocopherols", it means that a certain ingredient has been preserved naturally using Vitamin E. Also in this vein, "ascorbates" refer to Vitamin C derived preservatives that are again, natural.
V for Vegetables, V for Vitamins!
If you've got kids, rest assured that getting healthy veggies into your Great Dane is a much simpler task! The best dog food for Great Danes- adults and puppies alike- will often have the wholesome goodness of real veggies inside. From Vitamin K and C in spinach, to A in carrots and D in E in tomato, you'll be doing your Great Dane a much-appreciated favor by checking the label for these ingredients.
How much do adult Great Danes eat?
According to veterinary experts, a Great Dane should eat anywhere from 2,500 to 3,000 calories per day depending on how active your Great Dane is. If you have a young Great Dane who participates in a large amount of daily exercise, it's best to aim toward 3,000 calories, while a senior Great Dane will be just fine with a 2,500 daily calorie goal.
Make sure to take a look at the calories in your food of choice and make sure this calorie count is attainable with anywhere from 6 to 10 cups daily.
Since 6-10 cups of food can seem like a large amount in one sitting, it's best to break this amount into two or three daily feedings. Breaking their food into two feedings is not only important for their comfort while eating, but to also help prevent a serious medical condition called Gastric Bloat (GDV).
We'll discuss the details of this condition below.
Great Danes and Gastric Bloat – Ways To Help Prevent Bloat
Due to the Great Dane's deep chest, they are at high risk to the serious medical condition called Gastric Bloat. Bloat (GDV) is the condition in which the stomach flips on itself, trapping the contents of the stomach and cutting off blood circulation to the rest of the intestines. This condition is so serious, that is considered the mother of all emergencies in veterinary medicine. If Gastric Bloat is not corrected immediately with medical intervention, it is fatal.
Symptoms of Gastric Bloat in Great Danes
If your Great Dane experiences any of the following symptoms, make sure to seek veterinary help immediately:
Retching with no vomit production
Distended abdomen
Pale gums
Weakness
Abdominal pain
Groaning or seeming painful
Collapse
So how can you help prevent gastric bloat in a Great Dane?
Though Great Danes are always at risk due to their deep chest, there are a few things you can change in their feeding routine to help prevent bloat. Some of these changes include:
Breaking their feeding schedule into two or three feedings per day, rather than feeding them all their food at once.
Purchase an elevated feeder that will prevent them from having to bend over to the floor to consume their food.
Make sure to limit any physical activity for up to an hour after feeding.
What To Avoid Feeding Great Danes
Due to the Great Dane's massive size, there are few things to avoid when searching for the perfect diet. Some factors to avoid in a food for your Great Dane include:
Low calorie food: Since the Great Dane requires such a high calorie intake, make sure that your food of choice is not represented as low calorie or for fat loss. If you feel like your Great Dane is overweight, it's best to speak with your veterinarian about a weight loss plan.
Lacking joint supplements: Since the Great Dane is so large, they are prone to arthritis and other joint conditions. Because of this, their diet should contain glucosamine, omega fatty acids, or fish oil to help prevent daily aches and pains.
Low quality protein & fat: A Great Dane requires energy from high quality proteins and fats. Make sure your diet of choice includes their main protein from real animal tissue rather than animal byproducts.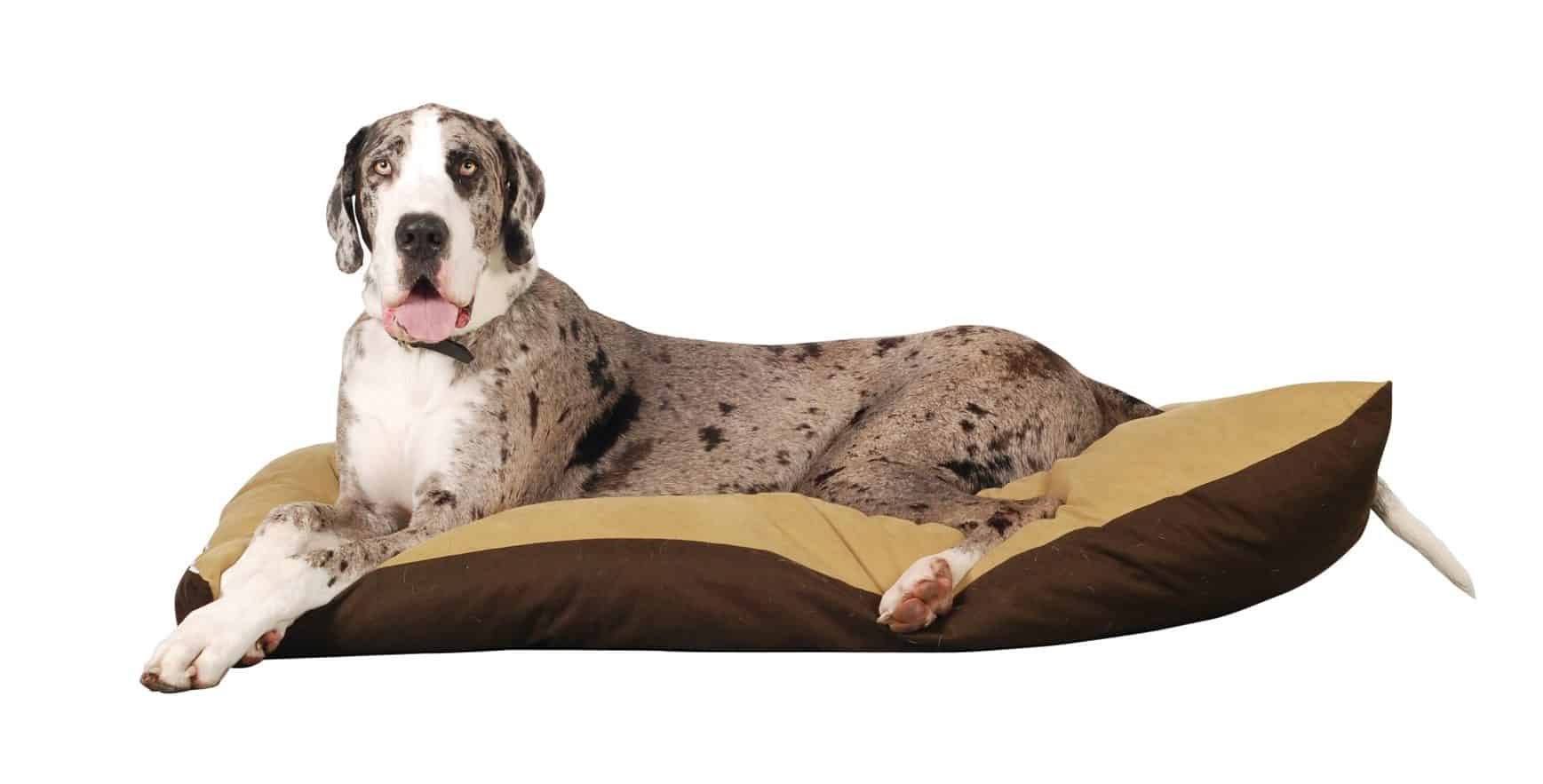 Comparing the best dog food for Great Danes
Holistic Select Natural Dry Dog Food
Pros
100% free of nasty meat by-products
100% free of non-natural colors, preservatives and flavors
24% protein as a guaranteed minimum, which is derived from chicken
14% fat, sourced predominantly from naturally preserved chicken, too!
Calcium is at the 1.3% mark, which we very much like!
Besides the awesome nutrient profile, it's got glucosamine and also chondroitin that work as a pair to help prevent hip dysplasia in giant-sized dogs!
Made to include blueberries and pumpkin, apples, and a whole other bunch of fantastic veggie and fruit!
Contains L-Carnitine, which is an amino acid transporter of fatty acids within dogs- a good thing!
Cons
Actually, none really that we were able to spot!
Purina ONE SmartBlend True Instinct
Pros
Containing protein that weighs in at a whopping 30%
#1 and #2 ingredients are real de-boned turkey and lovely real venison!
It is actually suitable to mix four parts of Purina ONE dog food in with one part water, so your Great Dane can up her moisture intake if she tends not to drink lots
Fat proportion is around 17%, and is genuine animal fat sourced from beef
Rather than something like 'unnamed meat meal', the sources of your Great Dane's glucosamine in Purina ONE come from real bone-free turkey
Phosphorus and calcium in this formula are balanced healthily
Cons
Made using gluten from corn, and soy flour
Rachael Ray Nutrish Natural Dry Dog Food
Pros
Some of the profits from this Great Dane food go towards treatments and medical supplies for pet charities, isn't that awesome? We reckon!
Farm-raised and bone-free chicken comes in first place in the ingredients list, and it's from the US
Rachael has put real veggies into this dog food designed for giant Great Danes, like carrots and peas
Contains zinc and potassium
No flavors or preservatives that aren't completely natural!
Cons
It has some milled corn gluten 
What distinguishes the top puppy food for Great Danes?
As with all the other dogs that are giants, it will take a bit longer for a Great Dane to reach their full size. This means you'll typically be giving puppy food to your Great Dane until they're around the age of 12 months, compared to a shorter period for toy or smaller breeds.
Main building blocks for growth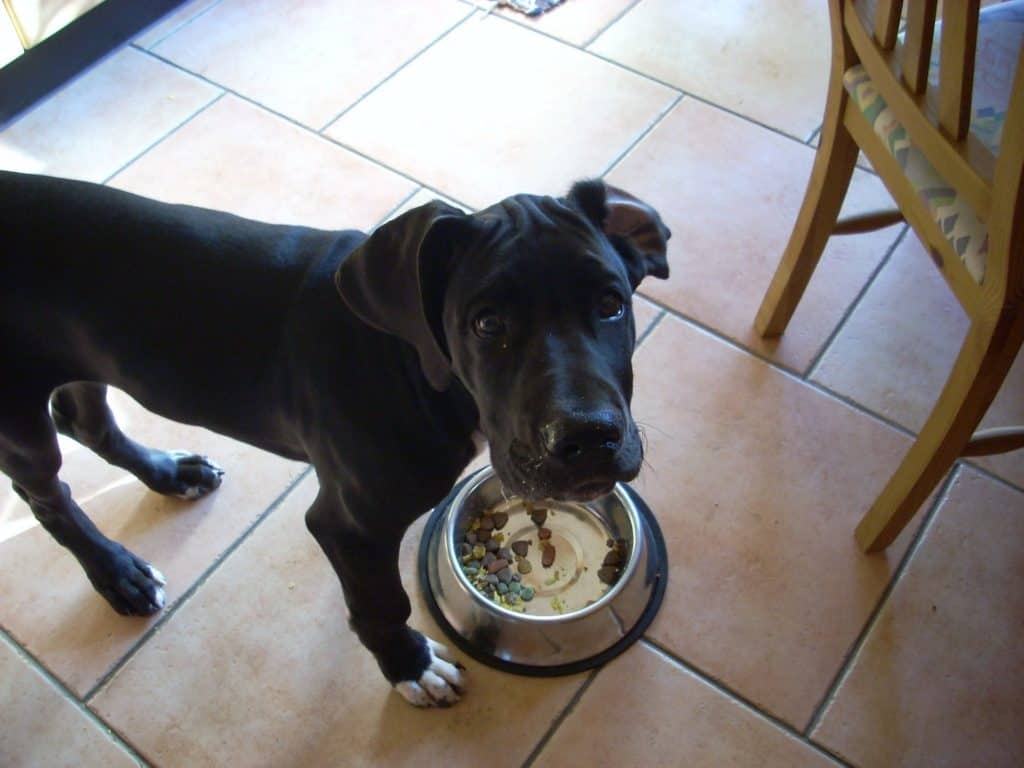 During this period your Great Dane puppy is going to require more of the building blocks that are essential for growth, and by building blocks we mean- you guessed it- protein! A higher protein content will be the main factor you should look for in a quality Great Dane puppy diet, aside from fat content. Fat is burned as calories, and my goodness do Great Danes need energy to grow. This is not surprising, given they tend to be born at around 2 lb in mass, and reach up to 200 lb after a year!
If you're looking for a recommended ballpark figure when it comes to fat content, try to pick a Great Dane puppy food which has at least 12-14%, but as we noted, Great Dane puppies will be in need of something towards the higher end of this scale. As is the case with the best food for Great Danes who are fully grown up, the best food for Great Dane puppies will source its fat content from ingredients that you can easily put a name to.
DHA and it's fellow unsaturated fatty acid EPA are two things that you absolutely need to search for in the best puppy food for Great Danes. Without these two nutrients, you'll be depriving your Great Dane puppy of the best chance to develop a healthy brain and joints. It is recommended by vet research journals that EPA should be present at around the 1.75g level per kilo of Great Dane puppy food, and DHA at close to 2.2g per kilo.
How much (or little) Great Dane puppy food does my puppy require?
As promised, we did the research on your behalf! Apart from the basic guideline of 350-400 kCal in each cup, the best Great Dane puppy food should be fed in roughly these quantities depending on their size and weight:
Great Dane pup of 3 months: between 3 and 5 cups daily
Great Dane pup of 4 months: between 4 and 6 cups daily
As you can see, the minimum and maximum amount increases by 1 cup until your puppy is eating around 7-10 cups on a daily basis when she reaches 9-12 months old
At this point, most Danes can be carefully and gradually switched over to Great Dane food for adults. Also try to remember that Great Dane puppies do need to eat at around 3 mealtimes daily compared to adults, who are generally fine with just 2 daily meals.
Comparing the best puppy food for Great Dane puppies
Eagle Pack Natural Dry Dog Food
Pros
DHA at 0.05% minimum
5% calcium that has been correctly balanced with phosphorus
Fat is at 12%, which is derived from chicken fat and also naturally preserved
Healthy levels of protein at 23%
It's possible to continue feeding Eagle Pack Great Dane puppy food to your little (or not so little!) one until she reaches 12 months if you carefully adapt the amounts fed according to the pack
Cons
Besides tomato, there aren't too many real veggies
Natural Balance Limited Ingredient Diets Dry Dog Food – Lamb Meal & Brown Rice
Pros
Well balanced phosphorus against calcium
Top and primary ingredient…is lamb meal! We always love to see real meat in first place!
Omega-6 is well balanced with Omega-3 for lustrous Great Dane coats
Free of all artificially sourced preservatives, as well as artificial colors and flavors
Supplemented with zinc and Vitamins including C, D, E, and B12
Cons
12% fat is derived from Canola, or Rapeseed Oil rather than an animal-based source
Protein is only 21%, which is slightly lower than the recommended 22% to 32% that makes the best Great Dane puppy food
Hill's Science Diet Puppy Food
Pros
Real chicken is the main protein source, with total protein at a whopping 30%!
Made using probiotics for easy digestion
5% fat that is naturally sourced from pork
Contains zero artificial add-ins such as flavors or preservatives
353 kCal per cup, which is perfect for those fast-growing Great Dane pups
Made including our favorite veggies, such as broccoli, carrots, green peas and apples. Vitamins, here we come!
Cons
Made to contain wheat and milled corn gluten, so not suitable for Great Dane puppies with intolerances
FAQ
Does the best Great Dane food help to prevent common health conditions?
It's a sad fact that Hip dysplasia (CHD) tends to be a common condition for giant-breed dogs, and involves a possibility that your Great Dane may later develop arthritis and potentially joint degeneration. The very best Great Dane food should contain added glucosamine along with its partner nutrient chondroitin that act together to heal and relieve the symptoms of CHD and osteoarthritis. At the same time, they help in synthesizing new cartilage, which is basically what is damaged when your Great Dane has CHD.
It's essential for Great Dane puppies to obtain chondroitin and glucosamine from their kibble or puppy food, as CHD can begin at an early age. Plus, we all know that prevention beats cure every time! What this means for you-the Great Dane puppy food purchaser- is that you should make it a point to select the best food for Great Dane puppies specifically by ensuring that you keep CHD and these two important nutrients in mind.
Can I leave my Great Dane puppy more puppy food to make her grow faster?
It's not uncommon for Great Dane and similar giant-breed owners to ask this question. In fact, it's highly inadvisable to leave your Great Dane puppy more than she needs to grow, simply to reach her adult weight at a faster pace. There are some specific problems that can occur when you try to feed too much Great Dane puppy food, including:
Overly fast bone growth can occur when your Great Dane puppy takes in too many nutrients and calories- Great Danes as a breed are already susceptible to joint problems due to their longer limbs, and a deformed skeleton can increase the chances of this down the line
Obesity and food bloat are common things to expect when your Great Dane is getting too much of even the best puppy food for Great Danes. In addition to discomfort and flatulence, an overweight pup can lead to an overweight Great Dane adult who has a higher risk of conditions like diabetes and hypothyroidism
Helpful Links
Last update on 2022-09-21 / Affiliate links / Images from Amazon Product Advertising API