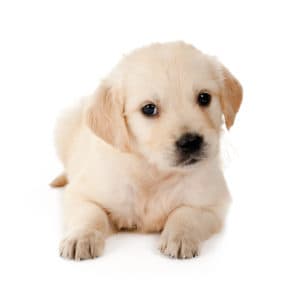 Hi there, puppy pals! If you're wondering what the best food for Golden Retrievers is, look no further. This page is just for you and is jam-packed with Golden Retriever puppy food reviews to help you make the right choice. 
Golden Retrievers have got to be some of the most gorgeous, friendly, loyal dogs around. If you've got one, and you want to give him the best possible when it comes to food, it's worth looking for a breed-specific option. Since only a few brands get this specific, the best food for Golden Retriever puppy friends will frequently be large-breed dog food. One that is designed for a Golden Retriever's:
Longer developmental ('puppy hood') period;
Need for joint health-related nutrients;
Tendency to 'gulp' or 'guzzle';
Long, glossy coats; and
Large size and relatively high lean muscle mass.
Shall we dive right into it?
Quick Review: Top-3 Dog Foods For Golden Retrievers
Nutro Max Natural Puppy

Chicken meal takes first place in the ingredient list
That means 26% protein in each delicious doggy serve
A natural, 150mg of glucosamine per kilo

Nutro Wholesome Essentials

It's almost a 100% GMO-free recipe, which we love
Free from non-natural preservatives
21% protein - great for Golden Retriever adults

Blue Buffalo Life Protection Formula

Vitamins from parsley, kelp, blueberries, and more
Soft, simple-to-digest brown rice and oatmeal
DHA in here for optimal development of one's eyes
Names To Note When Picking The Best Dog Food For Golden Retrievers
We want to make your puppy meal times more fun, and a lot less stressful. If you're wondering what brands make the best dog food for Golden Retriever puppy dinners, here are some of our favorites. Only the healthiest, yummiest food for your pup!:
Hill's Science – A firm favorite with dog lovers around the world, we've included Hill's best dog food for Golden Retriever puppies. With real protein-rich meat as a top ingredient, it's also full of delicious green vegetables and fruit;
Wellness –This is a brand to look out for if you're after a Golden Retriever puppy food that's bursting with natural ingredients;
Nutro – Nutro makes Golden Retriever puppy food that is almost entirely from non-GMO ingredients. In these Golden Retriever puppy food reviews, we've included a Nutro Max option that contains none of the maize, wheat, or even soy ingredients that typically set off allergies;
Blue Buffalo – Look for our Blue Buffalo review if you're after a recipe that's made without fake flavors, unnecessary preservatives, or non-natural colors;
Royal Canin – Known for their breed-specific puppy chow, Royal Canin have crafted a mouth-watering (and antioxidant rich) Golden Retriever food.
Let's take a peek at how the protein, fat, and calorie ratios should stack up in the best Golden Retriever puppy food.
What's In The Best Golden Retriever Puppy Food?
If you're ever in a pickle and can't decide between two brilliant Golden Retriever foods, here's how you can make an informed choice.
First up, start with the protein content of the food. Golden Retrievers are lovable, playful, active large dogs, so they need enough protein for lean muscle development. As they will need to get this from their food, the number one ingredient should be meat.
Have a look at the ingredient list, a good Golden Retriever puppy food should have — at the bare minimum — at least 22% protein per serving. Alongside this, they are likely to need around 13% fat and anything from 1800 to 2500 calories every day. It always helps to use an online dog food calculator. 
When it comes to minerals and vitamins, there's no hard and fast rule. The healthiest way to ensure that your Golden Retriever is getting enough vitamins is to choose a brand that is AAFCO approved for puppies or adults. For little ones, this will be any food that provides a complete, as well as a balanced formula for growth or development. For adults, scout out AAFCO-approved blends for maintenance.
Golden Retriever Food For Grown Dogs
For adults, make sure that your sidekick is getting between 18-28% protein. The amount of fat that you feed him or her will depend on how much exercise your dog is getting. It's a large protein range, we know, but the rule of thumb is that the more active your dog, the more protein he needs to rebuild or grow his muscles. According to the NRCNA (National Research Council of the National Academics), an adult Golden Retriever will require between 1,350 and 1,750 calories daily if he's getting lots of exercise. This could drop to a much lower figure (as low as 980) if you've got a smaller, female, and/or relatively inactive dog.
You may want to make an exception, of course, if you've got a Golden Retriever who's on a special diet — check our Sensitive Stomachs page if this describes your pet.
Golden Retriever Dog Food: Wet Or Dry?
As silly as it sounds, the answer to the "Wet or Dry" dog food question is "Wet OR Dry!" To be more specific, feel free to alternate between the two as you see fit. To help you with your decisions, here are a few pros and cons of each.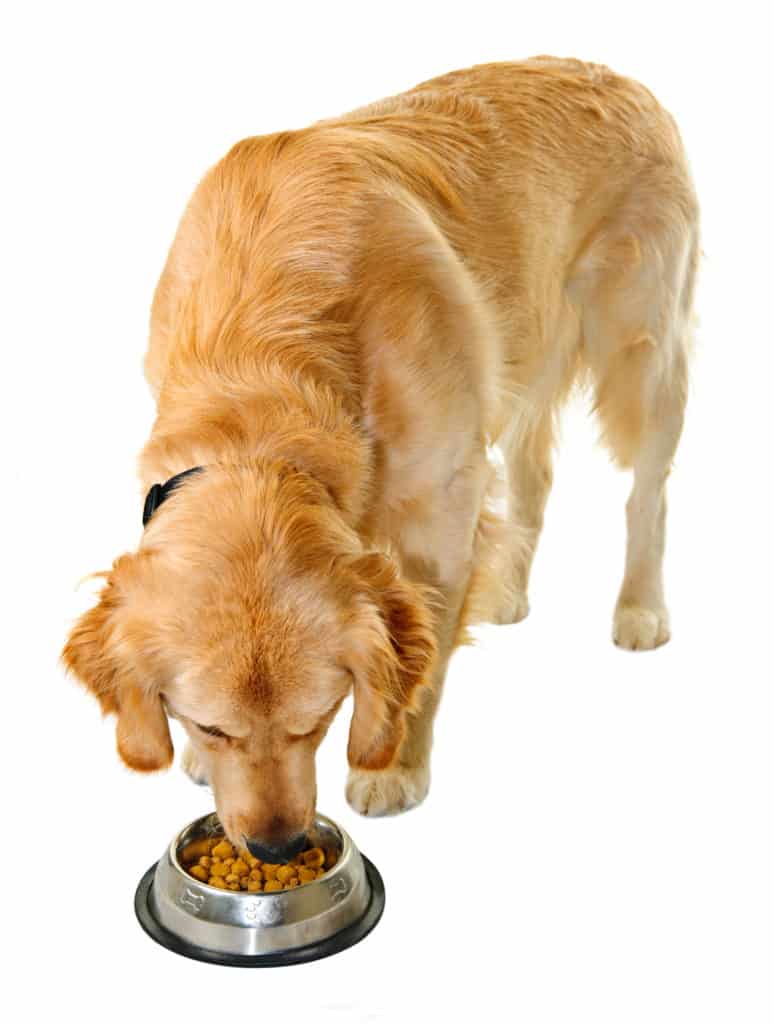 Wet Dog Food
Wet Golden Retriever Food typically comes in cans, or in big packs of cans (which can be better value). It offers more moisture to your puppy or grown dog, and this is a good thing if you've got a canine counterpart who doesn't tend to drink lots of water. While it costs more per unit than dry kibble, wet food is a fabulous way to keep things exciting for your dog. On the downside, you'll need to start keeping tabs on when you opened the food and how long it will last in the refrigerator. This information should be provided on the side of the can.
Dry Dog Food
If you're after a dog food that lasts longer once opened, dry kibble is the way to go. Unless you've got a very clever little puppy who can get inside, this is generally safety stored in the pantry. It will last much longer once you've opened the packaging, and in general, dry dog food is a more economical choice than wet.
Some Tips!
If you've ever fed a puppy dry food only for a long time, you'll know how exciting wet food is. In most cases, it's because variety is more interesting than the same old kibble day after day. It's also often down to the fact that wet food smells stronger, making it more enticing for your fluffy friend. The point is that, just like humans, your Golden Retriever may appreciate a change, and it can be a thoughtful way to show your pet that you care about them.
Should you want to switch up wet and dry dog food — for whatever reason — you can easily do this by looking at the manufacturer's instructions. They will generally give you guidance on how much to sub for each unit of wet or dry food.
The Best Food: For Golden Retriever Puppy Owners
As with other larger puppy breeds, Golden Retrievers require nutritious meals that are designed to be fed for longer periods. Why? Because larger dogs usually need significantly more time to reach their full grown-up body mass. When shopping online, keep your eyes peeled for formulas that can be fed for anywhere up to 14 months. Rarely, but sometimes, they may take a little longer to grow. Here are our nominees for best Golden Retriever puppy food.
Blue Buffalo Life Protection Formula Natural Puppy
Pros
You won't find any synthetic preservatives or non-natural flavors in this chow;
Your puppy will get yummy vitamins from parsley, kelp, blueberries, and more;
Soft, simple-to-digest brown rice and oatmeal help your pup break down his dinner;
Vitamin B12 makes for happy, naturally bouncy pups, giving them energy to exercise; and
You'll find DHA in here for optimal development of your little one's eyes.
Cons
There hasn't been any glucosamine added into this Blue Buffalo formula, as far as we can tell.
Our Verdict: 4.5/5
What do we love about Blue Buffalo? All its Life Protection Formula products (whoops, doggy meals!) are free entirely from any form of poultry or chicken milled by-product. Those grain-free pups are going to love this wheat-free crunchy kibble, and they're going to adore the fact that it's made with zero maize or soy.
Royal Canin Breed Health Nutrition Golden Retriever Puppy
Pros
This fish oil-containing puppy chow gives your best buddy DHA;
It's created with a Golden Retriever's longer developmental period in mind, being suited for pups of between 2 and 14 months;
If you've got a cheeky little pup, the special kibble shape will keep them chewing slightly longer. The benefit? They won't guzzle it down too quickly;
Naturally sourced lipids (fat) from chicken, alongside glucosamine; and
27% protein is a super amount for developing those lean muscles.
Cons
If you're steering clear of all by-products, you'll want to know that this Golden Retriever puppy food does contain some.
Our Verdict: 4/5
As noted, this is the best dog food for Golden Retriever puppies because it has the Omega antioxidant content to keep their beautiful coats all soft and shiny. These also play a pivotal part in assisting your little one to fight off diseases and get started with a strong, resilient immune system.
Nutro Max Natural Puppy
Pros
Chicken meal takes first place in the ingredient list, and this isn't to be confused with by-product. It's natural, genuine chicken in it's most protein-dense form;
That means 26% protein in each delicious doggy serve, ideal for Golden Retriever puppy development;
1% calcium means strong canine bones;
A natural, 150mg of glucosamine per kilo; and
Another nice dose of all-natural protein from vegetarian chickpeas.
Cons
The only downside for us is that there aren't loads of leafy veggie greens.
Our Verdict: 4.5/5
A delicious, AAFCO-approved meal of hearty chicken and lovely natural ingredients. If you've been reading the nutrient list, you'll see that there's even some green tea extract in the recipe for antioxidants.
What Is The Best Dog Food For Golden Retriever Adults?
If that cute little puppy has blossomed into an equally cute — but much larger — adult, it's time to worry a little less about regular mealtimes. While proteins and fats are still going to be at the heart of your best friend's diet, they're going to need a little less of it in relation to everything else. The good news is this means more room for all the mineral, antioxidant, and vitamin goodness of veggies in their food.
Hill's Science Diet Large Breed
Pros
While not a nutritional benefit, as puppy owners we know that large, 30lb bags can save you time and effort. Worth noting!;
Joint health is a top priority, and Hills Science Large Breed contains good, healthy levels of glucosamine;
Zero artificial yucky colors, no fake flavors, and only all-natural preservatives to be found in this blend;
Both E Vitamins and fatty acids mean this is a Golden Retriever puppy food that's made for luscious coats; and
Apples, as well as other lovely veggies, abound, giving your buddy a natural boost of vitamins.


Cons
Gluten or grain-intolerant Golden Retrievers won't be able to eat this, as it contains some wheat.
Our Verdict: 4/5
Well, we haven't tried eating it ourselves, but the canine members of our team seem to love it! We like that it's got healthy natural nutrient sources, and added Vitamin E for lovely coats is an awesome touch.
Wellness Complete Health Natural Dry Large Breed
Pros
The focus is natural, top-notch salmon and chicken ingredients;
No worrisome grains to fret about, this is free of all the common soy, corn, and also wheat triggers;
None of the fake preservation agents, colors, or artificial flavoring chemicals that you may find in low-quality dog foods;
Contains the DHA that your Golden Retriever adult needs for keeping his eyes and brain in great shape; and
Spinach and carrots are just two of the many lovely farm veggies in this formula.
Cons
If you prefer a 100% grain-free Golden Retriever food, this does contain barley and rice.


Our Verdict: 4.5/5
This is a recipe that's been scientifically designed for all our big dogs. With ideal protein levels and fewer calories from fat compared to Wellness Puppy food, it's among the very best food for Golden Retrievers.
Nutro Wholesome Essentials Large Breed
Pros
While it contains some chicken, the primary protein in this Golden Retriever food comes from boneless lamb. This means it's a very good option if your pet is enjoying the benefits of a rotational diet;
Diverse protein sources are always a plus, and Nutro Large Breed has both chickpeas and regular peas;
It's almost a 100% GMO-free recipe, which we love;
Free from non-natural preservatives, and chemicals for coloring; and
21% protein, which is just great for Golden Retriever adults.
Cons
Nope, we adore this Golden Retriever dog food!
Our Verdict: 5/5
If you like making sure that your dog gets different flavors at dinner time, as well as varied proteins, this is a top pick. With oatmeal for soft digestion, it's among the best dog food for Golden Retrievers who have sensitive tummies.
Royal Canin Golden Retriever Canned Food
Royal Canin Golden Retriever Loaf in Sauce Canned Dog Food, 13.5 oz can
Anytime you want a well rounded canine diet that gives your pup everything they need, you can turn to Royal Canin. This diet is specifically formulated for healthy maintenance for your Golden retriever, and can be served to them throughout their adult years. This is a wonderful way to get a bit of extra hydration into your furry friend, as well as spice of their daily dry kibble routine.
Buy on Amazon
Add to Cart
Pros
Made for Golden Retrievers;
Nutrients that promote skin, joint, and coat health;
Taste that dogs love;
Cons
This diet is made of multiple proteins, so it may not be ideal for dogs with specific protein allergies
Our Verdict: 4.5/5
Royal Canin never fails to create a quality diet, and this is just another example of one!
FAQ
Is there a Golden Retriever puppy food with salmon?
Yes, absolutely! If you are looking for salmon because it's a 'novel' protein, check out our page on the Best Dog Food For Puppies with Sensitive Stomachs. Salmon is an Omega acid-rich source of meat for your little one, and often delivers all the benefits of chicken or beef without triggering a reaction. If you're simply after something that's a nice change, or you're trying out rotation-based feeding, head over to our 'Brands' page. Just a few of the many brands that offer a wide variety of ingredients include NutriSource, Fromm, Merrick, and Blue Buffalo. Because you're looking for a Golden Retriever puppy food, you will want something that has been designed for large breeds. Hope this helps!
My pup finishes her Golden Retriever Food really fast…why?
Good question. It's not at all uncommon for puppies to eat a lot faster than we do. In fact, it's a very popular question. If you've noticed your puppy gulping down his or her dinner in just a few minutes, you may also have found that it can quite often lead to hiccups or burping. Don't be alarmed, there are several ways to prevent this from happening. Our advice is to try a puppy food with specially designed kibble. Some of the best dog food for Golden Retrievers has a kibble that is shaped and textured to encourage chewing. This helps your dog eat slower, and will usually mean less gulping behavior.
Last update on 2022-01-18 / Affiliate links / Images from Amazon Product Advertising API