Wondering if Simply Nourish makes good kibble? Or are you looking to change up your dog's diet? How does their wet food stack up with regard to nutrients? We'll answer as many of your questions as we can in our Simply Nourish dog food reviews right here!If you're hoping to learn more about who the brand are, where their food is made, and whether there's something for your intolerant, small-breed adult, we've got it covered…read on!
Quick Review: Top-6 Dog Foods From Simply Nourish
Simply Nourish Puppy Dry Dog Food

Contains 30% protein
Offers 400mg of glucosamine per kilo
Has DHA from natural salmon oil

Simply Nourish Small Breed Dog Food

26% protein, boneless chicken fillet
Contains Vitamin E
Chicken meal provides small dogs with glucosamine

Simply Nourish Senior Adult Dog Food

Contains Chicken Flour Glucosamine
It has pumpkin, carrots and blueberries
Gives your dog 19% protein

Simply Nourish Wet Canned Dog Food

Made with chicken broth for flavor
Includes Vitamin A from carrots
Plastic top makes it easy to store this food

Simply Nourish Natural Ingredients

It's all naturally preserved and flavored
Provides your adult dog with 25% protein
Contains soluble fibers from tomato pomace
Who Is Simply Nourish?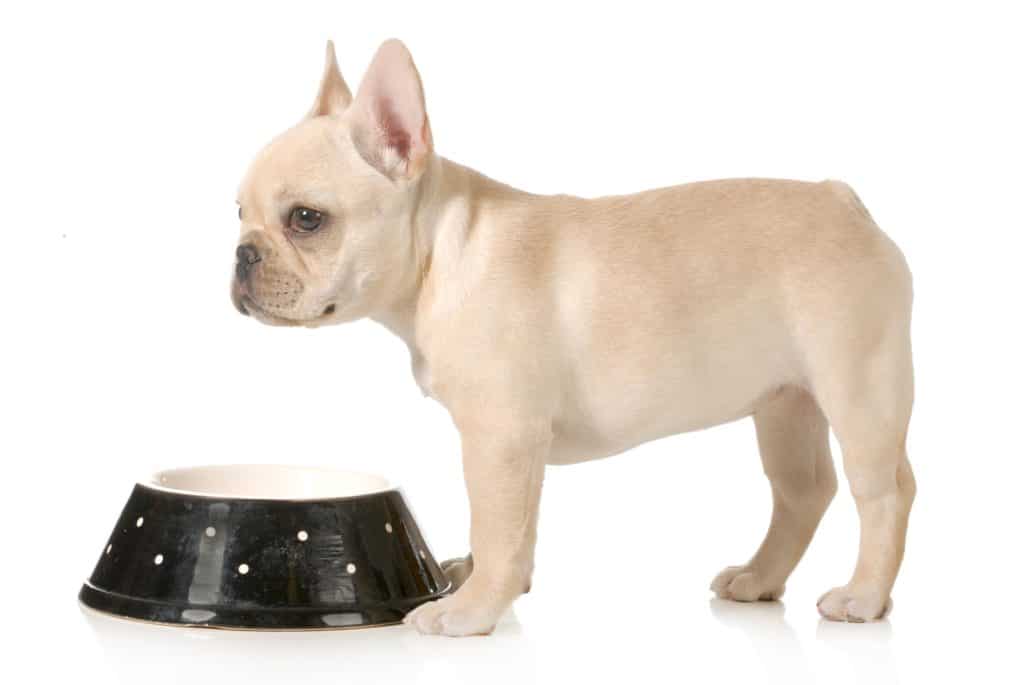 Simply Nourish is a PetSmart brand, and all of their foods are made here in the US. The brand's dog, puppy, and cat food (as well as treats!) are made by American Nutrition and offers a huge selection of almost 40 dry dog kibbles. On average, their dry foods contain relatively high amounts of protein, and are delicious when mixed with their wet toppers and canned entrées. Delicious for our dogs and puppies, that is!
When it comes to kibble ingredients, Simply Nourish uses both US and foreign imported ingredients. They are quite reasonably priced in comparison to some other, more established brands, however as our Simply Nourish dog food reviews show, that actually doesn't mean lower quality.
So what's unique about this brand?
What's Special About Simply Nourish?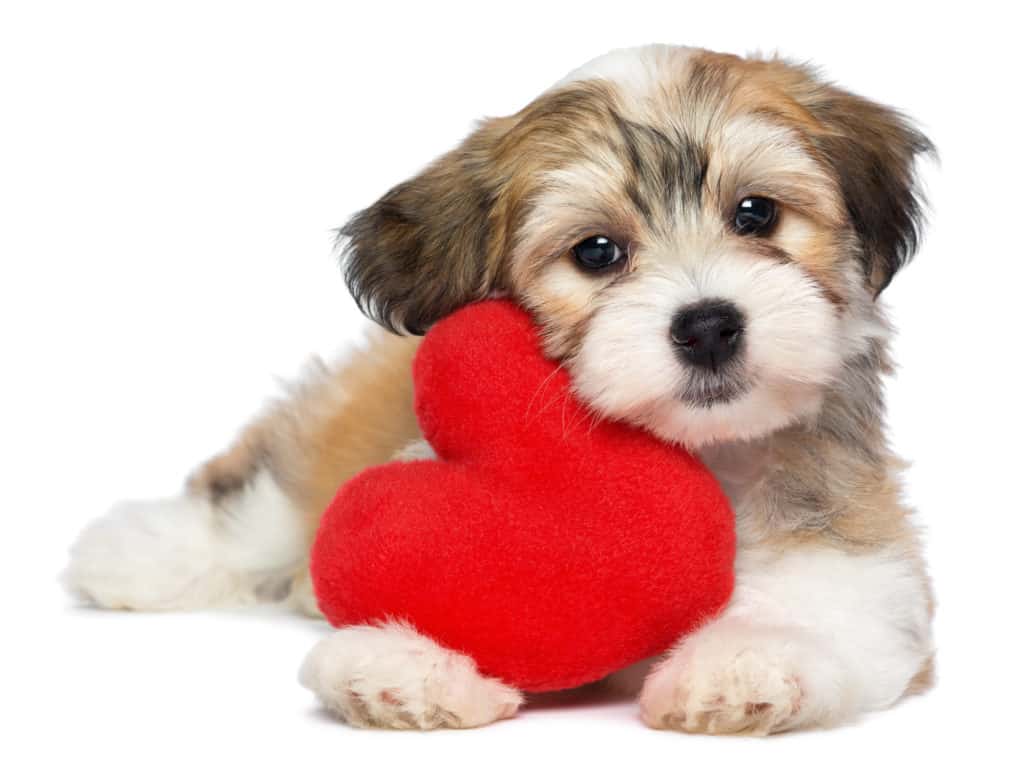 Simply Nourish uses natural ingredients, and their kibble always has fish or meat as top ingredients. So where some other brands might use by-products from poultry or similar, you'll be hard-pressed to find them at all in Simply Nourish products. We have seen brewer's rice in some products, and rice in their canned foods, but in all the products we've reviewed, there is no wheat, maize, or corn.
All their foods are also naturally flavored and preserved, with agents like rosemary extract and mixed tocopherols instead of harmful BHA or ethoxyquin. Likewise, Simply Nourish canned foods are made using broth rather than synthetic flavoring agents.
Third, Simply Nourish is affordable. Despite having a large range of specially developed formulas — for all sizes, shapes, breeds, and life stages — their products won't blow your budget. You'll notice, however, that some are more 'economical' than others, per se. For instance, some use salmon oil for glucosamine, while others will use chicken meal.
That's at least three strong points in the brand's favor thus far. Simply Nourish uses healthy, high-quality ingredients, minimal to no artificial add-ins, and also, it won't put a hole in your pocket if you've got more than one pooch!
Simply Nourish Dog Food Recalls
We've heard of only one Simply Nourish dog food recall that's occurred during the past decade. In 2014, that is, one line of Simply Nourish dog treats were taken voluntarily off the shelves by PetSmart. The reason was for possible mold growth in the Biscotti with Beef & Sweet Potato treats.
Since then, we've heard nothing else from either the FDA or in the media about Simply Nourish dog food recalls.
Why the Simply Nourish Puppy Food Reviews and Simply Nourish Dog Food Reviews?
So why is this brand of dog food worth reviewing? Here's a quick recap and some more pointers…
We like that Simply Nourish is manufactured here to high standards, in USA-based facilities;
The brand has numerous grain-free options, although not all are currently available for sale online;
There are breed-specific formulas as well as different life-stages recipes (for puppies, grown, and veteran dogs);
As you'll see in our Simply Nourish dog food reviews, there are also limited ingredient blends for intolerant dogs; and
They use real veggies and fruits to ensure your puppy or dog gets the 'good stuff' – antioxidants, phytonutrients, fiber, vitamins, and minerals.
In the following reviews, we've read all the labels to bring you facts about adult, puppy, and senior Simply Nourish food!
Our Simply Nourish Dog Food Reviews
Let's kick off with one of the most popular 'original' formulas — for adult dogs of all different breeds and sizes!
Original Simply Nourish Dog Food Reviews
Simply Nourish Adult Dry Dog Food
Pros
Gives your grown dog 24% protein and 13% fat, which is a good ratio;
It's designed for all different doggy sizes, from small-breed pooches to giant St Bernards and Mastiffs;
Chicory root in here acts as a natural prebiotic, enabling easier digestion and helping your dog avoid a sore tummy;
Contains spinach for Vitamin C, carrots for Vitamin A, sweet potatoes for minerals, and more; and
Has supplements for everything else your grown dog requires!
Cons
Includes brewer's rice, which some owners consider a filler ingredient.
Our Verdict: 4.5/5
This blend is a great choice for all kinds of grown dogs, and it ticks a lot of boxes for us. Veggies, check! Real meat as the main ingredient, check! Prebiotics, Omega acids, antioxidants, check, check, check! The only thing is that we can see it contains turkey meal, but no glucosamine content is noted — we'd love if that was included on the label.
The Simply Nourish Puppy Food Reviews
Simply Nourish Small Breed Puppy Dry Dog Food
Pros
Features 30% protein, perfect for growing little ones!
With 17% fat, it's got plenty of healthy calories to give your dog energy;
Steel-cut oats are great for your puppy's skin and promote smooth digestion;
Offers 400mg of glucosamine per kilo; and
Has DHA from natural salmon oil.
Cons
None! This is affordable, balanced, and complete for small-breed pups.
Our Verdict: 5/5
This formula also offers antioxidants from flaxseed and blueberries, plus healthy fiber which will enable easy breakdown. Small dogs require lots of energy too, and at 370 k/Cal per cup, this is ideal for growing
Yorkies
and other small puppies.
Simply Nourish Puppy Dry Dog Food
Pros
Salmon oil in this formula will give your puppy DHA — this helps his eyes and brain develop;
With so many dried veggies, this is a great source of fiber and vitamins;
Contains beta-carotene to help pup fight off infections and disease;
Gives your puppy 29% protein for muscle growth; and
Provides selenium and zinc for your best friend's skincare.
Cons
None, really — we love it!
Our Verdict: 5/5
This contains salmon oil, which has not only DHA but chondroitin and joint-supporting glucosamine, too. That's especially important if your little pup is a
large
or
giant breed
, as these may be more prone to developing joint complications later on.
Simply Nourish Small Breed Dog Food Reviews
Smaller dog breeds such as Shih Tzu, Corgis, and Chihuahuas will often require larger amounts of calories to help them avoid hypoglycemia between meals. We've reviewed one small-breed grown-up food, but Simply Nourish also creates small-breed puppy food and a senior blend, too!
Simply Nourish Small Breed Adult Dry Dog Food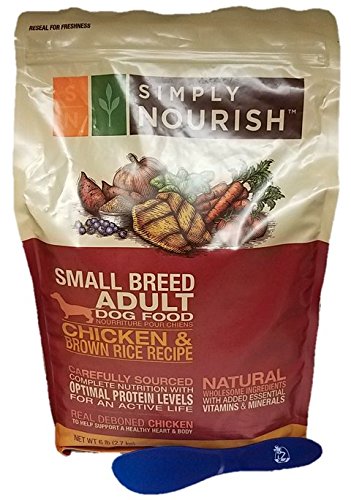 Pros
26% protein, with boneless chicken as the top-listed ingredient;
Contains Vitamin E that will aid in keeping your small-breed's skin healthy;
Chicken meal also provides your Yorkie or other small dogs with glucosamine;
At 364 k/Cal per cup, it's perfect for dogs with fast metabolisms; and
It's full of nutritious veggies, like sweet potato and spinach!
Cons
Unfortunately, it's not suitable for dogs who cannot eat grains.
Our Verdict: 4.5/5
We do usually like to see fish oil as a key source of glucosamine, but we can't fault this formula's excellent range of ingredients. And with this calorie count, it's suitable for feeding your small dog several times daily.
The Simply Nourish Senior Dog Food Reviews
Simply Nourish Senior Adult Dry Dog Food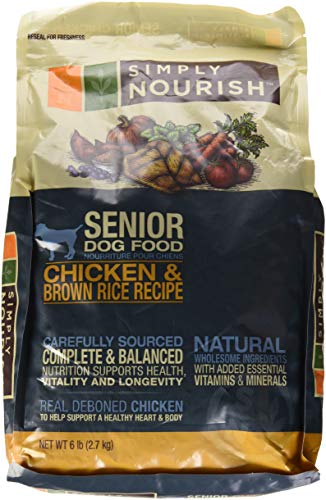 Pros
Includes glucosamine from chicken meal – which is also a rich source of meat protein;
Contains soft and easily-digestible oatmeal, for senior dogs who have sensitive tummies;
Features flaxseeds and canola oil, which are sources of Omega acids;
Has real pumpkin, carrots, and blueberries that will provide vitamins; and
Gives your dog 19% protein.
Cons
It's not gluten-free, as it contains barley.
Our Verdict: 5/5
All in all, this Simply Nourish formula covers a lot of our senior dogs' needs. It has healthy fiber from wholesome sources such as oatmeal and veggies, plus it also helps to maintain the health of their joints through natural glucosamine from chicken meal.
The Simply Nourish Canned Dog Food Reviews
Older dogs usually do very well on wet, canned food. But, of course, so do all pooches! This stew is very nifty indeed, with a resealable plastic top for convenient storage.
Simply Nourish Wet Canned Dog Food
Pros
Gives your pooch 10% protein — that's a brilliant figure for canned doggy dinners;
Made with chicken broth for flavor, which also gives your dog minerals and vitamins;
Includes Vitamin A from carrots;
Supplemented with essential trace minerals like calcium, iron, copper, zinc, and phosphorus; and
The plastic top makes storing this food easy — if your pooch doesn't need the whole can, you can simply pop the top on and put it in the lid for later!
Cons
Unfortunately, this blend is only for adult pooches!
Our Verdict: 5/5
This is comparatively high in protein — usually, we see wet formulas coming in at around 8.5-9.5% protein. With chicken shreds for added texture, your grown dog will love the variety this meal offers.
Hypoallergenic Simply Nourish Dog Food Reviews
Simply Nourish makes Limited Ingredient with flaxseed — gluten-free, but some people do choose to classify this as a grain. Nonetheless, they leave out the more common allergens that dogs can become intolerant to over time — chicken, beef, and similar.
Simply Nourish Adult Dry Dog Food, Natural Ingredients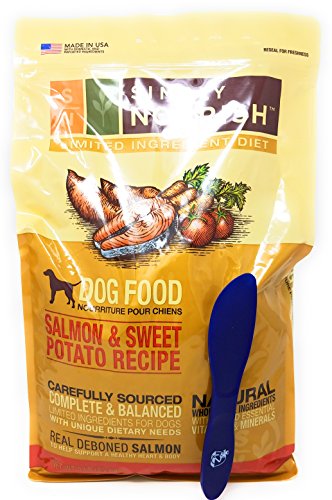 Pros
We like the natural ingredients in here — there aren't any meat by-products or any of the obvious grain fillers;
It's all naturally preserved and flavored;
Provides your grown dog with 25% protein for optimal maintenance of those strong muscles;
Has an ideal calcium-phosphorus ratio for resilient teeth and bones; and
Contains soluble fibers from tomato pomace!
Cons
None that we can see — for a limited ingredient recipe, this is exactly what we'd look for.
Our Verdict: 5/5
This recipe has been carefully designed to help reduce the chances of your dog reacting to the most common food allergens. It has zero potatoes and no beef, egg, or chicken. Perfect for intolerant doggies!
FAQ
What do veterinary professionals think of Simply Nourish Dog Food?
Simply Nourish is considered a higher quality food in comparison to many other store bought brands. With having multiple diets that cater to different pups and containing nutritional ingredients, Simply Nourish will give your furry friend exactly what they need. Veterinary professionals love any store bought diet that offers a specific formula for multiple types of canine friends. With having a range of diets that cater to sensitive dogs, large breeds, small breeds, puppies and more, this brand is respected in our eyes!
My friend has said that 'Made in USA' stickers aren't reliable, what does she mean?
Good question. And, your friend has a point. Dog foods must be entirely from US products or have 'virtually all' of their ingredients from the USA to carry this label. If this isn't accurate, they must provide a clear disclaimer. Simply Nourish is a good example, as their products say "Made in the USA with Domestic and Imported Ingredients".
From here, we can't tell with any certainty why some ingredients are imported and others are not — without looking at the rest of the ingredients label. Ingredients may be imported because doing so is cheaper overall, or because certain world regions are known for producing high-quality ingredients. For example, dog food minerals from China are relatively inexpensive for producers, while New Zealand lamb has a good reputation as delicious meat. Where we can access reliable facts about a brand's sourcing, we will state them, however, you can always contact the manufacturer directly if we have not mentioned a certain ingredient.
Is pork unhealthy for my puppy?
We have heard some owners say that pork is unhealthy for dogs, while others believe it's just another (relatively) novel form of meat. The most important thing to know is that a reasonable amount of properly cooked pork by itself is relatively harmless. As long as you don't add any seasonings (like salt), feed your pooch raw pork, or allow him excessive amounts of pork, your puppy will usually be fine. Everything in moderation — but obviously, none at all if your dog is allergic!
If you're asking about pork as an ingredient in dog food, we've reviewed several dog and puppy foods with pork as a top or key ingredient before. These have all been AAFCO approved and bone-free, as well as quality assured. If you suspect that your puppy may be reacting negatively to pork, however, head straight to the vet. And one more thing — don't give him bacon, that counts as salty pork!
Helpful Links
Last update on 2023-01-26 / Affiliate links / Images from Amazon Product Advertising API