As puppy parents, it can sometimes be tough to make a choice. You always want the very best that you can afford for your faithful friend, but at times it seems like we're overwhelmed with options. On one hand, our pups need the right nutrients; on the other, the kilos of kibble can add up to a lot of money! So, we do our very best to review every brand we can get our eager paws on — and this article looks at Authority dog food. Is it healthy? Will my gluten-free, small-breed puppy love it? Can my Corgi and my Mastiff both eat it or do I have to free up pantry space for two bags?
We'll share everything we know, so read on for our Authority dog food reviews!
Quick Review: Top-3 Dog Foods From Authority
Authority Adult Dry Dog Food

Contains 26% protein
Includes rapeseed oil and eggs for omega acids
Real meat is our top delicious ingredient

Authority Puppy Dry Dog Food

Here, ingredient number 1 is chicken
Gives puppy healthy protein 29% and 16% fat
Contains DHA and EPA from eggs and fish oil

Authority Adult Small Breed Dog Food

Chihuahua, Shih Tzu or Poodle will get 22% protein
Contains vitamins E, which make the skin beautiful
It's all-naturally preserved and colored
Who Is Authority?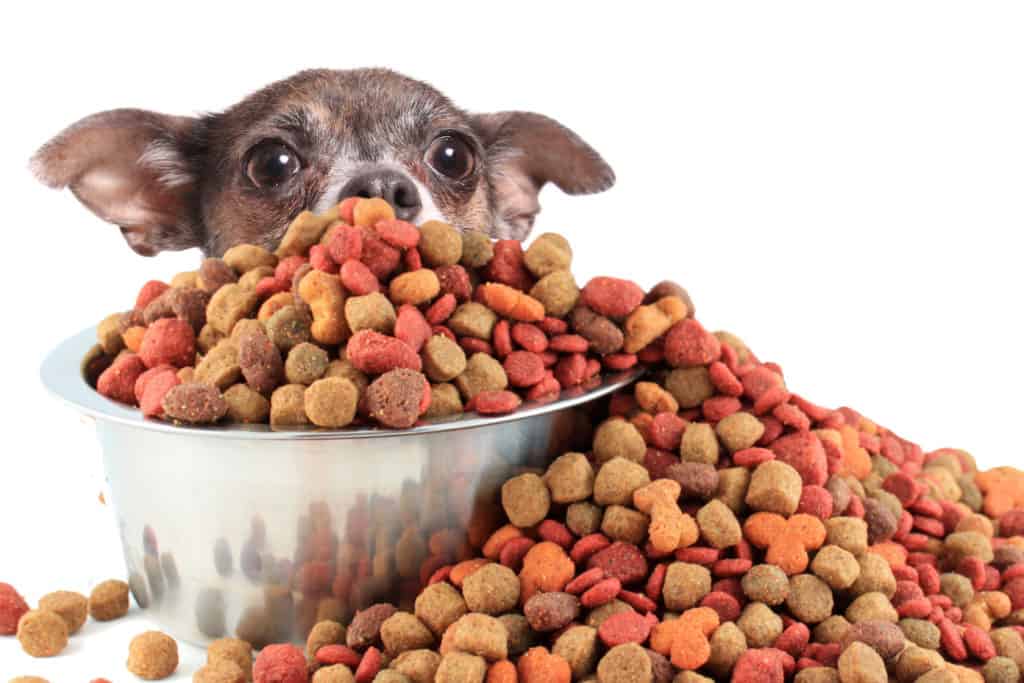 Authority is owned and made by the American retailer PetSmart, which also produces Simply Nourish pet foods. Founded in 1995, Authority also creates cat food and some very popular, delicious-sounding dog jerky and training treats. They may not be as well-known as some of the larger brands we've reviewed–however, Authority foods, on the whole, contain some decent ingredients and all their kibble has authentic meat as the top ingredient.
In terms of puppy and dog food, Authority sells wet, canned meals and dry kibble for lots of different doggy sizes. You won't find overly novel or exciting ingredients here — think chicken rather than alligator or bison — but that doesn't mean your dog can't choose between stews, meaty entrées, 'Tender Blends' (crunchy on the outside, soft on the inside!), and more.
All of it is made in the USA, but ingredients are sourced globally, according to PetSmart's official website and the Authority dog food packaging.
What's Special About Authority?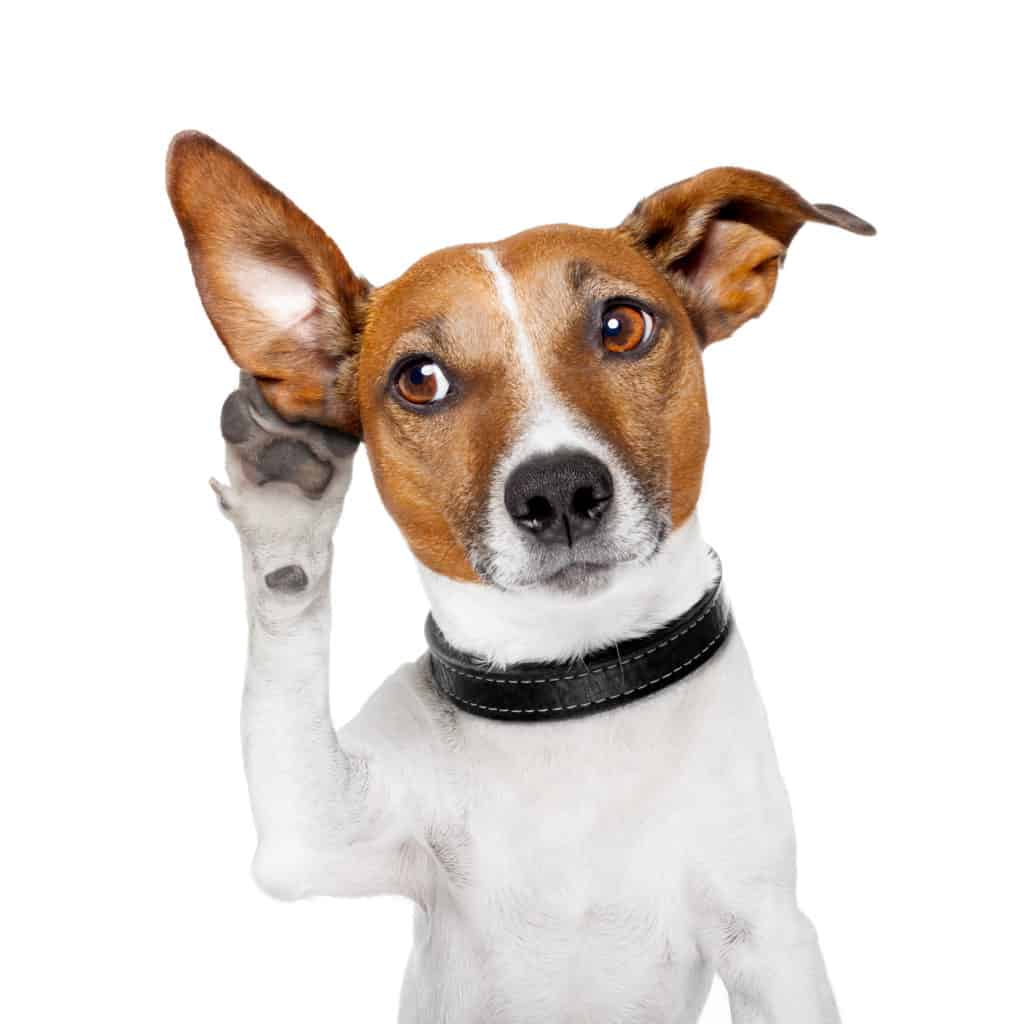 The first thing you might notice is that Authority dog food comes at a relatively affordable price — for owners of several dogs, that's an important practical consideration. For what's essentially a very reasonable price, you can expect genuine meat at the top of the ingredients list, no by-products from animals, and on the whole, very few (if any) synthetic preservatives. That is, there are no fake preserving agents like BHT or BHA in our Authority dog food reviews below!
What we do see, on the other hand, is some of the more typical 'kibble fillers'. Corn, for instance, doesn't provide our pups or grown pooches with much in the way of nutrition. Corn gluten meal, as a second example, can boost the protein content of dog food without providing as many essential amino acids as meat.
That having been said, Authority dog food is also full of good things as well. A lot of their formulas contain skin- and coat-healthy Omega acids, zinc, and selenium, as well as natural DHA sources. They create a range of different breed- and life stage-specific foods, as well as hypoallergenic (or at least limited ingredient) formulas for intolerant dogs.
While Authority doesn't have official 'ranges' for its food (for the overall quality vs. price, we're not complaining) here's what you can expect:
Authority Everyday Health – This is the largest range of food and it includes both canned and dry formulas. Some examples you'll find in here include Small Bites for smaller pooches, High Performance with optimal fat and protein, and Tender Blends with soft little bites.
Authority Targeted Solutions – In this line, there are special blends for dogs with specific needs. If your pup or senior pooch has joint concerns, you'll find glucosamine-rich formulas with chondroitin to help. If he's putting on the pounds, Authority Targeted Solutions includes calorie-controlled formulas, too. To be honest, they even have dog food that combines weight management and joint care needs!
Authority Dog Food Recalls
So what about safety and quality, then? We could only find evidence of one Authority dog food recall, from over 10 years ago in 2007. Affected products in this wide-spread melamine contamination recall included their Adult Chicken & Rice Cuts Dog Food, Chicken, Rice & Gravy Dog Food, and the Adult Beef, Rice & Gravy Dog Food.
These were related to imported vegetable protein ingredients from China.
Why the Authority Puppy Food Reviews and Authority Dog Food Reviews?
Overall, there are some good-quality ingredients in the brand's products, as you'll see in our Authority dog food reviews. There are some fillers, but you'll have a hard time trying to find any strange meat/animal by-products. Here is what we like:
Authority dog food is made here in the States, and that usually means that reliable and stringent standards are adhered to in terms of safety and quality;
Meat is always the very first kibble ingredient;
Protein- and fat-wise, their different formulas are well-balanced for different breeds and life stages;
Authority has an extensive range of 'special diet' options; and
If you're aiming to keep costs low without throwing quality to the wind, the brand is affordable.
Our Authority Dog Food Reviews
Most Popular Authority Dog Food Reviews
When it comes to our dogs, we've got small breed food, senior dog food, puppy kibble, and ever so much choice. But sometimes, we just need a convenient blend that suits all doggy types, and that's what this Authority Adult food offers!
Authority Adult Dry Dog Food
Pros
Contains 26% protein, which is a very reasonable figure for an adult dog blend;
Includes canola oil and some egg for Omega acids; and
Real meat is our top delicious ingredient.
Cons
This actually contains quite a few grains, and in different forms too. That includes corn gluten meal and regular corn; and
Sadly, there aren't any veggies!
Our Verdict: 4/5
While
grain-free
isn't necessarily the most appropriate diet for every single dog, some grains serve more of a function than others do. In this example, we consider brown rice valuable for its fiber content, but corn may be seen as a filler.
The Authority Puppy Food Reviews
Authority Puppy Dry Dog Food
Pros
There are zero artificial additives for flavoring, coloring, or preservation;
The #1 ingredient in here is real, boneless chicken, followed by chicken meal;
Gives your little pup a healthy 29% protein and 16% fat;
Contains DHA and EPA from eggs and fish oil, aiding your best friend's cognitive development; and
It's developed so for all differently-sized pooches to enjoy!
Cons
You'll notice that there's some corn gluten meal included in this blend.
Our Verdict: 4/5
This particular formula for pups is also designed to clean their teeth somewhat while they eat. Puppies up to a year old can benefit from this Authority puppy food, but of course, your pup may need more or less time on puppy food depending on his breed.
Authority Small Breed Dog Food Reviews
Authority Adult Small Breed Dry Dog Food
Pros
There are natural Omega acid-rich ingredients here to keep your grown dog's fur in nice condition, such as canola oil and flaxseed meal;
The top two ingredients are meal from lamb and boneless lamb;
Contains Vitamins E to keep your dog's skin as lovely as possible; and
It's all-naturally preserved and colored.
Cons
This isn't okay for gluten-free dogs, as it contains wheat, brewer's rice, and oats, among other grains; and
There are no veggies or fruits in here, unfortunately.
Our Verdict: 4/5
This is USA-made and developed exclusively for smaller-breed pooches. At roughly 357/kCal per cup, it's well-designed to satisfy their high-calorie metabolic demands. And, it has inulin which helps smaller dogs with sensitive tummies to digest the food easily.
FAQ
What do veterinary professionals think of Authority Dog Food?
The Authority Dog Food brand is seen as one of the main "veterinary grade" brands for dog owners on a budget. Though it may not meet the same standards of the dog food sold in animal clinics, Authority does try their best to cater to dogs of all kinds and medical conditions. With having diets for dogs with joint issues, overweight pups, senior dogs, and more, this brand does offer something special in terms of specific care. If you are a pet owner that may not be able to afford the price tag on the most popular veterinary diets, Authority is a wonderful option for you!
What is corn gluten meal in my puppy's food?
Contrary to what you might expect, corn gluten meal does not — unless contaminated — contain any gluten at all. When corn or maize products like corn syrup are processed, corn gluten meal is one of the by-products. In your pup's food, it plays at least two main roles — however, they are not necessarily about nutrition.
First, corn gluten meal helps kibble to stay in shape: in a way, it's a 'binder'. Second, it does contain around 60 percent protein, so it increases the overall protein content of your pup's dinner. It is essentially cheaper than meat, but of course, we prefer to see meat in a dog food instead of corn gluten meal. Most sources agree that the degree to which these corn gluten meal proteins can be absorbed by your dog is limited. In general, it is considered a filler ingredient.
Can I mix special diet food with regular puppy food?
Are you considering getting your pup onto a particular type of diet — for weight management, or sensitive skin? If the answer is yes, the first thing to do would be consulting your puppy's vet. See if they can give you their advice about the switch and whether they think it's a good idea.
If you've already asked your vet or he/she is the one recommending that you feed your pooch with special diet food, it's best not to mix it with regular food. Blends with specific formulas are designed that way for a reason, usually to delay or avoid the occurrence of a medical condition. If you start mixing in regular food, you might be decreasing its effect, essentially you're 'watering it down'. If in doubt, it's always best to err on the side of caution. Consult your vet, and you'll also be giving yourself some peace of mind!
Helpful Links
Last update on 2022-09-20 / Affiliate links / Images from Amazon Product Advertising API