Australian Shepherds are hyperactive pups with a desire to be loyal companions. Bred originally as working dogs, they make excellent family members that love to be by your side. If you've recently adopted a new Shepherd puppy, you're probably looking for an Australian Shepherd food that supports his build, energy levels, and genetics. While there aren't any breed-specific kibbles that we are aware of to date, we can help you understand his dietary needs and choose a healthy formula that he'll thrive on. That means picking out a recipe with sufficient healthy protein, fat, vitamins, and minerals for whatever life stage he's currently at. Read on to find out more!
Quick Review: Top-3 Dog Foods For Australian Shepherds
Earthborn Holistic Puppy Vantage Grain Free

Gives your Aussie Shepherd pup 28% protein and 18% fat
Contains Omega-3 from flaxseed and eggs, including DHA
L-Carnitine assists with optimal cellular processes

Nature's Recipe Grain Free Dry Dog Food

With 27% protein, this is the perfect recipe for optimal dog care
There are zero chicken by-products
It's gluten-free

Rachael Ray Nutrish Natural Dry Dog Food

Includes all the mineral and vitamin
Real US chicken is the very first ingredient
Prebiotic inclusions promote easy canine digestion
Choosing The Best Food For Australian Shepherds
Whether you have a Miniature Australian Shepherd or a medium-sized Australian Shepherd, the best formula for your dog will be designed for all different breeds and sizes. Why? Because there are different types of Australian Shepherd, and as adults, they may reach anywhere between 20 lb (Mini Aussie Shepherds) and 70 lb (regular Australian Shepherds) when they've fully matured.
As such, your dog won't require a small-breed formula, and only some are going to require a recipe that's designed for larger breeds. In the reviews below, we've thus looked at recipes that meet the needs of all breeds and specified whether that includes large puppies or not.
What's Special About The Best Australian Shepherd Dog Food?
Active by nature, Australian Shepherds typically love getting outdoors and moving around. As owners ourselves, we always see dog food as important — but only one part of a healthy lifestyle. Try to ensure your puppy or grown Shepherd is getting at least half an hour of daily exercise as a bare minimum. They'll also need constant access to fresh water, and — given their love of playing — a chew toy!
The Best Food For Australian Shepherd: Puppy
New puppies are always so much fun to welcome into the family — even shopping for puppy food can be exciting! While there's more than one great Australian Shepherd puppy food on the market, they aren't branded as such. There's no kibble that's marketed as "Australian Shepherd Puppy Food", so you can use these pointers to pick a balanced and appropriate formula for your little one.
All puppy foods should feature at least 24-25% protein, but your Australian Shepherd puppy might do better on a high-protein formula if he's particularly active. We've reviewed some Australian Shepherd puppy foods with up to 30% protein so that you can find something for your energetic pooch.
The best Australian Shepherd puppy food will have between 15 and 19% total fat. Healthy fats will usually be named, recognizable lipids from animals, but some plant-based fats like sunflower oil are also a good source of Omega acids.
Some fats also play a beneficial role by keeping your Australian Shepherd's coat shiny and his skin strong. These Omega fats are always a good thing to find in puppy food and may be in the form of flaxseed, salmon oil, or other fish oils. Omega-3, especially, can sometimes include DHA — this is a helpful compound that your pup's body uses in brain development.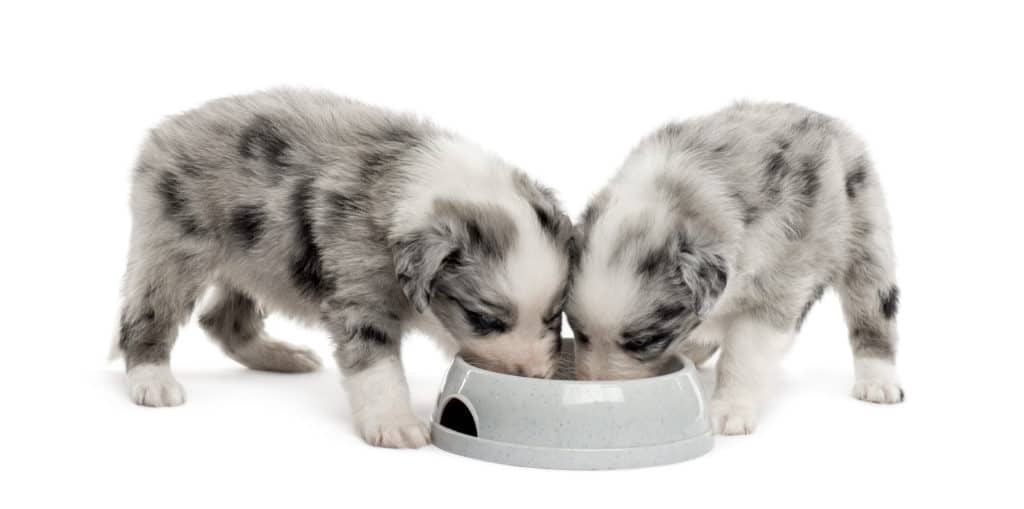 These tips are a good place to start if you're searching high and low for the very best Australian Shepherd dog food, but there are also some other things you'll want to be aware of.
Sometimes, it's possible to find a balanced formula that ticks all these boxes but still isn't 100% healthy. If you can, try to pick out a puppy food with as many natural ingredients as possible — look for real chicken rather than chicken by-products, or for brown rather than brewer's rice. If you are ever in any doubt, it doesn't hurt to ask your vet for more information about a specific ingredient.
The Best Food For Australian Shepherd Adults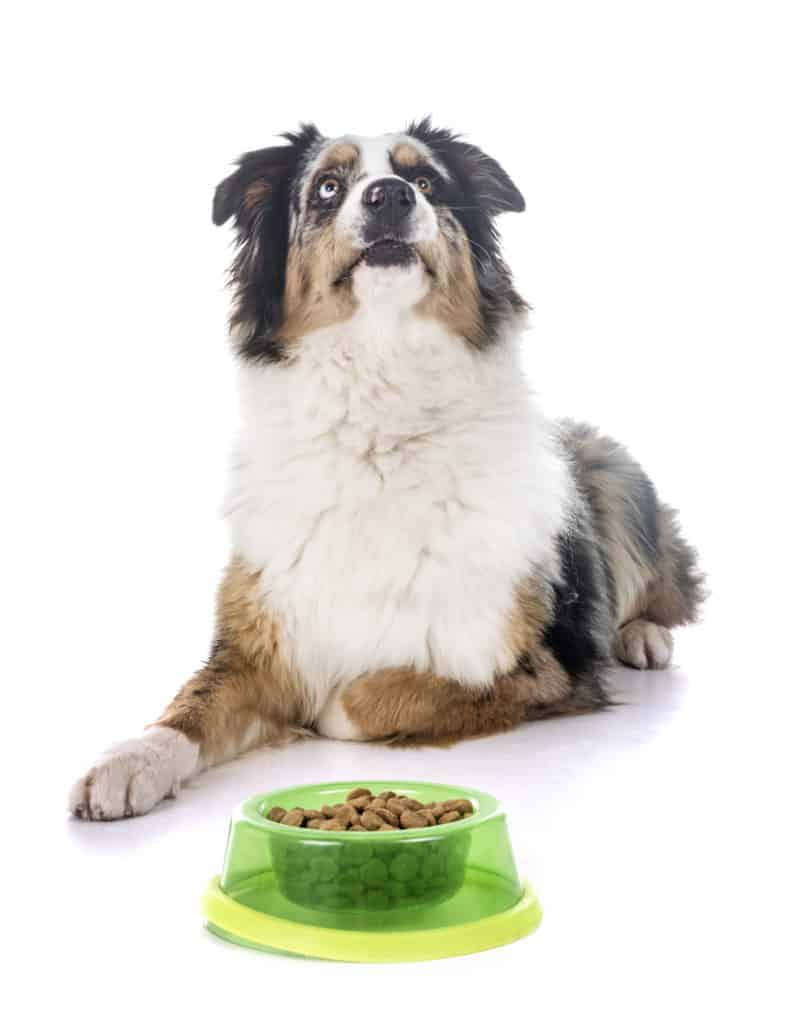 Unlike with puppies, a grown-up dog's dietary requirements are not growth-focused. In fact, the high-protein and high-fat design of a puppy formula can contribute to excessive weight gain in adult pooches, which owners need to be aware of when shopping for the right food.
Australian Shepherd food for adults generally contains less total protein, a smaller proportion of fat, and fewer calories in each cup. Because their jaws are fully developed and have reached their full strength by adulthood, Australian Shepherds can also do quite well with regular-sized kibble. Throughout their lives, they will always be happiest and healthiest when their food contains wholesome, natural ingredients.
The Best Australian Shepherd Food: Brands We Love
Our team values transparency very highly — if you ever want to learn more about a specific brand that we've reviewed, you'll find more helpful insights on our Brands page. On the other hand, don't worry if you don't see your puppy's favorite brand on this list, these are just a few of the reliable, quality brands that make some of the best dog food for Australian Shepherds:
Best Food For Australian Shepherd Puppy Dinners
Rachael Ray Nutrish Natural Dry Dog Food, Real Chicken & Veggies Recipe
Pros
Offers a nice 26% protein for active and growing Australian Shepherd puppies;
Includes all the mineral and vitamin goodness of carrots and peas;
Provides 14% fat for sustained and lasting energy release throughout the day;
Real US chicken is the very first ingredient; and
Prebiotic inclusions promote easy canine digestion.
Cons
There's some corn inside this formula.
Our Verdict: 4.5/5
This Rachael Ray formula is a super example of the many other natural recipes that make up the brand. Carefully selected for their nutritional value, the ingredients in here are wholesome and naturally preserved — giving your Australian Shepherd energy both to grow and maintain a lean muscle tone.
Natural Balance Limited Ingredient Diets Dry Dog Food
Pros
Gives 24% protein, and contains real lamb;
The salmon oil content in this blend provides DHA, a great addition for your puppy's eyes and brain;
Omega fats also serve as a valuable source of skin-protective nutrition;
Designed with small pieces, this is perfect for puppy-sized jaws; and
Even the largest Aussie Shepherd pups can enjoy this balanced recipe for all dog sizes.
Cons
We'd like to see more in the way of colorful fruits and leafy veggies.
Our Verdict: 4.5/5
While it doesn't use any corn or wheat, this puppy formula is a great source of digestive brown rice fiber. If it's advisable for your puppy to stick with one type of animal protein, this lamb recipe is both a delicious and nutritious way to keep him in great shape.
Earthborn Holistic Puppy Vantage Grain Free Dry Dog Food
Pros
Gives your Aussie Shepherd pup 28% protein and 18% fat;
Contains Omega-3 from flaxseed and eggs, including DHA;
With carrots, spinach, apples, and cranberries, it contains plentiful fiber;
Zinc, Vitamin E, and selenium help your little one's coat and skin stay healthy; and
L-Carnitine assists with optimal cellular processes.
Cons
None — we're even loving the budget-friendly price of this recipe!
Our Verdict: 5/5
This is some of the best puppy food for Australian Shepherds that we could find. Thanks to its complete and nutritionally appropriate formula, natural vitamins and fibers, and DHA content, it's nothing short of a well-rounded blend for active, growing pups.
The Best Australian Shepherd Food For Grown Dogs
ORIJEN Dry Dog Food, Original, Biologically Appropriate & Grain Free
Pros
Full of animal organs and proteins, this will definitely satisfy your grown Shepherd's meat cravings!
Featuring 85% fish, egg, and game ingredients, this evolutionary formula is great for keeping those lean muscles at their peak performance;
Totally grain-free, this is a perfect option for gluten-free pooches;
Contains no potatoes at all; and
It's naturally flavored and preserved, with freeze-dried or raw meats for maximum nutritional benefit.
Cons
This premium dog food comes at a price — Orijen is some of the most expensive food on the market.
Our Verdict: 5/5
Super-healthy and rich in delicious meats, this original Orijen recipe is ideal for all types of Australian Shepherds. Big dogs and Miniature Shepherds will find optimal amounts of natural glucosamine, as well as Omega fats in this recipe for all-round health.
Merrick Dry Dog Food with added Vitamins & Minerals for All Breeds
Pros
Keeps your dog's muscles fighting fit with 25% protein;
15% fat ensures your Aussie Shepherd gets sufficient energy while keeping the GI low;
A rich serving of Omega fats will keep that glossy coat manageable and shiny;
Glucosamine from lamb meal and supplements are important for helping dogs avoid joint dysplasia; and
It's full of nutritious antioxidants from delicious superfoods like chia seeds and blueberries.
Cons
None that we're able to spot!
Our Verdict: 5/5
Traditional grains provide the natural fiber in this classic pea and lamb dinner, while quinoa, salmon, and pork ingredients give your pooch a tasty range of different flavors. This is some of the best Australian Shepherd food we've found in terms of natural Omega fats and glucosamine content.
Nature's Recipe Grain Free Dry Dog Food
Pros
This formula leaves out a lot of the usual allergen triggers — there's no corn, beef, or potato to be found anywhere in here;
With 27% protein from multiple sources, this is an ideal recipe for optimal canine maintenance;
There are zero chicken by-products to be found in this naturally colored product;
It's gluten-free; and
Contains ample micronutrients that your dog needs, such as Vitamin C from apples, E from sweet potatoes, and B vitamins for energy!
Cons
Our Verdict: 5/5
Grain-intolerant Australian Shepherds can dig into this dinner with no fear of allergies, and it's full of vitamins and antioxidants. A healthy amount of protein, fat, and Omega acids make it a super choice for sedentary and active dogs!
Taste Of The Wild High Prairie Grain Free
Pros
Real meat protein from buffalo and lamb
Grain free
High quality carbohydrates
Added vitamins and minerals for joint and skin support
Cons
Does contain chicken meal, so dogs with poultry allergies may not be able to enjoy
Our Verdict: 4/5
This is a high quality diet that brings your dog back to their wild roots! Your adult Australian Shepherd will love this diet.
FAQ
What is the best kind of exercise for my Australian Shepherd?
As we've mentioned, Aussie Shepherds as a breed tend to be energetic. Pups can be especially playful, so try to get them involved in any type of aerobic exercise for between thirty and sixty minutes every day. While they don't exactly need a structured workout, this generally means walking, light jogging, or letting your Shepherd play freely in a safe, supervised space like a dog park. Unlike some smaller breeds, a grown Australian Shepherd is quite capable of keeping pace alongside you if you're out for a hike — you can even take him out for longer adventures and bring a snack!
If a half hour of supervised exercise time with your puppy is all that you can manage on weekdays, don't despair! Try to make up for it with longer walks on the weekends, and make that half hour as energetic as possible. Play ball, frisbee, or fetch with your puppy — even try teaching him some active games you can play together to make the most of it.
My Australian Shepherd puppy keeps eating grass when I take him out. Is this safe?
You might have heard about cats eating grass before, but maybe haven't heard that dogs do the same. The good news is that this is totally normal  — while we cannot be 100% clear on the reason behind this, most vets would agree that it's not unusual behavior.
It may be that your puppy is attempting to get more fiber in his diet, and/or that he is having some trouble digesting his food. Of course, we cannot know without seeing your dog, but you might try switching to an Australian Shepherd food with more fiber. Look for a recipe that uses either healthy, whole grains or one that contains fiber from vegetables and fruit.
Another possibility is that your puppy may have worms in his intestine. In this case, his grass consumption might frequently be followed by vomiting, and you may notice other symptoms such as runny stools or itching. If you suspect worms may be the cause of this behavior, please take him to the vet to get some professional advice.
Lastly, your puppy may just like the taste of fresh grass. As long as it's not covered in harmful chemicals or close to any poisonous plants, this is not a cause for too much concern.
Helpful Links
Last update on 2023-09-17 / Affiliate links / Images from Amazon Product Advertising API