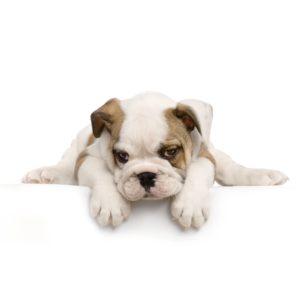 Are they large dogs? Are they medium dogs? Well, they're certainly not small! We can't resist Boxers, and if you've got one, you'll know that these medium-large bundles of love are as lean and fit as dogs come. Not to mention enchantingly faithful, playful, and (usually!) a perfect companion for other family pets.
But such healthy, rippling muscles and all that affectionate energy doesn't come from any old food. There are several things that make the best dog food for Boxer puppies different from other breeds' chow. When you're shopping for the most suitable Boxer puppy food for your little friend, you'll want to take into consideration their:
Larger joints, and tendency towards joint complications;
Relatively slow development periods (up to 1 year);
Enthusiastic (gulping-style) eating habits!;
Muscular build; and
Large, strong jaws and teeth.
So now that we know what makes a Boxer dinner unique, let's take a look at some of the brand names which make the very best dog foods for Boxer puppies.
Quick Review: Top-3 Dog Foods For Boxers
Taste of The Wild Grain Free High Protein

Suited for longer-lasting periods of growth and development
Buffalo is the key ingredient in this tasty formula
DHA, which is naturally occurring in salmon oil

Diamond Naturals Adult Large Breed

With 23% protein and 13% fat
1% calcium for robust teeth and bones
Omega acids will help to your Boxer

Purina Beyond Grain Free Natural Recipe

You won't find any poultry milled by-products
No grains or artificial flavors, either
27% total protein & healthy 16% fat
Names To Note When Picking The Best Dog Food For Boxers
If you've already had a quick scroll down to our reviews of puppy food for Boxers, you'll notice a few very popular brand names. Here are the manufacturers that we trust for healthy, high-quality dog food, every time:
So, most of us owners already know that these muscular 60-70lb dogs require lots of protein. But what else do they need to stay healthy and strong?
The Best Dog Food For Boxer Puppies Will Have…
Tasty proteins! Your target protein range should be around the 30% mark, but a little more or less is usually fine. You know your puppy best, so you'll be able to make a sound judgement based on his or her size, level of activity, and lifestyle more generally. More active dogs and larger, intact males will be in need of slightly more protein, while their smaller, female counterparts may not require as much.
You'll also want to ensure that you're picking the best dog food for Boxer puppies in terms of fat and calorie content. Around 14% is usually just right for the former, and your Boxer puppy food should have around 55 calories per lb of his body mass. As we've noted, keep your eyes peeled to ensure that your little one is getting a Boxer puppy food with chondroitin, glucosamine, and sufficient calcium for shiny and strong teeth.
When Your Dog Outgrows Boxer Puppy Food…
He'll want something that provides him with at least 20-23% protein in each serving. As our Boxer puppies grow into handsome adults, they will need about 2000 calories daily. Of course, once again, this is only a rough measure—the more energetic and active they are, the more calories they'll need for burning. Try and make sure that you're not giving them too much fat, either: approximately 16% is a nice rough guide to use.
Boxer Dog Food: Wet Or Dry?
While we've mostly featured dry kibbles in our reviews today, wet food does have many strong points for Boxers. First of all, just like every other dog breed, they will often welcome a change from crunchy dry food when you bring some cans home! Wet food smells super delicious for dogs, and can be a very lovely way to treat them to something nice. If you're worried about canned food costing more, you can always alternate wet and dry food, or just top up some of Fido's kibble with a bit of yummy wet chow.
We particularly recommend wet Boxer food for both adults and puppies who don't get a lot of water in their diets, as well as those older dogs who might lack the teeth to chew kibble. We also highly recommend it for those Boxers who get plenty of activity, as they will need to replenish fluids and minerals that they lose during these periods.
So don't worry too much about choosing between dry or wet food; as long as you follow the feeding instructions for swapping the two, you'll be just fine!
The Best Dog Food For Boxer Puppies
With everything we've already discussed in mind, here are our team's reviews of the best dog food for Boxer puppies!
Wellness Core Dog Dry Grain-Free Food Large Breed Puppy
Pros
Between 32 and 37% protein in this food, a super-duper amount for growing Boxers who need lean muscle;
Rich levels of chondroitin and glucosamine to provide enhanced support for joints;
All-natural boneless turkey as the leading ingredient;
Completely free from all grains – perfect for dogs on a gluten-free meal plan; and
Contains a reasonable (15%) amount of fat for medium-large dogs.
Cons
None that we're able to spot!
Our Verdict: 5/5
Wellness Core is a great example of a brand that makes well-rounded, balanced food for our beloved puppies. Inside this blend, you'll also find a mix of real vegetables, and 1.3% calcium for keeping those bones as healthy as can be.
Taste of The Wild Grain Free High Protein
Pros
Suited for longer-lasting periods of growth and development, this is a Boxer puppy food that your little sidekick can enjoy for a full 12 months;
Easily digested and soft on little puppy tummies (thanks to zero grains!), this is a gentle formula for Boxers with a sensitive stomach;
Contains all the antioxidant awesomeness of flax seeds, blueberries, and more, for immune system well-being;
Buffalo is the key ingredient in this tasty formula, followed by lamb meal and vitamin-rich sweet potatoes; and
Contains DHA, which is naturally occurring in salmon oil.
Cons
Super, super active puppies (such as those who are training or working) may require more than the 28% protein provided.
Our Verdict: 5/5
The best food for Boxer puppy growth and development is not only going to tick all the nutritional boxes, but it's also going to have quality ingredients. This Taste of the Wild recipe meets both of our standards in this respect, so comes highly recommended!
Orijen Large Breed Puppy
Pros
2/3 of all the meat ingredients in this Boxer puppy food are either raw or fresh – that is, Orijen uses flash-freezing or refrigeration where other brands use preserving agents;
Eggs, chicken, lentils, peas, three types of fish, and turkey give your Boxer puppy food a huge range of diversity protein-wise;
Spinach, mustard greens, kale, and more provide natural minerals and vitamins;
EPA and DHA are included in this recipe, from natural fish; and
All fats are non-rendered for maximum nourishment.
Cons
Orijen is quite a premium brand. Because they use only the highest grade of ingredients and 85% real meat ingredients, this food is a bit more expensive than most others.
Our Verdict: 5/5
If you're after a premium, all-natural, protein-rich, and delicious Boxer puppy food, this has got to be some of the best. It includes chondroitin, glucosamine, and all the other required nutrients for our little ones' needs.
What Is The Best Dog Food For A Boxer Adult?
When your puppy reaches roughly the age of one, he'll probably have outgrown his Boxer puppy food. As he'll require slightly less in the way of fat and protein, you may want to switch him over to a grown-up recipe. Here are our top choices!
Diamond Naturals Adult Large Breed
Pros
With 23% protein and 13% fat, it's just right for maintaining lean muscle in adult Boxers;
1% calcium for robust teeth and bones;
Made with glucosamine and also with chondroitin to keep those doggy joints healthy;
There are nice vegetables to be found within this Diamond Naturals blend, such as pumpkin, carrot, and kelp; and
Omega acids will help to maintain your Boxer's glossy coat.
Cons
Not really, it's even quite an economical choice. Considering that our Boxers can tend to eat lots, that's a big plus!
Our Verdict: 5/5
You'll find a nice healthy level of protein that's just right for maintenance. Like all the other dog foods we recommend, this Diamond Naturals blend is AAFCO approved for maintenance and includes L-Carnitine for a heart-healthy dinner.
Blue Buffalo Blue Life Protection Formula Large Breed Adult
Pros
Made with chondroitin and glucosamine to help prevent hip dysplasia and other conditions affecting the joints of larger breeds;
Zero poultry fillers/by-products;
No corn whatsoever, as well as zero wheat or soy;
Boasts 20% protein and 14% fat, as well as 1.2% calcium for super bone health; and
Simply bursting with carefully preserved vitamins inside their special, cold-processed LifeSource Bits®.
Cons
If your Boxer is lucky enough to be getting a lot of exercise, or if he's a working dog, he may require slightly more protein than the amount that this food offers.
Our Verdict: 4.5/5
This lamb blend has none of those gluten-containing foods that often trigger tummy problems. It's a fresh flavor for your Boxer if he is used to eating chicken dinners, but it's carefully designed to offer all of the same nutritional benefits. Yummy!
Purina Beyond Grain Free Natural Recipe
Pros
You won't find any poultry milled by-products in here, nor any fake preservatives or colors;
There are no grains or artificial flavors, either;
Developed especially by Purina nutritionists, this recipe uses beef as the starring protein ingredient;
There's 27% total protein in every doggy bite; and
A healthy 16% fat, ideal for Boxers who get plenty of exercise.
Cons
Boxers who can't handle beef or eggs are going to need a different formula. But don't worry, the Purina Beyond line has many different flavors to pick from!
Our Verdict: 5/5
Purina has sometimes come under criticisms from pet owners for their choice of ingredients, but we adore the Beyond line of foods. If your 'pet peeve' with Purina is the use of by-products, this range is free of the most common fillers and artificial add-ins.
Royal Canin Adult Canned Food
Pros
Made specifically for a large dog's needs;
Quality ingredients that veterinarians approve;
Packed with extra hydration;
Cons
This diet has multiple proteins, so it may not be ideal for dogs with diet sensitivities to certain proteins.
Our Verdict: 4/5
This canned diet is tasty, healthy, and has everything your Boxer needs to thrive!
FAQ
How much exercise does my Boxer require?
As a medium-sized dog breed, Boxers need a fair amount of exercise. The most important thing to note is that your dog needs daily exercise — it's not enough just to take one super-long walk every couple of days.
Boxers, in particular, have a fair amount of lean muscle, and this needs to be kept in shape not only with the best Boxer food, but through frequent walking, play, and running. Vets typically recommend between 30 minutes and 2 hours of exercise for dogs each day, and a Boxer's needs will be at the middle-high end of this range. But it's no hard-and-fast rule — take note of your dog's age and unique size. Smaller and older Boxers may require a little less than fit, adult males…and puppies will need lots more exercise.
Why does some of the best dog food for Boxer puppies have vegetables? They're carnivores!
While it may sound surprising at first, the very popular belief that dogs are carnivores just isn't 100% accurate. Like humans, canines are in fact omnivores. This means that they require meat to get all the essential amino acids for survival — but they have also evolved to digest plant matter.
Vegetables and fruits are a natural way to take in the many vitamins that our puppies and dogs require to carry out normal processes. They also carry out important functions such as keeping our Boxers' skin healthy, maintaining their cells, and clearing up free radicals. Some veggies are even great on their own, as a healthy little doggy snack!
Helpful links
Last update on 2023-01-28 / Affiliate links / Images from Amazon Product Advertising API