Hi there puppy lovers! We've recently been receiving lots of questions from you about grain free puppy food. Mostly, we've been asked about the benefits and characteristics of a diet that's entirely grain free.
Lots of pet food manufacturers advertise grain free products, and they've definitely become incredibly popular over the past few years. Brands like Wellness, Orijen, Blue Buffalo, Merrick, and many more all have products for your puppy's grain free requirements, but if you're going to give your fluffy friend the best puppy food for his or her needs, you'll probably want to understand:
Why some puppies need a grain free diet;
Which ingredients aren't found in grain free formulas; and
How to transition your best friend to a grain free puppy food.
So, we've covered the answers to all these questions and more, as well our top picks for the best grain free puppy foods. Woof!
Quick Review: Top-4 Dog Foods Grain Free for Puppies
Merrick Grain Free Puppy Recipe

Glucosamine will help puppy develop stronger joints
Suited our smaller, medium, and larger puppy breeds
28% protein, alongside 12% natural chicken fat

Blue Buffalo Freedom Grain Free Natural

Omega acids
ARA and DHA from fish oil
Calcium's at the 1.2%

Wellness Core Natural Grain Free

Hip dysplasia's a common problem with smaller breeds
Natural sources of vitamins and minerals
Perfect for young pooches of between 2 and 25 pounds

Merrick Classic Grain Free

Zero synthetic preservation agents
9% protein, which is ideal for a wet puppy food
5% fat
What's a grain free diet?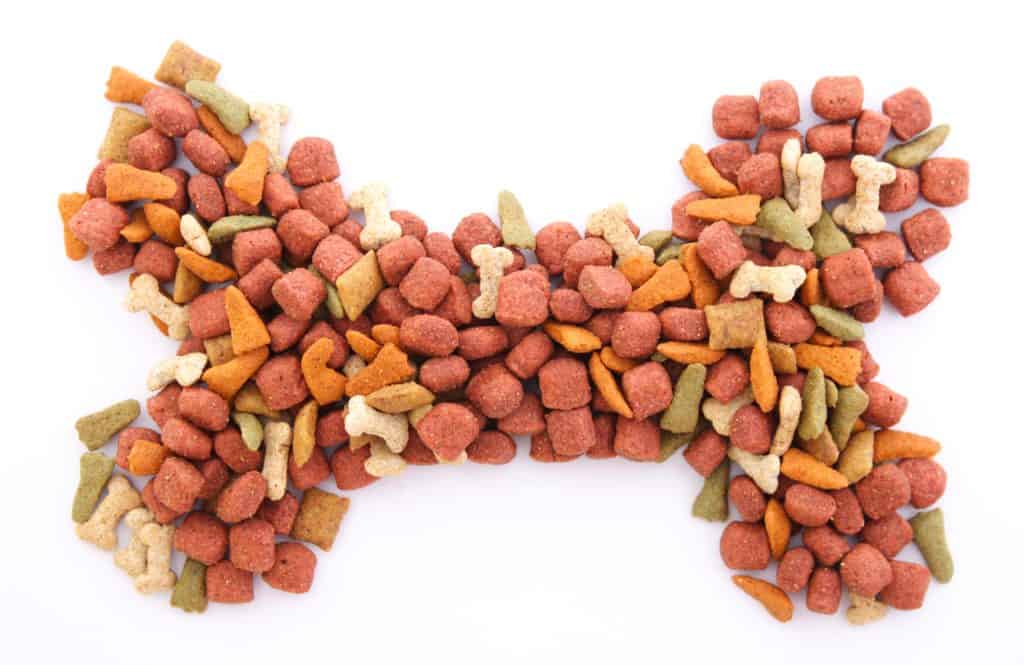 A puppy on a zero grain/grain free/no grain diet doesn't eat any grains at all. So no wheat, no soy, corn, barley, rye, or rice, among other things. Different puppy food manufacturers often have different stances on whether your best friend's dinner should contain grains or not. Some argue that grains, like rice, are a natural source of carbohydrates that puppies need for energy. Others believe that puppies do best when fed on high-protein, meat-based formulas that cut out the inessential carbohydrates. But whether you come down on one side of the fence or the other, it's always worth knowing what's on the market.
It's important to understand that a grain-free diet is not the same as a gluten-free diet because some grains do not contain gluten– oatmeal is a good example of a gluten-free grain. Puppies who are allergic to gluten should probably be fine with some grains, while those who can't tolerate grains need to be entirely grain-free.
It is worth noting that a lot of owners choose grain free puppy food over regular puppy food because grains like corn and wheat are commonly used as 'fillers'. Because these grains are often cheaper than real, high-caliber meat, they're often found in poorer-quality puppy foods as a way to bulk it up and produce it economically.
Why do puppies need grain free puppy food?
First and foremost, puppies who are allergic to grains need to be kept on a strictly grain free puppy food diet. It's also advisable for those puppies who have intolerances (which are different from allergies) to stick to grain free puppy food. Just like you and I wouldn't eat something that makes us feel itchy or sick, our puppies deserve a yummy dinner without any discomfort!
Beyond allergies and intolerances, there's no strict scientific reason why your puppy should be on a grain free diet. The most important thing to remember is that your pup needs a balanced and healthy diet that provides him with sufficient high-quality protein and fat for growth. When you're looking for the best grain free puppy food, therefore, you'll want to check out things like whether it:
Contains artificial/synthetic preserving agents, colors, or flavors;
Meets AAFCO standards for nutrition;
Features real meat or ambiguous by-products (like milled poultry by-products) as the main ingredients;
Includes natural and vitamin-rich vegetables and fruits; and
Has nutrients and oils like DHA, chondroitin, and glucosamine for healthy puppy growth.
How do I feed my puppy a grain free diet?
Besides "Grain Free", the most common thing you'll see on grain free puppy food packets is usually going to be: "No wheat, corn, or soy". Depending on why you're feeding your puppy a grain free or gluten free diet, this may or may not be enough. Some further tips for feeding your puppy a grain free diet include:
Looking at the ingredients list, and doing a check that there aren't things like rice, barley, or rye;
Choosing a reliable puppy food brand that is transparent about its quality and safety standards;
Looking for a specific 'Grain Free' or 'Gluten Free' promise on the puppy food bag; and
Avoiding table scraps – no matter how cute their puppy dog eyes!
Feeding your little one with the best grain free puppy food doesn't have to be hard. We've picked out the top brands that not only skip the grains but also have heaps of other health benefits. As per our usual high standards, we've factored puppy size into our equations, too. So there's something for every puppy!
Best grain free puppy food for all doggy sizes !
Wellness Core Natural Grain Free
Pros
You'll find at least 36% protein in this excellent poultry and salmon dinner, alongside 17.5% naturally-preserved chicken fat;
Made with natural DHA from real salmon oil – for excellent vision and brain function;
Probiotic-coated kibble for easy and smooth digestion;
Magnesium, iron, and other minerals from superfood spinach, alongside broccoli, apple, and blueberries (and even bananas!);
A super grain-free supper for all pups, from the smallest Yorkies to the largest Great Danes, at 417 kCal in each cup!
Cons
Nope, sorry, we're loving this Wellness grain free dog food for puppies!
Our Verdict: 5/5
What can we say, really – we're having a hard time finding anything not to like about Wellness Core for Puppies. And so do our adorable puppy friends!
Blue Buffalo Freedom Grain Free Natural
Pros
Zero poultry meal by-products;
Top ingredient's boneless chicken…for 27% yummy protein!
ARA, along with DHA from fish oils, feature in this grain free puppy food blend to help your little one develop great vision and cerebral function;
Natural flaxseed for Omega-3 and sidekick Omega-6, which make for silky, lovely puppy coats and skin;
Loads of vitamin- and mineral-packed real fruits and veggies (like kale, parsley, garlic, carrots, and cranberries!); and
2% calcium, for strong growing bones and healthy teeth.
Cons
If your pup's allergic to potatoes, he won't be able to tolerate this particular no grain puppy food.
Our Verdict: 5/5
Blue Buffalo makes one of the best grain free puppy foods out there, we reckon. We're always happy to feed our little (and bigger!) puppies with this artificial additive-free, gluten-free chicken winner.
Orijen Puppy Formula
Pros
Superfoods, here we come! Orijen Grain Free Puppy Formula's got all the vitamins, antioxidants, phytonutrients, and minerals of yummy spinach, mustard greens, kelp, and fruit like apples and pears!
Over 66% meat content in this protein-packed puppy feast. Specifically, the protein's at 38%;
Fat's at a hearty 20%, which is ideal for those of us with growing puppies;
Contains not only fatty acids Omega-6 and 3, but DHA, too.
The joint-healthy chondroitin and glucosamine in this blend are from natural sources. Like real meat, rather than synthetic additives. And we like natural, don't we!
Cons
If you've got a hungry, growing pup, you may find the cost per bag is slightly higher than other, less premium brands.
Our Verdict: 5/5
When puppies aren't eating too much of a specific ingredient, they're less likely to develop an intolerance to that ingredient. Orijen Puppy Formula helps your puppy to avoid this by using a diverse range of proteins, from poultry and fish to eggs and chickpeas!
Merrick Grain Free Puppy Recipe
Merrick Grain Free Dry Dog Food Recipes
There's not one single gluten-containing ingredient to be found in this chicken and sweet potato dinner (and breakfast, and lunch, puppies eat a lot!). Instead, you'll find cute little kibble designed for puppy jaws, packed full of protein and yummy healthy fat.
Buy on Amazon
Add to Cart
Pros
Glucosamine will help your puppy develop stronger joints, alongside chondroitin. It's important for pups of all sizes, but especially larger breeds like German Shepherds and Rottweilers;
Suited our smaller, medium, and larger puppy breeds – from anywhere between 3 and 80 pounds;
Deboned tasty chicken's the top ingredient, and your pup will enjoy the boneless salmon, too;
Blueberries, apples, and alfalfa in here provide natural vitamin for healthy cell functions;
28% protein, alongside 12% natural chicken fat, both great amounts for growing little ones.
Cons
We've put only the best grain free puppy foods into our review, and we can't find anything wrong with this one either. Our Husky puppies adore it!
Our Verdict: 5/5
Cooked in the States, zero cheap by-product fillers, and no synthetic preserving chemicals. We're 100% happy with this gluten-free blend and think it's one of the best grain free puppy foods available.
Best grain free puppy food for large breeds
Blue Buffalo Freedom Grain Free Natural Puppy
Pros
Not one cheap filler poultry by-product to be found in this blend, just high-quality real chicken as the top ingredient;
Omega acids from flaxseed will keep your larger puppy in super cardiovascular health;
ARA and DHA from fish oil will help keep his eyes sharp while helping with his cognitive development;
Calcium's at the 1.2% level for those soon-to-be-very-large bones. Woof! Woof!
Last, but definitely not least, L-Carnitine helps your puppy sidekick move fatty acids around his body. At the same time, it takes good care of skeletal and cardiac muscles – totally important for bigger breeds!"
Cons
Nope, even the price is great considering our big puppies eat A LOT!
Our Verdict: 5/5
Blue Buffalo never puts artificial/synthetic preserving chemicals or flavors in any bag with the 'True Blue Promise', and this no grain puppy food's no exception. Plus, it's got protein-packed chicken meal, but absolutely zero milled chicken by-products. Yay!
Best grain free puppy food for small breeds
Wellness Core Natural Grain Free
Pros
You won't be feeding your little puppy any synthetic preservative, coloring, or flavoring add-ins with this excellent natural dinner;
36% protein for little dogs, which is great because smaller breeds need greater nutrients from smaller meals. Basically, filler-free awesomeness!
Hip dysplasia's a common problem with smaller breeds, so Wellness Core grain free puppy food contains glucosamine to help combat this;
Natural sources of vitamins and minerals, as well as antioxidants, from real greens like parsley, apple, kale, broccoli and carrot – and green tea extract!
Perfect for young pooches of between 2 and 25 pounds, which includes toy puppies, too.
Cons
If you've got a little pooch with potato allergies, he'll need a different formula.
Our Verdict: 5/5
It's all USA-made, and it's developed especially for little pooch puppies. We're happy about its higher calorie content, joint and hip health formula, and super protein content. On top of this, it's easy for our pups to digest thanks to gut-healthy probiotics.
Best wet grain free puppy food
Merrick Classic Grain Free Canned
Pros
Peas, sweet potato, carrots, and apple for a whole lovely bunch of vitamins. Natural vitamins K, C, B2, B1, and E, to name a few!
Zero synthetic preservation agents, instead this blend uses natural mixed tocopherols;
Perfect as a topper for dry kibble, or mixed around with it for some texture;
9% protein, which is ideal for a wet puppy food;
5% fat, also just right for growing pups of all sizes. Although, you'll want to feed giant and larger dogs a little more of this at mealtimes.
Cons
..carrying the cans from your pantry? Just kidding, it's great, and we're giving it five stars!
Our Verdict: 5/5
Merrick has really, really grown in popularity with puppy owners since the brand kicked off in 1988. They have an organic-certified plant and this turkey meal's a great example of the healthy puppy food made there.
FAQ
Is a grain free diet safe for my dog?
This is a loaded question in the veterinary community. While some vets promote the benefit of offering a grain free diet to sensitive dogs, there are recent studies that have found evidence of long term grain free diets leading to serious heart conditions. The best advice we can offer is to speak with your vet before switching your dog to a grain free diet.
Your vet can discuss whether your dog's symptoms are severe enough to warrant the switch, and how they personally feel about the possible risks. Some dogs will be perfectly fine living their lives on a grain free diet, but it's best to speak with a professional to be safe!
How do I know if my dog is allergic to grains?
If you're worried that your puppy might be suffering from any form of food allergy, the best (and first!) thing to do is take him straight to his vet. Your vet will be able to carry out the necessary tests that can help identify what exactly it is he's allergic to. Common symptoms of food allergies, including grain allergies, can include vomiting, bad gas, diarrhea, and tummy upsets. In extreme cases, unfortunately, puppies can react to food that they're allergic to by going into anaphylactic shock, just like humans.
Puppies and dogs who have a suspected food allergy will generally be put on a food elimination diet by their vet. This can take up to three months, during which your fluffy friend will trial-and-error different foods that leave out the suspected ingredients.
My puppy is not allergic to grains, but he reacts badly. Why?
Best practice says you should take your puppy to the vet, as it is possible that he may have an intolerance to grains or gluten. Puppy food sensitivities, also called intolerances, are not as serious as allergies. They can, however, be deeply uncomfortable for your puppy. Pups with grain insensitivities may demonstrate gastrointestinal distress – like with allergies, this can manifest as diarrhea the day after they eat something with grains. Foot, ear, or skin infections can also be a result, as well as itchiness.
If your puppy doesn't take well to his food, it's highly recommended you visit his vet. There's always a chance that it's not grains or gluten causing the problem, but another ingredient. Your vet should be able to help or refer your puppy to a specialist who can.
Helpful Links:
Last update on 2022-01-20 / Affiliate links / Images from Amazon Product Advertising API