We've always been big Doberman fans, and there's just something so…handsome about these loyal, slender, muscular dogs. With their energetic characters, these dogs can often be found alongside policemen and soldiers as faithful working companions. And because they love, love, love to get active, they need top-notch food to keep up their energy!
Quick Review: Top-3 Dog Foods For Dobermans
Premium Diamond Naturals

Made in the USA, reliable workmanship
Includes vision- and brain-healthy DHA
2% calcium for teeth and bones

Merrick's Backcountry without grain

There is no gluten in the Backcountry
Beef is an ingredient on the list of various proteins
There is no gluten in the Backcountry

Fromm Heartland Gold Grain Free Puppy

27% protein for the growth of a small puppy
Made in small pieces to chew without problems
Contains no meat-free lentils
What's The Best Food For Doberman Puppies ?
Do you ever wonder whether your Doberman should be eating a specific type of food? And what does that mean for your unique, beloved puppy? Is a 'regular' puppy food what you're after? We're going to answer all these questions for you in this one article, before reviewing our top three Doberman dog foods for puppies and adults.
A few facts that will help you make a healthy choice for your best pal:
The average male Doberman reaches 75 to 100 pounds fully grown, and most females will grow to be between 60 and 90 pounds. They're therefore large dogs and will do best when fed a large-breed diet
The more active your Doberman puppy (or grown-up), the more calories he'll need. A good daily caloric range for adults is between 1050k/Cal daily for a smaller, slightly active female, and 2500k/Cal each day for an active male Doberman.
Puppies will need more than this, and because this figure will vary depending on their age and activity level, it's best to head over to our dog food calorie calculator to have a check. This calculator helps you determine the recommended daily calorie intake for your growing puppy based on weight and age.
However much exercise your little pup's getting, either way, he's going to do best on a large breed dog food – these contain all the required nutrients which we'll look at next.
Best Doberman Puppy Food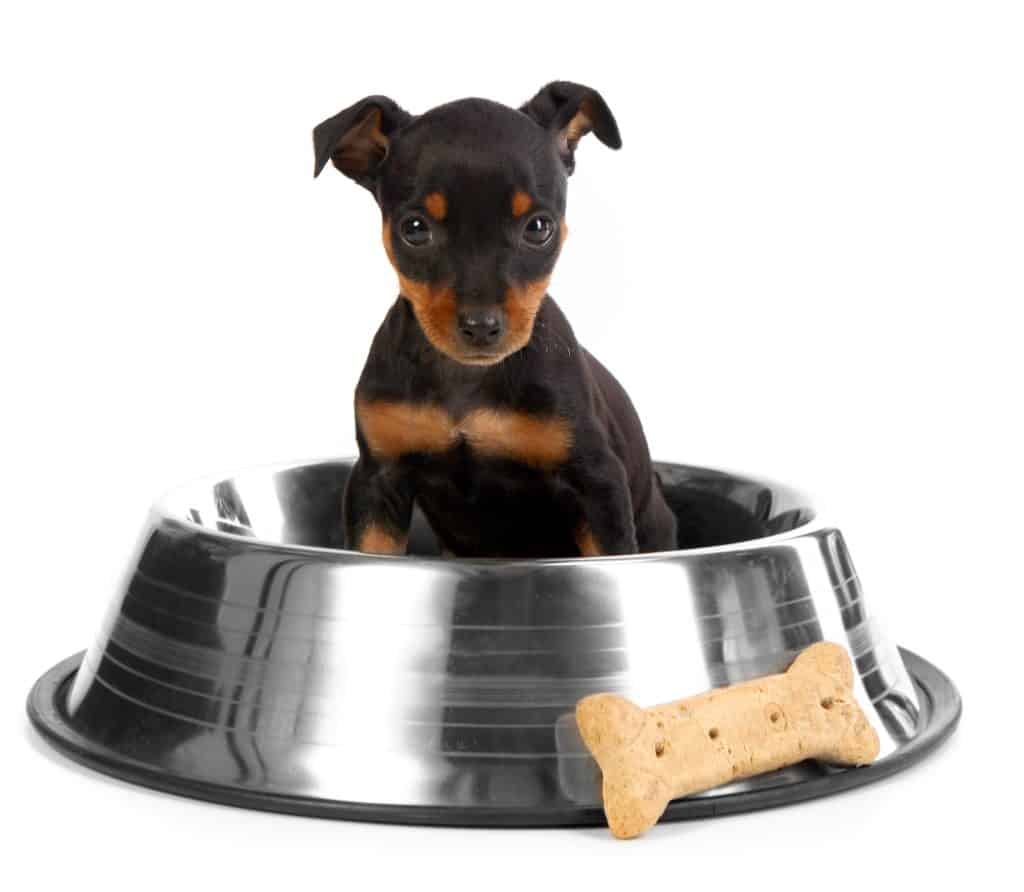 Large dogs, in general, have specific requirements that we, as owners, have a duty to bear in mind! For our best friend's health, therefore, let's touch on these now and see what's important.
What kind of food should a Doberman puppy eat?
When you welcome an adorable Doberman puppy into your home, make sure you are only feeding them a diet specifically for large breed puppies for the first year of their life. A Doberman puppy will require a large amount of energy and nutrients to help them grow and keep up with their daily energy expenditure, and they will need their diet to reflect that.
While an adult diet is perfectly suitable for a Doberman over 1 year of age, it just won't deliver the calories and added nutrients that puppy food offers. From the time you bring your Doberman puppy home, make sure they receive the care their growing body craves with the addition of a puppy food diet.
While you are introducing your new Doberman puppy to dry kibble, you can also offer wet food to help them reach their daily calorie goal and make sure they are soaking in all of the nutritional needs they require for healthy growth. While you don't have to offer wet food, many people find it's easiest to get their young Doberman puppies to consume their dry kibble when it's mixed with wet food.
Now that we've addressed how important a puppy food diet is for a growing Doberman, let's dive into the specifics of a well rounded puppy food.
Healthy Protein
Grown and growing dogs alike need to maintain adequate amounts of lean muscle. And protein is exactly what keeps our gorgeous Dobermans looking as strong, muscular, and handsome as can be. Both wet and dry foods are perfectly fine ways to ensure that your Doberman is getting enough protein, although you may find that their tails start wagging a little more when you open that meaty-smelling can…
For puppies, vets tend to recommend more than 25% protein per serving – they'll be using this to grow, as well as maintain, new muscles. Adults, on the other hand, will get by just fine with slightly less protein, although it's good practice not to choose something with less than 22% protein for regular, healthy dogs.
In all dog foods, protein can come from a combination of both meat- and non-meat sources. For this reason, you'll find that some of the best dog food for Doberman puppies (and grown-ups) contains ingredients such as lentils, peas, egg, or other non-meat sources.
Though Dobermans can receive adequate protein from both meat and plants, it's important that your main source of protein is from actual meat tissue versus chicken meal or any kind of meat by-product.
Animal Fat
Don't be alarmed if you notice a slightly higher fat figure (15% or upward) on your Doberman puppy food. If you've only got an adult Doberman, you may be used to seeing figures in the 12-13% range. Both these figures respectively represent healthy averages for larger dog breeds, and that includes your Doberman. What you will need to look out for is whether you can associate that fat with a real animal.
For example – we all know where chicken fat comes from, or pork fat. 'Lard' or 'animal fat' is somewhat less desirable, so avoid Doberman dog foods that list strange ingredients in this vein.
Minerals and Vitamins To Look Out For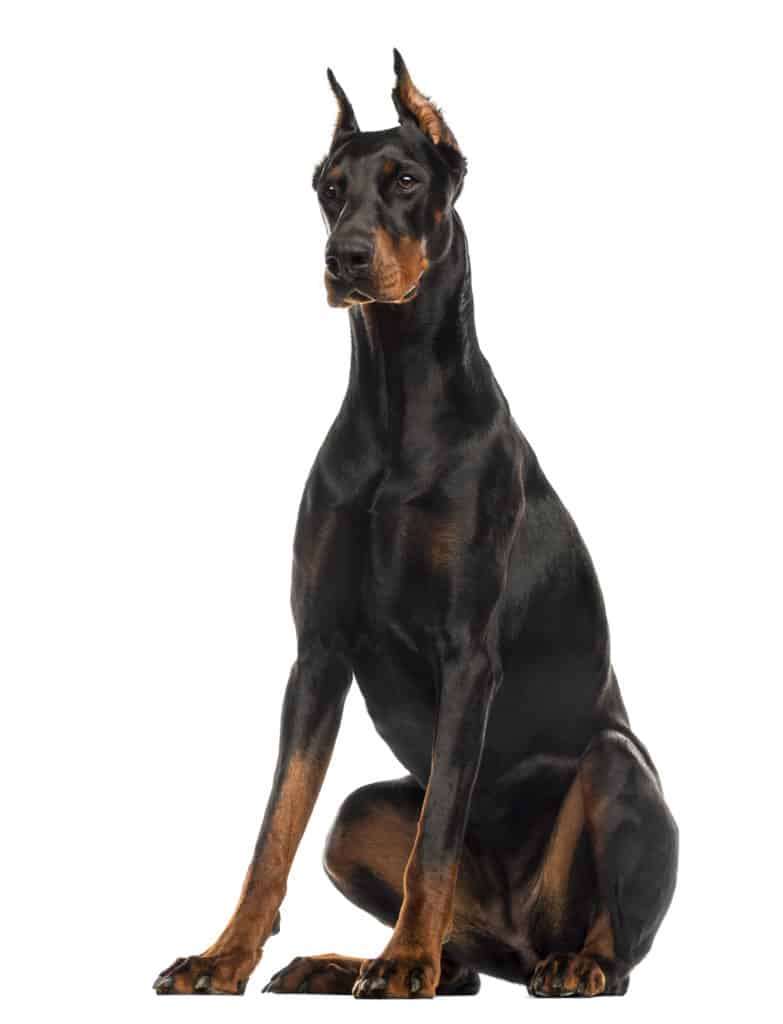 Minerals and vitamins can sometimes take up a lot of room on that ingredient list, and it can sometimes seem like they all go by different names that are hard to recognize. Don't get alarmed – especially if you're a first-time dog owner – stick with AAFCO-approved dog food and you'll find that all the required minerals and vitamins are already included. That goes for all the Doberman dog foods we have reviewed here.
But, because it doesn't hurt to be informed, here are the most important facts:
B Vitamins are critical, and they keep your dog's natural energy levels up;
Vitamin E plays a starring role in ensuring your Doberman's coat and skin are healthy;
C, K, D, and A vitamins all contribute to healthy functioning for your dog and will be found every one of the best dog food for Doberman puppies.
In terms of minerals, calcium is the most likely to be featured on the 'Guaranteed Analysis' list. Ensure your puppy is getting sufficient calcium (1.2% or more), as this is critical for him to grow strong and resilient bones.
Best Food For Doberman Puppies: Reviews
Here are some picks that meet the requirements we've just laid out, and in all cases, they're AAFCO-approved!
Fromm Heartland Gold Grain Free Puppy
Pros
27% protein for assisting your little pup's growth;
Contains Omega acids (from salmon) for a shiny, glossy coat and strong skin;
Features probiotics, which help him digest this dinner easily;
Made with little, adorable kibble bits for hassle-free chewing; and
Contains lentils, as an extra awesome non-meat protein source!
Cons
Dogs who can't eat potato will, unfortunately, have to check out our limited ingredient dog food reviews…well, their owners will, at least!
Our Verdict: 5/5
A healthy and zero-grain option with good amounts of growth-friendly protein. Plus, this features multiple different protein sources, which is a big tick if you're hoping to avoid overexposing him to any one ingredient.
Diamond Naturals Premium Breed Size Specific
Pros
This blend contains no 'bulking' fillers or unnecessary carbs;
USA-made, so you can be assured of reliable manufacturing quality;
Offers a healthy 27% protein for your active, growing Doberman pup;
Includes vision- and brain-healthy DHA; and
2% calcium for those developing teeth and bones.
Cons
There's little for us to complain about with this blend!
Our Verdict: 5/5
This formula contains antioxidants to increase your Doberman's immune-defense systems, as well as Omega-rich salmon oil. It also features kale, pumpkin, chia seeds, and quinoa, in all their nutritious goodness.
Wellness Core Grain-Free Food Large Breed Puppy
Pros
14% fat will give your little puppy heaps of energy for exercise and running around;
Features DHA, Omega acids, and 1.6% calcium;
Healthy gut bacteria have been added to this formula, so it should be just fine for Doberman puppies with sensitive tummies;
As well as no corn, there is zero gluten-containing wheat, soy, or maize; and
It's made only using natural preserving, flavoring, and coloring agents.
Cons
Nope, it's even egg-free!
Our Verdict: 5/5
USA-made, featuring chondroitin, glucosamine, broccoli, spinach, and apples. That's a lot of goodness in one mea – we like it. Five stars!
Best Food For Doberman Adults: Reviews
Dobermans are typically considered 'mature' once they reach twelve months of age. This may be earlier or later for your dog, but when he or she is an adult, one of these Doberman foods may be a good option to switch over to.
ACANA Regionals Dry Dog Food, Grasslands
Acana Grain Free Dry Dog Food, High Protein, Freeze-Dried Coated, Lamb, Duck, Trout, and Quail, 25lb
In one 25 pound bag of this
Acana
kibble, you'll find 17.5 pounds of dried, raw, or fresh prey ingredients. That means free-run tasty duck, Kentucky lamb, and trout, too.
Buy on Amazon
Add to Cart
Pros
Ethically-raised meat, bred here in the States;
Potato-free and without any grains;
There are so many different proteins in here, including the very novel goat, catfish, and duck;
33% protein; and
Features DHA, because grown dogs can benefit from it, too!
Cons
Due to the super-high-quality meat content, you'll find this is priced much higher than most of the other brands we have reviewed.
Our Verdict: 5/5
Suitable for all sizes, Regionals dinner is some of the best dog food for Dobermans. All the protein your grown dog will need to maintain his slender frame and vivacious energy levels!
Merrick Backcountry Grain Free Great Plains
Pros
There's no gluten at all in this Backcountry recipe;
Beef is the very top ingredient in this varied list of different proteins;
You'll also notice there are Omega acids to maintain the shine in that gorgeous Doberman coat;
Contains lots of varied proteins, such as peas, pork, rabbit, and salmon; and
There's both chondroitin for protecting large-breed joints, and it's partner glucosamine.
Cons
This may be a little expensive if you're on a budget, but that's only because there are so many great, healthy ingredients in this formula.
Our Verdict: 5/5
If you're after maximum deliciousness for your dog, that's what the flash-frozen bits in this Doberman food are designed for. Also, it helps to maintain the nutrients in their best possible form for your pet to absorb. Nice, right?
Blue Buffalo Wilderness High Protein Grain Free
Pros
Zero meals from by-products;
All the preservatives (and colors, and flavors!) are natural;
Boneless duck takes first place in this list of ingredients;
Features Omega-6 acids from flaxseed – well-known for its antioxidant benefits; and
You'll also see that there are fiber-rich sweet potatoes, parsley, and kelp in this Doberman dog food, too!
Cons
Not really, with so many fantastic reviews, we're loving this wholesome recipe.
Our Verdict: 5/5
We didn't even have enough space in the 'Pros' section to mention that this formula contains glucosamine…and healthy calcium levels, and that it's also grain-free. All the good things – five stars!
Royal Canin Large Adult Dry Dog Food
Royal Canin Large Breed Adult Dry Dog Food, 35 lb. bag
This Royal Canin diet is specifically made for large breed dogs that are anywhere from 60-100 pounds. This food focuses on precise nutrition for large breed dogs by offering quality protein, balanced nutrition, and additives to help keep their joints strong. The large kibbles are designed for large breeds and the special effort that it takes to help prevent tartar build up on their teeth. The added fish oils and omega fatty acids help to nourish their bones and joints, while the EPA and DHA helps to nourish their skin for a healthy and shiny coat.
Buy on Amazon
Add to Cart
Pros
Added fiber to help promote healthy digestion
Added fish oil and omegas to help nourish bones and joints
EPA and DHA for skin and coat health
Larger kibbles to help break down and prevent tartar build up
Palatable taste that dogs love
Cons
Does contain chicken, so dogs with poultry allergies may not be able to enjoy this diet
Our Verdict: 4/5
Aside from the list of benefits this diet provides, is the tasty flavor that your Doberman will love.
FAQ
When should a Doberman Puppy be switched over to adult dog food?
A Doberman should be on a puppy food diet until they reach 1 year of age. Once they are 1 year old, it is time to switch them over to an adult kibble.
Make sure to switch their diet over a 2-week period in order to prevent any gastrointestinal upset with an abrupt diet change. By switching them slowly over a 2-week period you can help to slowly introduce them to their new food, help them get used to the new flavor, and prevent any stomach upset for your furry friend.
My dog gets a little gassy when he eats his food. What's going on?
Sorry to hear that, but don't be too stressed out. If this is just a little bit of gas – burping, wind or similar – then it may be harmless. Observe your dog, and see if any of the following applies:
Is he 'gulping' his food? Sometimes, our sweet large-breeds can get a little too enthusiastic, and may swallow excess air. It's not something to be too alarmed about, but you might want to think about changing to a kibble that discourages this behavior. Head over to our 'Best Food for Large Breeds' page, where you'll find a huge range of different options – you're sure to find a good solution!
Has he switched to a new food? If your Doberman has just started eating a different brand, he may be unused to it. Try to 'transition' your dog when you switch foods, and you can look at our Dog Tips page for more help on this!
Has he experienced this gassiness while eating other Doberman foods? If not, you might want to think about changing his diet to a different food. You could also consider adding cbd to your Doberman's diet to help him to relax if the gassiness appears to be stressing your dog out. Knowing how long does cbd last can inform how you give doses. If this is an ongoing situation, it's always best to consult a vet.
I think my Doberman has a chicken intolerance. What are my options?
Good that you've been observing your Doberman so responsibly. You have a lot of options right here at your fingertips, actually! If you would like to browse some Hypoallergenic Dog Foods, we have reviewed a huge selection on this site.
If you think it may be more of a sensitive stomach issue, visit our Best Dog Foods for Sensitive Stomachs page. You may also want to visit his vet, who can tell you what might be occurring with more certainty. But whatever you do, remember that even a 100% chicken-free blend isn't going to cut it if he's sneaking (or being fed) little bits from elsewhere, so keep a sharp eye out – and best of luck!
Helpful links
Last update on 2022-01-19 / Affiliate links / Images from Amazon Product Advertising API