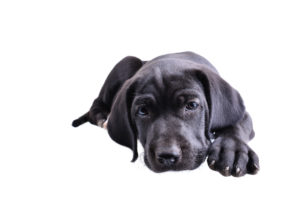 Muscular, agile, and blessed with an attractively sleek coat, the Cane Corso breed has a lot going for it. Their faithful, loving temperaments are behind the fierce bonds they form with their owners, and due to their energetic natures, they are a delight to play with. As large-breed members of the Mastiff family, Cane Corsos on the whole are vulnerable to developing joint and hip problems as they age, so the proper nutrition is essential from the start of their puppyhood. In this article, we'll show you how to find the best dog food for Cane Corso puppies and grown-ups, and we'll answer the key questions you probably have as an owner:
What are the most important nutrients in a Cane Corso's diet?
How can I choose a dependable brand of puppy or dog food? and
Are there certain 'good' or 'bad' ingredients I should look out for?
Quick Review: Top-3 Dog Foods For Cane Corso
Ziwi Peak Air-Dried Dog Food Recipe

Rich in protein and air dried
Gives your puppy 40% protein
Without potatoes and grains

Blue Buffalo Freedom GF Adult Large Breed

Fish oil promotes joint mobility
Omega acids in this recipe are also obtained
Beef No. 1 in the list of ingredients

Merrick Backcountry GF Dry Dog Food

This Merrick includes vegetarian and fruit vitamins
Contains freeze-dried, delicious pieces of poultry
It's manufactured here in the States
Best Dog Food for Cane Corso Breed January 2020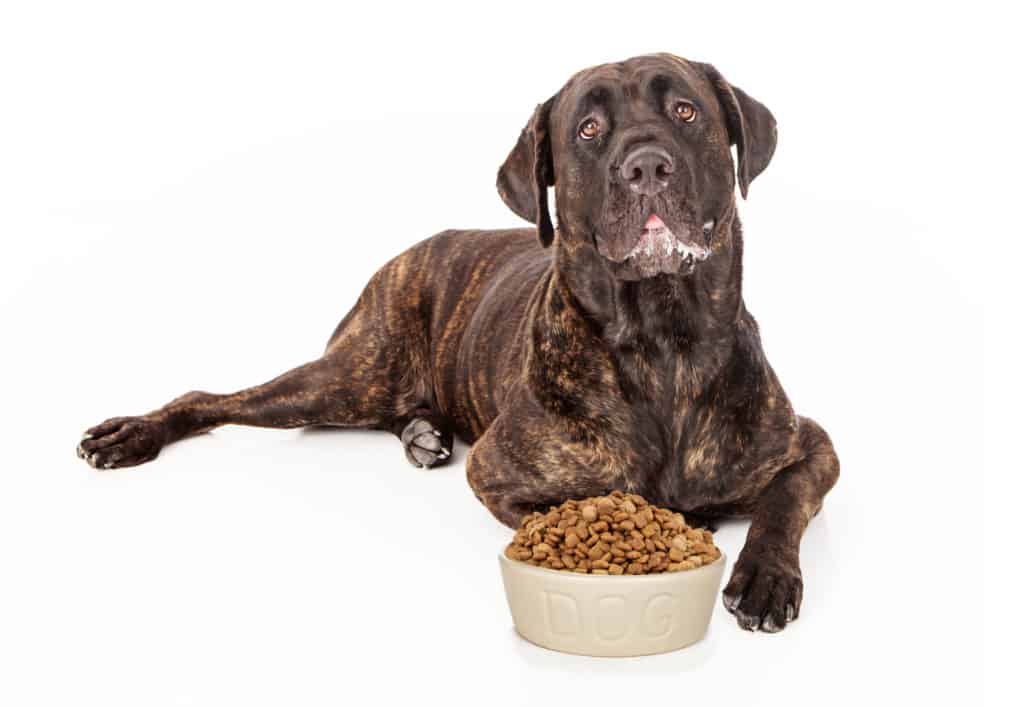 Large-breed dog owners There face a few key issues when shopping for a top-quality puppy or dog food. Here are two of the key problems that you need to consider, and which the best food for Cane Corsos will be designed to address.
Calcium in Cane Corso Puppy Food
Due to the way that a larger dog's skeleton is built, owners must pay careful attention to the calcium content in their food. Excess calcium during a Cane Corso's puppyhood can increase the likelihood of his developing painful hip dysplasia, so you should always choose a recipe that is designed "for the growth of large-breed puppies". Good Cane Corso puppy food will explicitly state that it meets this criterion on the packaging, using those precise words.
Glucosamine for Joint Support
Cane Corsos love to get active but are also sadly more prone than medium- or small-breed dogs to developing hip dysplasia. To slow down or prevent its potential development, Cane Corsos big and small need sources of glucosamine in their diet. Natural glucosamine can be found in fish, and typically any food with herring oil, salmon oil, or similar will provide a good amount of this amino sugar to promote great joint health.
Your Cane Corso Should Be Eating…
Luckily, the nutritional ins-and-outs of your large-breed Cane Corso are pretty straightforward once you've considered their special health concerns. They need:
Lean animal proteins: Adult dog nutrition is about maintaining strong muscles for exercise and mobility – they require at least 18% protein to do so. Puppies are in the initial growth period of their lives and rely on food with a minimum of 25% protein to be healthy and active. Proteins can also be found in certain legumes, but animal meats are much more quickly and readily absorbed into your Cane Corso's body.
Natural fats: Your puppy's body is busy fuelling that intensive growth – they need recognizable and wholesome lipids to do so. Try to ensure your puppy gets a kibble with at least 12% fat, and your adult Cane Corso will need at least 10%.
Essential minerals and vitamins: Puppies and dogs must take in Vitamins K, A, B, D, E, and C so that their bodies can function well as a whole; there is also a range of minerals like selenium, zinc, iron, copper, and iodine that are critical for their health. Together, these all take care of your pet's health in too many ways to count on one paw – they look after your dog's eyes, skin, ears, blood, and metabolism, to name a few!
Dietary fiber: A puppy or dog's diet isn't complete without some 'bulk', which helps him move that food through his gut where it can be taken in. Vegetables, traditional whole grains, and fruit are all excellent sources of the fiber that will perform this role.
Best Dog Food for Cane Corsos: Brands We Love
We don't recommend any brand until we've checked out its safety record, recall history, and reputation for quality. The following are great examples of Cane Corso dog food manufacturers which have dependable facilities, overwhelmingly positive reviews from owners, and top-caliber ingredients:
Reviews: Best Food for Cane Corso Puppy
Holistic Select Natural Dry Dog Food Large & Giant Breed Puppy
Pros
Nutrient-rich lamb and chicken meals are full of protein, providing your little puppy with 25% in every bite;
15% fat fuels longer-lasting release of energy (perfect for active pups!);
Promotes better physical health through antioxidants from fruit and vegetables;
It's naturally full of glucosamine, which comes from salmon oil; and
That fish oil also provides your growing Cane Corso puppy with coat-enhancing Omega acids!
Cons
Not appropriate for gluten-intolerant puppies.
Our Verdict: 5/5
This contains ideal levels of glucosamine and Omega acids for your Mastiff breed Cane Corso puppy. It uses all-natural flavors and preservatives to stay fresh and tasty, while conventional grains help with your puppy's regularity and decrease the risk of indigestion.
Ziwi Peak Air-Dried Dog Food
Pros
A thoughtful combination of animal meat, bones, and organs provides your Cane Corso puppy with natural chondroitin and glucosamine, plus antioxidants for their immune system health;
Protein-rich and air-dried, it's preserved in one of the best possible ways for maximum nutrient absorption;
Gives your puppy 40% protein without using any rendered animal meats or by-products;
Potato- and grain-free, it's a top option if your Cane Corso puppy is gluten-intolerant; and
The top ingredients include lamb tripe, heart, and liver, all intensely nutrient-rich.
Cons
This naturally preserved, flavored, and colored product is both grain- and filler-free, so it comes at a fairly high price.
Our Verdict: 5/5
This natural, healthy Ziwi recipe is puppy appropriate and bursting with high-quality ingredients. It has received nothing short of awesome reviews from large-breed owners – and, it's an all-life-stages formula. You won't need to transition your Cane Corso puppy over to an adult recipe when he grows up – five gold stars!
Acana Wild Prairie Grain Free Dry Dog Food
Pros
This is a high-protein formula made with fresh meat, regional animal ingredients, and 35% protein for the best possible puppy health;
17% fat comes from recognizable, quality sources such as real poultry organs and pollock oil;
Generous amounts of natural organs and cartilage (in ACANA's 'Whole Prey' formulas!) provide chondroitin and joint-supporting glucosamine for your little puppy;
Contains fresh, whole freshwater trout, herring, and walleye to mimic a diet that your Cane Corso's ancestors would have eaten in the wild; and
Uses veggies such as parsnip, kale, turnip greens, and pears for fiber instead of grains.
Cons
Our Verdict: 5/5
We're on board 100% with ACANA's healthy and holistic approach to doggy nutrition. The quality of included ingredients and the ratios that are used result in an evolutionary formula that's high in critical nutrients and natural goodness.
Reviews: Best Food for Cane Corso Adults
Blue Buffalo Freedom Grain Free Natural Adult Large Breed Dry Dog Food
Pros
Gluten-free dogs can safely dig into this beef and turkey blend;
Features a whole range of critical vitamin and mineral supplements, as well as natural sources of the same – alfalfa, kelp, parsley, barley grass, and more;
Fish oil promotes joint mobility and gives your Cane Corso DHA;
Omega acids in this recipe come from a variety of other natural sources, too, like canola oil and flaxseed; and
Beef is #1 on the ingredients list, which offers a total of 22% protein and 13% fat.
Cons
Our Verdict: 5/5
This recipe contains all the glucosamine and chondroitin required for a Cane Corso to delay or completely avoid hip dysplasia. You won't need to supplement your large-breed dog's diet with this natural recipe. And, it contains zero by-products – just the good stuff.
Earthborn Holistic Natural Food For Large Breed Dogs
Pros
Provides a professionally balanced ratio of lean, muscle protein (26%) and fats (13%) for large-breed Cane Corsos;
Contains Vitamin E supplements, along with Omega-6 fats for your adult dog's skin;
L-Carnitine encourages optimal transport of fatty acids and energy production (great for energetic dogs!);
Includes DHA – a good addition for your dog's eyes and brain; and
The top ingredients are yummy chicken meal and fiber-rich peas!
Cons
Sorry pups – it's just for grown-up dogs!
Our Verdict: 5/5
This Earthborn formula contains meets the precise nutritional requirements of big, muscular, active Cane Corsos. If you love taking your dog for a run or you both love hiking together, he'll be in great shape for it!
Merrick Backcountry Grain-Free Dry Dog Food
Pros
Generous levels of chondroitin and glucosamine make this is an ideal choice for active Cane Corso adults;
Skincare and coat health are supported by optimal levels of Omega fats from salmon;
While it's fortified with supplements, this Merrick formula also includes veggie and fruit vitamins;
Contains freeze-dried, tasty 'bits' of poultry for greater natural flavor and nutritional value; and
It's manufactured here in the States.
Cons
Some owners have reported fewer freeze-dried bits than they expected.
Our Verdict: 5/5
A grain-free formulation makes this some of the best dog food for Cane Corsos with gluten intolerances. It's rich in essential amino acids, contains plenty of healthy lipids for energy release, and will support your large-breed's love of exercise.
FAQ
What are some things I should avoid when choosing the best Cane Corso puppy food?
Nutrition is always the most important factor to consider when picking a kibble. Forget fancy packaging for a moment – if a puppy food doesn't support your Cane Corso's physical well-being, it's useless. Most 'things to avoid' are ingredients that offer limited nutritional value, and are only used to increase the manufacturer's profits. The two main 'offenders' in this regard are:
Grain 'fillers' – corn and corn meals, soy and soy products, processed rice, and of course wheat, are all classic fillers. They are carbohydrate-rich ingredients that tend to boost your pup's energy for a short while before dropping it back down again and leaving him lethargic. They also increase the weight and volume of puppy food without really helping your little one's muscle development or growth.
Meat by-products, rendered meats, and by-product meals – essentially, these are a quick-and-dirty way for manufacturers to boost the protein count of a food. These are waste outputs of regular meat production processes and are inferior to whole meats or 'regular' meat meals in terms of protein and nutrition.
Is citrus fruit bad for my Cane Corso puppy?
There's no evidence that small servings of citrus fruit are harmful in any way to a puppy's health. In this case, a small serving for a large-breed dog like your Cane Corso would be about a quarter to a third of an orange. As it turns out, pooches commonly seem to like the natural sweet sugar taste, and the fiber only helps their digestion.
The only real risk would be feeding too much citrus to your puppy. Because it's a source of fructose and glucose, too much orange might cause your pup's blood sugar to spike and then crash again later. Limit your pup's intake to a few segments a day, and don't give them any of the rind – simple and sweet!
Helpful Links
Last update on 2020-01-19 / Affiliate links / Images from Amazon Product Advertising API