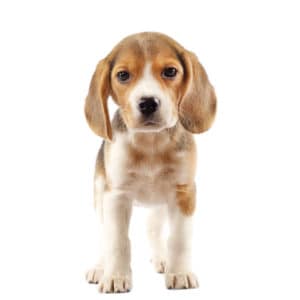 Got a gorgeous Beagle pup to feed? Congratulations — you've also got one of America's most popular pooches. As great lap dogs and playful companions, they're so much fun to spend time with.In this article, we'll talk about your puppy's dietary needs so you can meet those with the best dog food for Beagles. Our team of small-breed lovers has also reviewed all the top products we could get our (digital!) paws on, to bring you our pick of the six best foods. For both Beagle puppies and adult dogs!
Quick Review: Top-3 Dog Foods For Beagles
Eagle Pack Natural Small Breed

No fake colors or preservatives
No wheat or maize fillers
Gives your Beagle puppy 27% protein

Holistic Select Natural Grain Free

Includes 29% protein and 14% fat
Offers real papaya, apple, and pumpkin for fiber
It's all-naturally preserved

Nature's Recipe Grain Free

Provides your pooch with 25% protein and 15% fat
Rich in Omega-6, as well as zinc, for healthy skin
There are chickpeas and peas for fiber and protein
Inside The Best Food For Your Beagle Puppy
If you've only just got yourself a Beagle puppy, you'll know that they typically don't grow to be very large. Because adult Beagles will only reach a maximum weight of (roughly) 30 pounds when fully grown, they are definitely small-breed pooches.
That means your little one is going to flourish on certain specific kinds of dog or puppy food. Like Corgis, Shih Tzu, and Yorkies, they need plenty of calories and regular feeding — but they've also got their own set of potential health issues which can't be ignored.
The best dog food for Beagles will be a formula that helps them delay or avoid the health issues that are diet-related, such as:
Intervertebral (fixed a typo) disc ailments
Hip dysplasia
Other leg joint complications.
Due to their main ailments involving joint health, it's best to make sure your Beagle's food has added glucosamine, fish oil, or omega fatty acids for joint support. Joint conditions are often worsened by extra weight on a canine, so it's important that your food of choice contains whole ingredients that can nourish your Beagle without promoting weight gain.

What's Special About The Best Dog Food For Beagles?
Owners, you'll be happy to know that there's not too much to be wary about when picking out a delicious puppy dinner for your Beagle. They require nothing more than nutritious, high-caliber ingredients in the right proportions for small dogs, from a manufacturer that has a reputation for safety and quality.
What ingredients are generally considered high-caliber, then? Here are some things to look out for:
Protein ingredients like meat, game, and fish are the best protein sources for your dog. While some corn by-products and vegetable matter do increase a food's protein rating, they don't offer the same diverse range of amino acids.
25% or more of the best puppy food for Beagles will be protein, and adults will require slightly less of this macronutrient.
Beagles need an hour of exercise a day at least, but some are just made for getting active! For these more active dogs, make sure their food has a high enough calorie content to support their needs. At the bare minimum, sedentary 30lb adults might need around 645k/Cal a day, while growing pups might need up to 1000 calories or more.
Avoid obscure ingredients and ingredients that simply bulk up the food — actually, this goes for any dog food you might buy! The best food for Beagles won't list meat by-products or items with no nutritional value for your dog. Your Beagle will do much better if his food contains egg, fish, or similar, rather than wheat gluten or corn gluten.
Last of all, small dogs like small kibble the best. When their food isn't the right size for their mouths, they can have a hard time eating, chewing, and swallowing. The best puppy food for Beagles might thus be much smaller in size than the kibble you feed your Lab or Retriever, for instance.
What's an Ideal Ratio of Wet or Dry Food?
Just like there's no 'one best food for Beagles', there is no 'one ratio' that you must stick to. Good news, isn't it?
Your Beagle will have his own specific preferences when it comes to a canned stew or a dry bowl of kibble. Both canned food and kibble have their advantages, although dogs with weaker jaws or missing teeth might do better on a diet with more soft, wet food.
If it's your first time as a dog owner, you might also discover that wet food seems to appeal strongly to your Beagle. They've got strong, sharp noses and they love the aroma! As long as you're not putting yourself out of pocket by choosing wet food every time you shop, there's no reason you can't feed a mix of both to your pooch. They'll adore you even more for keeping mealtimes interesting!
What specifics should you look for in a diet for a Beagle?
When choosing the best food for your Beagle there are a few key factors that you should look for. These factors include:
A diet that is not too high in calories or fat content. Since a Beagle can experience joint complications when overweight, it's important to feed them a diet that's not too high in fat.
A diet that has added glucosamine or omega fatty acids for joint support.
A diet with whole ingredients such as pure protein, fruits and vegetables, vitamins, minerals, and added ingredients for immune and joint health.
A diet that is manufactured from trusted companies. This means well established pet foods in the industry that are known to address food quality, produce their food in a safe environment, and address food recalls quickly and effectively.
How much should an adult Beagle eat?
A huge factor in your Beagle's overall health is not just the quality of the food we offer them, but also the amount of food and frequency in which we feed them. Since Beagles are so prone to painful joint conditions, it's up to us to provide a feeding schedule that keeps them feeling their best.
We will break down the recommended feeding schedule for Beagles based on their life stage:
Adult Beagle 1 year and older:
Now that your beagle has reached adulthood you can stick to two feedings a day, one in the morning and another in the early evening. At this point they can begin to gain unhealthy weight with excess feeding, so it's important to be conscious of their treat and food intake.
Below is a chart that can help you understand the amount of food they should eat for their age and weight range: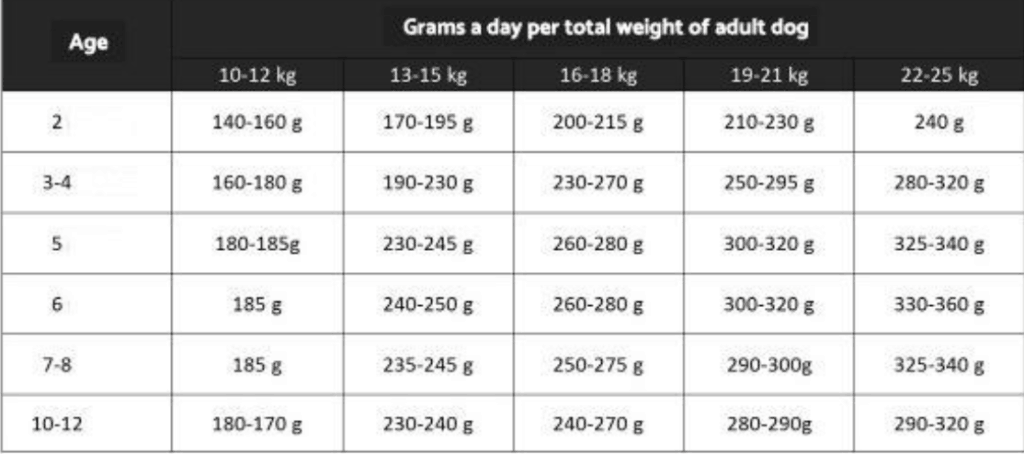 How much should a beagle puppy eat?
A beagle puppy requires additional feedings and calories to help them meet their developmental needs. Below is a detailed feeding schedule for each puppy stage:
Beagles 5-8 weeks of age:
At this point in a Beagle's puppy's life they will be transitioning to wet puppy food and dry kibble puppy food. When transitioning off their mother's milk, they will need to be supplemented often in order to replicate the constant feedings they were receiving from mom.
It's best to offer a variety of both wet puppy food and dry kibble puppy food at least 6 times a day. Puppies are constantly burning calories at this age and will need frequent feedings in order to prevent their blood sugar from dropping to a dangerous level. By splitting their food intake into 6 small meals a day, you are keeping their blood sugar at a safe level, providing them with the calories their growing bodies need, and giving them plenty of practice with their new diet. By offering them both wet and dry food you can ensure that your puppy is experimenting with both options, and filling up their bellies with either option that suits them until they work their way up to dry kibble only.
8 weeks to 6 months old:
By 8 weeks old, most puppies are switched to dry kibble completely. When bringing home your new Beagle puppy, make sure you start by feeding the same diet option they were receiving in their previous environment. An abrupt change in diet can result in gastrointestinal upset, and this can be dangerous for such a small puppy. Once they are in your home, you can transition them to your new diet over a 2 week period.
Now that your Beagle is at the 8 week mark, they should receive 3 feedings a day. At this point they can better regulate their blood sugar, but will still require 3 feedings a day for that extra boost. A beagle puppy is extremely playful at this point, so two meals a day just won't cut it.
Though some people choose to free feed their puppy and give them constant access to food throughout the day, this is not recommended. Free feeding can create picky eating habits, and some puppies will gorge themselves on food to the point of a stomach ache.
6 months to 1 year old:
At this point, your Beagle puppy's growth has slowed down a bit. While they still grow until 1 year of age, they no longer need that third meal in the middle of the day for an extra boost. At this point your Beagle puppy can be fed once in the morning and again in the early evening.
Best Puppy Food For Beagles in 
Eagle Pack Natural Dry Dog Food Small Breed Dog Food
Pros
No fake colors or preservatives;
No wheat or maize fillers;
Gives your Beagle puppy 27% protein;
It contains lots of delicious, healthy fiber from oatmeal; and
With chicken and pork meal as top ingredients, it's a great source of lean, healthy protein!
Cons
Doesn't include many fruits or veggies besides peas and tomato pomace.
Our Verdict: 4.5/5
There is 350 k/Cal in every cup of this protein-rich, highly-recommended Beagles food. With cute-as-a-button kibble pieces for small mouths, it's also easy for your puppy to digest. Contains all the supplements necessary for a thriving little pup!
Blue Buffalo Freedom Grain Free Natural Puppy Small Breed
Pros
Boneless chicken and turkey meal make this protein-rich at 30%;
Includes fish oil, which gives your Beagle pup DHA;
Has flaxseed and egg, two lovely sources of fatty Omega acids;
Contains kelp and chicory root for fiber; and
It is all preserved naturally, with zero unpleasant by-products.
Cons
There's some potato in this recipe.
Our Verdict: 5/5
This is some of the best puppy food for Beagles with or without allergies, as it's holistic yet selective. And because of its small kibble bits, your puppy will find it easy to sink his teeth into!
Wellness Complete Health Natural Dry Small Breed
Pros
There's at least 28% delicious protein in this Beagle puppy food;
Along with this, DHA for sharp eyesight and cognitive development;
With 19% fat, your cute Beagle puppy will have plenty of healthy calories for exercise;
Provides Omega fats from fish oil; and
Contains helpful digestive fibers like sweet potato and berries.
Cons
Not suitable for gluten-intolerant Beagles.
Our Verdict: 5/5
Wellness crafts lots of great kibble at a reasonable price, so it's no wonder they make some of the best dog food for Beagles. If you'd rather skip all the animal by-products and synthetic additives, this is a great choice for your puppy.
Best Dog Food For Beagles
Nature's Recipe Grain Free Dry Dog Food Small Breed
Pros
Cute, small pieces of kibble ensure this is a breeze for Beagles to eat;
Provides your pooch with 25% protein and 15% fat;
Rich in Omega-6, as well as zinc, for healthy skin;
There are also chickpeas and regular peas for fiber and protein; and
It doesn't use any gluten or by-product meals from poultry.
Cons
Apparently not, this is a delicious blend for adult Beagles!
Our Verdict: 5/5
You won't find any soy or wheat product fillers in here, and all the nutrients are chosen for their excellent bio-availability. Plus, we've heard nothing but good things about its great flavor!
Holistic Select Natural Dry Dog Food Grain Free Adult & Puppy
Pros
Made with pre- and probiotics that enable good bacteria to flourish, and help your Beagle digest his dinner;
Includes 29% protein and 14% fat;
Offers real papaya, apple, and pumpkin for fiber;
Doesn't include any by-products from meat, nor any fillers; and
It's all-naturally preserved.
Cons
Contains potato, which some Beagles may be allergic to.
Our Verdict: 5/5
As well as natural vitamins from veggies and fruit, the top ingredients are all wholesome. Apart from potato, which some dogs can't eat, there's real peas, fish meal, and salmon.
Instinct Limited Ingredient Diet Grain Free Recipe Natural
Pros
Zero eggs, corn, or gluten-containing grains;
Contains peas for iron and turkey for protein (plus glucosamine!);
Gives your adult Beagle a total of 35% healthy protein;
Offers 1.4% calcium; and
It also has Omega acid-containing canola oil!
Cons
Unfortunately, you'll only be able to buy this in small bags of 4 lb.
Our Verdict: 4.5/5
Don't stress if you've got a Beagle with potato or chicken intolerance. This Instinct formula is designed for your small pooch's needs and it's simply packed with lean protein! With glucosamine from turkey meal, it's also joint-healthy. 4.5 stars!
FAQ
How can I avoid an upset stomach when I switch my Beagle to a new food?
When you switch your Beagle to a new food, it's important to take this process slowly. If you abruptly switch them from one food to another, you risk causing them to have diarrhea, vomiting, and a number of other gastrointestinal symptoms. Start by slowly combining the food over the time span of two weeks. Each day add more and more of the new food to their old food until you have completely transitioned to the new diet.
My Beagle puppy keeps getting into the kitchen and snacking. What do I do?
We're actually not surprised — Beagles have over 200 million olfactory receptors in their cute little noses. That's more than 40 times what we humans have got to work with, so it's not a shock that he's great at sniffing out his chow!
It's why we often advise owners not to keep their dog's kibble in plain sight, like on the kitchen table. If you're lucky enough to have a separate pantry, try to store his kibble on a high shelf where he won't be able to reach it. The dry and relatively dark conditions will also keep it in a better state so the pieces don't get stale. If you're talking about a really clever little pup who still tries to get to his kibble, you might want to think about training him. With the right approach, you might be able to stop him from this snacking behavior using verbal commands. Like "Stop!" or "Down!"
I gave my Beagle some raw treats. He loved them, but will he be ok?
Usually, we would advise that you ask your vet before you experiment with anything new in your dog's diet. For now and next time, you might want to bring along an example of the treat and its packaging to his vet. They'll be able to tell you whether it is safe, unsafe, or even if it's impossible to tell (in which case — avoid it)!
However, raw treats from an established and reliable brand will usually be ok. We have definitely seen raw dog treats recalled in the past, but you can easily check with the FDA whether this applies to the brand you are giving your Beagle.
Last but not least, raw treats do have some advantages over regular, plant-based biscuit treats. Given to your Beagle in moderation, there is no reason to panic or fret — especially if you've conducted what we call 'doggy diligence' in advance!
Helpful links
Last update on 2022-01-19 / Affiliate links / Images from Amazon Product Advertising API