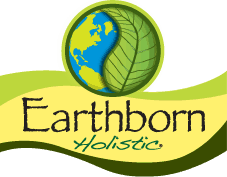 You and I, we have something in common with our dogs. When we hear about a potentially great kibble, our ears perk up! If it's healthy, yummy, and high-quality, we want to know. And in this article, the brand we'll be looking at is Earthborn Holistic. Do they make delicious puppy food? What about hypoallergenic food? Where is their kibble made, and have they been recalled before? Read on to find out what we know!
Quick Review: Top-4 Dog Foods From Earthborn Holistic
Earthborn Holistic Primitive Natural Grain Free

Suitable for all breed sizes
Contains 38% protein — that's a lot
Features DHA that helps promote healthy brains

Earthborn Holistic Great Plains Feast GF

With 32% protein and 18% fat it has
The main protein from bison, if not chicken
With 400k / Cal in each cup

Earthborn Holistic K95 GF Canned

Zero fake flavors or synthetic colors
No dubious animal by-products
95% beef, positively packed with real meat

Best

Limited Ingredient

Food

Earthborn Holistic Venture Grain Free

67% of the protein here comes from duck
Most of the rest is peas or pumpkin
Rich in fiber, pumpkin vitamins and peas
About Earthborn Holistic
Who Are Earthborn Holistic?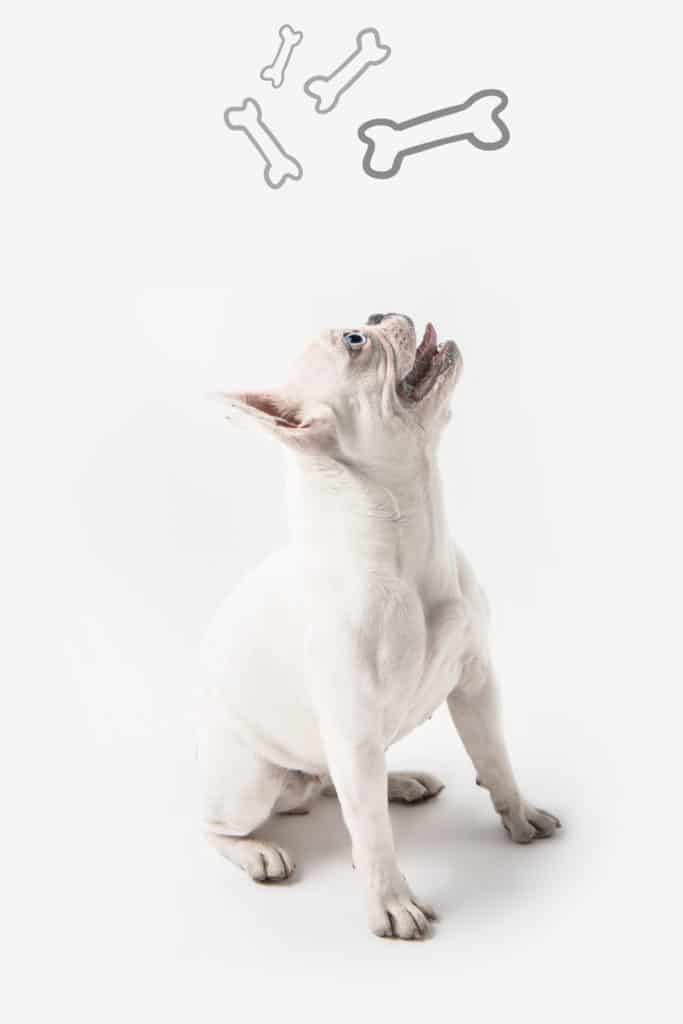 Earthborn Holistic is made by a larger producer — Indiana-based Midwestern Pet Food — which also makes PRO PAC and Sportsmix products. Midwestern itself has a long-established reputation, having been around since 1926.
On the whole, we consider Earthborn a high-caliber dog food, as they use choice ingredients and minimal unnecessary additives. (You'll have a hard time spotting low-quality filler ingredients like wheat or brewer's rice in their recipes, for instance.) We've only heard good things, and their facilities are regularly inspected at monthly intervals.
So what 'choice ingredients' do Earthborn Holistic use? Mostly, you'll find meat or meat meal at the top of each ingredients list. Sometimes, more than one animal meat, for variety — and almost always, their blends contain nutritious, wholesome fruits and veggies. So far, it's all looking good, so let's dive a little deeper in!
What does the word 'Holistic' mean for dog food?
The term holistic refers to something natural or something that comes from the earth. With holistic diets and medicine taking the human world by storm, it's no wonder our pets are beginning to reap the benefits of a holistic health approach. Any time a brand refers to their food or product as holistic, it just means that they are working to only offer natural ingredients and cut out any artificial or toxic additives.
What's Special About Earthborn Holistic?
First up, Earthborn Holistic makes a large variety of different grain-free formulas, as well as a large range of different wet foods. All of their kibble is made in the US at their business-owned Illinois, New York, or Oklahoma facilities, and all of these are FDA-inspected. If you have qualms about outsourced manufacturing, this is reassuring to know.
When it comes to safety, Earthborn Holistic has stringent standards. According to their website, they conduct peroxide tests, melamine tests, mold checks, and toxin screens on their ingredients when they are delivered. In total, all food ingredients get checked at least three times for quality: once by Earthborn's suppliers, again by the manufacturer, and finally, the dog food gets checked once again before it's shipped out.
Here are the four key ranges the brand offers, so you can see just what 'a super huge amount' of grain-free formulas means:
Holistic and Holistic Grain-free – Technically speaking, the Holistic range includes two grain-containing formulas and the entire Holistic Grain-Free line. They are a bit like an 'Originals' range: balanced, healthy, and full of protein. Here, you'll find all kinds of different sub-categories for different doggy needs. More in our Earthborn dog food reviews below!
Moist Grain-Free Holistic – As the name suggests, these are a line of canned, gluten-free foods. These dinners come in cute little resealable pots and contain all the moisture and nutrient goodness of healthy broth.
K95 Formulas – Also grain-free, and also delicious, these wet formulas come in cans rather than tubs. However, these feature 95% meat and are 100% fake additive-free.
Venture Dog Formulas – Earthborn Holistic has done itself proud when it comes to Limited Ingredient recipes. These Venture Dog Formulas are made from novel meat proteins like squid and rabbit, and they're supplemented with veggies for a nutrient boost!
Earthborn Dog Food Recalls
Good news, puppy lovers — we haven't managed to find any Earthborn Holistic dog food recalls at all. Not in the FDA records, nor elsewhere on the internet. Isn't that nice to hear?
Why the Earthborn Puppy Food Reviews and Earthborn Dog Food Reviews?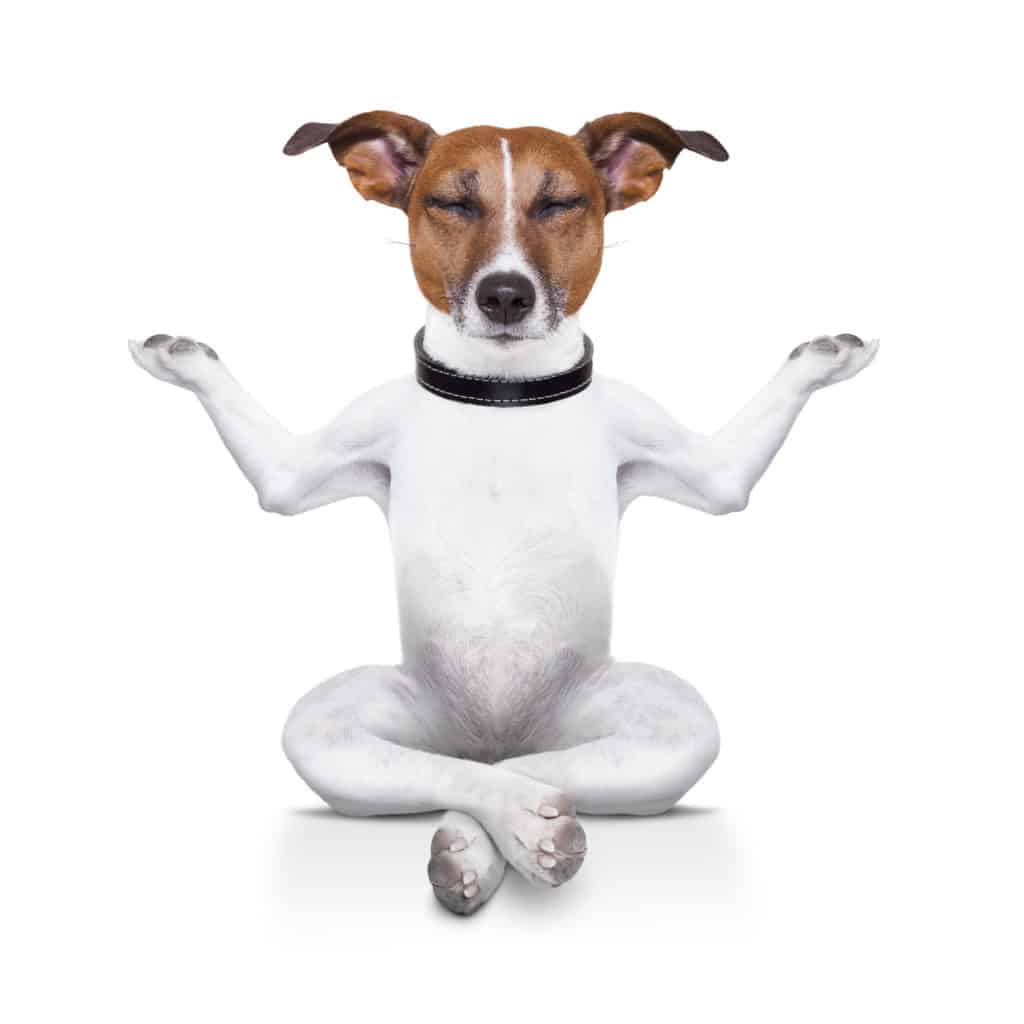 What we like most about Earthborn Holistic is their ample selection of gluten-free and limited ingredient recipes. We did already mention this, but as puppy owners, it's nice to know our gluten-free or intolerant friends don't have to compromise on choice. And, with so many exciting-sounding flavors, it means ordering dinner is a whole lot more fun!
We also like that many of the formulas are all-life-stages blends. If you've got more than one canine best friend, that can save a lot of time and hassle. Even better, most of these are all-life-stages and all-breeds recipes — just check whether the label notes "including large dogs over 70lb".
Finally, Earthborn Holistic as a brand puts considerable emphasis on environmental initiatives. They use recyclable packaging for their kibbles and run eco-friendly programs like UPCs for Trees that aim to offset our carbon footprints. And because dogs never stop needing food, it's a good thing for brands to reduce the impact of the whole process.
Our Earthborn Holistic Dog Food Reviews
The Grain Free Earthborn Dog Food Reviews
Whether your dog's gluten-intolerant or not, you might be considering a grain-free menu. If so, Earthborn has many all-life-stages, puppy, weight management, and other recipes to choose from.
Earthborn Holistic Primitive Natural Grain Free Dry Dog Food
Pros
Suitable for all breed sizes, this formula's even ideal for larger and giant dogs;
With Omega acids for soft coats and resilient skin, it's a good choice for dogs with sensitive skin;
Contains 38% protein — that's a lot!
Your pup or dog will be getting carrots, apples, cranberries, and spinach, so plenty of fiber; and
Features DHA that helps promote healthy brains.
Cons
Hardly any, to our knowledge!
Our Verdict: 5/5
It comes at a reasonable price and it's a healthy kibble all-around. With plenty of lean protein and nutritious veggies, what's not to love?
Earthborn Grain Free Meadow Dry Dog Food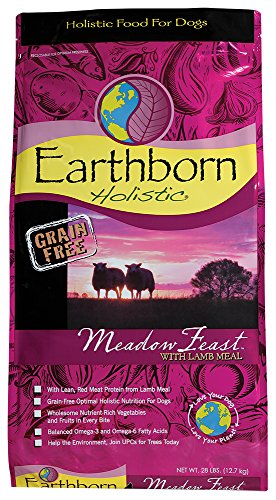 Pros
Contains L-carnitine, which is good for canine muscle function;
Mineral complexes will keep your dog in great shape;
But it also features natural vitamin sources like apple and carrots;
Gives your dog 26% protein; and
With zero potatoes, it is also gentle on your best friend's stomach.
Cons
Too bad pups can't enjoy it, too — this is an adults-only formula!
Our Verdict: 5/5
Tiny little
Poodles
,
Yorkies
, and
Chihuahuas
can tuck into this delicious lamb dinner, and so can the largest St Bernards and
Mastiffs
. If you've got several doggies, then, you can just get one bag. How's that for convenience?
The Earthborn Puppy Food Reviews
With just so many all-life-stages foods, you'd think Earthborn Holistic wouldn't need to make a puppy-specific food. But, they do, and it's full of all the good things we usually look for…just take a peek!
Earthborn Holistic Puppy Vantage Grain Free Dry Dog Food
Pros
Your pup will have a generous 28% protein in each serve;
Comes with a good 18% fat;
At 400k/cal per cup, gives your puppy plenty of energy to run around and play;
Contains flaxseed, which provides your little one with antioxidants; and
It's rich in DHA, aiding your best pal as he grows his nervous system.
Cons
Nope — even the packaging is well thought out and recyclable!
Our Verdict: 5/5
It's USA-made, gluten-free, and uses two protein sources. As well as that, you'll see there are fruits and vegetables inside, helping keep that little pup in top form! Five stars from us!
Earthborn Holistic Great Plains Feast Grain-Free Dry Dog Food
Pros
With 32% protein and 18% fat, it's got a perfect amount of both building blocks and energy for growing pups;
The core protein in here come from bison — a novel, tasty choice if your dog can't have any chicken;
Immune system health? It's in the bag — as juicy vitamins in cranberries and spinach!
There's also some variety around the protein in here, with chickpeas, normal peas, fish meal, and egg; and
With 400k/Cal in every cup, it's a great source of energy.
Cons
Unfortunately, this doesn't have appropriate nutrient ratios for our large-breed pets.
Our Verdict: 5/5
This not only sounds delicious, but it's also a practical rainbow of different proteins. Not ideal for intolerant puppies, but for those on a regular diet, variety can be a very good thing. And with real bison meal as the #1 ingredient, your puppy will be getting plenty of meaty goodness.
The Earthborn Holistic Wet Dog Food Reviews
While we've chosen to review this 95% protein recipe, Earthborn also creates cute little wet food dinners in its Moist Grain-Free Holistic range.
Earthborn Holistic K95 Beef Grain Free Canned Dog Food
Pros
With a protein content of 9.5%, your adult pooch will be well-equipped to maintain those healthy muscles;
It's versatile as can be, perfect as a topper, or as a meal all on its own;
Zero fake flavors or synthetic colors;
No dubious animal by-products; and
With 95% beef, it's positively packed with real meat!
Cons
We're actually big fans of this wet food, and we think it's pretty great as canned dinners go. Honestly!
Our Verdict: 5/5
It's sometimes hit-or-miss with canned foods; sometimes it's too runny, and in other cases, your pooch needs to go without vegetables. After all, you never know until you open the can. Luckily, we had a look for you and we're giving it 5 stars!
Earthborn Holistic Limited Ingredient Dog Food Reviews
There are six Venture recipes, each of which only has one meat ingredient. They're also totally grain-free — the fiber in these comes from cautiously picked-out veggie ingredients. Like pumpkin!
Earthborn Holistic Venture Grain Free Dry Dog Food
Pros
67% of the protein here comes from duck;
Most of the rest is from either peas or pumpkin, so you know exactly what your dog's eating;
Omega acids come from sunflower oil and flaxseed, which will keep Fido's coat nice and shiny;
With 330k/Cal per cup, it's relatively low in energy — a good thing if your dog is in need of careful weight management; and
It's rich in fiber, with vitamin-rich pumpkin and wholesome peas.
Cons
Grown dogs only, we're afraid!
Our Verdict: 5/5
Just like that, we've ended up with 5 out of 5 stars for all of our Earthborn Holistic dog food reviews. In this last one, we've even run out of space for all the pros: it also has no egg, potato, fillers, by-products or synthetic preservatives. Just delectable duck and supplements to balance it all out. Superb!
FAQ
What are some benefits of DHA for my puppy?
DHA is short for Docosahexaenoic acid, and we often hear about how puppies get it from their mom's milk. But why is this Omega-3 acid so often considered important? First and foremost, it's a key supporter of your puppy's brain health, helping them develop right and function optimally once they've grown. In fact, without getting overly scientific, it replenishes gray matter in the brain, which of course has positive cognitive effects.
DHA is also good for your little pup's vision, helping take care of their retinas. In a Journal of the American Veterinary Medical Association study, it was also linked to better memory, immune system, and psychomotor functions.
Generally, you'll find that puppy foods include DHA from fish oil. But in some of the Earthborn Holistic Dog Food Reviews above, it comes instead from eggs or fish itself. As it plays a beneficial role for dogs throughout their lives, it's usually a very good thing in puppy and adult dog foods.
Does my dog really need fresh water all day long?
About 60% of your dog's body is made up of water, and the super-important liquid plays a part in many doggy functions. From their joint health to their brain function, it's critical that they get enough!
That's why a lot of vets will tell you to leave out the water bowl so your best buddy can have free access. But should he really be able to get at it all day long? In short, yes! There's a rough rule about Fido having 1 oz of water daily for each pound that he weighs, so for most large size dogs, that will equate to between 1.5L and 2.7L a day. As long as it's fresh and properly clean, keeping the water out all day is good practice. Hope that helps!
Helpful Links
Last update on 2023-01-22 / Affiliate links / Images from Amazon Product Advertising API