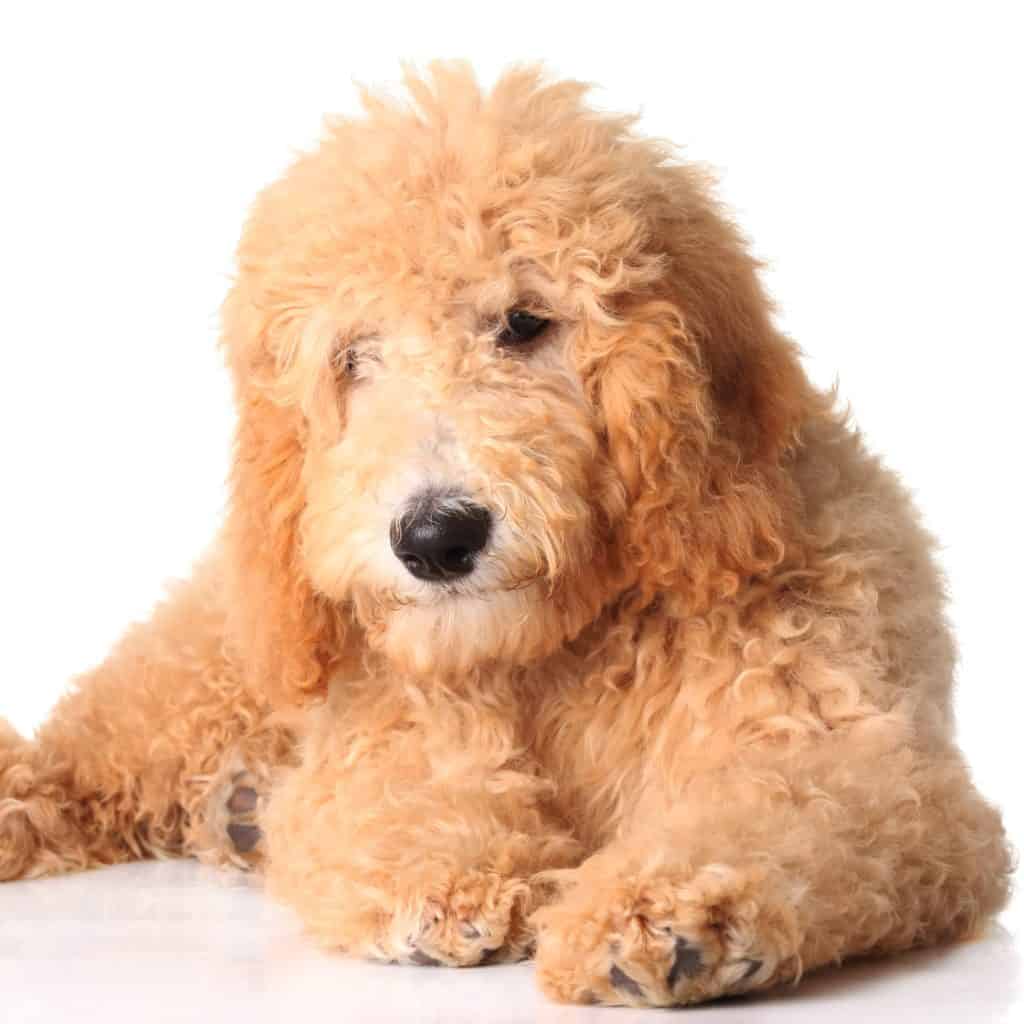 Are they big dogs? Small? In-between? Goldendoodles are an incredibly popular cross-breed here in the States, often described as the 'very best of Poodles and Golden Retrievers'! Because they are hybrids, however, they come in many varied shapes and sizes. So what do we feed them? And what if we've got a whole litter to cater for? Cute, I know, but also a little confusing!In this article, we'll start with an overview of the best food types. Then, we'll highlight key nutrients that you'll find in the very best food for Goldendoodles, and share our favorite, reliable brands. If you're already a dog expert, you can skip ahead to out reviews of the best puppy food for Goldendoodles. Let's begin!
Quick Review: Top-3 Dog Foods For Goldendoodles
Nutro Wholesome Essentials Puppy Food

Brown rice will give the puppy fiber
Contains optimal calcium ratios for great bones
Your puppy will get 26% protein

Instinct Raw Boost Grain Free Recipe

Uses Salmon Glucosamine Oil
Contains no potato or milled by-products
Gives your grown dog a whopping 35% protein

Rachael Ray Nutrish Little Bites

Contains rich omega ingredients
Includes 25% meat protein and
Provides an adult dog with cranberry antioxidants
Picking The Best Food For Goldendoodles in
Miniature Goldendoodles are the smallest of the lot. As a cross between a toy/mini poodle and a full-sized Golden Lab, they might weigh only 15 to 35lb at adulthood. Others may be more similar in size to their Golden Retriever parent: these are Small Standard Goldendoodles, and typically reach 40-50 lb. The largest 'hybrids' might weigh in at close to 90 lb when they're done growing, and as such, they're commonly referred to as Large Standard Goldendoodles.
What's Special About The Best Dog Food For Goldendoodles?
Call them hybrids, cross-breeds, or a designer breed if you like — but you won't find 'Goldendoodle food' labeled that way on the shelves. Instead, we owners need to think in terms of size, body mass, and lifestyle to make the most appropriate choices.
So if you've got a Large Standard Goldendoodle, you might want to consider a large breed puppy food. This will ideally include healthy glucosamine and a carefully balanced calcium to phosphorus ratio. On the other paw, owners of Miniature Goldendoodles will be best off choosing a small-breed kibble — these will usually have a higher calorie content and more fat.
What if you've got two Goldendoodles of different sizes? Or three Mini Goldendoodles and three Large Standards? Don't worry, we're going to cover dog foods for All Dog Breeds, too!
The Best Puppy Food For Goldendoodles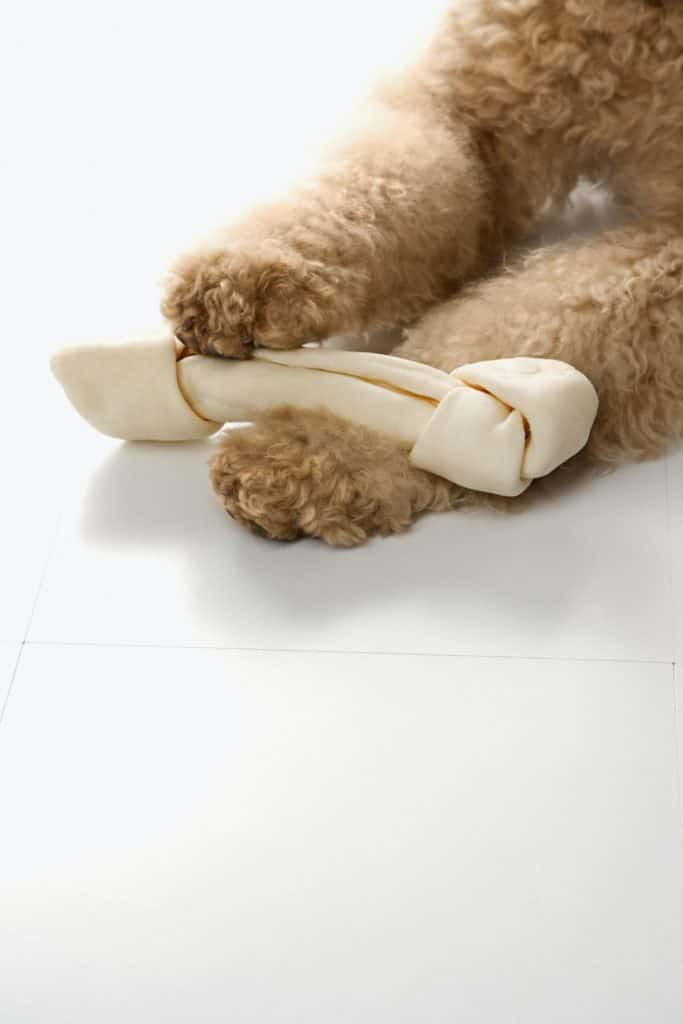 All puppy foods should offer your Goldendoodle at least 25% protein. But that's not all you need to look out for, because some proteins are more nutritious than others. On the whole, meat proteins like salmon, chicken, and beef will contain more essential amino acids than non-meat proteins, unless the latter are carefully balanced out. If you're out choosing Goldendoodle foods, therefore, try to opt for one with meat rather than veggie protein as the #1 ingredient.
Choose kibbles that give your Goldendoodle puppy enough calories and fat, too, as they burn more energy every day than your adult Goldendoodle will. Exactly how much fat and k/Cal per serving will vary depending on the size of your puppy:
Miniatures could need as much as 50k/Cal daily for each pound that they weigh;
Large Standards might only require around 40k/Cal; and
Small Standards could fall anywhere in between 40 and 50 k/Cal per pound each day.
To find out what your Goldendoodle puppy needs and compare it with their adult requirements, check out our dog food calorie calculator!
Goldendoodle Puppy Feeding Schedule and Details
A Goldendoodle puppy requires additional feedings and calories to help them meet their developmental needs. To help you better understand, we've put together a detailed feeding schedule according to their age.
Goldendoodles 5-8 weeks of age:
At this point in a Goldendoodle puppy's life they will be switching over to wet puppy food and dry kibble puppy food. When transitioning off their mother's milk, they will need to be fed often in order to mimic the constant feedings they were receiving from their mother.
When a Goldendoodle puppy is between 5 to 8 weeks of age, they should be fed a small meal at least 6 times a day. When a puppy is this young, they can have difficulty regulating their blood sugar as an adult Goldendoodle would. By feeding them 6 small meals a day, you are keeping their blood sugar in a safe range, and giving them the multiple boosts of calories and energy they need to be a healthy and growing puppy. Offering them both canned and kibble puppy food while they are transitioning from their mother's milk will give them a variety to choose from, make sure they are getting everything they need just in case they like one option more than the other, and you are giving them plenty of practice in learning about new forms of food.
8 weeks to 6 months old:
By 8 weeks old, most puppies are switched to dry kibble completely. When bringing home your new Goldendoodle puppy, make sure you start by feeding the same diet option they were receiving in their previous environment. An abrupt change in diet can result in gastrointestinal upset, and this can be dangerous for such a small puppy. Once they are in your home, you can transition them to your new diet over a 2 week period.
Now that your Goldendoodle is at the 8 week mark, they should receive 3 feedings a day. At this point they can better regulate their blood sugar, but will still require 3 feedings a day for that extra boost of calories and energy. A Goldendoodle puppy is extremely playful at this point, so two meals a day just won't provide them with the constant energy they need
Though some people choose to free feed their puppy and give them constant access to food throughout the day, this is not recommended. Free feeding can create picky eating habits, and some puppies will gorge themselves on food to the point of a stomach ache. The only time it's recommended to leave your puppy with a free feed option is if you plan to be away for a long period throughout the day, and are unable to check in to feed them throughout the day, though it's still risky.
6 months to 1 year old:
At this point, your Goldendoodle puppy's growth has slowed down a bit, and they won't require multiple feedings throughout the day. While they still grow until 1 year of age, they no longer need that third meal in the middle of the day for an extra boost. At this point your Goldendoodle puppy can be fed once in the morning and again in the early evening.
When To Feed Goldendoodles Adult Food
We understand that they breakdown for feeding can be a bit complicated, so we're here to help you understand the proper transition to adult food for your Goldendoodle.
Once your Goldendoodle has reached 1 year of age, they are considered an adult. They have finished the majority of their growing, and will continue to fill out a bit over the next year. Since they are no longer needing the surplus of calories to help them grow, they can now switch over to adult dog food.
Make sure to transition their food over a two week period to avoid and gastrointestinal upset, and your Goldendoodle will be ready to begin their adult life!
How To Get Picky Goldendoodles To Eat Normal Kibble
When you are transitioning over to adult food, you may have a challenge ahead of you if you have a picky Goldendoodle. Puppy food has more calories than adult food, so it is often more rich in flavor than the new adult food you are offering. No matter how picky your Goldendoodle is, just keep in mind that this transition to adult food is important. By staying on puppy food for a long period of time, dogs can begin to gain unnecessary weight due to the excess in calories and the decrease in growing.
The two week transition period is not only great for preventing gastrointestinal upset, but it also helps your Goldendoodle puppy acclimate to their new food. This way, they still have some of the flavor of their puppy food, while still trying out their new diet. As you begin to add less and less of the puppy food to their meals each day during the transition, they will be getting used to this new flavor.
If they still are not interested in their new food, try mixing in a wet food version of the new adult food you are switching them too. By adding a little extra moisture and flavor to their new diet, they may be more keen to try something new. Once they have switched over completely from their puppy diet, you can begin to cut back on the wet food.
The Best Puppy Food For Goldendoodles
Nutrisource Grain Free Small Medium Puppy
Pros
Even a quick glance at the nutrient analysis shows all the essential minerals. A great start!
As well as turkey, menhaden, and whitefish, this also uses green and red lentils for a complete amino acid profile;
Calcium is balanced perfectly with phosphorus and calories, making this formula suitable even for Large Standard Goldendoodles;
It's grain-free, so gluten-free pooches can get nomming; and
It's entirely chicken- and potato-free.
Cons
There aren't many vegetables.
Our Verdict: 4.5/5
While this formula would be even better with real fruit and vegetable fiber, it's still well-rounded and a very good choice for intolerant pups. Because it's gluten-, chicken-, and potato-free, the recipe skips a lot of common allergens.
Victor Dog Food Grain-Free Active Dog and Puppy
Pros
33% protein content is great for developing puppies, big and small;
Contains DHA, a beneficial fat for your little dog's eyesight;
It uses three different types of animal protein — fish, pork, and beef;
This formula has nice amounts of Vitamin E, selenium, and zinc: all ideal for healthy puppy skin; and
The pre- and probiotic blends in here promote smooth digestion.
Cons
Once again, we'd prefer if it featured more whole veggies.
Our Verdict: 4.5/5
You'll frequently find selenium yeast in Victor Dog Food, which is both a supplement and an antioxidant. Along with the high protein content and other healthy nutrients, this is indeed a good formula for long-haired, active Goldendoodles.
Nutro Wholesome Essentials Puppy Food
Pros
The chicken in here is farm-raised, and it's followed immediately by chicken meal on the list of ingredients;
Includes carrots for Vitamin A, and berries for even more Vitamin goodness;
Brown rice will give your little puppy the fiber he needs to digest his kibble;
Contains optimal calcium ratios for great bones; and
Your puppy will get 26% protein!
Cons
There are other grains in here too, unfortunately for our gluten-intolerant pups!
Our Verdict: 4.5/5
This
large-breed
meal also comes in a tempting lamb flavor that will have puppy tongues drooling! We like that it has DHA and glucosamine and that there are natural vitamin sources like sweet potato and apple. Plus, it's made using non-GMO ingredients. Nice!
Adult Goldendoodle Food
As we've described already, grown-up Goldendoodles can get by perfectly well without as much fat or protein as puppies. The larger your Goldendoodle will be as a grown-up, the longer his development will take. This means that Miniatures will frequently be ready for adult food well before Large Standards: often, several months before their larger friends.
Once your 'doodle is fully developed, he'll no longer require as many calories as he once did, either. Keeping him on a Goldendoodle puppy food for too long may be bad for his health and figure, so make sure you observe his growth after a few months of puppy food.
Big or Small, Grown or Growing…
No matter what size or age your Goldendoodle is, he or she will require some key nutrients besides protein and fat. Respected brands like the ones we have listed will always include the basic vitamins, minerals that your Goldendoodle food should contain, in accordance with AAFCO standards for dog food. And generally, you will find a statement on the packaging that says whether a kibble meets these standards.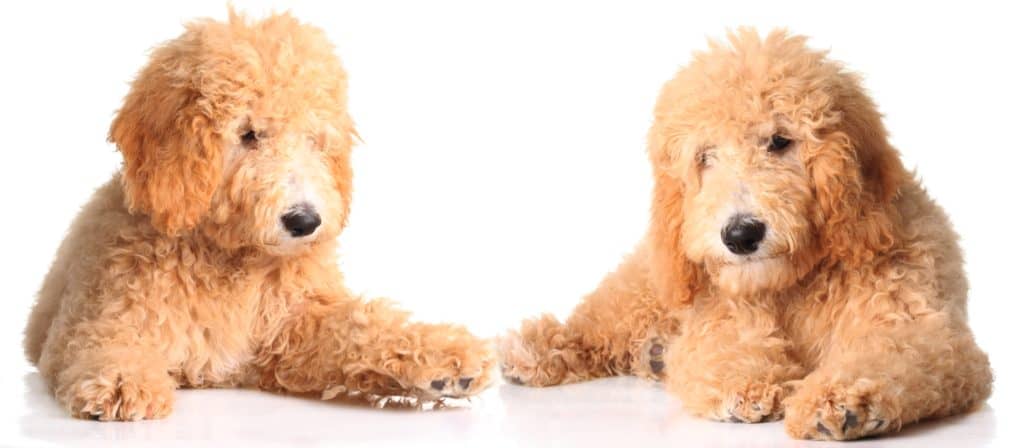 While they may not be described as such on the ingredients list, here is what your Goldendoodle will always require to stay healthy:
The macronutrients phosphorus and calcium;
The micronutrients iodine, chromium, zinc, manganese, iron, copper, fluorine, and selenium; and
Vitamins A, B, K, D, C, and E.
The Best Food For Goldendoodle Adults
Rachael Ray Nutrish Small Breed Natural Dry Dog Food
Pros
US chicken is our Number One ingredient, which will provide Miniature with lots of lean protein;
Contains Omega-rich ingredients, keeping that long Goldendoodle coat in tip-top shape;
The pieces of food are small enough for your little dog to eat without any hassle;
Includes 25% yummy protein from meat and other healthy sources; and
Provides your adult dog with antioxidants from cranberries!
Cons
Corn gluten meal is used to boost the protein levels in this formula; and
It also includes soybean products.
Our Verdict: 4/5
Unless you're a gluten-free dog parent, this formula is worth a try. Rachael Ray Nutrish kibbles are all made here in the USA, with high-quality ingredients. We'd like to see more veggies and fewer corn ingredients, but on the whole, we give this 4 out of 5 stars.
Instinct Raw Boost Grain Free Recipe with Real Natural Dry Dog Food
Pros
While venison is our key ingredient, this recipe also includes lamb, turkey, herring, and salmon, among other meats;
Uses salmon oil for glucosamine and heart-healthy Omega fats;
It's designed for Small Standard and Miniature Goldendoodles;
Contains no potato or milled by-products; and
Gives your grown dog a whopping 35% protein.
Cons
At 527 k/Cal per cup, it's a very high-calorie food.
Our Verdict: 4.5/5
Small, very active puppies will probably do very well with such a high-energy food, but medium-sized, inactive dogs will generally require something with fewer calories. Nonetheless, this has never been recalled, and it's full of healthy glucosamine for your little dog's joints.
Diamond Naturals Dry Food for Adult Dog
Pros
This will give your Goldendoodle 25% protein and 15% fat;
Contains quinoa and peas, both healthy non-meat proteins;
Uses only natural preservatives and colors;
Features 'superfoods' that are antioxidant-rich, like chia and flaxseeds; and
There are prebiotics in here which will help your Goldendoodle break it all down nicely!
Cons
Some of these ingredients might be considered fillers, such as white rice.
Our Verdict: 5/5
Overall, a good combination of essential macro- and micronutrients. While it's not grain-free, it offers all the health benefits of antioxidants and natural fiber. Suitable for even the largest Goldendoodles!
The Best Goldendoodle Food: Brands We Love
We've picked out established brands that make healthy, high-quality Goldendoodle dog food. To find out more about each product, we've reviewed the best puppy food for Goldendoodles just below!
FAQ
My Goldendoodle doesn't like his kibble AT ALL. He wants wet food all the time, but that's expensive!
Ah, a picky eater! If your Goldendoodle won't be convinced to eat dry food as it is, we've got a few nifty tricks you can try out. First, is it his current kibble that he doesn't like, or is it dry food in general? If it's the first, you could switch to a different flavor — from beef or chicken to salmon or lamb, for instance. You might both discover that a change of menu might stimulate his appetite for crunchy biscuits.
Or, is he unexcited about all dry food, no matter what the flavor? We understand that wet dog food can become expensive, so try some of these tips:
Prepare some broth by boiling bones or meat in water. Then, spoon it on top of his kibble to soften up the texture and release some tasty smells.
Mix up wet and dry food together, so you're only using half a bowl of each.
Do some detective work! He might be filling himself up on snacks, treats, or table scraps, which he finds much yummier than kibble. If so, reduce these or eliminate them entirely from his diet.
Last but not least, you can always try adding warm water to his kibble. This works the same way as preparing your own broth, but it may just achieve the same effect with less effort on your part. Good luck!
I see people saying brown rice in dog food is okay, but what about white rice?
Most dogs can safely eat both brown and white rice without serious repercussions. The reason lots of owners prefer brown rice in dog food is that white rice goes through more processing. As the germ, bran, and husk of whole brown rice are removed, a lot of fiber, vitamins, and minerals get lost, too. The milling process also reduces the amount of breakdown that must occur before your Goldendoodle can absorb sugar from it, so it will raise his blood sugar much faster.
Essentially, white rice is not 'harmful', but it has fewer nutritional benefits for your pet. This, and the fact that it is often cheaper than brown mean it is sometimes considered a 'filler' ingredient in dog foods.
Helpful Links
Last update on 2023-01-27 / Affiliate links / Images from Amazon Product Advertising API