If you're blessed with a beautiful shiny Lab, we're super excited for you! Labradors are incredibly easy to train, great with children, and my goodness are they loyal. No wonder they've been America's favorite dog for almost three decades! Your Lab will be lovingly by your side for something like 12 years, so he deserves only the best and highest quality food to stay in great health each day.
Quick Review: Top-3 Dog Foods For Labradors
Wellness Complete Health Natural

Comes with DHA, alongside Vitamins E and A
3% calcium, veggies like spinach and carrots
Bone-free chicken

Nature's Recipe Adult Dry

21% protein from chicken meal
Made without the use of wheat or corn
For a highly recommended brand for Labradors

Hill's Science Diet Puppy Food

Made with natural glucosamine and chondroitin sources
Has calcium to help your Lab puppy grow
Lamb meal is the top ingredient
Does my Labrador need a specific dog food?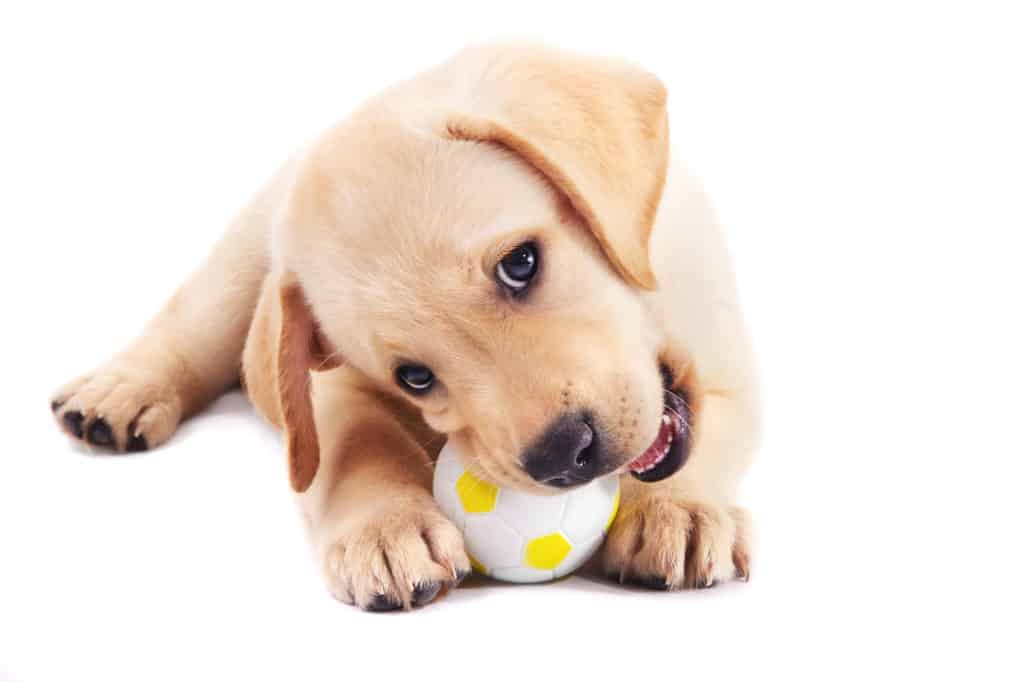 What's the difference between regular dog food and dog food that's suitable for Labradors? First, all dogs have different requirements, and the best dog food for Lab puppies and adult Labs is designed for medium to large breed dogs. Labradors can grow from 12 ounces at birth (cute, right?) to around 70 pounds at full weight. Dog food for large breeds like Labradors will be formulated with their unique nutritional requirements, and Labs in particular can be somewhat vulnerable to joint problems and canine hip dysplasia. Your Lab and especially your Labrador puppy will, therefore, have specific needs for nutrients that take care of joint health, like chondroitin and glucosamine.
At the same time, breed-specific dog food for Labradors will be developed to suit their distinct energy needs. Even the most laid-back Labs will need at least 45 minutes of exercise each day, so for large breed dogs their calorie requirements are quite high. A top quality dog food for adult Labradors will give them around 1000-1200 calories daily over 2 regular mealtimes.
What do chondroitin and glucosamine do?
Glucosamine and chondroitin are very commonly recommended by vets for dog breeds like Labradors which are particularly susceptible to developing joint problems. They're also so popular in supplement form for dogs, that you'll often find them on supermarket shelves as tablets or capsules. The reason for this is that they've been found by studies and dog owners to help relieve the symptoms of arthritis in older Labs, and prevent its occurrence in Labradors more generally. They're natural parts of the structure of cartilage, and in this way help maintain cartilage health in your Lab or Lab puppy. A top quality dog food for Lab puppies or older Labradors especially will make a point to include good sources of glucosamine and chondroitin as part of a holistic formula for health.
Chondroitin and glucosamine are proven to work best when used as a preventative measure, meaning it is ideal to find a food with these ingredients from the moment they reach adulthood. Introducing them to these ingredients from the start of their adult years will help to prevent joint damage with time, and hopefully give your Lab a more comfortable life as they age.
Why does the best dog food for Labradors have L-Carnitine and Taurine?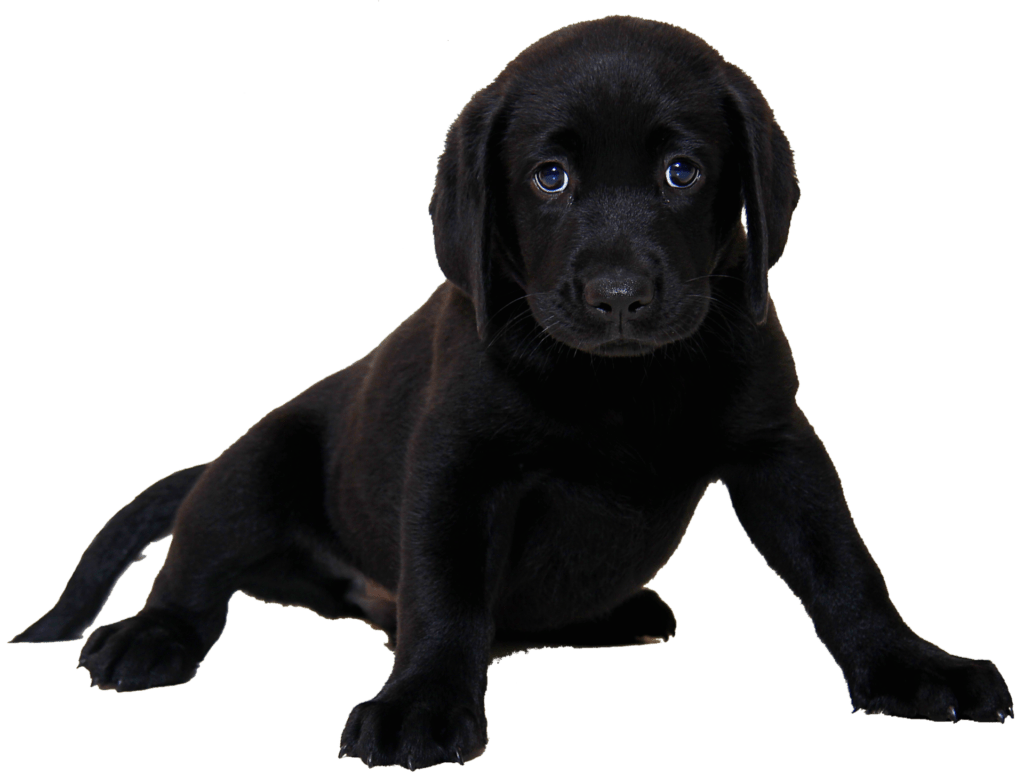 Now we're getting pretty scientific! Taurine is an amino acid, which is what proteins are made out of. It's included in the best food for Lab puppies and adult Labs because without it, this breed is pretty prone to getting deficiencies and suffering from heart disease. Taurine can be found in dog food for Labradors and Labrador puppy food with chicken as a main ingredient, and we consider it a big plus when we're reviewing and recommending Labrador food.
L-Carnitine also helps protect against heart disease, and can play a part in preventing strain on our Labrador's heart muscles. In the wild, our Lab's ancestors would get L-Carnitine from red meat like beef or venison, and after this from animals such as chicken and poultry, among other things. This means the manufacturers of the best dog food for Lab puppies and adult Labs will try to supplement your dog's food with at least some L-Carnitine so he can continue to get this healthy nutrient from his dry kibble.
What about my Labrador puppy's food?
Our little Labrador puppies need extra-special attention from us when it comes to their puppy food. We've mentioned before that all puppies should be fed puppy-specific food until they're at least 4 months old, and that same rule applies for our baby Lab puppies.
One specially important thing to know about Labrador puppies is that they're notorious for chewing a lot. This means first up that you should probably put those new shoes somewhere safe. More importantly, you need to remember that it doesn't always mean he's hungry. A healthy food for Lab puppies will be a balanced source of nutrition, and giving your Lab more puppy food simply because he's chewing on things around your home can lead to obesity.
Does the top dog food for Labrador puppies involve special formulas?
Yes, it does! The best puppy food for Labradors will be designed specifically for their breed nine times out of ten. Because Lab puppies are supposed to eat smaller and more frequent meals, the calorie count per cup will be different from the dog food you're giving your adult Lab. Overall, the best food for Labrador puppies should give your pup a higher amount of calories, fat, and protein than a grown-up Labrador dog food because they are growing so super fast.
Another important fact to keep in mind about the best puppy food for Labs is that it should be formulated for large breed dogs who are still developing. Labrador puppies, like other large breed puppies, need to have properly balanced calcium to phosphorus ratios in their Labrador puppy food. This helps prevent them from developing musculoskeletal diseases like arthritis and joint pains from too much calcium.
What is the best puppy food for Labrador puppies ?
As we've mentioned, your Labrador puppy is going to need you to offer him a specially made puppy food so he can grow big and strong! It's ever so important to get the right nutrients for your Lab puppy in the right amounts during his formative years. That's why we've carefully weeded out the not-so-great brands and were left with three real quality makers of the best puppy food for Labs.
Royal Canin Breed Health Nutrition Labrador Retriever Puppy
Pros
31% protein, even the most bouncy and active Lab puppies will be taken care of!
Made with fish oil, so it's a puppy food with DHA, Omega-3 fatty acids and EPA for strong eyes, bones and cerebral function
12% fat is well within the recommended 10-15% for Lab puppies
Kibble shape, surface texture, and formula are designed with input from Breeders
Has chondroitin and glucosamine in good levels for joint health
Cons
Chicken by-product meal is the number 1 ingredient, not optimal in puppy food for labs
Hill's Science Diet Puppy Food
Pros
Free from artificial colors, flavors, and preservatives
Made with natural glucosamine and chondroitin sources
Has calcium to help your Lab puppy grow some sturdy, substantial bones!
Lamb meal (not by-product meal) is the top ingredient, and it has good amounts of egg too for protein, which comes to 29% total
16% fat from pork fat, which is just above our recommended 15%
Cons
It's not completely free from wheat or grains, as it contains some corn gluten meal
If your Lab puppy isn't very active, this fat content might be a little on the high side
Wellness Complete Health Natural Dry Large Breed Puppy Food
Pros
Comes with DHA, alongside Vitamins E and A for disease resistance and glossy, strong fur coats
3% calcium, amongst other things from veggies like spinach and carrots
Bone-free chicken and chicken meal are the top protein ingredients, giving this puppy food for Labs a total of 29% protein
13% fat from chicken fat, which is right in the middle of an ideal range for Labrador puppies
Cons
It's a little at the pricier end of the scale, but we reckon it's well worth it for it's concentrated nutrient profile
How will I know if a dog food is healthy for my Labrador?
Are you wondering how to pick the best food for your Lab or Labrador puppy? Our shiny, floppy-eared friends are protein-loving creatures, cheerful and often pretty dynamic. We always advise Lab owners looking for the best dog food to start with the ingredient label and nutrition profile. What you'll want from this is an idea of how much protein your Labrador or Lab puppy is getting, and from what ingredients. For both active and less active Labradors, it's incredibly essential to ensure their main source of protein is real meat. Whether it's pasture-raised lamb or boneless chicken fillet, Labradors, like all dogs, deserve to eat high-quality protein content, and adult Labs will require around 18-22% in their dog food. This means try to minimise feeding your Lab anything listing 'by-product meal' as a central ingredient.
Like grown-up Labs, Labrador puppies rely on you to make healthy protein-rich puppy food choices for them. They're using so much energy to grow up and develop muscle that they simply aren't going to get it all from adult dog food, even if it's particularly designed for adult Labs. Look around for a puppy food that's got 25-30% protein, although like not so active adult Labs, less active Lab puppies will also need less protein.
What else does good Labrador dog food contain?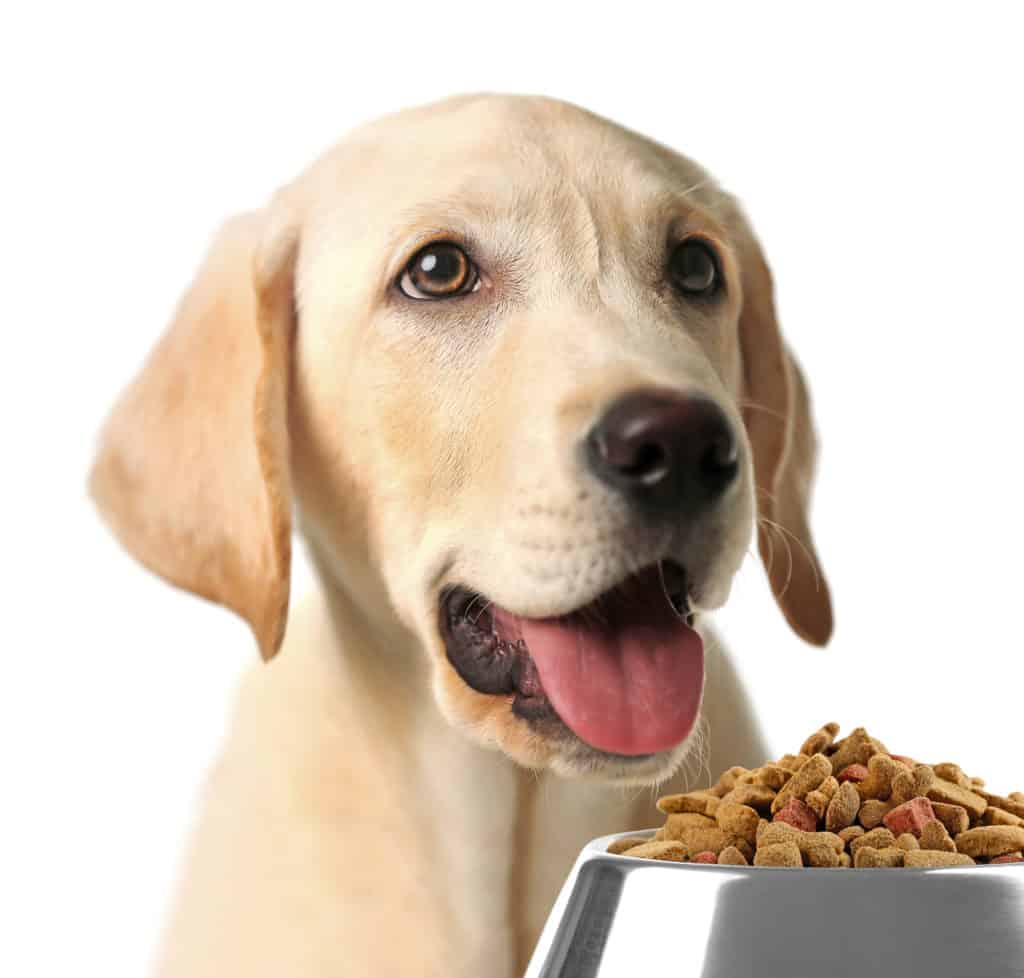 After protein, Lab owners should look out for how much fat a dog food contains. Fat is always necessary for Labrador puppies to grow up big and strong. The fact is, Lab puppies are growing around 2 pounds each week and you'll need to make certain they're getting around 10% fat from their puppy food. Adult Labs will have less need for such high fat content, so what you'll be concerned about here is mainly that the fat content is lower than protein and roughly around half the percentage value
Vegetables! These are the best and most natural way for your Labrador or Lab puppy to get their vitamins, antioxidants, and minerals. The very best dog food for Labradors, and the best puppy food for Labs will incorporate vegetables like spinach, tomato, carrot (a favorite with doggies) and even berries into their recipes. This way, you'll know your Lab's taking in all the cancer-fighting and distinct micronutrients for optimal health. Some awesome micronutrients to look out for in the best puppy food for Labs and grown-up Lab food are naturally sourced:
Vitamins E and A respectively for immune health and shiny, strong coats
Calcium and phosphorus for dental and bone structure
Sodium and chloride for optimal cell function
Magnesium, potassium, and sulfur for varied functions
Low carbs are another sign of a good dog food for Labradors, Lab puppies and all other dogs. We've mentioned before that canines aren't great at digesting carbohydrates, so when you choose the best puppy food for Labs or adult dog food, read the label to ensure carb content is at the lower end of the scale towards 30%.
What's so special about puppy food for Labrador puppies?
Believe it or not, Labrador puppies are actually among the most bouncy and playful puppies you'll ever meet. They need bucket loads of exercise, otherwise, it's possible they'll become bored and maybe a little mischievous. When it comes to getting them the right dog food, this means they'll be requiring a specific puppy food for Labs (not an adult Labrador dog food) that's higher in calories. As always with Labradors, your Lab puppy is relying on you to pick a puppy food that's giving him this energy from both proteins and fats. Unsurprisingly then, they're gonna require puppy food that's got more protein and more fat in it than even the best dog food for grown-up Labs.
What is the best food for adult Labradors? 
Royal Canin Breed Health Nutrition Labrador Retriever Adult
Pros
Large-breed dogs can have large appetites to match, so Royal Canin has developed special kibble structures to prevent your grown-up Labrador from eating too much too fast
28% protein means it's crafted for Labs who are getting out there and running around
It's lower in fat at 11%, which we really like
Glucosamine and chondroitin included
Enhanced with DHA and also EPA
Cons
Like the Royal Canin food for Labrador puppies equivalent, its main ingredient is a by-product meal.
EUKANUBA Breed Specific Adult Dry Dog Food
Pros
Promotes joint support in a healthy way through glucosamine and chondroitin content
Contains natural Taurine sources for vision and cardiac health, along with L-Carnitine
Protein is 23%, which is just right for adult Labradors, and comes from turkey and chicken
Made with fish oil for EPA and DHA
Fat levels are 13%, from animal fats
Cons
Contains corn meal filler and egg product, so not a suitable dog food for Labradors with sensitivities
Nature's Recipe Adult Dry Dog Food
Pros
21% protein from chicken meal, a natural source of Taurine
Made without the use of wheat or corn
Free from artificial flavors and colors
For a highly recommended brand of dog food for Labradors, it's pretty economical!
Good level of 12% fat, from natural poultry fat sources
This dog food for Labs has 1% calcium that's balanced optimally with phosphorus
Cons
Nature's Recipe is quite hard to fault, it's even made in the USA!
Brands that make the best dog food for Labradors

Our team has put together a list of the best puppy food for Labs as well as the top food for Labs that are fully grown up. We always care deeply about who's making our buddy's dog or puppy food, so we've rounded up the leading brands from our review.
FAQ
What brand makes the best puppy food for Labradors?
There are so many different types of puppy food for Labs, that knowing which is best for your Lab pup can be a little overwhelming at first!What we typically suggest is that a Lab puppy should at first be fed whatever puppy food it was eating at the pet shop or breeder. It's best to help your Lab puppy avoid digestion problems in this way because little puppies and Labradors included, can have sensitive tummies. The sudden shock of changing his puppy food right away may give him runny stools.
After a small while, you'll find the best puppy food for your Labrador will be a matter of trial and error with the puppy foods we've recommended. You'll know what the best puppy food for your Lab is when your little friend is maintaining a healthy weight and has a shiny coat, regularly consistent stools, and clear eyes. He'll also have plenty of energy from his puppy food but not be gulping it down too fast. Please always remember to gradually change your puppy's food! You can do this by mixing a little of the new puppy food for Labs in with his old food, giving him a little more of the new puppy food each day until he's fully switched over.
Is dog food for Labradors expensive?
Feeding your Lab with a specially designed dog food for Labradors is no more expensive than feeding a Rottweiler special Rottweiler dog food, or feeding a dog food for Poodles to a Poodle… and so on! There are real reasons why the best dog food brands remain top sellers year after year. First, the highest quality brands are well known around the world and have reputations to look after. The brands we review as the best dog food for Labs focus more on making sure your Lab or Lab puppy has recommended concentrations of what's good- protein, fat, vitamins and minerals. In comparison, cheaper and lesser known dog food manufacturers will often 'bulk up' their dog food with fillers like by-product meal and unnecessary grains. What often happens with these cheaper brands is that your Lab or Lab puppy will may need more food to get their daily requirements. More food daily means more expense, so actually cheaper dog food brands can end up costing you and your Lab a bunch more.
Is my Lab puppy eating too much puppy food?
The best puppy food for Labs will be a carefully balanced ratio of calories from protein, fat and also carbohydrates to make sure he's not eating too much and gaining weight too fast. Signs your puppy is enjoying too much of his Labrador puppy food include:
normal stools in the morning, that become softer as the day goes by
lethargy and tiredness
lowered stamina
a puppy figure that is significantly fatter than an 'hourglass' shape
heavy breathing or panting when not exercising
In all these cases it might be best to consult your puppy's vet, who will be able to help you adapt his exercise and feeding routine in a way that doesn't cause him to lose weight too fast.
Helpful links
Last update on 2021-01-13 / Affiliate links / Images from Amazon Product Advertising API