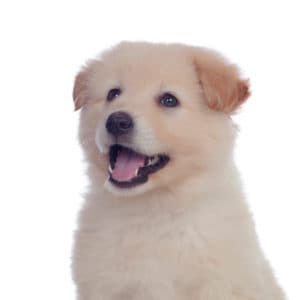 Great Pyrenees are gentle, loving giants who make super-loyal family members. With their abundant coats and muscular physiques, they serve as brilliant protectors and get on well with kids. These beautiful dogs were once herders on the Pyrenees slopes, and their independence and work ethic still remains. This article will help guide you while you pick out the best dog food for Great Pyrenees and give you all the lowdown on their nutritional needs. Read on to discover our favorite brands, their dietary must-haves, and browse our reviews of the best puppy food for Great Pyrenees!
Quick Review: Top-3 Dog Foods For Great Pyrenees
Wild Frontier Vital Prey Dry Dog Food

Contains 34% protein from various animals.
All preservatives and flavors are natural
Includes valuable fish oil

Eagle Pack Natural Dog Food Large Breed

Contains 25% protein
Contains glucosamine and Omega-friendly fats
Designed for adult dogs that reach over 50 pounds.

Solid Gold – Wolf Cub Large Breed

Whole traditional grains facilitate digestion
Includes a number of vitamin, fiber-rich vegetables
Formula without potatoes, without grain
Special Features of the Best Food for Great Pyrenees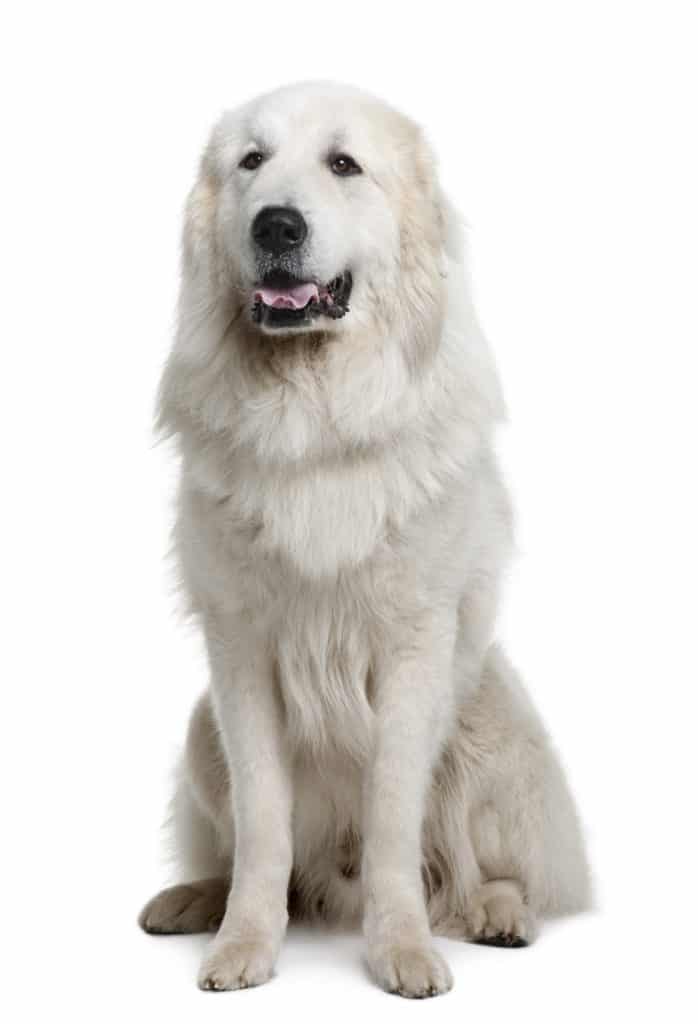 Your Great Pyrenee is a powerful, clever, dog – but the very first thing you'll notice if you're new to the breed is their giant stature. Fully-grown Pyrenees generally come up to waist height on their owners, with the average adult dog being between 2' and 2'6" tall. Because they start relatively small and eventually reach about 80 – 115 lb when grown, their bodies have a lot of growing to do. Because of this, their diet needs to promote healthy growth.
Great Pyrenees Energy Requirements
You can safely expect to feed your Great Pyrenee puppy with a growth-focused puppy formula for at least 12 months – but because every puppy's growth and final size will vary, we recommend you use our dog food calculator to keep checking on how many k/Cals they need each day.
Once they stop growing, you might expect a Great Pyrenee to require anywhere between 1650 k/Cal daily (for a smaller, moderately active female) and 2700 k/Cal for a 115 lb, active male.
Special Nutritional Requirements of Great Pyrenees
Their long bones and large joints leave the Great Pyrenee breed fairly at risk of developing canine arthritis, dysplasia, and a host of other joint conditions. Fortunately, this has long been pretty common knowledge among vets and nutritionists, so the best dog food for Great Pyrenees (and their pups) typically includes nutrients to help them combat this.
You'll find glucosamine – an amino sugar – and chondroitin in our top picks, either in the form of fish oil, meat meals, or special supplements.
Thick, shaggy white coats are also a distinguishing feature of purebred Great Pyrenees. While they have relatively short fur compared to Shih Tzu, Huskies, or Labradors, their fur healthy and looking its best.
Look for giant-breed dry dog food which contains Omega fatty acids to boost their coat and skin condition – you'll find these in ingredients such as avocado, fish, flaxseed, and sunflower oil.
Nutrients in the Best Puppy Food for Great Pyrenees
As puppy lovers and long-time dog owners, we're always emphasizing how important protein and fat are in your growing dog. While he's growing, your Great Pyrenees puppy requires you to pay particular attention to the quality and quantity of these key macronutrients in his food:
The best food for Great Pyrenees puppy dogs will give him a bare minimum of 25% digestible protein;
This will be from high-quality recognizable animal sources such as duck, fish, chicken, beef, or similar, although these days it is very easy to find more novel animal proteins that fit the bill (think bison, buffalo, and venison!);
The best dog food for Great Pyrenees puppies should give them sustained energy for play and growth – look for a kibble that has around 13% fat at least.
Other important criteria such as a food's vitamin content (K, E, D, B, A, and C) and its mineral inclusions (selenium, fluorine, iodine, zinc, copper, calcium, phosphorus, iron, etc.) will generally already be met in any food which "meets the AAFCO recommendations for growth of large breed puppies".
These vitamin and mineral requirements won't need to be altered much throughout your dog's life unless you have been told by a vet that he is deficient in a specific trace nutrient. Their reliance on protein and fat will drop, however, as they age – an adult Great Pyrenee food with 9% fat and 19% protein will be sufficient in most cases.
As your precious Pyrenee reaches approximately 8 years of age, you might want to transition him onto a special formula for senior dogs. You may also wish to consider feeding him a greater proportion of wet food as his jaws lose a little bit of strength.
Brands That Make The Best Dry Food for Great Pyrenees
We're always discovering and revisiting different brands as we research the best possible food for your giant-breed dog. In this list, you'll find our very favorite brands which make the best food for Great Pyrenees puppies:
Reviews: Best Puppy Food for Great Pyrenees
Taste of the Wild Grain-Free High Protein Dry Dog Food
Pros
Contains plenty of Omega fats that encourage better skin condition, so you'll find your little one's coat looking great in no time;
28% protein will support the ideal development of strong puppy muscles;
The headlining ingredients in this list include whole venison, glucosamine-rich lamb meal, and chickpeas, which are full of useful fiber;
It's all naturally preserved and flavored; and
Provides your Great Pyrenees puppy with DHA to boost his brain function.
Cons
Zero – we like Taste of the Wild's optimal balance of affordability and quality nutrients.
Our Verdict: 5/5
Five shining stars for this size-appropriate puppy kibble for giant breeds. Your Great Pyrenee pup gets slow-burning energy from 15% fat and plenty of vitamins from delicious fruits like raspberries and tomatoes.
Solid Gold – Wolf Cub Natural Large Breed Puppy Food
Pros
There's 26% protein in this Solid Gold formula, and all from quality inclusions such as ocean fish, bison, and eggs;
Flaxseed offers a lovely dose of Omega-3 fats for your little pup's health, and salmon oil gives Omega-6;
Whole traditional grains like soft oatmeal and brown rice make for simpler digestion;
It includes a range of vitamin-packed, fiber-rich veggies like watercress and pumpkin; and
A potato-free, grain-free formula makes this ideal for lots of intolerant Great Pyrenees puppies.
Cons
Not an appropriate choice for gluten-intolerant little puppies.
Our Verdict: 5/5
Wholesome animal proteins and fats make up an excellent base for this large-breed puppy recipe. It's fortified with useful gut bacteria, too, so puppies with sensitive tummies can chow down in peace!
Wild Frontier Vital Prey Dry Dog Food – Puppy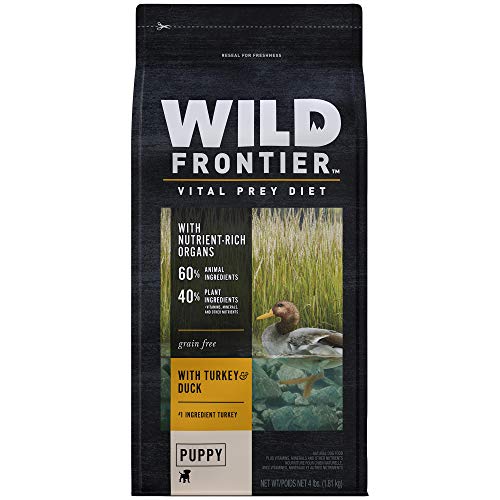 Pros
Contains animal organs, which are an excellent source of vital minerals, fats, and other nutrients for healthy puppies;
Features 34% protein from many different animals – including turkey, duck, chicken, fish, and pork;
All preservatives and flavors are natural;
While this includes a diverse array of meats, the ingredients list is minimal, so this food is very natural; and
Includes valuable fish oil to give your Great Pyrenees puppy DHA and glucosamine.
Cons
Includes potato ingredients.
Our Verdict: 5/5
This recipe from Wild Frontier is a top choice for Great Pyrenees puppies who require a protein-packed diet for their active lifestyles. It's varied and rich in essential nutrients – perfect for our fluffy best friends!
Reviews: Best Dog Food for Great Pyrenees
Eagle Pack Natural Dog Food Large & Giant Breed Adult
Pros
Specially designed for adult dogs like Great Pyrenees, who reach more than 50 pounds when fully grown;
Uses egg and a duo of animal meats – pork and chicken – for a varied palette of flavors;
Includes 25% protein to encourage excellent maintenance of those hardworking muscles;
Features both joint-friendly glucosamine and coat-healthy Omega fats;
Supplements like iron, copper, and zinc promote optimal giant-breed health!
Cons
Doesn't contain many vegetables.
Our Verdict: 4.5/5
A natural, meat-rich recipe that's highly recommended, this Eagle Pack blend for giant adults is some of the best dry food for Great Pyrenees – and it won't break the bank!
Nutrisource Large Breed Dog Food
Pros
It's designed with appropriate calcium ratios and glucosamine to support a giant dog's joints;
The top listed ingredient is whole natural chicken, followed by protein-rich chicken meal;
Uses menhaden oil as an additional glucosamine and DHA source;
Includes flaxseeds for Omega-3 and healthy coat care; and
Doesn't use any wheat or soy – just traditional, trusted grains like barley and brown rice.
Cons
It does include some white rice, which doesn't offer much nutrition.
Our Verdict: 4.5/5
If you've got a
Great Dane
,
Mastiff
, or another giant as well as your Great Pyrenee, you'll find this an affordable option that all of them can chow down on. Awesome!
Blue Buffalo Life Protection Formula Natural Adult Large Breed Dog Food
Pros
Designed by vets and professional pet nutritionists, this formula offers everything that your adult dog needs to maintain great energy levels and strong muscles;
Some of the high-quality proteins in here include whitefish, menhaden meal, and peas;
Lots of vegetables and garden fruits provide the fiber that your Great Pyrenees needs to metabolize his dinner;
Includes DHA-rich oil from fish, also a source of Omega fats and glucosamine; and
Provides 20% protein and 13% fat – ideal ratios for giant-breed maintenance.
Cons
Not for dogs with grain or potato allergies.
Our Verdict: 5/5
All the carefully picked ingredients in this Blue Buffalo formula play a useful role in maintaining your grown dog's health. And it is naturally preserved, with no artificial flavors or fake colors. We give it five stars!
Iams Large Breed Dry Dog Food
IAMS Adult High Protein Large Breed Dry Dog Food with Real Chicken, 40 lb. Bag
Iams is offering a quality diet that fits all of your large furry friend's needs! With chicken being the first ingredient, glucosamine and chondroitin sulfate for optimal joint health, and added fiber and probiotics for digestive health, this diet has everything your Great Pyrenees needs to stand tall and proud. Iams is recommended by veterinarians for their quality ingredients, and offers incredible benefits that put them at the top of the dog food list!
Buy on Amazon
Add to Cart
Pros
Chicken as the first ingredient
Glucosamine and chondroitin sulfate for joint and skin health
Promotes healthy bone growth and maintenance
Added fiber and probiotics
Cons
We can't find any cons with this impressive diet!
Our Verdict: 4.5/5
All the carefully picked ingredients in this Blue Buffalo formula play a useful role in maintaining your grown dog's health. And it is naturally preserved, with no artificial flavors or fake colors. We give it five stars!
FAQ
What is different about the calcium requirements of giant breed puppies?
The key takeaway is that giant-breed puppies need kibble with a lower calcium-to-calorie ratio than small- or medium-breed puppies. Their bones are simply not able to grow at an optimal pace for their body size if they get too much calcium in their diets, and the amount that you would feed a smaller breed dog is simply too much.
This excess calcium can encourage their skeletons to grow at a rate that is too rapid, or they may become overly thick. Both can potentially lead to joint complications such as joint dysplasia or osteoarthritis – painful and sometimes crippling conditions that proper nutrition can help prevent. Fortunately, all you need to look for on a puppy food label is a statement that the food is "Suitable for the growth of large-breed dogs" – manufacturers cannot legally make this claim unless the optimal calcium to calorie ratio is present in the kibble.
I want my Great Pyrenees puppy to grow faster, what do I feed her?
It's not advisable to try and accelerate your puppy's growth beyond a normal rate – with a balanced diet, your puppy will naturally grow to a size and shape that is right for her. Trying to speed up these natural processes, whether for working or show purposes, can put unwanted stress on her musculoskeletal system and lead to various complications.
If you are trying to rush your puppy's growth with extra calcium, for instance, her muscles may not grow at the same pace and this can lead to a deformed body structure. Overfeeding her or supplementing her diet with minerals to boost her muscle development might stress out her joints or simply put her at risk of obesity. Please seek a vet's advice if you believe your puppy is underweight, or if there is another reason that you want her to grow faster – we can only recommend the best food for healthy puppy growth in normal Great Pyrenees.
Helpful Links
Last update on 2023-01-27 / Affiliate links / Images from Amazon Product Advertising API