Unlike cats, dogs don't have a reputation for being fussy. But that doesn't stop some dogs – and even puppies – from turning up their noses at perfectly good kibble. Some can try everything from cookies to gumboots, while others won't look at anything besides caviar. So how can you find the best dog food for picky eaters without blowing your budget entirely? In this article, we'll help you understand the common reasons for food-fussiness in puppies and adult dogs, including intolerances, allergies, and plain old boredom. We'll look at how you can select the best tasting puppy food for picky eaters, for small-breed dogs, and even how you can tweak your puppy's current food to make it more appetizing for your best friend.
And don't worry – you won't be asked to fork out for a 'Pooch Porterhouse' just to get that dog eating!
Quick Review: Top-4 Picky Eaters Dog Food
The Honest Kitchen Human Grade Dehydrated Organic

All formulas are made in the USA
This all-natural formula
It is designed for every dog ​​breed

Natural Balance Original Ultra Dry Dog Food

Delicious taste of duck and chicken
With limited special ingredients
Contains a variety of fruits and vegetables

Wellness Thick & Chunky Natural Wet GF Canned Dog Food

Includes premium, whole salmon and real venison
Gives 8% tasty protein and 4% fat
Slowly cooked for maximum flavor

Bil-Jac Picky No More Small Breed Dry Dog Food

Includes 26% protein and high levels of healthy fats
A large amount of omega fats
The #1 ingredient is protein-rich whole chicken
Choosing The Best Dry Dog Food For Picky Eaters
If you can understand why your puppy won't eat a regular kibble, your search for the best picky dog food is going to be much, much easier. So, choosing the best dog food for picky dogs will start with one question: "Why?" – or more specifically, "Why not?"
So, Why Not?
Sometimes, there are dogs that just aren't fond of dog kibble – unless you notice any other warning signs of illness, this is not usually a reason to be worried. These puppies don't require veterinary attention, but on the other hand, they tend to be unimpressed by the taste, texture, or smell of certain foods. According to them, "It's just not good enough!"
To encourage picky pups to eat, grow, and be healthy, you can try several things:
Switching to a puppy food with a different main ingredient. Most of us humans don't eat the same thing day in, day out, so we can sometimes forget what it's like to get sick of the same thing. Most puppies are 100% fine with eating the same food every day, but every dog is different, so you never know! Different meats have different flavors (well, of course!), so it's often worthwhile trying out a new flavor kibble on your picky pooch.
Checking that your pup's kibble is appropriate for his size. A too-large kibble can sometimes be too much for smaller-breed dogs and puppies. It may be delicious, nutritious, and smell great, but if his food is too tough to chew, your pooch may quickly learn this and stop trying to eat it unless he's desperate. In this case, try a food with small-sized kibble.
Choosing food with slow-cooked ingredients. Some brands slow-cook the meat in a dog's food in a way that locks in more flavor and scent, creating a kibble that appeals to a fussy dog's nose and tastebuds. A dog's nose plays a very important role in his food decisions, so recipes with slow-cooked animal ingredients can sometimes tempt the pickiest pups!
Switch to a limited ingredient kibble. Last but not least, your pup might not like the flavor of a particular ingredient in his food. If you haven't the slightest clue what ingredient might be killing his appetite, a limited ingredient formula can offer all the nutrition he needs with fewer ingredients.
With all these tips in mind, let's see what brands create the best tasting dog food for picky dogs!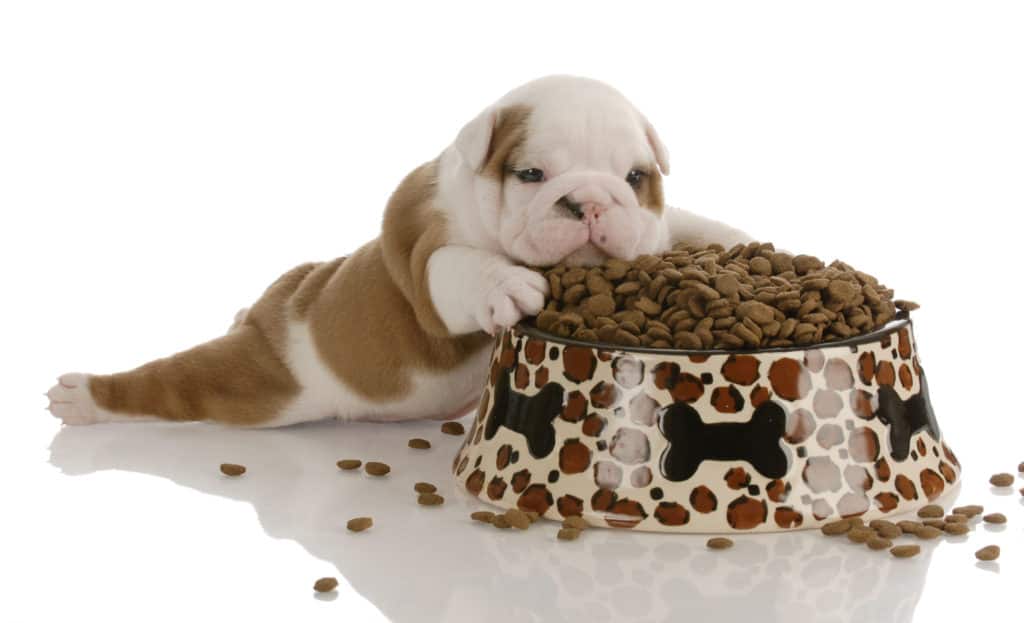 Best Dog Food For Picky Eaters: Brands We Love
Whether you're a first-time, brand new puppy owner or a seasoned breeder, we've put this summary together for you! Use this list and our Brands page to find out more about the companies that make the tastiest dry dog food for picky eaters.
Natural Balance – This brand creates a generous range of Limited Ingredient formulas that you can use to tempt a pooch with intolerances;
Fromm – Countless owners (including us!) love Fromm for their diverse array of exotic and novel flavors, such as Game Bird, Surf and Turf, and many other varieties to tempt picky dogs;
Zignature – Here's a brand which uses prime ingredients such as New Zealand green mussel to create premium (and we mean premium) kibble for very fussy pooches;
The Honest Kitchen – With The Honest Kitchen, you can expect a good amount of organic ingredients, as well as non-GMO meats – and everything about their formulas is human grade;
Wellness – You can always rely on Wellness for wholesome, top-caliber tasty dog food, and that includes a nutritious topper/wet food option that's among the best wet dog food for picky eaters;
Instinct Raw – to make tasty dog food for picky eaters, Instinct Raw boosts the aroma and flavor of its food using freeze-dried chunks of fresh meat; and
Bil Jac – one of the most consistently reliable brands we've reviewed, Bil Jac creates a special formula for small, 'persnickety' dogs;
Taste of the Wild – helps to bring your pup back to their wild roots and offer them the tasty protein they love.
So let's dive into our reviews of the best tasting dog food for picky eaters!
Dog Food For Picky Eaters Reviews: Puppies
Zignature – Trout and Salmon Meal Formula Dry Dog Food
Pros
Rich in heart-healthy Omega acids from salmon and trout;
A limited range of proteins makes it a nice first food for puppies who are going on a limited ingredient diet;
Doesn't include chicken, eggs, dairy, or any by-products from poultry;
Uses low-GI vegetables such as garbanzo beans, which ensure a slow, healthy energy release; and
According to many pet parents, it smells and tastes irresistible to big and small puppies!
Cons
Zignature kibble may be slightly expensive, especially if you have multiple pets.
Our Verdict: 5/5
Zignature's formulas have received lots of good reviews from happy puppy parents. And this flavor, in particular, has been a hit with puppies that have sensitive skin – it is an alternative source of protein for chicken-averse pooches, and includes Omega-3 and -6 for excellent skincare.
The Honest Kitchen Human Grade Dehydrated Organic Grain Dog Food
Pros
This all-natural formula contains only non-GMO ingredients and zero fake preservatives that might deter a fussy eater;
All formulas are USA-made for greater safety and a high-quality finished product;
Each 30-pound bag includes 12 pounds of genuine cageless turkey for loads of protein;
Add a little water, and in a few moments, your dog can enjoy all the deliciousness of rehydrated meats – this is a real plus if pooch turns up his muzzle at dry dog food; and
It's designed for every breed of dog – small or large!
Cons
It gives 22% protein, which is perfect for adult pooches but a slightly low figure for puppies.
Our Verdict: 5/5
This dog food for picky eaters is an ideal kibble if you've got a fussy adult dog. Human-grade ingredients are creme-de-la-creme in the dog food world – you won't find anything less premium for your pooch – and this recipe is quick and simple to prepare.
Instinct Raw Boost Grain Free Recipe Natural Dry Dog Food
Pros
It gives 35% protein to your little picky pup, boosting his muscle growth!
It includes no corn, artificial by-products, fake preservatives, or grains;
Features freeze-dried delicious grass-raised venison for an appealing alternative flavor;
Also includes Omega-rich, glucosamine-packed salmon meal, menhaden and herring meal, and salmon oil; and
Includes a whole host of tasty, nutritious plants such as chickpeas, apples, carrots, and cranberries.
Cons
This has quite a high calorie count per cup – at 527 k/Cal per scoop, this is something that owners with overweight puppies should be aware of.
Our Verdict: 5/5
Puppies with grain allergies, potato allergies, or chicken allergies will love this Instinct kibble. It's even free of chicken fat, which lots of other recipes (even single-protein formulas) will often include. If you're loving the advantages of raw food for your pooch but don't want to go the whole hog, try this – it's some of the best tasting puppy food for picky eaters!
Best Dog Food For Picky Eaters: Adults
Fromm Four Star Surf and Turf Dog Food
Pros
Big puppies like Dobermans, Mastiffs, Great Danes, and Labradors will all get their optimum dietary nutrition from this kibble – and which they can safely continue eating even after adulthood;
With 30% protein content, it's a great source of amino acids which help build and maintain your dog's muscle;
This Surf and Turf flavor uses salmon as a headlining protein, and this is followed by glucosamine-containing duck meal;
Fortified with ideal levels of key nutrients, minerals, and vitamins for prime health; and
If your dog is sick of chicken, this exotic flavor will be a welcome (beach) vacation!
Cons
Natural Balance Original Ultra Dry Dog Food
Pros
Glucosamine in this recipe will encourage good joint development and contribute to protecting them from complications;
A tasty duck and chicken flavor is guaranteed to get even the pickiest eater's mouth watering!
With a limited number of consciously selected ingredients, this Natural Balance formula will appeal to pooches who are fussy due to intolerances;
Includes DHA, which encourages better nervous system health and promotes optimal brain development; and
Features a range of low-GI fruits, carbohydrates, and vegetables to increase fiber content and aid canine digestion.
Cons
As it contains only 23% protein, we've recommended this as an adult food – although it is developed both for puppies and grown-up dogs.
Our Verdict: 4.5/5
Alongside DHA, glucosamine, fiber, vitamins, and even Omega acids, this classic Natural Balance recipe includes taurine, a heart-healthy nutrient that contributes to your dog's overall physical well-being. It's perfect for grown-up picky eaters who still love a chicken dinner!
Taste Of The Wild Salmon Recipe
Pros
Salmon is the main protein source
No grains or artificial preservatives
Probiotics for digestive health
Cons
We couldn't find any cons for this impressive diet!
Our Verdict: 4.5/5
This is a delicious diet that pups seem to love! If you're ready to take your dog back to their wild roots, this is the food for you.
Best Canned Dog Food For Picky Eaters
Wellness Thick & Chunky Natural Wet Grain Free Canned Dog Food
Pros
Includes premium, whole salmon and authentic venison for optimal muscle growth and upkeep;
Never includes any by-products from poultry production, making it a high-quality choice;
Gives 8% tasty protein and 4% fat to promote slower energy burn;
Slow-cooked for maximum flavor, this has been prepared especially to tempt your picky eater with tantalizing aromas; and
It makes the perfect accompaniment to even the best dry dog food for picky eaters!
Cons
We can't find anything to complain about!
Our Verdict: 5/5
Here's some of the best wet dog food for picky eaters, and a clever way to keep your puppy hydrated – naturally! Wellness uses top-caliber ingredients and never compromises in its balanced, holistic, and lip-licking recipes for pups. Highly recommended!
Best Small-Breed Dog Food For Picky Eaters
Bil-Jac Picky No More Small Breed Dry Dog Food
Pros
Includes 26% protein and a high level of good fats (15%) for your picky pooch's dietary needs;
High amounts of Omega fats will encourage silky, shiny coats and stronger doggy skin;
Uses a small kibble size to make dinner times much easier for your little dog;
The #1 ingredient is protein-rich whole chicken.
Cons
Contains filler ingredients such as corn meal; and
Chicken by-products are the second ingredient.
Our Verdict: 3.5/5
Bil Jac has aimed specifically to design the best dog food for picky
Chihuahua
adults,
Corgis
,
Shih Tzu
, and more – you name the small breed dog, this kibble is some of the tastiest for his dinner. It may not be THE healthiest food out there ingredients-wise, but if your little dog simply won't eat, other owners suggest this recipe will change that.
FAQ
How do I know if my puppy is ill or just picky?
Good question! Most of the time, mild food pickiness is not something to get alarmed about instantly. However, there are some legitimate reasons to be concerned about food pickiness in puppies, so we advise that you head straight to the vet if you notice any signs that your puppy is unwell. These include:
A sudden, total loss of appetite – if your pooch won't eat kibble that he regularly goes crazy for, he might be doing so because he's feeling unwell;
Skin or digestive problems – if your pup starts showing signs of a rash, redness, itchiness, vomiting, bloating, or excess scratching, he may be turning down his food because he is allergic or intolerant to something; and
Dental issues – Puppies naturally lose their milk teeth as they develop, but sometimes an injury or gum condition can occur that makes chewing difficult. If you suspect this is the reason he's refusing his food – seek a vet's advice.
If you suspect that your pup is sick, rather than just fussy, please do take him straight to his vet to get professional advice.
Can I change my picky, adult dog's feeding schedule?
Experts generally recommend that you feed your adult pooch at consistent times each day, and take away his food between meals. If your dog can get to his food 24/7, he is more likely to overeat or lose interest in it – this might be one reason that your dog is being picky. Leaving kibble out for too long can also cause it to become stale, losing its flavor and delicious smell. Now, that's not appetizing at all!
Helpful Links
Last update on 2023-01-26 / Affiliate links / Images from Amazon Product Advertising API