You've likely eaten organic food before as a human, whether you're aware of it or not. Maybe you've heard that it's healthier, better for the environment, or even that it's more expensive than traditional food? The growing interest in organic diets has spread into the world of dog food too, and ethically-minded consumers can now find plenty of organic options for the canine friends in their life. In this article, we'll explain how different organic foods are labeled, what they contain, and what they don't. You'll also find a list of the best organic dog food brands and our reviews of the healthiest and best organic dog food products in our reviews. Read on to find out more!
Quick Review: Top-3 Organic Dog Food
Castor & Pollux Organix Grain Free Organic Dog Food

Most of the protein comes from chicken flour
This 26% protein shake is made in the USA
Contains Salmon Oil

Newman's Own Adult Dog Food Formula

Most vegetables — peas and carrots — organic
his versatile formula is great for dogs of any size or breed
Technically, it is a dry food for all stages of life

Newman's Own Dinner For Dogs

Gives 10% protein as well as 7% fat
Gluten-Free, Corn and Grain Ingredients
No chemical additives or antibiotics
What's The Best Organic Dog Food?
What Is an Organic Diet for Puppies?
Very simply, an organic diet is one that comprises mostly organic ingredients. Organic ingredients are raised or grown using specific methods that aim to support the earth's ecological balance. They do this mainly by reducing or entirely avoiding the use of traditional fertilizers, antibiotics, hormones, and/or pesticides. Very often, such a diet for puppies will include the best organic dry dog food, certified-organic dehydrated food, or organic wet food.
Because organic practices can vary a lot between different regions, there is no one strict way to define an organic doggy diet. Lots of farmers still use natural pesticides (so your pup's food may still contain some residues), but these are not the same as artificial (human-made) chemicals and they have a different, more ecologically-friendly effect on the environment. So how can you know if puppy kibble is organic or not?
How Do I Know If Puppy Food Is Organic?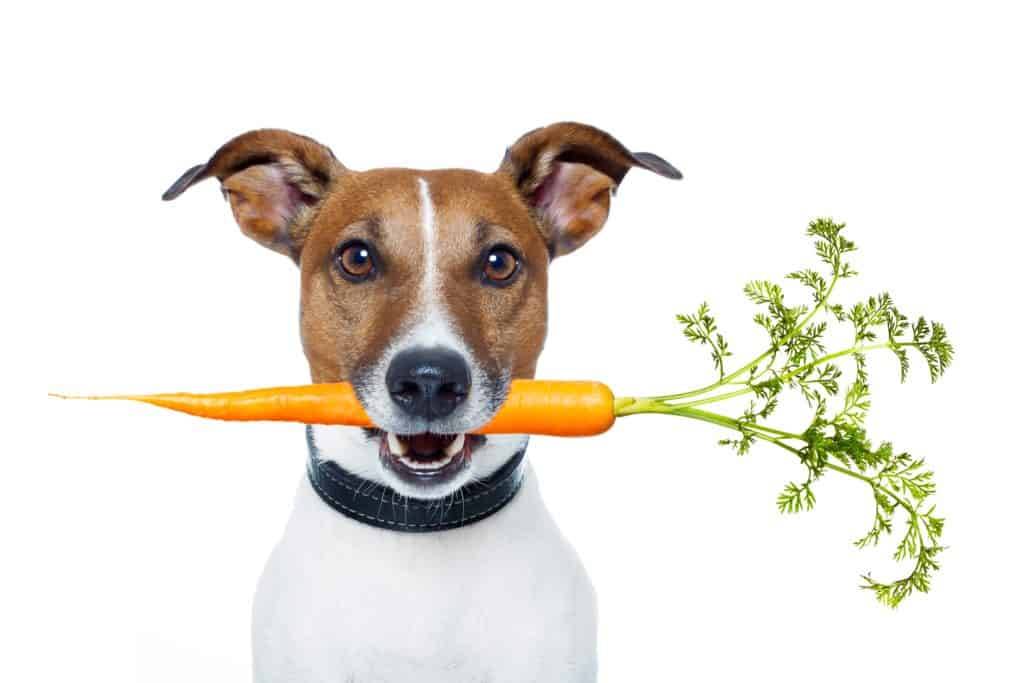 According to the experts at Tufts University, puppy food must be made up of 95% or more organic ingredients in order to call itself 'organic-certified'. You can spot these foods because the packaging will use the USDA seal of approval (and "certified organic"), and if you are looking for the best organic dog food, these contain the fewest conventional ingredients of all.
Non-USDA-certified foods can also carry the word "organic" on their main label displays, but they must contain over 70% organic ingredients in order to do so legally.
It is worth knowing that puppy food brands may still use the word organic on their packaging, but they must only do so in the ingredients list – e.g. 'organic chicken', or 'organic barley'. They are not allowed to claim to be organic on the front side of their packaging.
Does My Puppy Need Organic Dog Food?
The decision to feed your puppy an organic diet may be nutritionally motivated, or it may be an ethical decision on your part. Here are some of the reasons that owners choose to feed their pups on an organic diet, so you can decide on your own:
Some common puppy (and adult) allergies can be traced back to the chemicals that are contained in their food. Organic kibble contains very few synthetic ingredients compared to conventional chow, as the goal is to minimize – if not eliminate – chemical additions. This includes synthetic fertilizers, pesticides, artificial preservatives, and so forth.
If your puppy has skin conditions or digestive disorders that you suspect may be related to synthetic chemicals in his food, organic food will likely help these issues.
Quite often, organic food contains higher caliber ingredients – there are strict industry requirements in place that puppy food brands must comply with in order to advertise their kibble as organic. Their facilities and processes undergo more tests and checks than regular foods, in fact – to be considered organic – the ingredients used must comply with USDA criteria for human organic food.
In case you were wondering, there has been some scientific research done into the nutritional differences between organic and conventional foods for humans. Very few studies (if any) have looked at the differences for our canine companions, but what we know from human research suggests that organic foods may have slightly more phosphorus, antioxidants, and Omega-3s from meat.
Best Organic Dog Food Brands
Without doing any research, owners can sometimes find it harder to know which puppy food is organic and which is not. Here, we've listed several brands that you may not be familiar with – but these produce certified organic puppy kibble, or at least use a significant proportion of organic ingredients. Unless we have specified otherwise in our reviews (e.g. Newman's Own Adult Dog Food Formula), these brands all produce food that meets the 70% criteria required for kibble to be considered organic:
Castor and Pollux Organix – One of the USA's best organic dog food brands, Castor & Pollux has been around since 2017. It offers a complete range of USDA-certified organic food (ORGANIX) and another PRISTINE range of ethically sourced foods.
Catered Bowl – All Catered Bowl kibbles are organic, and all their products are free from antibiotics. The meat ingredients used are wild-caught, and their food covers different life stages.
The Honest Kitchen – Family owned, the Honest Kitchen creates all its food from human-grade ingredients. They use a combination of organic and conventional ingredients in their formulas.
Natural Planet – If you are looking for non-GMO and minimally processed meats, Natural Planet uses a larger proportion of organic ingredients than most regular dog foods.
Kirkland Signature Nature's Domain – Kirkland has a healthy Nature's Domain range of foods that include USDA-certified organic kibble for adults.
Newman's Own for Dogs – all of the profits from Newman's Own dog foods go straight to charity. This brand produces some foods which are organic-certified, and some which include a large number of organic ingredients.
I and Love and You – A Natural diet that not only offers your pup the best ingredients, but truly focuses on their overall health.
The Best Organic Dog Food: Reviews
Best Organic Dog Food For Puppies
Wondering what's inside the best rated organic dog food? Keep reading to find out what brands like Castor & Pollux include in their organic puppy kibbles to make it oh-so-delicious.
Castor & Pollux Organix Grain Free Organic Dry Dog Food
Pros
Grain- and entirely gluten-free, this recipe by Castor and Pollux provides delicious superfood ingredients for your pet's health;
Most of this kibble's protein comes from healthy, organic chicken meal;
All ingredients are pesticide-free, raised or grown without artificial fertilizers, and are non-GMO;
This 26% protein kibble is prepared in US facilities; and
It contains salmon oil, which offers a generous dose of Omega fats to keep your pup's glistening coat as beautiful as possible.
Cons
Like most organic, top-of-the-line kibbles, this is not the cheapest dog food you'll come across!
Our Verdict: 5/5
Castor and Pollux dog food has a flawless reputation for excellence and is super-popular with owners of all breeds and sizes. This recipe makes good use of hearty non-meat proteins for fiber and micronutrients – a great choice for growing puppies, and some of the best organic grain free dog food around!
Catered Bowl Dog Food Organic
Pros
Perfect for all different sized breeds, this is a versatile recipe with certified organic meat;
Catered Bowl never includes any fake flavors, artificial colors, or synthetic preservatives;
There's no corn, no wheat, and no soy;
Other USDA-organic ingredients include chickpeas, milled flaxseed, and peas; and
It uses cage-free birds for a more humane formula.
Cons
It's slightly expensive compared to regular kibble – although it's regularly priced for an organic recipe.
Our Verdict: 5/5
A precise blend, this is carefully balanced so that your pooch enjoys fuel for energy and amino acids for muscular growth. The main, top ingredients are all USDA-certified organic and chosen with care for exceptional quality.
The Honest Kitchen Human Grade Dehydrated Organic Grain Dog Food
Pros
Free-range, whole tender chicken gives plenty of delicious, wholesome protein for your fast-growing little one;
This is human-grade food, both in terms of safety and with regard to quality;
It contains more than 2 bunches of carrots, 5 oatmeal scoops, and over 14 pounds of chicken in each packet;
It's Simple to prepare (10 grams of dry pieces makes 40 grams when hydrated); and
Is free of all by-products, GMO foods, and preservatives.
Cons
Some dogs may not be accustomed to the texture and smell of dehydrated food – it may take a little time for them to get used to it.
Our Verdict: 5/5
The Honest Kitchen is one of the very best makers of human-grade dog food on the market, that means all ingredients can (theoretically) be safely consumed by both you and your dog. But don't eat his food, as nutritious as it may be — that goes without saying!
Best Organic Dry Dog Food
Hoping to find a natural, minimally processed kibble that your dog or puppy will love? Here are some nutritious recipes from famous names like Newman's Own and Natural Planet.
Newman's Own Adult Dog Food Formula
Newman's Own Adult Dog Food Formula
With zero fake synthetic flavors, no chemical colors, and zero grains, this Newman's Own kibble is a 21% protein mix that's just right for adult dogs. One caveat – this is a dry dog food with organic veggies and grains, but it is not technically an organic dog food with 70+% organically certified ingredients.
Buy on Amazon
Add to Cart
Pros
Uses nutritious chicken ingredients for protein content, maintaining your grown-up dog's muscles and supporting his strength;
There are no antibiotics or unhealthy synthetic additives in this;
Most of the vegetables – peas and carrots – are organic, but there are also other veggies included (parsley, kelp);
This versatile formula is great for dogs of any size or breed; and
Technically, it is an all life stages dry kibble – while it may not contain sufficient protein for growing puppies, it can also be good senior food for older (veteran!) dogs.
Cons
Includes soybean ingredients
Our Verdict: 4/5
This recipe doesn't meet the 70% organic ingredient criteria that allow a manufacturer to advertise its product as organic. Nonetheless, it offers a healthy range and balance of well-chosen ingredients, and most of the grains are pesticide-free. If you aren't super bothered about all-organic ingredients and facilities, this is a great option!
Natural Planet Organic
Pros
Organic, classic chicken is followed by protein-rich chicken meal in our ingredients section;
It uses a variety of healthy oils and fats, such as salmon and sunflower oil for slower energy release;
These are good sources of healthy Omega fats and glucosamine that will care for your adult dog's joints;
Includes delicious vegetables, seeds, fruits, and grains for antioxidants, minerals, and micronutrients; and
Uses digestive microorganisms that enhance your pooch's digestion.
Cons
Our Verdict: 5/5
Naturally flavored and preserved, this Natural Planet kibble is some of the best organic dog food out there. Simple, yet complete and nutritious, it's a great option for larger adult pooches thanks to its glucosamine content.
Kirkland Signature Nature's Domain USDA Organic Dry Dog Food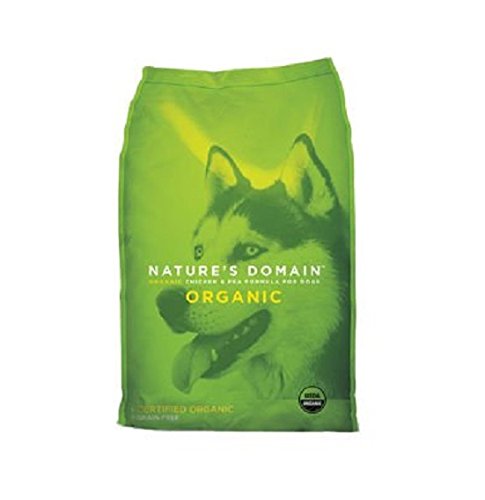 Pros
Perfect for dogs with long and short coats, this Omega-rich organic recipe includes flaxseed for skin health;
All veggies and chicken in this blend are certified organic, free from chemical pesticides and fertilizers;
The protein in this recipe is 22%, and it has a good amount of healthy lipids for energy;
Contains antioxidants and vitamins from sweet potato, as well as a digestive boost from fiber; and
Includes copper, manganese, zinc, and all the other essential minerals your grown pet requires.
Cons
It's only for grown dogs, we're afraid!
Our Verdict: 4.5/5
All vegetables and meats in this bag are organic, and it's USDA-certified. While it's an affordable price, it's still high-quality and full of incredible nutrition for your pooch.
I and Love And You Naked Essentials
Pros
Grain free and filler free
Uses real meat at the first ingredient
Added probiotics for digestive health
For all life stages (puppy-senior)
Cons
Some of their diets do contain chicken, so dogs with poultry allergies may have some issues.
Our Verdict: 4.5/5
All vegetables and meats in this bag are organic, and it's USDA-certified. While it's an affordable price, it's still high-quality and full of incredible nutrition for your pooch.
Best Organic Canned Dog Food
Looking for the best organic wet dog food? We've done the research for you and come up with a winner!
Newman's Own Chicken & Liver Dinner For Dogs
Pros
Top listed inclusions are organic chicken, and natural flavor from organic (chicken) broth;
There's also nutrient-packed liver and plenty of supplements that are brimming with good nutrients;
Gives 10% protein, as well as 7% fat – both of these figures are great for grown-up dogs;
It's totally free from gluten, corn, and grain ingredients; and
There are no chemical additions or antibiotics in this recipe.
Cons
Not according to the GPF team!
Our Verdict: 5/5
Health-wise and in terms of ingredient selection, this is great quality food. And because we're always checking the safety records of every brand we recommend, it's good to know that Newman's Own dog food has no history of any recalls. Nice!
FAQ
Why is organic puppy food considered 'better' than kibble with non-organic ingredients?
The very best puppy food for your young family member is always going to be the healthiest food you can get your paws on. As long as he or she is getting a complete, balanced range of nutrients to, grow, thrive physically and be happy, you are doing a great job. The main distinction between organic kibble and traditional puppy food is that most of the main ingredients in the former will be free from artificial hormones, antibiotics, pesticides, and fertilizers.
There is no scientific data to suggest that organic diets are any more or less nutritious than conventional diets – however, the ingredients used are generally subject to much stricter regulation and testing than traditional ingredients. This is because institutions like the USDA have stringent criteria in place which manufacturers must meet before they can legally claim that an ingredient is organic. Hope this helps!
Why does organic puppy food cost more than regular puppy food?
Organic ingredients – both in human and puppy food – require more cost to produce, for many reasons. Labor, distribution, and processing. Without synthetic fertilizers and pesticides, farmers need to spend more time physically caring for their crops and animals. They will often use more time-consuming manual approaches to controlling pests and disease and may also require specialized facilities to raise their produce. Organic producers also need to pay for certification, less potentially harmful preservatives, additives, flavors, and so on. This all comes together to make organic puppy food in general more expensive than kibble which uses cheaper chemicals and can be made in regular facilities.
Helpful Links
Last update on 2023-09-17 / Affiliate links / Images from Amazon Product Advertising API