About the Royal Canin brand

Vet-established Royal Canin makes what's probably THE most popular dog food and puppy food we've ever had the chance to review. In fact, they turn 50 years old this year! Royal Canin makes a seriously wide range of dog foods, puppy foods, and even treats that are nutritionally formulated for all kinds of breeds. Most importantly for us, they're super-serious about their reputation and when you choose a reputable brand, you're always guaranteed to be feeding your loving pet recipes that have been certified, regulated, and approved by the AACFO. In a nutshell, that means quality. Top quality, to be precise!
Quick Review: Top-5 Dog Foods From Royal Canin
ROYAL CANIN Canine Selected Protein

No rice, no wheat, no corn, no soy
5% protein that's from fish meal
Think zinc, think iron, think manganese

Royal Canin Mini Puppy

Amazing 29% protein
With 354 calories within each cup
Contains naturally-sourced DHA

Royal Canin Health Nutrition

Top ingredient is…natural chicken!
5% fat, not too much, and not too little
It's only got only 166 calories

Royal Canin Veterinary Hypoallergenic

19% protein from soy
17% in terms of fat
EPA's in this hydrolyzed protein

Royal Canin HP Hypoallergenic Hydrolyzed Protein

Hydrolyzed soy protein
Fat's a good and healthy 17%
Fish oil contributes DHA
Who is Royal Canin?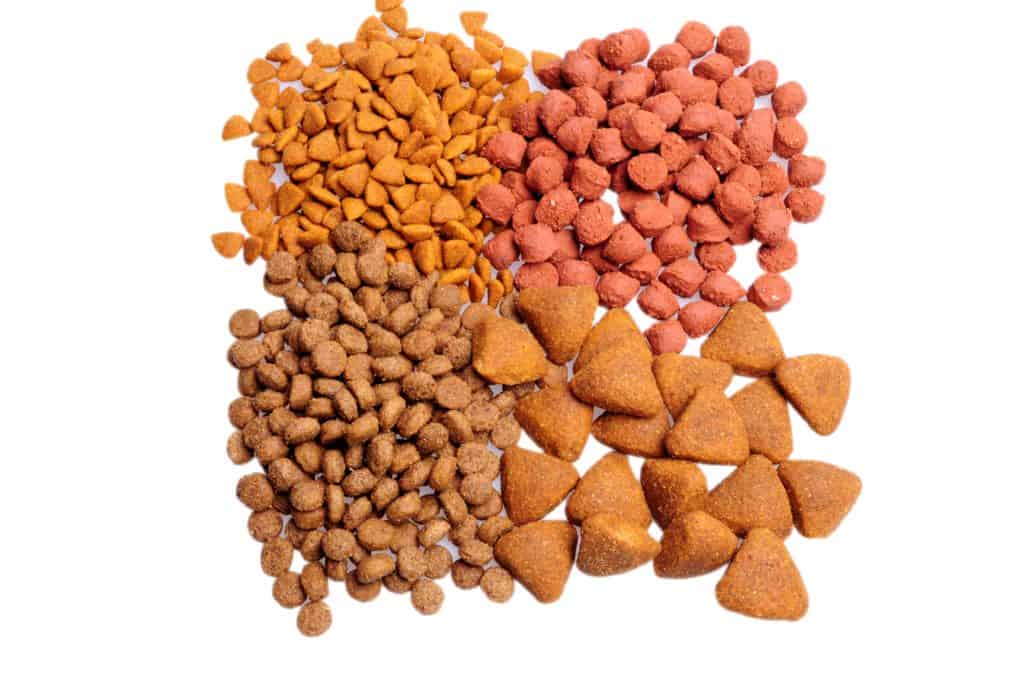 Not only were Royal Canin founded by a vet way back in 1968- Dr. Cathary, to be specific- the company has their own dedicated team of scientists who are responsible for developing nutritious and highly balanced recipes for your pooch. The U.S. headquarters of their international firm is in Missouri, where they also manufacture.
Another thing to note about Royal Canin is that because they make food that's based on research and scientific evidence, they collaborate constantly with other dog experts like breeders and vets.
What's so special about Royal Canin?
Besides the fact that they craft specific foods for a large number of varying breeds, Royal Canin also develops dog food and puppy food that's targeted at the precise needs of purebred dogs and puppies. German Shepherds, Yorkies, Labradors, Rottweilers, Pugs, Boxers, Golden Retrievers, and the list goes on. In fact, in most cases they offer tailored food for each of these breeds, that's also available in puppy and adult varieties. Not bad, hey?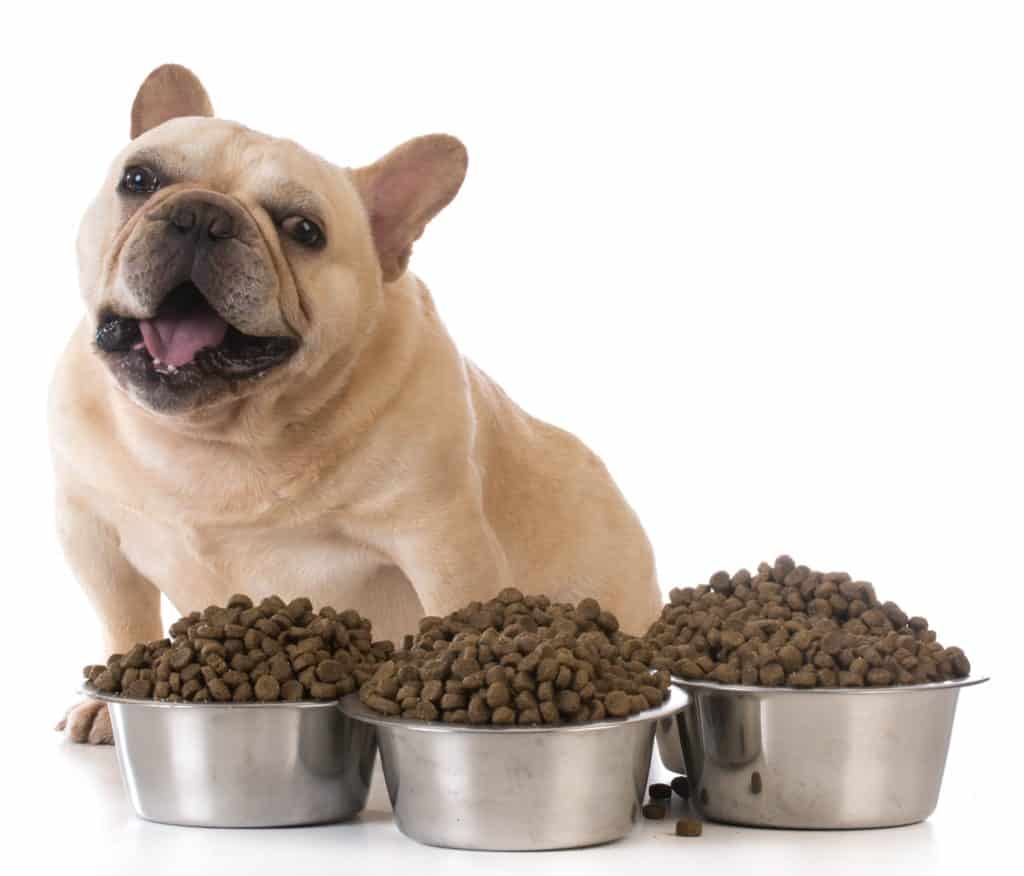 Why the Royal Canin dog food reviews and Royal Canin puppy food reviews?
Apart from the very obvious fact that we're massive dog and puppy lovers, we've actually been fans of the Royal Canin brand for quite a whole. The reason we've chosen Royal Canin dog food reviews and Royal Canin puppy food reviews is first and foremost because the brand has a STELLAR reputation and their intensive research means they're able to honestly boast that they're at the forefront of dog food and puppy food science. Besides this, they've got:
Specialized lines for those dog owners who've got purebred puppies or purebred dogs;
Several lines of prescription and uniquely crafted dog and puppy foods only available through vets due to their scientifically tailored formulas;
Serious dedication when it comes to upholding their four principles of body maintenance and development, prevention (as opposed to cure!), special care for those pooches with exact medical needs, and the provision of energy for flourishing dogs and puppies;
Rigorous standards that they apply to each and every ingredient supplier, as well as stringent tests for quality.
Royal Canin Dog Food Reviews
The Grain Free Royal Canin Dog food Reviews
ROYAL CANIN Canine Selected Protein Adult PW Dry
Pros
No rice, no wheat, no corn, no soy, no worries for you owners with dogs who need to remain gluten-free!
5% protein that's from all-natural fish meal;
Glossy coats and healthy, flourishing doggy skin is taken care of by the DHA and also EPA in this Selected Protein formula, and it's non-artificially sourced from fish oil;
No chicken, so suitable for those dog owners who've got a pooch with sensitivities;
LOADS of those trace minerals we know are super important for doggy health, think zinc, think iron, think manganese, and copper… you get the idea!
Fat's super low at only 7.5%, because this recipe's especially for dogs who are in need of dropping a little weight.
Cons
Not so many cons, really, this is not only free from all grains but also a pretty darn good candidate for a hypoallergenic dog food!
Our Verdict: 4.5/5
Royal Canin Selected Protein PW has definitely got a whole bunch of useful, healthy, and all-around great vitamins alongside those minerals that are so integral to the well-being of your adult pooch.
The Royal Canin Puppy Food Reviews
Royal Canin Puppy Dry
Pros
A healthy and high 30% protein level helps your medium puppy to grow large and bouncy, and it's a level that's carefully thought through based on these pup's relatively speedy growing-up phase;
Fat's at 18%, so it's pretty much awesome for those energetic little ones;
Vitamin-E is very much present from the vegetable oil and supplements worked into this formula, to combat skin irritation and cancer;
Contains manganese, copper, zinc, taurine, all vital for your pup to thrive and be healthy;
Calcium for awesomely strong bones!
Cons
Made using some of the more common grains- wheat, and also corn gluten are two;
Contains milled chicken by-product, although in this instance it's part of an AAFCO certified balanced and wholesome diet.
Our Verdict: 4/5
Royal Canin Medium puppy food's suitable for medium puppy sizes, and we're suitably impressed! We're particularly liking the high protein and fat levels that are so crucial for giving your puppy their necessary daily energy.
Royal Canin Mini Puppy
Pros
Suitable for those breeds who are going to grow for only around 10 months, reaching around 22 pounds at their adult mass;
These breeds still require high protein, and this puppy food's got an amazing 29%;
It's very clear where most of the 18% fat comes from, which is excellent- it's chicken!
Smaller, cute little kibble bits for mini puppy jaws makes chewing a whole lot easier;
With 354 calories within each cup, you won't be having to worry at all about whether you're overfeeding, which can sometimes be a concern for owners of smaller puppy breeds;
Contains naturally-sourced DHA, aka fish oil!
Cons
Brewers rice, not a real meat, is this food's primary ingredient;
Not suitable for those little puppies with insensitivities to gluten, especially corn.
Our Verdict: 4/5
Every time a puppy food brand develops specifically formulated food that takes into account both breed and life stage, they get a big tick in our books. This Mini Puppy food's also got fish oil, so it's playing a role in maintaining and improving both your puppy's vision and his brain function!
Royal Canin SIZE HEALTH NUTRITION MAXI
Pros
The calorie intake for this food is moderate, meaning it's suited specifically for the puppies who take a little longer to reach their adult full weight;
The kibble's size and shape are carefully designed so as to encourage your large puppy to swallow and gulp a little less;
28% protein inside this one, ensuring your little one's getting the key building blocks that encourage healthy growth;
14% fat, which is predominantly from chicken;
Awesome amounts of both chondroitin, as well as glucosamine, meaning your large puppy's joints are well taken care of!
Cons
Contains chicken by-product meal as opposed to real chicken for the top source of protein;
The top ingredient's corn rather than a natural meat.
Our Verdict: 3.5/5
As our special Pit Bull article mentions, glucosamine acts in conjunction with chondroitin to play a super-important role in ensuring your little puppy can have healthy and well-functioning joints. Also, the protein levels and fat levels are just great for making sure growth and weight factors are well balanced.
The Wet Royal Canin Dog Food Reviews
Royal Canin Health Nutrition Puppy Dog Food
Pros
Top ingredient is…natural chicken!
This contributes to a healthy 8% of protein, which in canned food standards is excellent for growing medium pups;
Once again, it ticks a whole load of boxes in terms of the required trace minerals for healthy and happy development;
5% fat, not too much, and not too little;
It's only got only 166 calories in each can, so it's lower than a lot of other canned puppy foods.
Cons
Not gluten-free, unfortunately, though this shouldn't be a problem whatsoever for most puppies.
Our Verdict: 4.5/5
This relatively low-calorie, small-serve wet puppy food seems like it's designed especially for giving your growing little one a treat. It's perfect for mixing in with dry kibble for a nice change from either one or the other, and also it's incredibly popular with puppy owners who say their pup just adores it.
The Hypoallergenic Royal Canin Dog Food Reviews
Intolerances, allergies, bowel problems, weight management, and a whole host of other things are considered in this recipe for those adult dogs who have special hypoallergenic dietary requirements.
Royal Canin Veterinary Hypoallergenic
Royal Canin HP Hypoallergenic Dog Food (25.3 lb)
Removing phosphorus entirely from dog food isn't sensible, nor is it possible in many instances because meat is so rich in the mineral. The use of soy protein here cuts down this level, though, so it's at an ideal level with regard to pooches with kidney problems. See? Scientifically formulated!
Buy on Amazon
Add to Cart
Pros
Phosphorus levels are moderated to encourage greater renal function;
Another hydrolyzed protein food, so all the benefits we've mentioned above with respect to digestion and allergies;
Gorgeous coats are encouraged with the use of amino acids, and also Vitamin B;
19% protein from soy;
17% in terms of fat, which a large proportion of is chicken fat;
EPA's in this hydrolyzed protein dog food, alongside DHA.
Cons
It's not designed for dogs who can't tolerate specific grains, i.e. it's made using rice.
The Royal Canin Hydrolyzed Protein Dog Food Reviews
Royal Canin HP Hypoallergenic Hydrolyzed Protein
Pros
Hydrolyzed soy protein allows dogs with certain food sensitivities to avoid beef and pork whilst still getting 19% protein;
Fat's a good and healthy 17%, and from real chicken;
Smoother to digest than most other dog foods;
Fish oil contributes DHA and of course, EPA;
Suitable for feeding all kinds of dog sizes from 4 pounds to 180 pounds, as well as puppies!
Cons
Our Verdict: 4/5
Have you got a Dalmatian? If you do, you'll know that they can quite easily develop bladder stones. Hydrolyzed protein is super for these dogs especially, as well as more generally for our canine friends who sometimes have trouble digesting with ease.
FAQ
What do veterinary professionals think of Royal Canin dog food?
Royal Canin is a crowd favorite in the veterinary community. Not only does Royal Canin offer an impressive line of prescription diets that vets can sell in the clinic, they also offer a quality line of food that you can purchase in pet stores. This brand offers breed specific diets, lifestyle specific diets, as well as age specific diets that help our furry friends thrive. Though Royal Canin may be more expensive than other store bought brands, it's for good reason! This brand is in a league of its own, and we will always recommend them!
Aren't all animal by-products bad?
The reason so many lower quality and less reputable brands are often found using certain animal by-products is because, quite frequently, these ingredients are a cheap way to bulk up dog foods and puppy foods so that they're economical to manufacture. Royal Canin are not a low-quality brand, and their use of by-products is actually quite carefully justified by their scientists in terms of the role it plays in providing your puppy or dog's food with balanced nutrition.
In simpler terms and first up, by-products often pack a real protein punch, that's why their use is deemed justified by the scientists making Royal Canin. Secondly, the brand is much more selective in their use of specific by-products than less reputable brands. This means that rather than adopting an 'anything goes' philosophy – think beaks, cartilage, and so forth – Royal Canin only use higher quality varieties of by-product, such as animal livers and lungs.
Can I feed my puppy any of the foods in your Royal Canin puppy food reviews?
We sometimes recommend that puppies be fed puppy food that's specifically created with their breed in mind. Because this food's been scientifically developed, it's a good way of ensuring that your little puppy is getting the requisite nutrients for great health and, of course, growth. As you can see from our Royal Canin puppy food reviews, the brand makes some exemplary recipes that carefully integrate the necessary nutrients for large (maxi), medium, and small (mini) breeds. Not only this, but they are well aware that differently sized pups have distinct growth periods- smaller puppies for around 10 months or so, larger puppies for longer. So, unique energy content, macronutrient profiles, and kibble design considerations mean there will most likely be a specific kind of puppy food in our Royal Canin puppy food reviews that's best for your little buddy.
Last update on 2021-01-14 / Affiliate links / Images from Amazon Product Advertising API