Hi again, dog fans! Today we're looking at some of the key features of some select products in our
Eukanuba Dog Food
Reviews and Eukanuba Puppy Food reviews. This one might be of particular interest to those of you who've got a puppy or dog that's pure-bred, as Eukanuba offers a vast array of formulas that are crafted especially for specific breeds. First, however, let us give you a few little facts about the
Eukanuba brand
so that you'll be able to make an informed and knowledgeable decision about what to feed your fluffy best friend.
Quick Review: Top-6 Dog Foods From Eukanuba
Eukanuba Puppy Dry

29% protein
Fish oil's the DHA
18% fat for calories and energy

Eukanuba Large Breed Puppy

Protein's nice and high at 29%
At least 0.95% calcium in this blend
Iron, zinc, potassium, manganese

Best for Small Breed

1% calcium's balanced with phosphorus
32% protein alongside 21% fat
A, E, C, D, and B Vitamins

Eukanuba Wet Food Puppy With Lamb & Rice

Antioxidant boost for immune defense
Fat's at a healthy 6%
Rice is super-soft

EUKANUBA Breed Specific Adult Labrador

A special formula for all Labrador sizes
Real chicken's - 23% protein
Dental defense

Eukanuba Premium Active Adult

A whopping 30% protein
Fat's at a guaranteed 20% minimum
Vitamin E promotes lovely
Who is Eukanuba dog food?
Eukanuba is owned by Mars, the international market leader of pet foods. What you may not know, however, is that Eukanuba puppy foods and dog foods are made by IAMS, and have been around since 1969- so, for over 40 years! They have a massive array of recipes for toy, small, medium, and large dog and puppy breeds, as well as an awesome selection of both puppy and senior meals. All of the main ingredients incorporated into their kibbles and chow are traceable back to their sources in the States, Europe or New Zealand, and they specialize in putting real meat at the top of their product ingredients lists. Cool, huh?
What's special about Eukanuba?
There's definitely a whole bunch that makes Eukanuba a great puppy food brand. Apart from the broad selection of both soft chow and crunchy kibble options, they operate under really strict quality and safety guidelines. As you may have noticed, this is very much a feature of all the puppy food reviews we've got on our site- only the best for our fluffy buddies!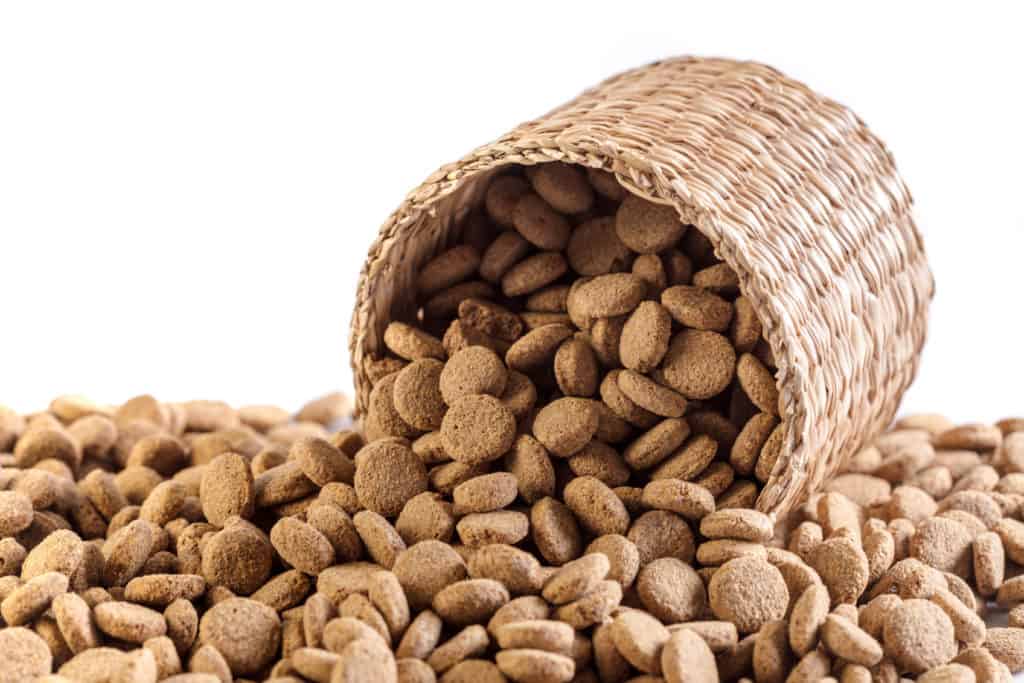 If your puppy or dog best friend is competing in shows, you'll already know that Eukanuba is a major sponsor for canine events like the AKC/Eukanuba National Championships, and the Eukanuba World Challenge. Now, that's seriously fun to watch.
Dog and puppy food-wise, Eukanuba does not manufacture any products that are grain-free, instead choosing to use more easily digestible grains such as rice, and sorghum, the latter of which is an awesome source of B vitamins, zinc, and iron. While the dry kibble in our Eukanuba Dog Food Review tends to include fewer (or no) real veggies compared to some of the other brands we've reviewed, this is a deliberate move- Eukanuba are very much about giving our puppies a diet that is based on that of their carnivore ancestors. So no pea protein here! We've also noted that Eukanuba quite frequently includes glucosamine and DHA in their dog food formulas, and L-Carnitine as well, a point that is very much in their favor.
Why the Eukanuba dog food reviews and Eukanuba puppy food reviews?
That's an easy question to answer! As you may have noted in our research on different puppy and dog breeds, we're big fans of brands that develop formulas exclusively to meet the requirements of certain breeds. We love ALL puppy dogs, don't get us wrong, but we also aim to save you time with our reviews, and breed-exclusive recipes can often be a great way to just know that your puppy or dog will get all the necessary nutrients that he needs for either growth or maintenance. Alongside the fact that all their puppy foods and dog foods are in line with the recommended profiles in terms of protein and fat, we reckon Eukanuba very much have earned their place in our dog food reviews!
The Eukanuba food reviews
The Eukanuba Puppy Food Reviews
Eukanuba Puppy Dry Dog Food
Pros
Chicken's right at the top of this ingredient list, and this puppy food's got at least 29% protein;
Fish oil's the DHA source for your puppy's cerebral function;
18% fat for calories and energy, and most of this is from chicken fat, which is naturally preserved;
2% calcium's great for little (but growing!) bones;
Made with cancer-fighting antioxidants that also work for strong immune systems!
Cons
Contains some milled by-product from chicken, unfortunately, although this is exceptionally protein-rich;
Made with corn, so not gluten-free.
Our Verdict: 3.5/5
This chicken puppy food's not limited to any specific breed, but if you've got larger pup- like a St Bernard,
Great Dane
or
Mastiff
– you'll want to be feeding him something that's specifically for giant pups, as this kibble is formulated for breeds with a development period of under 12 months. The next Eukanuba
Large Breed Puppy Food
Review might be perfect!
The Eukanuba Large Breed Puppy Food Review
Eukanuba Large Breed Puppy
Pros
Once again, protein's nice and high at 29%;
At least 0.95% calcium in this blend;
Protein's from both egg and chicken;
Iron, zinc, potassium, manganese, and copper can all be found in here, to help keep deficiencies at bay;
There are heaps of vitamin supplements too, such as E for silky and glossy coats.
Cons
Corn and by-products can both be found in this kibble.
Our Verdict: 3/5
We like that there's DHA in here, as it plays a central role in maintaining great eyesight, psychomotor function, and memory, amongst other things.
The Eukanuba Small Breed Puppy Food Reviews
Eukanuba Small Breed Puppy
Pros
Your small puppy's 3-5 daily meals should be pretty dense in calories to support their super-fast growth, and this recipe's tailor-made to address this requirement with close to 447 kCal in each cup;
1% calcium's well-balanced with phosphorus for resilient bones;
32% protein alongside 21% fat to give your little puppy both energy and the building blocks for speedy development;
Like the other foods in our Eukanuba puppy food reviews, you'll find naturally-derived DHA from fish oil in this blend;
Eukanuba don't believe in feeding loads of vegetables to dogs, so they've made sure to put plenty of supplements in here- like A, E, C, D, and a whole range of those energy-regulating B Vitamins.
Cons
As with the other two foods, this one's not gluten-free, and it contains by-products that are from chicken.
Our Verdict: 3.5/5
If you haven't got a gluten-intolerant small puppy, you'll find that this formula's a perfectly awesome source of minerals, healthy vitamins, and DHA. There are great amounts of protein and fat, which are optimal for smaller, and even toy, puppy breeds.
The Wet Eukanuba Dog Food Reviews
Eukanuba Wet Food Puppy
Pros
Chicken, pork, and lamb are varied protein sources, so your little puppy won't be getting too much of any one ingredient;
There are veggies in here- carrot, spinach, and tomato- all natural sources of vitamins, yay!
Flaxseed will give your little puppy an antioxidant boost for well-functioning immune defense;
Fat's at a healthy 6%, which is great for a wet puppy chow;
Rice is super-soft on little puppy tummies, for smooth and easy-peasy digestion;
Because each opened can will last just fine for up to three days in the fridge, we reckon this is a pretty darn economical deal, for a wet puppy food!
Cons
Our Verdict: 4.5/5
We really like this soft puppy chow! It's also a complete puppy chow that you'll be able to feed your little one right from the moment he starts weaning, all the way up to adulthood! Or…should we be saying adult doggyhood instead?
The Breed-specific Eukanuba Dog Food Reviews
EUKANUBA Breed Specific for Adult Labrador
Pros
A super-special formula for all Labrador sizes, from 50 right up to 120 lbs- and easy-as-pie feeding instructions for feeding just the right amount each time;
Real chicken's right at the very top of this list of kibble ingredients, and contributes to 23% protein;
Dental defense is a priority for big dog breeds like Labs, and Eukanuba's special formula works in several ways to cut down on the accumulation of tartar in this kibble;
L-Carnitine's in here to fight against heart disease;
There's also healthy doses of chondroitin for joints, as well as glucosamine;
Vitamin E will act together with zinc for those incredibly sleek coats that make Labs so gorgeous.
Cons
Milled by-products in this one, although rather than being used simply as fillers, they're a source of both chondroitin and glucosamine for joint health- which is crucial for larger breeds.
Our Verdict: 4/5
What do you reckon? There's a whole host of common big dog problems addressed by the ingredients and kibble structure in this blend, like joint and dental health. Not bad at all!
EUKANUBA Breed Specific for Adult Rottweiler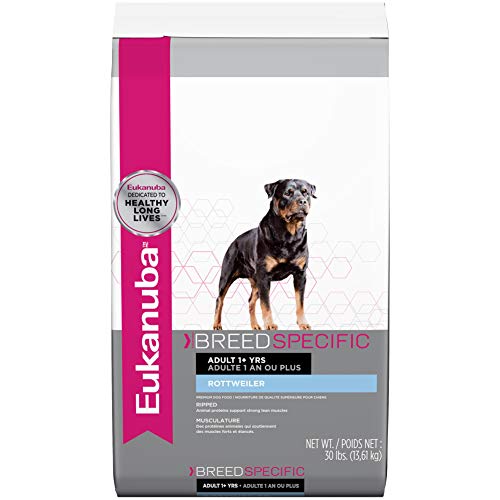 Pros
25% protein will take care of those hard-working Rottweiler muscles;
At least 13% fat to ensure your Rottie has enough energy to do lots of energetic and important doggy stuff- like running around;
Vitamin E's supplemented in this recipe to keep his short and glossy coat looking handsome, alongside betacarotene;
There's also fish meal inside this exclusive recipe for a little protein variety;
Calcium's at a minimum of 0.95% for strong doggy teeth.
Cons
As with the other formulas and recipes in our Eukanuba dog food reviews, this product isn't free of either grains or by-products.
Our Verdict: 4/5
If you're comparing the different breed-exclusive formulas as closely as we are, you'll notice that Eukanuba's recipes are really quite tailored to the different protein requirements of each dog breed's precise needs. We like that there's a greater protein content in this Rottweiler kibble and that's why we put it in our list of the best dog food for Rottweilers.
The Eukanuba Dog Food Review for Active dogs
Eukanuba Premium Active Adult
Pros
A whopping 30% protein will keep up the energy in your athletic or lactating dog;
Fat's at a guaranteed 20% minimum for the same reason, and it's from real chicken as well as being naturally preserved;
Elevated calcium levels, but still within a healthy range at 1.1%;
Contains excellent amounts of that glucosamine we love so much, and which plays such a seriously important role in joint care for longer limbed canines;
Vitamin E promotes lovely, gorgeous coats.
Cons
Not free of either milled by-products or grains, so not suitable for dogs with an aversion to gluten.
Our Verdict: 4/5
Technically, this formula's even fine for puppies, given that it's got an AAFCO seal of approval for all stages of doggy life, has higher protein, DHA, and fat. So, it's incredibly versatile, really. Four out of five stars!
FAQ
What do veterinary professionals think of Eukanuba dog food?
Veterinary professionals love a brand that breaks down diet options into different breed and age categories. Since Eukanuba has such a wide variety of diets based on your furry friend, this automatically gets a thumbs up. Catering to different breeds and ages allows a diet to pinpoint certain areas of their health, and really offer something unique to each pup. Eukanuba tries their best to do just that, making it an approved dog food in the veterinary community.
How much dog food should I be feeding my dog?
There's no one right answer, unfortunately. Each and every puppy and dog is unique in terms of their breed, average daily activity, size, and body mass, among other things. The best place to start when you're thinking about how much to feed your dog is the feeding guide on the side of the package. All the puppy and dog foods in our Eukanuba Dog Food Reviews have excellent instructions that you can adapt to suit your best friend's energy requirements. A more energetic, playful and intact male dog who loves to run around for over 60 minutes each day will require more calories, and therefore healthy dog food than a sedentary female, for example. We have blog page, which describes this problem.
So…how do I know if my dog is a healthy weight?
A good way to know if your puppy or dog is over- or underweight is to compare their physical figure against a body condition scoring chart, and you'll be able to find these online or in your vet's office. A score of five is ideal, as this is in the middle of the continuum. Dogs with a body condition score of five will show an 'hourglass' shape if you look down at them, and you'll be able to feel their ribs when you gently press against them. A dog with a body condition score of less than five will be underweight, and signs of this will include very prominent ribs and a protruding pelvis. To be on the safe side, it's always a nice idea to take your dog for regular check-ups, where your vet will be able to weigh them and let you know if anything's out of the ordinary.
Please do remember that these general rules won't always apply to every single breed, however, because as we noted, every dog is unique. Greyhounds and Whippets, for instance, are two good examples of breeds that will not exactly conform to the body condition scoring system, as they will have prominent ribs even at a body condition score of five.
Last update on 2023-01-29 / Affiliate links / Images from Amazon Product Advertising API