Have you ever wondered what's inside Kirkland puppy food? Maybe you've spotted the particularly bright-colored bags of the Nature's Domain range and wondered…is that something my dog might like? We have too, and we thought it was about time to do some Kirkland dog food reviews to help you answer those questions. Compared to some other kibble brands, Kirkland doesn't tend to advertise as much. That is, where other companies are quick to point out their benefits for your pooch, you might find yourself searching a little harder for the lowdown on Kirkland.
So, we've done that for you. We've looked at all the ingredients in each packet reviewed, dug into the 'who' and the 'where', and even done a bunch of math to calculate different things like calcium content. We're here to save you time. So let's dive in!
Quick Review: Top-4 Dog Foods From Kirkland
Kirkland Signature Nature's Domain Dog Food

Contains prebiotics
First ingredient, as the name suggests, is turkey
Contains vitamins: blueberries, peas and sweet potatoes

Kirkland Signature Expect More Puppy

Main ingredients: chicken and chicken flour
Contains all natural omega salmon flour acid
Vitamin E, which helps protect your puppy's skin

Nature's Domain Kirkland Dog Food

It's designed for all doggy life stages
Provides a minimum of 8% protein
It makes great senior dog food

Kirkland Signature Healthy Weight Formula

Features probiotics that aid in smooth digestion
Naturally preserved
Offers zinc and Omega acids to protect dog's skin
Who Is Kirkland?
Also known as Costco Kirkland, or by their official name — Kirkland Signature — you may have started seeing this brand around a bit more in recent years. If you've also checked out our Diamond Dog Food Review, you'll know that Diamond packages and creates pet foods for different brands. Kirkland is one of those brands.
That means it's owned by the same manufacturers (Schell & Kampeter) that have been creating Diamond food for close to half a century. The plants themselves are in the USA — South Carolina, Missouri, and California to be precise.
You will, most likely, have noticed both the wet and dry dog foods on sale in Costco. Now, however, you can order Kirkland in the comfort of your home, for a whole range of different doggy shapes and sizes!
What's Special About Kirkland?
First up, Kirkland Signature is affordable. But does it offer all the nutrition your puppy or dog needs? In fact, it does — we've noticed that the brand is not only made in safety-certified facilities, but it uses high-caliber ingredients, too. There are two lines of kibble and a selection of wet dog foods for you to choose from:
Kirkland Signature has mature dog food (for veteran dogs, we like to call them!), adult, puppy, and small dog foods. In these, we've spotted good things like fiber-rich carrots and kelp, as well as probiotics, veggies, and DHA; and
Kirkland Signature Nature's Domain, which includes grain-free (and thus gluten-free) kibbles for puppies and grown dogs.
While Kirkland doesn't actually manufacture a special hypoallergenic pet food for dogs, there is quite a selection of different flavors in the Nature's Domain range. As a brand, Kirkland doesn't quite offer the huge array of flavors as some other brands quite yet, but we're pretty sure that could change in the near future. In the meantime, owners can pick up a weight management formula for those dogs on a diet, and even an organic blend.
So, not your average 'supermarket' brand in the bad sense — instead, it's affordable, high-quality food from a producer with a good reputation.
Kirkland Dog Food Recalls
All in all, Kirkland Signature is popular with consumers and there aren't a great deal of Kirkland dog food recalls to report. During 2007, the FDA reports stated a Kirkland dog food recall due to potential melamine contaminations.
Five years after that in 2012, some Super Premium and one Nature's Domain products were recalled when Diamond Dog Food voluntarily took some of its offerings off the shelves. To read more about this 2012 recall, check out our Diamond Dog Food Reviews.
Why the Kirkland Puppy Food Reviews and Kirkland Dog Food Reviews?
As long-time dog and puppy food reviewers, here are the things that we like about Kirkland dog food:
There are formulas that cover different canine life stages;
Their recipes include tasty vegetables as well as meat;
Real animal proteins are always 'top-of-list' with this brand;
We've spotted lots of the little 'extras' that make dog foods great, like DHA for puppies, Omega acids for skin care, and fish oil; and
They offer a unique proprietary culture of probiotics that makes digestion that little bit easier for dogs.
As owners, we've got a few more reasons to add!
Kirkland dog food is economical (that's a huge plus if you've got several hungry dogs to feed); and
They seem to taste pretty nice, according to our pets.
Let's take a closer peek in our Kirkland dog food reviews…
Our Kirkland Grain Free Dog Food Reviews
We've started with Kirkland's organic dinner from their Nature's Domain range. Then, choices for your smaller breed pup, and a nice All Life Stages option.
Kirkland Signature Nature's Domain USDA Dry Dog Food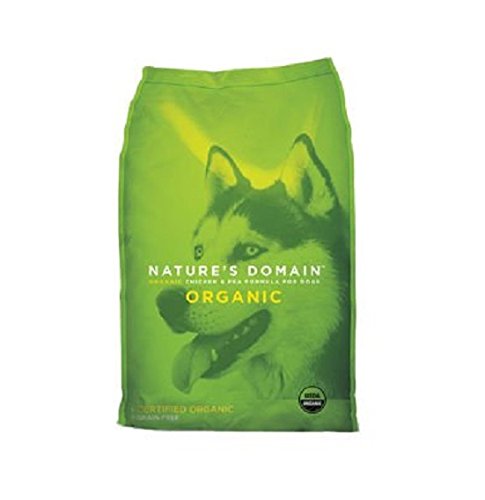 Pros
22% protein and 12% fat;
Has a blend of Omega acids that promote strong skin and gorgeous fur;
The veggies are organic, too, and there are a lovely range of them — peas, lentils, beans, chickpeas, and sweet potato;
Antioxidants from the flaxseed inclusions will help your pooch against disease; and
It's safe for gluten-intolerant pooches!
Cons
Contains some potato ingredients.
Our Verdict: 5/5
Here's an ideal pea and chicken blend for adult dogs, and it includes zinc to combat deficiencies and protect against infections. Plus it's organic, and we love that!
Kirkland Signature Nature's Domain Small Breed
Pros
Small, specially-designed kibble allows your smaller pooch to eat in comfort;
Contains Kirkland Signature's proprietary range of gut-healthy bacteria;
Totally without any grains, so suitable for intolerant pooches;
Provides your little pooch with Omega 3 and 6 for a gorgeous radiant coat; and
It's simple to break down and digest, so it's easy on small tummies!
Cons
Nope, it's a great mix of meat-and non-meat proteins with a delectable salmon flavor for little dogs!
Our Verdict: 4.5/5
As a protein and as a source of healthy fish oil, salmon's a mouth-watering and wholesome addition to any meal. And in this recipe, it's the star ingredient. This is formulated especially to meet those high-energy needs of our smaller grown dogs.
Kirkland Signature Nature's Domain Dog Food
Pros
Includes selenium, which helps canines fight against heart disease and various other health conditions;
That's coupled with Vitamin E for healthy doggy skin — your dog's first layer of defense against disease!
Contains prebiotics (chicory root) to help your fluffy friend break down his food more easily;
First ingredient, as the name suggests, is turkey; and
Also includes natural vitamins from fruits like blueberries and veggies like peas and sweet potatoes.
Cons
For puppies, 24% may be a slightly low protein figure.
Our Verdict: 4.5/5
We like that salmon oil in this blend offers DHA and glucosamine for dogs of all sizes. While it's already reasonably priced, we also think it's cool that one recipe can feed all the doggy members of our family. Super if you've got several fluffy best friends.
The Kirkland Puppy Food Reviews
Kirkland has only two puppy-specific formulas, at present, but it's worth noting that several other Kirkland Signature dog foods are designed for All Life Stages.
Kirkland Signature Expect More Puppy Formula Dog Food
Pros
Includes DHA so that your cute pup can develop healthy, sharp eyes and a brain to match;
Dried chicory is one of the natural probiotic sources to aid digestion;
First top ingredients in here are chicken and…chicken meal!
Also features all the natural Omega acid goodness of salmon meal; and
Provides Vitamin E that assists the protection of your pup's skin.
Cons
Contains potatoes, which owners of intolerant pets should note.
Our Verdict: 4.5/5
There is a good 28% of protein in this bag, with 17% fat — both great figures for most puppy breeds. It doesn't seem to specify on the packaging whether this includes
large breed pups
, but it contains a suitable calcium to phosphorus ratio which is within the AAFCO's guidelines for large puppy breeds.
Kirkland Signature Nature's Domain Puppy Dog Food
Pros
27% protein, with chicken as our very top ingredient;
Other non-meat proteins include fava beans, lentils, peas, and chickpeas (varied and yummy!);
Provides a nice healthy 15% fat — great for pups;
Includes DHA- and Omega acid-rich salmon oil; and
It's naturally flavored.
Cons
Some puppy owners might prefer a food with higher protein — although, 27% is usually fine for larger breeds.
Our Verdict: 4.5/5
Of course, this is a great option for gluten-intolerant puppies. With 340 k/Cal per cup and good-quality protein used, it's even got a smaller kibble that makes it easier to bite and chew.
The Wet Kirkland Dog Food Reviews
There aren't too many wet Kirkland dog foods, but here's a lovely one that all dog ages and sizes can enjoy. Judging from what we've seen so far, we hope they release more in the near future!
Nature's Domain Kirkland Dog Food
Pros
It's designed for all doggy life stages;
Suitable for toy dogs, too, all the way up to larger pooches;
Includes carrots for Vitamin A and peas for iron and fiber;
Provides a minimum of 8% protein; and
It makes great senior dog food.
Cons
This is somewhat watery, as wet dog foods go. However, these are some healthy ingredients and it features fruit and veg as well as protein. Nice!
Our Verdict: 4/5
Older dogs
and recently-weaned puppies will love the taste of tender turkey chunks, plus it's easy for them to eat. Note that customers have found some of these cans to be slightly watery, and were expecting more chunky, thick wet food than they found on opening it.
Hypoallergenic Kirkland Dog Food
Kirkland doesn't create specialized hypoallergenic dog food (yet, at least). However, we've reviewed the weight management option for those doggies on a diet!
Kirkland Signature Healthy Weight Formula Dog Food
Pros
Contains glucosamine and also healthy chondroitin to keep those hips and joints in good shape!
Features probiotics that aid in smooth digestion;
Includes Vitamin C, A, D, and E from kelp, apples, carrots, and cranberries;
Naturally preserved; and
Offers zinc and Omega acids to protect your dog's skin.
Cons
This isn't grain-free as it includes rice and oatmeal.
Our Verdict: 4.5/5
If you've got a gluten-intolerant pooch, they'll need to be eating a different formula. However, this contains oatmeal and probiotic cultures, which are good for digestion. Calorie-controlled to help your dog keep at a healthy weight.
FAQ
What do veterinary professionals think of Kirkland Dog Food?
While Kirkland dog food is not considered a top of the line brand, it is higher quality for those dog owners who are feeding their pup on a budget. Kirkland dog food does offer real animal proteins and fruits and veggies in their diets, making it a healthier version of a budget dog diet. Though there may not be an option for dogs that require special diets free of grains and fillers, it is a great option for the pup parents that need a basic, yet quality diet.
What is the AAFCO all about? Who are they?
AAFCO is an acronym for 'Association of American Feed Control Officials'. They are a volunteer group of government agencies that began in 1901 to regulate pet food distribution and sale. The AAFCO doesn't carry out any inspections or regulate dog food itself, but it draws out standards on nutrition. Examples include AAFCO nutrient profiles for what is considered a puppy food, and for All Life Stages food.
If a dog food manufacturer wishes to label its food as providing 'balanced and complete nutrition for growth and development', for instance, it must meet AAFCO requirements before it can receive approval from them. Generally, these will consider things like minimum protein and an adequate proportion of calcium to phosphorus.
How come there's canola oil in some Kirkland dog foods?
Canola oil is usually included in dog foods because it is a source of both calories and fat. It also provides your pooch with Omega 3 acids. Canines aren't able to make Omega 3 acids themselves, so they need to get it from their diets. One commonly known Omega 3 acid is DHA, although it should be known that canola oil doesn't include DHA. Rather, it includes ALA, which dogs can then turn into DHA (although not super effectively).
So, in short, canola oil is usually added to kibbles like Kirkland dog food for fat and calories. If you're looking specifically for something that includes DHA for your dog, one more effective source is salmon oil.
Helpful Links
Last update on 2023-09-19 / Affiliate links / Images from Amazon Product Advertising API