Hey, puppy mums and dads! Today we're going to round up all the fun facts about IAMS for you in one place. No need to open loads of tabs or squint your eyes to read lots of tiny nutrition labels online, we've done that for you already. And we've loved every minute of it because there is just a heap of different options here for your larger puppy, your gluten-intolerant pooch, and even those dogs who need something a little softer and smoother on their tummies.The IAMS name (and IAMS paw print!) are probably familiar to most of you dog owners, as the brand can often be found in vet offices worldwide. Though they're a well-established brand internationally, IAMS manufactures in Nebraska, North Carolina, and Ohio. Good to know, right?
Quick Review: Top-6 Dog Foods From IAMS
Iams GFree Naturals Salmon & Red Lentils

13% fat and 24% protein
Omega acids, Vitamin E, zinc
Spinach, tomatoes, carrots, peas, apples, blueberries

Iams ProActive Health Large Breed

Contains DHA for clever puppies
Green peas for vitamins
26% protein for growing, and 14% fat to energy

Iams ProActive Health Puppy Wet

Omega acids 6 and 3,
9% protein's, and so is 8% fat
Thiamin, manganese, and potassium

Iams ProActive Health Large Breed

You'll find 0.9% calcium in here
No wheat, no soy, and zero synthetic
There's at least 22.5% protein

Iams ProActive Health Smart Puppy

Antioxidants abound in this blend
457 kCals a cup, 18% fat, and 29% protein
A whopping 1.2% calcium

Iams ProActive Health Sensitive Skin & Stomach

Zero wheat, zero soy, zero corn
No artificial agents for coloring
No by-products from chicken whatsoever
Who are IAMS?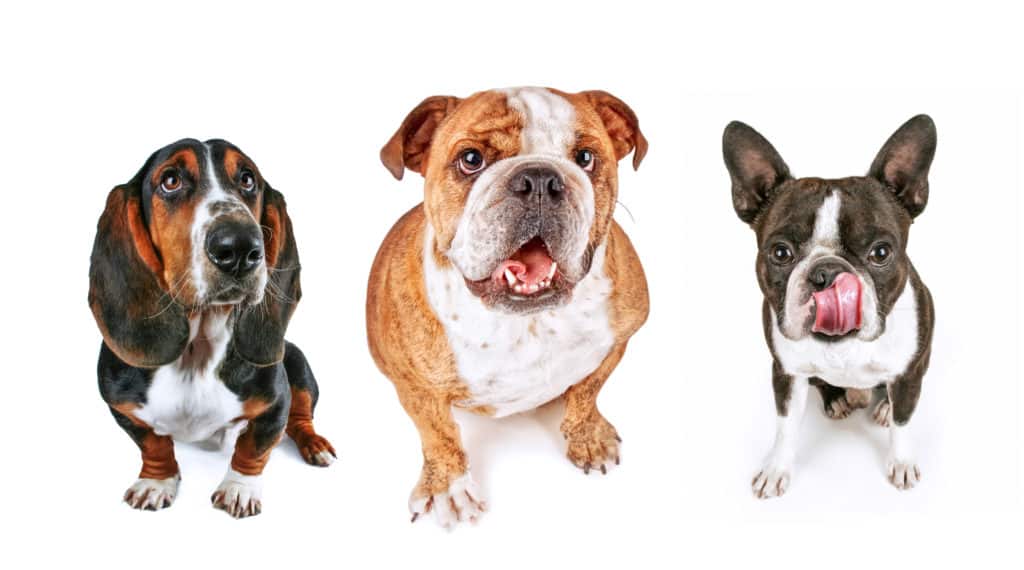 IAMS have been incorporating the advice of nutritionists and experts into their dog food recipes since 1946, which makes them now over 70 years old. IAMS makes a range of customized formulas for different canine life stages, as we've noted, as well as a vast array of breed-specific dog kibbles. A particular point of pride for IAMS is that their dog food and puppy food uses a relatively high proportion of animal-based proteins compared to a lot of other brands. So, when you decide to choose IAMS for your pet's dinner, they'll be eating a lot of real and natural meat, which are complete proteins that contain every amino acid our pup's require.
IAMS headquarters are in Ohio, and they're part of worldwide pet food market-leading Mars Inc. Just like some of the other brands we've had a look at together.
What's awesome about IAMS?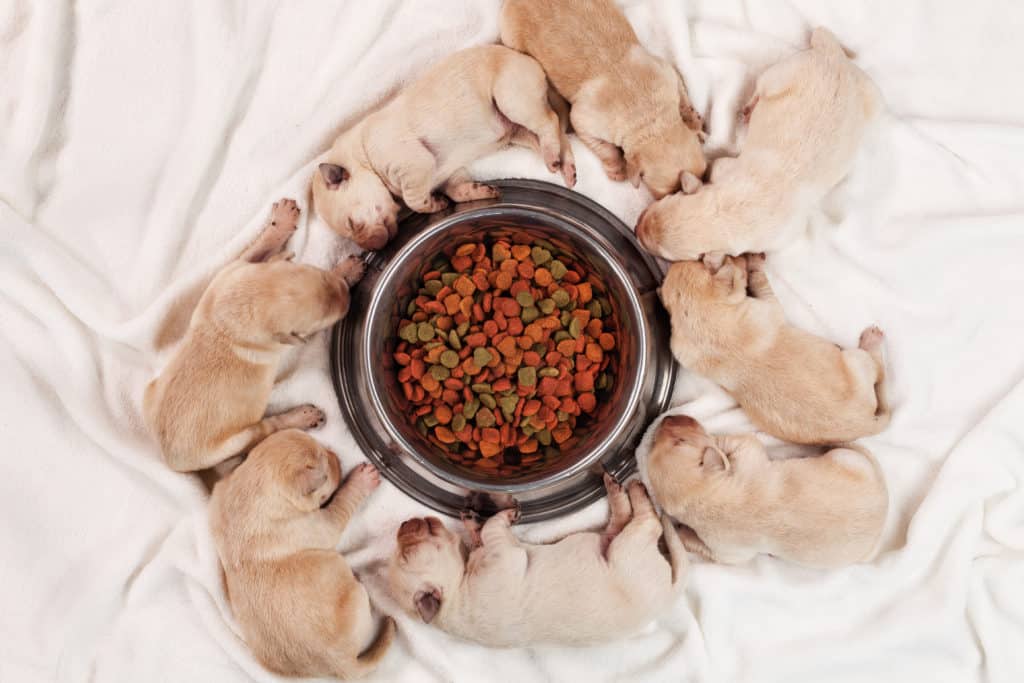 IAMS makes a LOT of different formulas, and among these, you'll be able to find weight-management recipes containing L-Carnitine for fat burning, grain-free blends for gluten-free pooches, and tailored formulas for different breeds. Their large dog kibbles are made with nutrients like glucosamine to help bigger dogs to prevent common big dog problems such as cartilage degradation or arthritis. In contrast, their smaller pooch blends contain a higher number of calories in every scoop, which is perfect for their rapid puppy growth period.
We also think it's awesome that all of IAMS puppy foods are made with DHA, the element that all baby pups get from their mother's milk. DHA is particularly important for healthy neural and cerebral development, and IAMS believe that this makes your puppy much easier to train.
Why the IAMS dog food reviews and IAMS puppy food reviews?
Our reviews on IAMS puppy food are brought to you by us today because:
IAMS has an admirable stance on quality control, so each and every kibble batch is tested numerous times for nutrition, as well as safety;
As a breed-specific kibble manufacturer, they offer delicious mealtime options that are crafted for our German Shepherds, Bulldogs, Labs, Chihuahuas, Yorkies, and Daschunds;
IAMS offers a diverse range of recipes that are full of lovely veggies, as well as options that are made without grains, and some that are free of artificial add-ins;
Their turkey and chicken ingredients are human-grade;
They make products for those of us who have puppies and dogs with special requirements, including tummy and skin sensitivities.
We always try to put together as broad a selection as possible for you, so we've gone ahead and done our research to bring you six different kinds of IAMS dog food review.
The IAMS food reviews
The Grain Free IAMS Dog Food Reviews
Iams Grain Free Naturals
Pros
13% fat is just right on for maintenance of our adult dogs, and so is 24% protein;
As well as those Omega acids, Vitamin E will work happily alongside zinc to keep your dog's skin healthy;
There are spinach, tomatoes, carrots, peas, apples, blueberries, and more in here, for phytonutrients, beta-carotene, and antioxidants!
Salmon, chicken, peas, and egg all provide the protein here;
Zero synthetic preserving ingredients, and no artificial coloring or flavorings either.
Cons
None, we like this Naturals adult range a whole bunch!
Our Verdict: 5/5
Well, there's quite a mini-rainbow of veggies, legumes, and fruits in this protein-rich recipe! We just adore it- our dogs love salmon, and we reckon your best friend will, too. Five stars out of five!
The IAMS Puppy Food Review
Iams PROACTIVE HEALTH Puppy
Pros
Blueberries, peas, carrots, spinach, and apples are to be found in here, giving your little puppy a healthy dose of antioxidants, yay!
Cognitive function and development is aided by the fish oil-derived DHA in this formula;
The protein here comes from both egg and chicken, and at a fantastic 28.5%;
Fat's 17%, an ideal amount for exercise, energy, and puppy development;
2% calcium, a great amount for solid and strong bones- and perfectly balanced with phosphorus, too.
Cons
While there is no soy, nor wheat, in this puppy blend, it does contain some corn. So it's not 100% grain-free.
Our Verdict: 4/5
Our IAMS puppy food rating is 4 out of 5 stars for this real chicken-based, protein-rich puppy kibble. Multiple protein sources help to contribute to a rotational diet and also prevent the potential allergies that can result when pups are overexposed to one ingredient over time.
Iams ProActive Health Large Breed Puppy
Pros
Contains DHA for clever little puppies;
All preserving agents are completely natural, like those mixed tocopherols used with the real chicken fat;
Green peas for vitamins and an alternative lean protein source;
26% protein for growing little ones, and 14% fat to give them loads of energy;
Once again, Vitamin E will play a key role in helping your lovely puppy grow an equally lovely coat.
Cons
Made with some corn, meaning puppies who can't handle gluten won't be able to tolerate this kibble.
Our Verdict: 4/5
Because this IAMS recipe is for bigger breeds such as our awesome
Rottweilers
,
Huskies
, and Labs, it's A-OK to feed to your puppy until he is 2 years old. We're giving this one four out of five stars for its great nutrient profile.
The Wet IAMS Dog Food Review
Iams PROACTIVE HEALTH Puppy Wet
Pros
Omega acids 6 and 3, in conjunction with Vitamin E supplements, make this a fabulous choice for shiny puppy coats so that they'll look and feel…well, fabulous!
One 423 kCal can is substitutable 1 for 1 with a cup of Proactive dry kibble like the one in our IAMS puppy food review, so there's no need to do any complicated math;
9% protein's just right for a wet puppy food, and so is 8% fat, so your little buddy's gonna have loads of energy for playing as well as growth;
Suited for pups of anywhere between 5lb and 75lb;
There's yam in here, for thiamin, manganese, and potassium. We don't see yam a lot in puppy foods or dog foods, so this is quite a nice, healthy treat!
Cons
There are by-products of chicken and an ambiguous 'meat' in this recipe.
Our Verdict: 3.5/5
There are a fair few excellent ingredients here, and the nutrition profile looks just great. While we prefer to see real meat in our puppy's dinner rather than by-products, the latter is undeniably extremely rich in proteins.
The IAMS Large Breed Dog Food Review
Iams Proactive Health Large Breed Adult
Pros
Chondroitin, as well as natural glucosamine, will aid in protecting your large dog's joint health and fight osteoarthritis;
Chicken's right atop our ingredients list, yum!
You'll find 0.9% calcium in here, for big and strong doggy bones and teeth;
No wheat, and no soy, and zero synthetic preserving agents;
There's at least 22.5% protein in this recipe, to satisfy your large dog's lean muscle maintenance requirements.
Cons
Made with corn, so not suitable for adult dogs who aren't able to tolerate gluten.
Our Verdict: 4.5/5
Another way that this dinner's been specifically formulated for bigger puppies and dogs is through the addition of L-Carnitine, which assists fat metabolism and works to keep heart disorders at bay.
The IAMS Small Breed Dog Food Review
Iams ProActive Health Smart Puppy
Pros
As with all the other puppy food formulas in our IAMS Puppy Food Reviews, this one has DHA from fish oil, which is super for cerebral development;
Antioxidants abound in this blend, and come from spinach, flaxseeds, blueberries, and peas;
With super-simple feeding instructions, you'll find it easy to add more or less food depending on the exact size of your smaller puppy pooch of between 1 and 30 lbs;
With 457 kCals a cup, a guaranteed minimum of 18% fat, and 29% protein, you'll be able to feed your little Yorkie, Daschund, Pomeranian, or Chihuahua up to five times a day;
A whopping 1.2% calcium will keep your little puppy's bones strong.
Cons
Our Verdict: 4.5/5
Here's a fun, fluffy fact for you, friends- the world's smallest recorded living dog is a 3.8 inch tall Chihuahua. This blend would probably have been just right for her when she was a pup, given that it's vet- and AAFCO-approved for the growth of tiny pooches.
The Hypoallergenic IAMS Dog Food Review
Iams ProActive Health Sensitive Skin
Pros
Zero wheat, zero soy, zero corn- so, entirely without grains;
No artificial agents for coloring, flavoring, or preserving your dog's food;
No by-products from chicken whatsoever;
Genuine, vitamin-rich veggies such as spinach, peas, and lentils will give your dog both alternative sources of protein and help to prevent dietary deficiencies;
Protein's at a minimum 24%; fat's at a healthy average of 13%.
Cons
Not suitable for our pooches who have chicken sensitivities. Other than this, it's just fantastic in our book.
Our Verdict: 5/5
We absolutely love it! It's so rich in antioxidants, vitamins from apples and blueberries, and minerals like copper, iron and also zinc. Plus, it's great for grown-up dogs who aren't able to eat any grains, and it's just replete with lean proteins. What's not to love? Five out of five stars!
FAQ
What do veterinary professionals think of IAMS dog food?
IAMS dog food is so loved in the veterinary community that you will often find IAMS products sold in veterinary clinics. Though it is a store brand that can be purchased without any type of prescription, they do offer diets that are approved in certain medical situations due to their quality ingredients. IAMS has a wonderful option for dog's of all kinds, making it one of the favorites among veterinary professionals.
Why are vegetables a good thing for my puppy?
Contrary to very popular belief, our fluffy canine friends are actually omnivores, not carnivores! This means that, like us, and unlike their feline counterparts, puppies and dogs will get vitamins, minerals, fiber, and antioxidants from fruits as well as vegetables. Vegetables can be a fantastic source of Vitamin E, which is great for healthy, silky coats, and B vitamins for energy. Spinach, blueberries, and other superfoods which provide antioxidants help your puppy to fight cancer by combatting cell damage, too, while the natural fiber helps your puppy digest more easily. That's why they form a healthy part of any good puppy food, like the ProActive kibble in our Hypoallergenic IAMS Dog Food Review.
Should real meat be the first ingredient in my puppy's food?
It's not a bad idea to look for a puppy food or dog food that is able to list a real meat as the primary ingredient. Puppy foods that boast something like boneless chicken, real lamb, or even a milled real meat (not a milled by-product, though) are giving your puppy a healthy dose of protein from an identifiable source. And because our pups need relatively hefty amounts of protein for their development, it's recommended that you be able to understand where it's coming from. One exception to this rule is when your vet has advised you to feed your puppy on something like hydrolyzed soy protein due to his intolerances.
When you're looking at fats in the ingredient list of your puppy's food, too, it's always a good thing to be able to understand where the fat is coming from. So, something like 'beef fat' is always going to be a plus compared to something obscure such as 'animal lard'.
Last update on 2023-09-17 / Affiliate links / Images from Amazon Product Advertising API