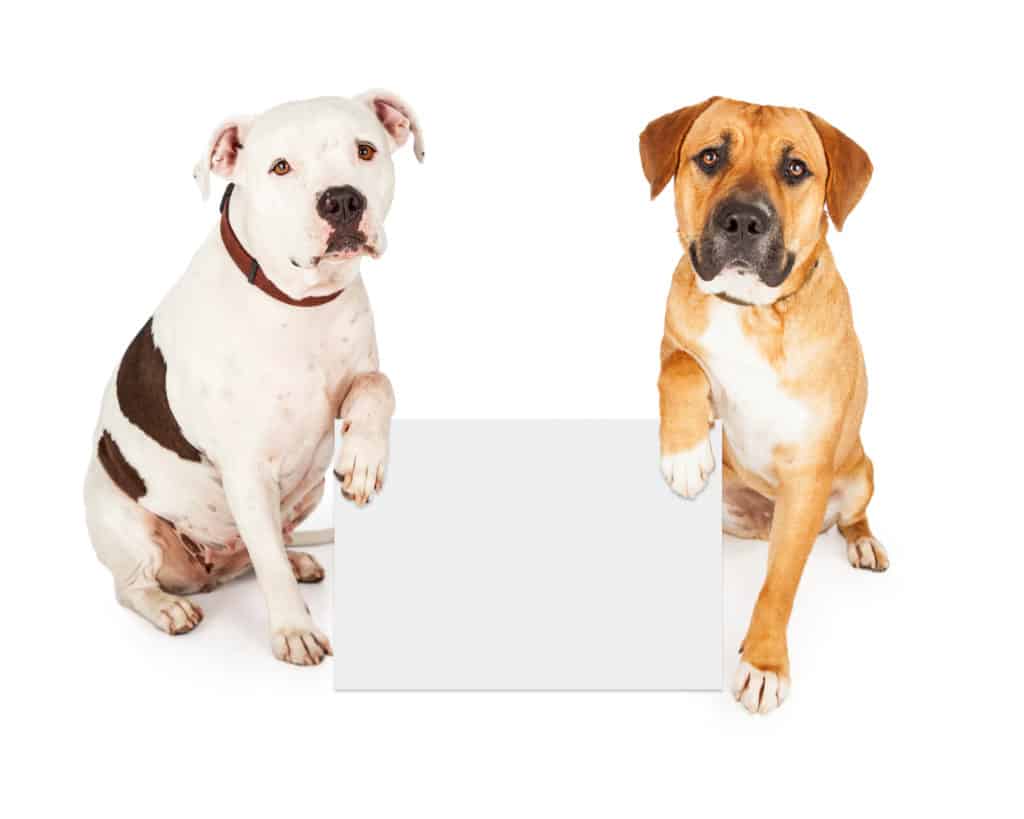 Whether you've got yourself a gorgeous Sheepdog, a brave German Shepherd, or an adorable Boxer, you're in for a whole lot of doggy love. Large breed dogs are by far the most popular canine companions in the US, with Labrador Retrievers having captured the most hearts for almost three decades in a row.
So, of course, we want to ensure that our loveable companions receive the best possible start and have the healthiest lives we can possibly give them. It's important to give your dog lots of love, sufficient exercise, and not least — the yummiest, most nutritious food you can get your paws on.
In this article, we'll take a look at what makes the best large breed puppy food, starting with why it's worth getting a large breed food in the first place. We'll highlight the best large breed dog food brands and whether they prefer wet chow or dry kibble, then dive right into our reviews of the best products out there!
What Makes Large Breed Puppy Food Unique?
If you have a large breed dog, you'll already be aware of several things. First, they need more exercise than smaller dogs. Second, 'large breed' covers a huge range of doggy shapes and types!
So to be clear, we'll be using the term to refer to dogs who grow up to be between 60 and 100 pounds. This rough figure applies whether you've got a purebred dog or a mixed breed, so if you've got a much larger canine companion, check out our article on the best giant breed dog food here.
The unique aspects of our large breed friends influence the way that manufacturers craft their large breed puppy food. Here are the main takeaways, and how you can pick out a large breed dog food to best suit their characteristics.
Large breed doggies take longer to develop. As most Lab and Retriever owners will know, our larger best friends don't turn into puppies overnight. They will usually require a large breed puppy food — with all the requisite nutrients for development—for up to two years.
Large breed pups require glucosamine. So, they need food that contains enough of this food supplement to maintain proper joint health. If they don't get enough from their chow or kibble, they may be more susceptible to developing difficulties later in life. These include arthritis, dysplasia, and more general joint pain. Sure, you can feed your dog with supplements, but find a good enough dog food and you shouldn't need to.
Bigger puppies often wolf down their food! Yep — if you haven't been a large breed dog owner before, it can be funny and surprising at first! But of course, it's best practice to try and discourage your dog from gulping down their food too fast, as this can lead to trapped air in their stomachs. In turn, they may end up bringing their kibble back up or suffer from indigestion. Or even flatulence — that tends to sober up a room! In short, the best large breed puppy food will have specially designed kibble that they are more likely to crunch than simply wolf down.
What To Look For: The Best Large Breed Puppy Food
First up, let's look for a puppy food that provides your dog with 26-30% protein minimum per serving. Our best friends are natural omnivores, so rely on being able to get certain amino acids from their food. While you're shopping online and browsing the ingredients for different large breed puppy foods, try to spot something which has both meat as the very top ingredient and a reliable brand name. Some of the best large breed puppy dog food comes from the following brands. We've included a little about them so you can make the best decision for your unique puppy:
What Minerals and Vitamins Does My Large Breed Puppy Need?
Before he or she was weaned, your little one was receiving DHA from his mom's milk. This nutrient is one of the most vital ingredients for good visual and cerebral function, so the best puppy food for large breed dogs will definitely include it. It's typically found in fish products such as salmon oil and Menhaden meal, although sometimes it may be labeled just as Omega 3.

Omega acids also help to keep your growing little pup's skin and coat healthy, alongside Omega 6. It's not unusual to find that with the right (Omega acid-containing) puppy food, sensitive skin issues can go away in a short period of time. Other sources include more common animal fats, such as naturally-preserved chicken lipids. On this note, you'll be looking out for large breed puppy foods with around 14-15% fat for an ideal daily dose.
Vitamin-wise, the AAFCO recommends you pick out a large breed dog food that offers A, E, K, and D vitamins, as well as B12, amongst others.
If you're still not sure, or if you didn't sign up for all this reading when you got a puppy, here's the takeaway! If you pick out an AAFCO-approved food for Development or Growth, all of the minimum vitamin and mineral requirements have already been approved. That includes biotin, choline, and all the other scientific-sounding nutrients!
In a nutshell, the key things to look at while searching for the best large breed puppy food are:
vitamins;
minerals (most importantly iron, copper, zinc, and calcium and phosphorus in a 1:1.3 ratio);
protein;
fat; and
glucosamine, which goes hand-in-hand with
How Many Calories Does The Best Large Breed Puppy Food Contain?
Roughly, you will find between 360kCal and 415k/Cal per cup in the best large breed puppy foods. What matters more is how much you feed your little one—why not use our calculator to get a more specific figure?
One note: don't be overly specific and take these recommended figures as a hard-and-fast rule. Your more active puppies will generally require more calories in general, because they are burning a lot more while they're out and about. Sedentary, 'love to lounge' doggies will require less to avoid becoming overweight.
All Grown Up: Transitioning To Large Breed Dog Food
Once they reach around 24 months young, your large breed doggy will require less protein (around 23% is a good minimum) and less fat (11-14% per serving). Daily recommended calories will fall within a large range again, based on what your dog's doing exercise-wise, and his overall body mass. A very sedentary (inactive) large breed dog may not be using much more than 20k/Cal daily per lb of his or her body weight, but fun-loving, active pooches may require more!
Here are some of the top names that we recommend when you're shopping for the best large breed dog food:
Diamond Naturals – Manufactured in America to meet super-high quality standards, this is a brand of doggy dinner that you can trust. Diamond Naturals creates wet food and kibble from wholesome ingredients and often adds in superfoods for a nice immune boost.
Blue Wilderness – This is another Blue Buffalo brand. We can't help it, they make awesome large breed dog food. If you're after something that's been based on what our doggy's ancestors used to eat, they create Wilderness recipes which are super protein-rich.
Halo Natural – Halo makes holistic pet food minus any ambiguous meat meals. The brand started using non-GMO veggies and whole meat proteins to help one poor doggy overcome his bad reactions to other premium foods.
Nutro Ultra – Nutro stands for nutrition, or at least informally. These manufacturers meet the AAFCO requirements to make the best large breed puppy food for our growing best buddies.
Canidae – This independent pet food company began trading in 1996. Their large breed dog food is cooked in Texas plant, and the brand supports other family-owned companies by sourcing ingredients from smaller businesses. This includes farmers, ranchers, sellers, and more.
Hills – This pet food company is one of the few veterinary formulated diets on the market that is aimed toward meeting each of your dog's nutritional needs. This brand is often sold in veterinary offices due to their quality ingredients.
Let's head straight to the reviews!
The Best Large Breed Puppy Food: Reviews
In this large breed puppy food comparison, we'll introduce and review the best food from the brands above. We've included grain free puppy food for large breeds, as well as some with varied proteins. Which one's the best for your pup?
Nature's Recipe Grain-Free Dry Dog Food Puppy
Pros
27% protein, which comes predominantly from salmon—a tasty change;
Peas and chickpeas provide non-meat protein, too;
14% fat from naturally preserved, real poultry sources;
Contains guilt-free vitamin goodness from pumpkins, apples, and sweet potatoes; and
Made with 3 and 6 Omega acids for luxurious healthy doggy coats.
Cons
Nada, it's great all-around dog food, AAFCO approved and at a really good price.
Our Verdict: 5/5
Try this salmon recipe if you have got yourself a pooch with itchy or sensitive skin. As salmon is rich in healthy, skin-protecting nutrients, you may just find that your pup takes to it well. The calcium in here will also help your little puppy develop lovely, tough bones (in a good way!)
Fromm Family Foods Gold Large Breed Puppy
No products found.
Pros
Menhaden fish and egg both supplement the protein from chicken in this dish;
Immuno-boosting antioxidants from flaxseed;
You'll also find duck, lamb, and DHA-rich salmon oil in here;
Plus celery, carrots, and sweet potatoes to provide fiber for gentle and smooth doggy digestion; and
At 14% fat, it provides an optimal serving for growing puppies.
Cons
You might find this a little bit pricey, but it's definitely one of the best large breed puppy foods when it comes to nutrition.
Our Verdict: 4.5/5
We like this USA-made large breed puppy food, especially because it helps keep their fur and skin healthy. With Vitamin B-rich (and super-yummy) salmon, you'll be treating your Lab, Golden Retriever, or other big puppies to a stylishly tasty dinner!
Taste of The Wild Grain-Free Premium
Pros
There's real smoked salmon in this recipe, something we rarely—if ever—see in puppy foods!
Raspberries, tomatoes, and blueberries give your growing large-breed a great dose of vitamins;
Made with DHA-rich salmon oil;
At least 27% protein in each bowl; and
15% fat, a great figure for those active, energetic puppies.
Cons
Nope, we are happy as always with Taste of the Wild. And so are our large-breed puppies!
Our Verdict: 5/5
A great price for such a wide array of healthy, nutrient-rich ingredients. There's DHA and E Vitamins, but zero eggs or grains. Yum!
Orijen Puppy Food Whole Prey Large Breed
Pros
Real meats make up the key protein ingredients, to a very large total figure of 38%;
Animal cartilage provides ample glucosamine;
The majority of animal ingredients in Orijen Whole Prey are preserved naturally, using flash-freezing methods or just…fresh!;
Genuine liver is used for a tasty touch, instead of fake flavors; and
There are six different meats from the same number of 'prey' animals in here — awesome variety.
Cons
You'll have to shell out a little more dough for this one, with up to 85% inclusions from meat in here.
Our Verdict: 5/5
At 38% protein and so much meaty goodness, even the most muscular little puppies will have a hard time not loving it. Delicious, authentic flavor without the fake preserving agents, and a reliable — if somewhat expensive — brand. Five stars!
Blue Buffalo Wilderness High Protein Grain Free, Natural Large Breed
Pros
This is a blend that promotes healthy blood function and muscle growth through the inclusion of L-Carnitine;
Your puppy's going to adore the tasty boneless chicken in this US-made dinner;
If you're the owner of a gluten-free puppy, this is a happily no-grain recipe—zero ingredients from wheat or from maize;
Super-rich in delicious antioxidants thanks to vitamin-rich blueberries, plus carrots and yummy cranberries; and
Soft digestion is encouraged, as Blue Buffalo have included probiotics and natural fiber in this formula.
Cons
Nothing to worry about with this recipe, which has zero fake preserving agents, colors, or flavors.
Our Verdict: 5/5
As an owner, this is some of the best large breed puppy food on the market. Your little buddy will love the natural, authentic chicken flavor, while more sensitive pooches will find it gentle on their tummies. If you're a fan of varying up the proteins, this also contains pea protein and fish. Delicious!
Science Diet Large Breed Puppy
Pros
Optimal levels of calcium for bone growth
DHA from fish oil for healthy brain development
Promotes healthy muscle growth
Kibble designed specifically for your large breed puppy
Cons
Chicken is the main ingredient, so dogs with poultry allergies may not be able to enjoy.
Our Verdict: 4/5
This diet has the nutrients and delicious taste that your growing puppy needs to fill their belly with ingredients that matter.
Best Large Breed Dog Food
In this review, you'll find our picks for the best large breed dog food. And for those with gluten-intolerant dogs, we've made sure to look at some grain-free large breed dog foods. Woof, woof!
Diamond Naturals Adult Large Breed Real Meat Recipe Premium
Pros
Flaxseed, kelp, pumpkin, and spinach provide antioxidants to fight disease—along with loads of other yummy non-meat ingredients;
23% protein from real, delicious, chicken, plus quinoa and some egg;
It has a good amount of glucosamine;
1% calcium for strong and resilient bones; and
Has Omega acids for lovely, strong skin, alongside L-Carnitine to help maintain muscle mass.
Cons
23% is at the lower end of the recommended protein range for large breed dogs. While fine for most animals, those dogs which are training or working very often will require higher levels.
Our Verdict: 4.5/5
Naturally muscular animals, such as Pit Bulls, will usually need to be consuming a greater proportion in their diets. For less muscly large breed adults, 23% should be fine. This Diamond Naturals blend contains good levels of joint-healthy glucosamine, calcium, vitamins, minerals, and fats. A well-rounded formula that includes loads of natural antioxidants. Yum!
Blue Buffalo Wilderness High Protein Grain Free, Natural Adult Large Breed
Pros
Zero fake preserving or flavoring chemicals;
Zero wheat, maize, and no soy—this is as grain-free as they come;
Contains L-Carnitine, one of the important muscle-building nutrients;
Carrots, blueberries, and also cranberries will give your best friend both antioxidants and vitamins; and
A whopping 32% protein!
Cons
Nope, this is formulated especially to keep our prized large breed friends happy and healthy. And does the job nicely!
Our Verdict: 5/5
Great flavor, awesome protein levels, and professionally formulated for large adult dogs. Healthy amounts of calcium to look after our doggy friends' bones, too. We're loving it — one of the best grain free large breed dog foods!
NUTRO Ultra Adult Large Breed
Pros
American-made, featuring real milled chicken, salmon, and lamb as our key ingredients;
AAFCO-approved for large breed adult maintenance;
Recommended levels of chondroitin and glucosamine to help keep those skeletons strong and well;
Made with a blend of superfoods for a healthy boost, including blueberries, chia, kale, and more; and
Contains zero maize, wheat ingredients, or soy protein
Cons
As a premium brand within the Nutro range, some owners may find this a little pricey.
Our Verdict: 5/5
Health-wise, this Nutro Ultra blend is nutrient rich. Made with glucosamine-containing lamb meal for joint care, it's a good pick for large dogs. Owners with entirely grain-free dogs will want to skip this one, however, as it contains rice and several other grains.
Halo Natural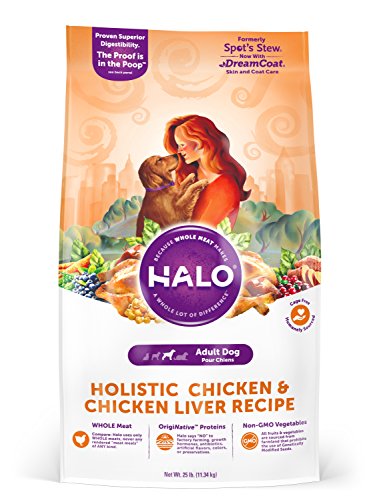 Pros
With zero rendered meats involved, this recipe is made using genuine chicken and liver;
Lovely fruits and veggies in here—all non-GMO and full of healthy fiber;
These include carrots, sweet potato, blueberry, and tasty cranberries;
Uses bio-available ingredients, meaning this large breed dog food is made for maximum nutrient absorption and less waste; and
Contains those Omega acids that keep our doggy coats beautiful and shiny!
Cons
There is some soy protein to be found in this particular recipe, so sensitive dogs may not be able to eat this.
Our Verdict: 5/5
We like that the meat used in this formula is humanely raised and sourced in a responsible way. We're also fans of the lower ash content — it's one of the benefits of using fewer rendered meat products. If your large breed dogs haven't tried Halo yet, this is definitely one to consider!
CANIDAE Under The Sun Grain-Free
Pros
11% fat to help prevent obesity—but still, provide enough energy for daily activities;
Contains both glucosamine and E Vitamins for great joints and skin;
Made with probiotics for easier doggy digestion;
There are so many delicious vegetables in here, plus Vitamin supplements (E, B12, D3, and more); and
You won't find any by-products from chicken in here.
Cons
25% protein is usually sufficient for large breed adults. Nonetheless, working dogs or super muscly breeds such as Pit Bulls may often require more.
Our Verdict: 5/5
Chicken is often a trigger for a dog with insensitivities, but some dogs can tolerate everything but. This is one of the best large breed dog foods for those pooches, as it contains no red meat or fish at all. The chicken protein in here's supplemented by garbanzo beans and peas. Tasty!
FAQ
Why does my small breed Terrier need more fat than my large breed Retriever?
It's true, it does seem a little strange — if you haven't been a dog person for long, you might expect the larger animal to need more fat.
Here's how it goes in practice—large breed dogs will definitely require more energy than smaller breeds. So in one day, Jumbo the Retriever will be eating more calories in total than Mini the Terrier. But small breeds have faster metabolisms than larger dogs— and this applies to puppyhood, too. They burn energy faster, that is, and they need food which gives them a higher proportion of both protein andfat. This prevents your small breed Terrier from running out of energy between mealtimes and feeling a little faint.
It's also worth noting that despite their bigger size, we can't free feed our large breeds. In fact, we need to be a little careful that these pets don't overeat. Why not try our calorie calculator to have a look at how much you should be feeding each of your dogs?
I'm getting my very first puppy, a 6-month-old Lab Retriever. How do I prepare?
We're totally psyched for you! Getting your first puppy can be a very exciting time, and preparing is tons of fun. A few of the basics you'll need to include a puppy bed, bowls for large breed puppy food and water, a leash and collar for walkies, and a name tag.
Even if you're getting yourself a short-haired Lab, it's super-nice to have a brush for your little one. This is not only a great way to keep stray hair off your furniture (or try to, at least!), but a beautiful way to bond with your new best friend. And don't forget toys, either — we've prepared some lovely tips about how you and puppy can play together with them.
Last, but certainly not least, a six-month-old puppy will already have been on solid puppy food for a while. So stock up on some of the best large breed puppy food, some of what they're already eating, and get ready to gradually transition them over a week.
Welcome to your newest family member!
Helpful links
Last update on 2023-09-20 / Affiliate links / Images from Amazon Product Advertising API