If you've got a dog with intolerances, chances are you know all about Natural Balance! This American brand of dog food offers ever so many options for allergic or gluten-free pups, and it even makes its own vegetarian dog food!So what's the story behind where it came from, and how do their different products help our pets thrive? Read on to find out!
Quick Review: Top-5 Dog Foods From Natural Balance
Natural Balance Grain-Free LI

No fake colors and filler by-products
Your grown dog will be getting 21% protein
Contains no colorants, by-products or flavors

Natural Balance Original Ultra

Real chicken is our very top ingredient
Contains menhaden oil, a portion of omega-acids
Contains berries, kelp, and spinach for vitamins

Natural Balance Original Ultra Canned

The egg also offers omega acids
Provides 9.5% protein
Includes carrots for Vitamin A

Natural Balance Limited Ingredient

No fake preservatives or colorants
Contains omega canola oil to create fur
Features only limited carbohydrates

Natural Balance Vegetarian

It's still a lovely source of Omega acids
He is 100% vegan, meaning he is without eggs
Contains a lot of easily digestible fibers
Who Is Natural Balance?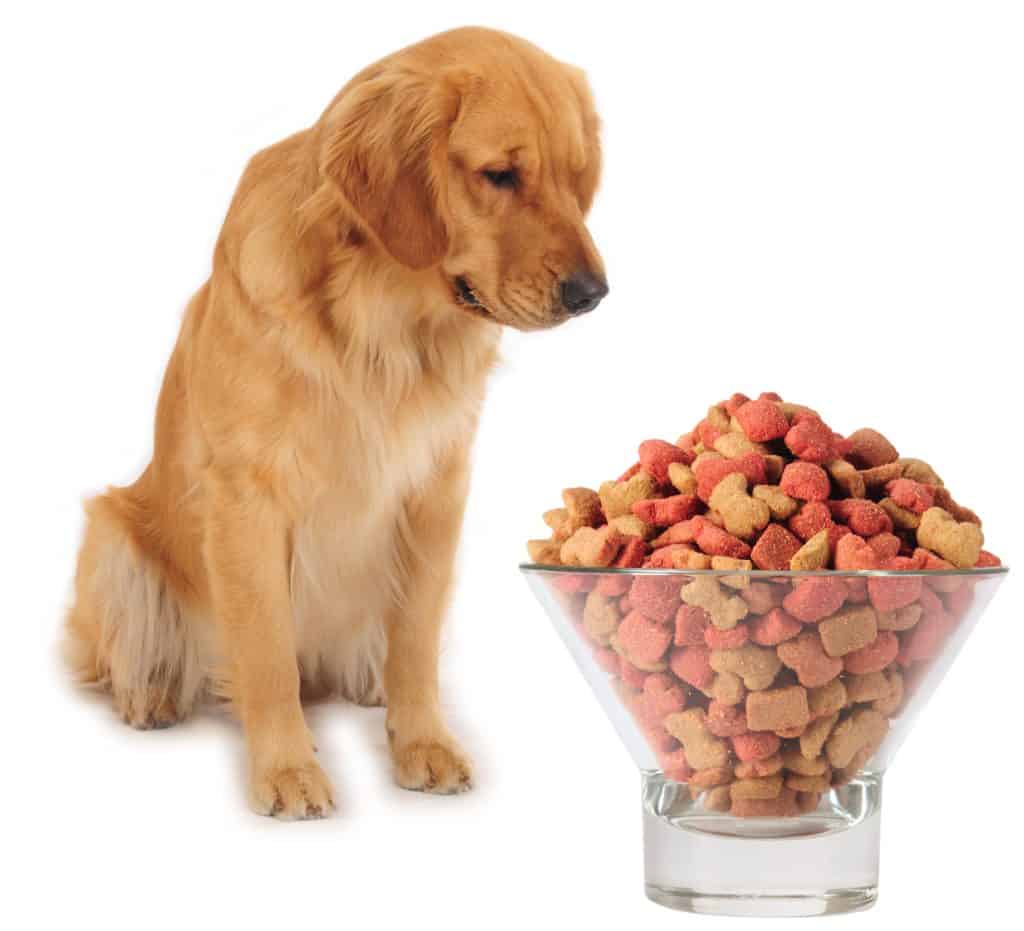 Natural Balance has been crafting dog and cat dinners for three decades. The California-based company has been operating since 1989 and was started by one Dick Van Patten. While some of you may know him from his TV or writing career, he was actually a serious animal advocate who believed that our pets deserve scientifically appropriate foods.
In 2015, Dick passed away, but Natural Balance continues to grow in popularity — largely thanks to its nutritious formulas and reliable reputation. The brand uses high-quality, human grade ingredients, and is owned by the JM Smucker Company. Their canned food is made by American Nutrition Inc.
What's Special About Natural Balance?
First up, as you'll see in our Natural Balance dog food reviews, here's a brand that makes ever so many Limited Ingredient formulas! We don't feel that dogs with intolerances should be eating the same thing each and every day, and this means there's plenty of choice for pooches with specific allergies.
We also like that Natural Balance recipes don't include corn or soy. But that doesn't mean that there aren't any grains in their recipes — Natural Balance creates both gluten- and grain-containing formulas for all dogs. Here are some of the key categories you can find from the brand:
Limited Ingredient Diet (L.I.D.) formulas – in each of these bags, you'll only ever find one single type of animal protein. There are formulas for adults and for growing pups, in a range of wet and dry formats, like LID Fish and Sweet Potato Small Breed for little dogs;
Healthy Digestion – These feature healthy fibers like brown rice, and brewer's yeast to alleviate itching. The Synergy recipe, for example, also includes prebiotics so as to make digestion easier on your grown dog;
Healthy Weight – Products in this line are calorie-controlled to scientifically reduce your dog's risk of obesity. Of course, that's assuming that you monitor their serving sizes accordingly!
High Protein – These are also found within the LID range, so they're both simple and usually give your dog more than 30% protein. They're ideal for working and growing dogs, or just those that are super energetic!
Vegetarian – Some owners may want to help their dogs avoid meat altogether, so Natural Balance makes a totally vegan formula that is perfect for their dinners! Available in wet and dry formulas, this uses pea protein for amino acid content and cuts out the dairy entirely.
Natural Balance Dog Food Recalls
In 2007, there were several Natural Balance dog food recalls; the first was the brand's voluntary recall of its Venison Dry Dog Food due to trace melamine in the kibble. In April, their dog food was also among the large number of manufacturers who withdrew their wet foods when once again, melamine was found in some recipes. Slightly later that year, a third Natural Balance dog food recall was announced for potential botulism poisoning, but no dogs were reported sick.
In 2010, Natural Balance Chicken and Sweet Potato kibble was recalled because the FDA found salmonella in the recipe, and in 2012, some more foods were recalled for similar reasons. These were foods that had been produced in Diamond Dog Food facilities, but there were no positive results for what was initially suspected to be salmonella contamination.
Why the Natural Balance Puppy Food Reviews and Natural Balance Dog Food Reviews?
So let's round up what we know and love about Natural Balance foods to save you time!
Natural Balance uses human grade ingredients to craft their diets;
They use real greens and fruits, and not just supplements, to give your puppy a range of vitamins and minerals;
All Natural Balance dog foods are naturally preserved;
The recipes are all made without any of the common gluten-containing allergens (corn, soy, and so forth);
Believe it or not, it's the official kibble for those working ATF dogs (really!); and
There's something for all dogs and puppies in their ranges — from gluten-free and high-protein recipes to weight management and vegetarian blends, it's all here!
Read on to check out our Natural Balance Dog Food Reviews…
Our Natural Balance Dog Food Reviews
The Grain Free Natural Balance Dog Food Reviews
Natural Balance grain-free formulas are all also Limited Ingredient formulas. The brand creates a pretty extensive range of these, which we'll be reviewing here and in our Limited Ingredient section below.
Natural Balance Dry Dog Food, Grain-Free Limited Ingredient Diet
Pros
No fake colors, filler by-products, or flavors in this recipe;
Your grown dog will be getting 21% protein;
This features antioxidants from flaxseed, which will help his immune system stay healthy;
Owners have reported that it helps reduce shedding; and
While the packet shows 0.08% calcium minimum, this is actually 1.48% on an as-fed basis.
Cons
Includes potatoes, which some intolerant dogs won't be able to eat.
Our Verdict: 5/5
This recipe has been designed in accordance with the AAFCO guidelines for grown dogs — but there is a puppy formula too! If you're after a healthy, single-meat dinner for your sensitive dog, this is one healthy choice
The Natural Balance Puppy Food Reviews
Natural Balance Original Ultra Dry Dog Food
Pros
Real chicken is our very top ingredient!
Contains menhaden oil that will give your little pup or pooch a nice serving of Omega acids;
Large puppies can safely enjoy this blend — it has got carefully controlled calcium levels and offers an optimal amount of glucosamine;
Includes DHA, which puppies require for great vision and cerebral function; and
Contains berries, kelp, and spinach for vitamins.
Cons
There is only 23% protein in this recipe. So while it's designed for all different stages of doggy life, it has less protein than some other puppy formulas.
Our Verdict: 4.5/5
For most types of puppies, we usually like to see at least 24% protein or more. However, we're satisfied with this formula on the whole, as it uses several different protein sources and offers DHA plus glucosamine. And at a very reasonable price, too!
Natural Balance Original Ultra Dry Dog Food, Puppy Formula
Pros
There's also a little more Vitamin E in here, which is a good thing for glossy and gorgeous puppy coats;
Contains 4% more fat than the similar All Life Stages formula;
But it still has all the lovely leafy greens and supplements for vitamins C and K;
Features colostrum, which puppies get from their mother's milk; and
It includes L-Carnitine to help your pup burn fat for energy!
Cons
There could be more in the way of natural fruits, but on the whole, it's a super blend!
Our Verdict: 5/5
We're all for human-grade ingredients in our pup's food, and this is a formula that offers just that. We like that it contains menhaden meal, a natural glucosamine and DHA source; we also love that it includes real veggies. All around, pretty good!
The Natural Balance Canned Dog Food Reviews
Most of Natural Balance's canned foods are from the Limited Ingredient range. However, you'll also find wet dinners for pups and adults in the Original Ultra and Ultra Premium lines.
Natural Balance Original Ultra Whole Body Health Canned Dog Food
Pros
There are ever so many tasty proteins in here — chicken, duck, egg, and salmon will have your pup's tastebuds tingling;
Egg also offers Omega acids for your best friend's fur and skin health;
Includes menhaden oil, which provides DHA and glucosamine;
Provides 9.5% protein; and
Includes carrots for Vitamin A.
Cons
This contains rice, so it's not totally grain-free.
Our Verdict: 5/5
Don't our pups just adore it when we crack open a can of delicious wet food! This is all-naturally flavored with nutritious chicken broth, too, so your pooch can enjoy delicious moist, meaty goodness.
Natural Balance Limited Ingredient Dog Food Reviews
So while all grain-free recipes are also Limited Ingredient Recipes, the opposite does not apply. That is, in this hypoallergenic Natural Balance formula, you'll find carbs such as brown rice and rice bran.
Natural Balance Limited Ingredient Diets Dry Dog Food
Pros
This adult dog food will give your pooch 21% protein;
There are no fake preserving agents or dyes to color the food;
At 355 k/Cal per cup, it's perfect for all different doggy sizes and breeds;
Contains Omega-rich canola oil to promote shiny, luxurious fur; and
Features only limited carbohydrates.
Cons
No veggies or fruits, but this can be a particularly good thing if your dog's on a limited diet.
Our Verdict: 5/5
There is only one meat ingredient in here, which is lamb. Where vegetables and fruits have been left out for a properly limited formula, natural supplements provide the nutrients that your dog will need. Pretty nice!
Natural Balance Vegetarian Dog Food Reviews
Natural Balance is one of the bigger brand names that creates vegetarian dog food. Here is our review of the dried vegan kibble!
Natural Balance Vegetarian Dry Dog Food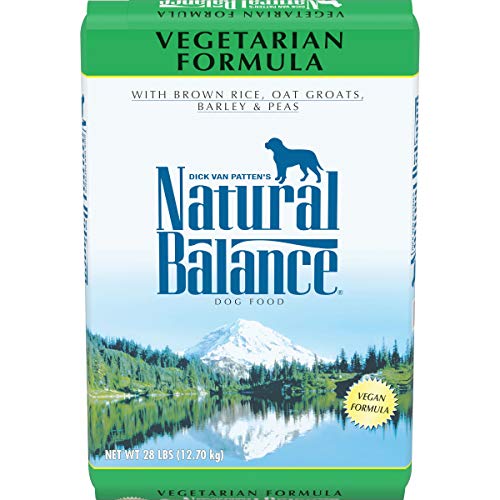 Pros
The protein in here comes mostly from peas, and there is 18% in here, which is suitable for grown dogs;
It's still a lovely source of Omega acids (why should our intolerant pooches miss out?);
It's actually 100% vegan, so that mean's it's egg-free, too;
Includes lots of easily-digestible fiber, from sources such as barley and brown rice; and
All different giant, large, medium, and small breeds can enjoy this blend — it's got manageable kibble bits that Yorkies and Mastiffs alike can easily get their teeth into!
Cons
Some owners might feel that 18% protein is a little low for their dog's needs.
Our Verdict: 5/5
In the wild, almost all dogs naturally will seek out meat to get all their amino acid needs. We definitely understand and respect that all dogs have different dietary requirements; however, if you choose to feed your dog on a vegetarian/vegan diet for whatever reason, it's a good idea to check that the formula you switch to is appropriate for his health.
FAQ
What do veterinary professionals think of Natural Balance Dog Food?
Veterinary professionals applaud any diet that has dogs with sensitivities in mind. Food allergies are a common reason behind itching and ear infections, leaving dog owners desperate to find a diet that doesn't trigger their furry friend's allergies. Since Natural Balance only has one protein source in each diet, it makes it so much easier to eliminate certain meats that your dog may be allergic to. Not only do the diets only contain one meat source at a time, they are also free of corn and other common sources of allergies. If you have a dog that is prone to food allergies, this is a diet to consider!
What is brewer's yeast and why is it in Natural Balance dog food?
Brewer's yeast is quite frequently included in dog foods because of its high Vitamin B content. It also gives your puppy or dog some important trace elements like selenium and zinc, which are good for his or her skin. The yeast itself is a natural organism — just like baking yeast — and it can play a helpful role in keeping your pup's skin and eyes healthy.
It's generally considered a healthy ingredient to include in kibble, and may even contribute to keeping away fleas, but that hasn't been researched in very great depth recently.
What are some examples of fiber in your Natural Balance dog food reviews?
Super question! Fiber is important in your puppy's diet because it helps him digest his food without too much difficulty. It is sometimes also a source of protein, depending on the particular ingredient in question. Some examples of fiber in the reviews above are:
Brown rice;
Rice bran;
Oat groats;
Oat hulls;
Dried spinach and kelp; and
Pea fiber.
If you're ever in doubt, it helps to know that fruits, veggies, and whole grains are generally fiber-rich. It's good to know!
Helpful Links
Last update on 2023-01-26 / Affiliate links / Images from Amazon Product Advertising API