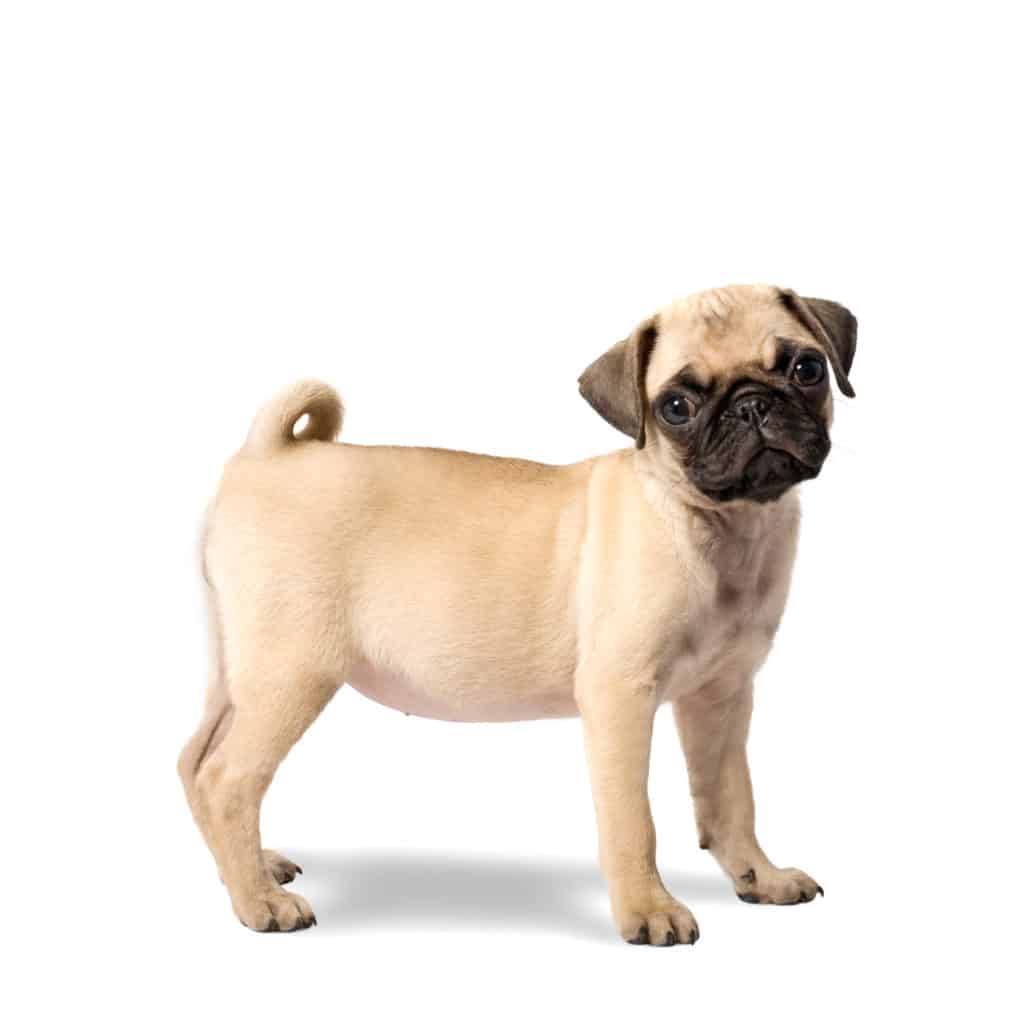 Stubborn but endearingly social, Pugs are among America's favorite dogs. They may be small, but their affectionate natures make them all the more deserving of the very best diet possible. Whether you're searching for an economical or top-shelf Pug food for your little friend, we've got reviews to save you time.Read on if you've been wondering what a balanced Pug food looks like, and find out more about the best brands we've found for our special fluffy friends!
Quick Review: Top-3 Dog Foods For Pug
Victor Classic – Hi-Pro Plus Dog Food

30% of protein is enough for the active pug puppies.
It contains zinc, selenium, and Vitamin E
No synthetic preserving chemicals are used

Merrick Classic Small Breed Dog Food

Contains no potato, so it has a lower GI
This recipe is enriched with glucosamine
Vitamin-rich blueberries, carrots and apples

Wellness Core Natural Grain Free SB

Glucosamine supplements have been added
Uses 54% of protein-rich ingredients.
Uses only natural colors and flavorings
Shopping for the Best Pug Food
If you're a fan of small doggy breeds, a Pug can make an ideal best friend. These stocky little short-nosed pooches won't often grow beyond 14 inches tall and 18 lb heavy — so they are perfect for cuddling up with! It also means they don't need very long to become full-sized adults, so you won't likely be buying Pug puppy food past the 9 to 12-month period.
So what makes a good Pug food different from just 'any old dog food'? While there are clear distinctions between mature Pug dog food and the best food for Pug puppies, there are some features that all Pug food should have:
Because Pugs have short, uniquely wrinkled muzzles, they are unfortunately prone to breathing problems. Their mealtimes can be made as stress-free as possible by choosing a food with smaller kibble design — this will also pose less of a choking hazard for over-eager little Pug puppies when chowing down.
Statistics have also shown that Pugs are very much at risk of developing hip dysplasia compared to most other breeds. The best way to mitigate this risk is by choosing a Pug dog food which contains natural (or supplements of) glucosamine. This works alongside chondroitin; the two substances help keep your Pug's cartilage more elastic.
Last, but certainly not least, it's essential that you look at the ingredients used in any Pug dog food. Try to choose a food with recognizable, natural meats, and steer clear as much as possible of synthetic preservatives.
With these two important factors in mind, let's see what macro- and micronutrients our sweet Pugs need to flourish!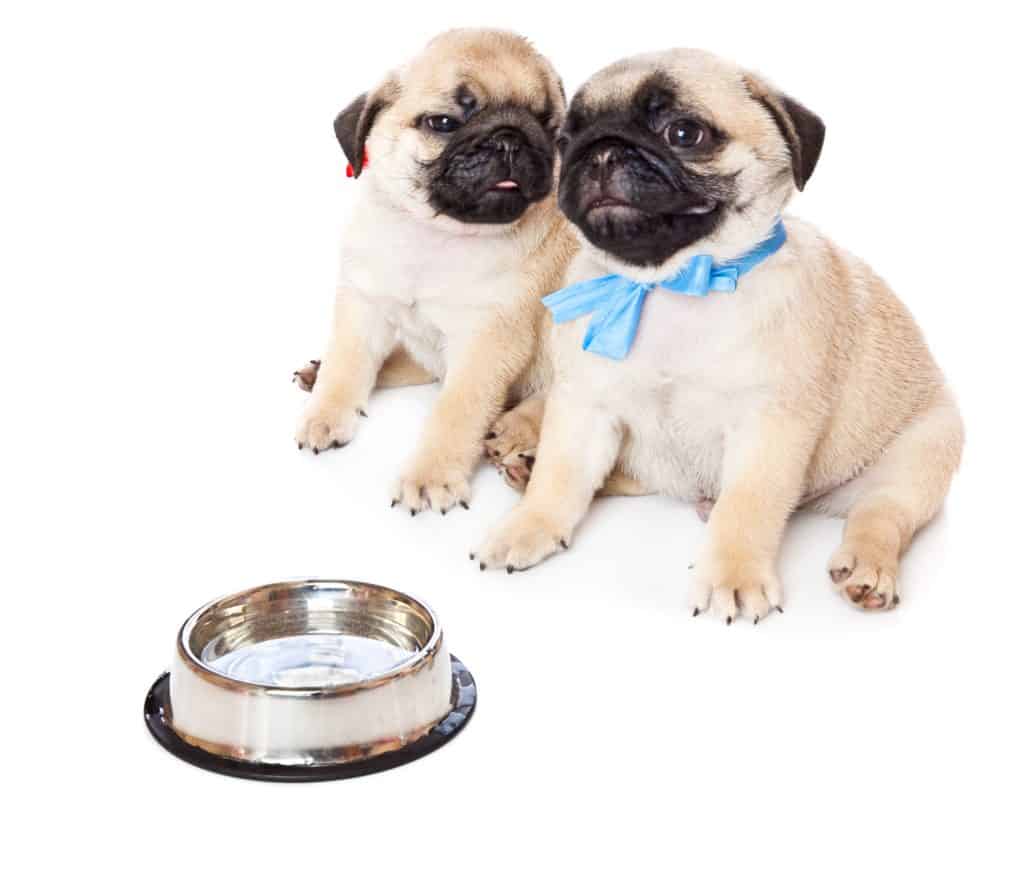 What's Inside The Best Food For Pug Puppies?
The two top macronutrients to look out for in any Pug food — any dog food at all, really! — are protein and fat. Because Pug puppies need plenty of amino acids and fat to form muscle, they thrive on kibbles with high protein and fat percentages.
The minimum recommended protein for puppies is 22%, according to the AAFCO. Because it's perfectly safe to aim a little higher than this, the best food for Pug puppies will offer between 25 and 30% protein.
A good percentage of fat will lie between 15 and 17%. In contrast to carbohydrates, fats offer sustained energy between meals, so try to ensure that they get good-quality fat from named sources.
Your puppy's energy daily requirements are going to decrease as he matures. Because his activity level will also determine his appropriate calorie intake, this may vary between 400 and 1000 k/Cal daily.
The best Pug puppy food will include nutritious DHA, a beneficial dietary supplement for all pups. This can be found in fish oils as well as special supplements in the food.
Pug Dog Food for Adults
Feeding your Pug puppy food once he's past his growth period is not recommended. Rather than nourish your pooch, the higher calorie count may put him in danger of becoming overweight. Instead, look for a Pug food that has:
Between 9 and 15% fat;
At least 20% named, healthy proteins; and
Glucosamine — either from natural animal sources like meat meal or fish oil or from recognizable supplements.
When it's time for your Pug to transition to grown-up kibble, make sure you set aside enough time for the switch. Try to do this gradually over the course of a week, mixing up ratios of grown-up and Pug puppy food so that your best friend won't experience too much of a change at once.
How Much Should I Feed My Pug?
It's best to think about the 'right' amount of Pug food in terms of calories, rather than how full his or her bowl is. Always consider your dog's weight and how much energy he is burning each day — active dogs burn more calories and sedentary (or mostly indoor) dogs burn fewer.
Our dog food calculator is a simple way to work out your Pug's recommended daily energy intake. Simply pop in your Pug's body mass, activity level, and whether he's a puppy or grown dog. With the total daily k/Cal figure, you can then decide how much wet or dry food to feed your pooch. You'll find it much easier to mix up toppers, stand-alone canned meals, and dry kibble when you work backward from this daily requirement!
Keep Your Pug At A Healthy Weight
Due to pugs being a brachycephalic breed, it's even more important than other breeds to keep them at a healthy weight range. Obesity can cause them to have difficulty breathing or struggle to catch their breath during activity, which can lead to a difficult life for your furry friend.
Be sure to only offer them a puppy diet until they are 9-12 months of age, stick to recommended portion sizes, and offer a diet filled with natural and beneficial ingredients.
The Best Pug Food: Brands We Love
If you can, try to pick out Pug dog food that comes from a reputable manufacturer. There are plenty of less established brands on the market, but the most economical kibble will not always be the safest or the highest quality. Here are some brands that make the best food for Pug puppies:
The Best Dog Food For Pug Puppies
Here are our top picks for the best Pug puppy food!
Instinct Raw Boost Small Breed & Toy Breed Grain Free Recipe Natural Dry Dog Food
Pros
Includes chondroitin alongside natural glucosamine that comes from duck meal;
Gives your cute puppy at least 36% protein;
Uses cage-free duck as the very first ingredient;
Contains skin-protective Omega fats, which will also benefit your puppy's gorgeous coat; and
Probiotic cultures are included to aid your Pug's digestion.
Cons
This product is priced slightly higher than a lot of other Pug puppy foods.
Our Verdict: 5/5
A 100%
grain-free
recipe will keep gluten-free Pugs satisfied while giving them optimal quantities of muscle-building protein and fat for energy. With 1.4% calcium and glucosamine, your little pooch's joints will be well taken care of.
Victor Classic – Hi-Pro Plus, Dry Dog Food
Pros
You'll find 30% protein is enough for even the most active Pug puppies;
These proteins are both lean and varied — with chicken, pork, fish, and beef, your best friend won't be relying too much on one key ingredient;
The Menhaden meal in here provides DHA to help boost your puppy's vision;
It contains zinc, selenium, and Vitamin E for a beautiful Pug coat; and
No synthetic preserving chemicals are used.
Cons
Contains grains — not a disadvantage necessarily, but important for owners to note!
Our Verdict: 4.5/5
Delicious and wholesome, this protein-packed kibble is full of nutrients for maximum doggy health. If your Pug loves a meaty mix of savory flavors, this is a top choice. And, the small pieces make for comfortable eating!
Eagle Pack Natural Dry Dog Food Small Breed Dog Food
Pros
This formula offers 27% protein, none of which comes from animal by-products;
Thoughtfully-selected grains like brown rice and oatmeal provide your puppy with fiber and help him digest his chow;
Contains flaxseed, giving your growing Pug some Omega-3;
14% fat helps your puppy stay active through the sustained release of energy; and
It's USA-manufactured with natural, healthy ingredients.
Cons
There are peas in here, but besides that, no leafy or colorful garden veggies.
Our Verdict: 4.5/5
Whether you've got an active or relatively laid-back Pug, they'll benefit from this complete formula. Antioxidants from the included supplements will assist in your little one's daily functioning and help him combat disease with stronger immune responses.
Best Pug Food For Grown Dogs
Time for grown-up food? These are some very popular choices for Pug owners, from respected brands.
Merrick Classic Small Breed Dry Dog Food
Pros
Boneless chicken, salmon meal, turkey meal, and quinoa all provide essential amino acids for a total 30% protein;
Fortified with glucosamine, this recipe is ideal for breeds like Pugs which need a diet to counteract joint conditions;
With 15% total fat, this helps slower energy release so your Pug can get active!
Contains no potato, so it has a lower GI; and
Includes delicious, vitamin-rich blueberries, carrots, and apple to provide antioxidants and fiber.
Cons
Not suitable for dogs on a grain-free diet.
Our Verdict: 5/5
This is definitely a top Pug dog food for grown pooches. With high-caliber, whole ingredients, your dog will get a balanced array of minimally processed nutrients — and we love the rich glucosamine content!
Wellness Core Natural Grain Free Dry Dog Food Small Breed
Pros
You'll find delicious broccoli, apple, carrot, kale, sweet potato, and other fiber-packed veggies in here;
It's full of vitamins for optimum maintenance, and to keep your grown dog full of healthy energy!
Uses 54% protein-rich ingredients such as chicken meal for a total 36% protein;
Glucosamine supplements have been added to safeguard your Pug against hip dysplasia; and
Uses only natural colors and flavorings.
Cons
Nope — this has got to be one of the best Pug foods out there!
Our Verdict: 5/5
Wellness CORE is exceptionally popular with both
large
and small dog owners. Reasonably priced and balanced, this small-breed recipe is 100% complete for your little Pug.
Royal Canin Breed Health Nutrition Pug Adult Dry Dog Food
Pros
Includes fish oil, a natural glucosamine source for better joint protection;
Helps your mature Pug combat or delay hip dysplasia;
L-carnitine in this blend aids energy production for a healthy lifestyle;
Omega fats assist in your little Pug's skin and provide coat support; and
Gives at least 23% protein and 14% fat — good percentages for grown-up Pugs.
Cons
Contains common dog food fillers such as brewer's rice, corn gluten meal, and milled by-product from poultry.
Our Verdict: 3.5/5
This recipe has a proprietary, specially-developed kibble structure which makes mealtimes more simple for our brachycephalic pooches. If you're looking for a similar dinner that's designed for growing canines, Royal Canin Pug puppy food is also an option.
FAQ
My Pug puppy snores quietly when he's asleep. Is something wrong with him?
Pugs are infamous for snoring! Your Pug is a brachycephalic dog — like a Bulldog, Boston Terrier, or Peke, this means he has a short muzzle and somewhat flatter airways than some other breeds. Because of this, Pugs tend to breathe loudly, wheezing and snorting while awake, then snoring while they sleep. Usually, it is no cause for alarm, and is just a mild annoyance if you're also trying to sleep nearby!
We do, however, suggest that you consult his vet if the snoring starts to change, grow louder, or if you have any reason to think it might not be normal. No dog is immune from complications, and there may be steps that a professional can suggest to help your Pug if he's suffering in any way.
Can you tell me a little bit more about duck as an ingredient?
Like most other dog food meats, you will commonly find duck in its whole form, or as a dry duck meal. 'Whole' duck won't technically mean the entire duck is included — this term generally refers to boneless or freeze-dried duck meat. Usually, it will feature as the top ingredient in any quality Pug food which claims to be duck-flavored, and it because it is fresh it will contain a considerable amount of water.
Duck meal is another popular ingredient that is more protein-rich per unit weight than fresh duck meat. Some feel that because it's dehydrated, it's not as natural as boneless or bone-free duck, but the higher protein can also be an advantage. On the whole, and in either form, duck is a lean protein which also contains minerals and essential vitamins. It's easily broken down and absorbed by their digestive systems, and can be a nice change from chicken!
Helpful Links
Last update on 2023-01-25 / Affiliate links / Images from Amazon Product Advertising API