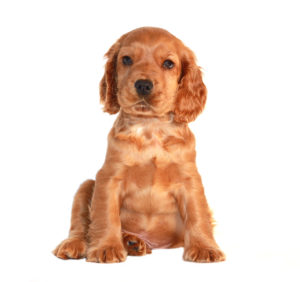 With their sensational coats and easygoing nature, Cocker Spaniels are a super-popular breed among US dog-lovers. Their fluffy ears and inquisitive eyes make them irresistible for cuddles, but they're also lots of fun out of doors thanks to their sporty natures. If you've just adopted a Cocker or welcomed a new puppy into the family, this helpful resource that will help you select the best dog food for Cocker Spaniels.
Quick Review: Top-3 Dog Foods For Cocker Spaniels
Weruva Grain-Free Natural Dry Dog Food

With birds without a cage and without GMO
Made in Canada to comply with stringent safety and quality regulations
Gives a nice 38% protein for strong muscles

Wellness Simple Natural Dry Dog Food

Offers 25% protein, 1.75% Omega-6 acids, and 1% Omega-3 acids
He seeks to maintain your dog's energy
Suitable for both large and small cocker spaniels

Rachael Ray Nutrish Little Bites Natural Dry Dog Food

Made in the USA
It helps your little cocker spaniel's dental hygiene.
Omega fats are also included
What's Special About The Best Food For Cocker Spaniels?
Cocker Spaniels are sporty little creatures, and this requires a diet that's high in healthy macronutrients. The core building blocks of any dog's diet are protein and fat, which the very best dog food for Cocker Spaniels will offer in the form of fish, red meat, or poultry ingredients.
Natural Ingredients, Healthy Ingredients
For your pup's best health, try your utmost to buy kibble which is natural, or natural with supplemented minerals. Natural ingredients will typically indicate that a kibble contains no rendered or processed ingredients – here are some examples:
Look for boneless turkey, chicken, or lamb vs. turkey, chicken, or lamb by-product meal;
Aim to avoid any meats which are 'rendered' on the label;
Pick recognizable fats such as chicken fat, salmon oil, or sunflower oil instead of lard, tallow, or animal fat; and
Try to stick with food that guarantees only natural preservatives and flavors.
Unique Cocker Spaniel Features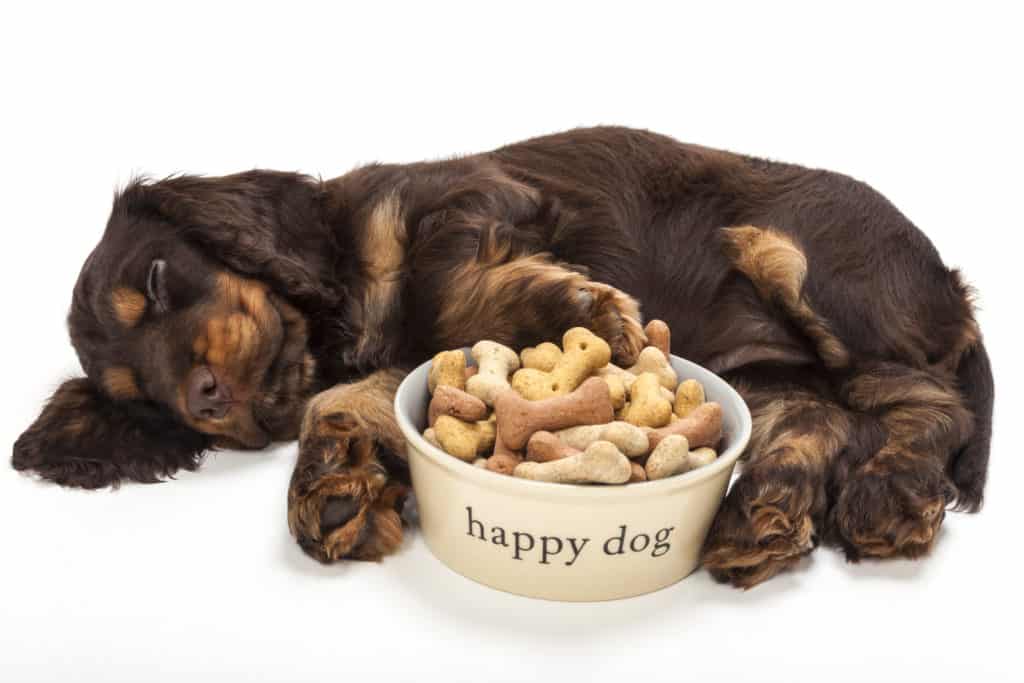 New owners may soon realize that food pickiness and shedding a lot are two of the most usual Cocker Spaniel quirks.
When it comes to Cockers, you may be relieved to hear that the first is quite frequently due to a kibble's size rather than its taste. Cocker Spaniels come in two main sizes – American Cocker Spaniels are smaller than English Cockers on the whole and may struggle with kibble that the latter have no problem with. Because Cockers tend to be quite relaxed and laid-back by nature, you can often quite easily fix a picky eater's problems by finding a smaller kibble or one that is more fitting for their little jaws.
Cocker Spaniels are also born shedders: they quite regularly shed old fur and grow new hair in its place, leaving their owners with a fluffier carpet than they remembered buying at the store. This is natural, but you can still try to control a bit by choosing food that's good for their skin and coat. Skin- and coat-healthy food typically includes minerals such as Vitamin E, selenium, and zinc, as well as Omega acids, which can be found in certain fish and seed oils. We've made sure to highlight these in the reviews below!
What Nutrients Should It Contain?
Your Cocker Spaniel's food will change as he progresses through different life stages. Here's how to know what your pooch needs…
While he's young…
Younger Cockers are energetic and playful by nature. As well as this, their energy requirements are quite substantial and they need optimal amounts of the right nutrients to keep them growing at the right pace. As you're shopping for the best Cocker Spaniel puppy food, you should rule out anything with less than 24% protein or 10% fat.
As he grows more mature…
Your Cocker Spaniel should be cutting back on his fat and protein consumption by several percentage points when you observe him approaching a full, adult size. At this point in his life, he won't have any more development processes to fuel, so a minimum of 9% fat and around 18-19% protein is ideal.
Cocker Spaniels have a lovely long life span of around 13-15 years on average. To ensure that they stay in great health throughout their more mature years, you may want to check in with his vet to see if they recommend a change in diet to a food that is suited for seniors.
The Best Ingredients To Look For In A Cocker Spaniel Diet
While we already glossed over some of the important ingredients to look for in your cocker Spaniel's diet, let's dive into each of those ingredients and discuss their importance. Your Cocker Spaniel's diet should include:
Quality protein: Like we mentioned earlier, one of the most important ingredients in your Cocker's food is the source of protein. The best sources of protein are derived from real chicken, real lamb, real fish, and any other type of animal protein source. Quality protein sources help your dog maintain lean muscle mass and help them carry out their normal body processes.
Quality carbs: Carbs are a great source of energy for our canine friends. Just like in a human diet though, not all carbs are healthy. The best carbohydrate sources are from nutritious ingredients like sweet potatoes, fruits, and veggies. If you fear that your Cocker Spaniel has a grain allergy, you can certainly find grain free foods that offer safe carbohydrates for your pup.
Quality fats: Quality fats are extremely important for Cocker Spaniels as they are known to experience skin irritation and fur loss. Quality fats such as those from fish or flaxseed help to restore skin health, strengthen bones, and support immune health.
Quality minerals & vitamins: Every dog food diet should state the addition of essential minerals and vitamins to carry out normal body functions. It's also helpful to find a diet that includes glucosamine, omega fatty acids, and any other beneficial ingredient that can improve your Cocker Spaniel's life.
How much should you feed your Cocker Spaniel by age?
In order to make sure your Cocker Spaniel is receiving the adequate amount of food for their age range, we'll cover the recommended calorie intake for each age range in your Cocker Spaniel.
Puppies: For Cocker Spaniel puppies that are weaned and aged at 2 months to 6 months, they should be taking in 200-300 calories each day. Puppies aged 6 months to 1 year of age should be taking in 400-600 calories each day. This will also depend on how active your puppy is. If they are always on the go and running at 100mph at all times, you can of course increase their calorie intake a bit.
Adults: Though adult Cocker Spaniels are no longer going through any major growth spurts, they are still an active breed that will need a higher calorie intake. Cocker Spaniels from the age of 1-7 should take in anywhere from 800-1,100 calories each day. If at any point your Cocker Spaniel is experiencing weight gain or weight loss, you can speak with your vet about diet guidelines that fit your individual pup.
Senior: Since your Cocker Spaniel will likely slow down as they enter their senior years, it's time to decrease their daily calorie intake. Their calorie allowance should then switch to 750 to 900 calories per day, and should include fatty acids for joint support and immune health.
How many times a day should you feed your Cocker Spaniel?
When you welcome your new Cocker Spaniel into your home, you may wonder how often they should receive their daily meals. While each dog will vary, it's best to split their recommended calories into two meals each day.
Eating once a day can cause your pup to become hungry at night, while feeding your pup three meals each day can be tough on some to accommodate on some schedules. Due to all of this, two meals each day is easily attainable and will keep their Cocker Spaniel happy!
Best Food For Cocker Spaniel: Brands We Love
Our research always aims to cover the best possible choices for as many dogs as possible. Because Cocker Spaniels can be picky eaters and shed, as mentioned, we've come up with a few key brands that offer sensitive skin and sensitive tummy formulas. They are:
With all these brands, you can know that your Cocker Spaniel puppy or adult is eating safe, quality kibble that meets the AAFCO's requirements for their unique stage of life.
Best Food For Cocker Spaniel Puppy
After the best puppy food for Cocker Spaniels? Here are our team's hand-picked choices for your beloved sidekick's physical health.
AvoDerm Natural All Life Stages Dry & Wet Dog Food
Pros
Crafted with an Omega acid-rich formula, this is designed to boost your puppy's skin health and keep his fur looking smart!
Totally without any wheat or soy;
Avocado is full of fiber, antioxidants, and heart-healthy fats for your puppy;
Fortified with a range of chelated minerals and vitamins for optimal immune systems; and
A delicious meaty taste that your puppy won't be able to resist!
Cons
This does include grains like white rice and oatmeal.
Our Verdict: 4.5/5
Zinc and a generous serving of Omega fats will both help reduce excess shedding that results from unhealthy skin. And with 404 calories in each cup, your beautiful puppy will have plenty of energy – to play fetch for longer!
Weruva Grain-Free Natural Dry Dog Food
Pros
Linoleic acid and nutritious salmon oil are included for your little puppy's shiny coat and healthy skin;
With cage-free birds and non-GMO ingredients, this is a pretty natural recipe;
Includes vitamin-rich seaweed, peas, lentils, and alfalfa to combat deficiencies and keep your pet full of energy;
Made in Canada to comply with stringent safety and quality regulations; and
Gives a nice 38% protein for strong muscles.
Cons
Our Verdict: 5/5
Priced affordably and with everything you could ask for nutrition-wise, this Weruvya natural Cocker Spaniel food comes with resealable packaging for added convenience. Lots of owners have given this great reviews as a top choice for picky dogs!
CANIDAE Grain Free PURE Dry Dog Food Puppies
Pros
There are no gluten-containing grains here;
Your puppy gets DHA, protein, and Omega acids from egg, as well as all the meaty goodness of bone-free chicken;
Lots of glucosamine helps keep your cute Cocker pup's joints strong and supple;
Includes digestion-promoting bacteria, a nice touch for sensitive puppy stomachs; and
There's also 30% protein from top-quality ingredients.
Cons
There are lentils and peas in here, but no fruits or leafy garden veggies.
Our Verdict: 5/5
This CANIDAE recipe combines low-GI carbs with wholesome animal and fish proteins. It offers glucosamine, DHA, prebiotics, and is
grain-free
. An all-round solid choice for those super-important early years of a dog's life!
Best Food For Cocker Spaniel Adults
In this section, we've reviewed the best formulas for more petite American Cocker Spaniels, medium-sized English Cockers, and the best dog food for Cocker Spaniels with allergies.
Rachael Ray Nutrish Little Bites Natural Dry Dog Food
Pros
USA-made with ingredients from all over the world (except China) for maximum quality;
Zero rendered by-products or synthetic preservatives — it's a natural recipe;
Protein-rich, US whole chicken is the main meat ingredient;
With a crunchy kibble formula, it aids your little Cocker Spaniel's dental hygiene; and
Omega fats are also included, which is a plus for a breed which loves to shed!
Cons
Contains soybean meal and corn.
Our Verdict: 4.5/5
On the whole, Rachael Ray dog kibbles are very nutritious and of a dependable, high quality. The ingredients in this
small-breed
recipe are chosen for the high-energy requirements of a sporty, small dog that loves to play. Including your little Cocker!
Wellness Simple Natural Dry Dog Food
Pros
This contains no chicken, beef, or poultry whatsoever – the only protein you'll find in here is salmon;
Chicory root is an unprocessed prebiotic that will promote better gut health in your little Cocker;
Offers 25% protein, 1.75% Omega-6 acids, and 1% Omega-3 acids;
With 12% fat and cautiously-chosen carbohydrates, it aims to keep your dog's energy at a good, sustained level throughout the day; and
It is suitable for both larger English and smaller American Cocker Spaniels.
Cons
Unfortunately for some dogs, it Includes potato.
Our Verdict: 4.5/5
We consider this some of the best dog food for Cocker Spaniel with allergies because it only gives your pet one type of protein. With potato as the only common potential allergen, it's designed for gluten-intolerant dogs and those with
sensitive stomachs
or skin.
Royal Canin Breed Health Nutrition Cocker Spaniel Adult Dry Dog Food
Pros
A tailored kibble structure allows your mature dog to get hold of his biscuits and chew them without a struggle;
Designed to help manage your dog's weight and keep it at a healthy level;
23% protein and 12% fat are ideal for grown-up Cocker Spaniels;
Specially formulated with fish oil that gives your pooch Omega fats and helps maintain good eyesight; and
Supplemented with all the micro- and macronutrients that your sporting dog needs to perform at his best!
Cons
This contains brewer's rice, by-product meals, and a few other ingredients.
Our Verdict: 3.5/5
Pure-bred Cocker Spaniels have square jaws and unique muzzles – and the vets at Royal Canin have designed a special kibble just for them! With optimal protein, fat, and trace nutrient levels, it's specially formulated for your pet Cocker!
FAQ
My Cocker Spaniel puppy sheds so much more than my Shih Tzu, is something wrong with her?
Cocker Spaniels are notorious shedders – their fur often finds its way into places you'd never expect! This is just how most Cocker Spaniels are physically built, and it's generally recommended that you groom your dog to keep this under control. Grooming your Cocker Spaniel means brushing her fur on a regular basis, several times a week. You can use a special fine-tooth brush or comb to proactively remove excess fur before it drops out by itself onto the carpet, but you will probably still need to vacuum!
In some instances, it can help to ensure she is eating a Cocker Spaniel food which contains fish oil. This might keep her skin in good form and hopefully reduce any excess shedding above and beyond what is normal. Have a look at our article on the Best Dog Food for Shedding to browse more options!
What is a sporting dog?
Sporting dogs include Setters, Retrievers, Spaniels (like yours!), and Pointers. They were bred to help people with hunting activities like tracking and fetching, and some of these instincts are still quite obvious in our domestic pets. They tend to be active and may very much enjoy playing games that tap into these instincts. Fetch is one nice game that your Cocker Spaniel might like, and some more trained animals may enjoy obstacle courses.
Sporting dogs also make great family members thanks to their helpful natures, obedience, and love of playing. It's partly why they are some of the USA's most popular breeds!
Helpful Links
Last update on 2023-01-26 / Affiliate links / Images from Amazon Product Advertising API