Quick Review: Top-6 Hypoallergenic Dog Food
Iams Proactive Health

Lots of different and varied protein
Fruits give vitamins, such as C, B2, D3
It's totally without any grains

Natural Balance Limited Ingredient Diets

Potassium-rich for healthy hearts
Totally grain-free
For every adult doggy breed—large and small

ACANA Singles Limited Ingredient

For pups and adults can enjoy potato-free recipe
For small and bigger breeds can enjoy this formula
A generous 31% protein in each meal

Blue Buffalo Natural HF Hydrolyzed

Contains Omega acids from fish oil
Zero rendered ingredients, no grains
No synthesized chemicals for preservation

NUTRO Limited Ingredient Diet Wet

Uses non-genetically-modified foods
USA-made
In total, it has under ten ingredients

Nutro Natural Choice Limited Ingredients

You'll find DHA inside
Omega acids come from salmon oil
No potato
What is Hypoallergenic Dog Food?
'Hypoallergenic' refers broadly to anything that's unlikely to trigger an allergic reaction. You may have seen this on some skin products, or perhaps on baby products, where manufacturers carefully choose ingredients that will be gentle on our bodies. For dog foods, the idea is the same – the ingredients in hypoallergenic dog food will often be those which are least likely to cause an unwanted reaction.
But here's where owners often get a little confused, and understandably so.
Hypoallergenic Can Mean Different Things
One dog or puppy may get gas or have a sore tummy from a diet, even though he is eating hypoallergenic food. His brother, friend, or sister may have no problem at all with it. Why?
Because all dogs are different, and 'hypoallergenic' can mean different things to each dog. Let's look at one example:
A: Fido eats potato and chicken, and he has no problem with either of them.
B: Bonzo eats potato and chicken. He's fine with chicken but feels sick when he eats potato.
For both dogs, chicken is hypoallergenic. For Bonzo, potato is not.
Let's look at why some confusion still exists…
Hypoallergenic vs Limited Ingredient Dog Food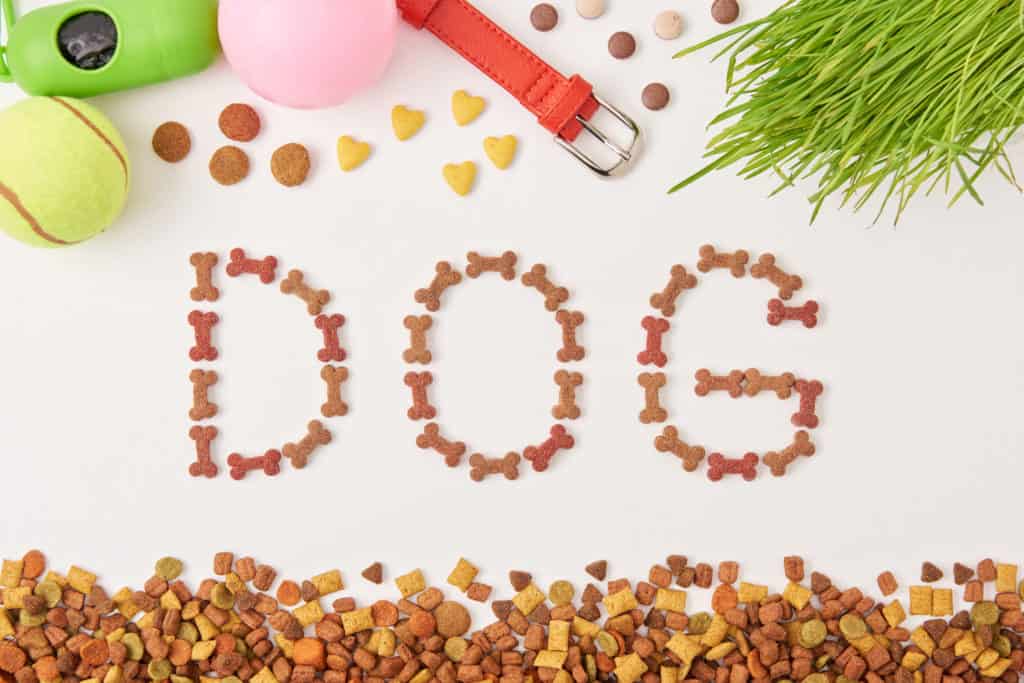 'Hypoallergenic' is used to refer to different things. Sometimes, the term is used to refer to dog foods which have only 'novel' animal proteins – ingredients that most dogs won't be sensitive to. Sometimes, it's used as a label for food that contains proteins which have been broken down into their smallest possible form.
Why are proteins broken down, or hydrolyzed, like this? Without getting too scientific, an allergic dog's body has learned to respond or react (in a negative way) to certain chemical compounds in specific foods. When these compounds are hydrolyzed, it means the protein molecules in your dog's food are no longer in a form that will trigger allergic reactions. Nice, right?
Limited ingredient food, on the other hand, doesn't go through any complicated scientific processes like hydrolyzed food does. It simply keeps the number of ingredients in your dog's food to a minimum. This way, it's easier for you to know what he is, and is not eating. Got a dog that can't eat potato? With limited ingredient food, you won't have to scroll through a long list of ingredients to figure out whether there's anything potato-related in there.
Does My Dog Need Hypoallergenic Dog Food?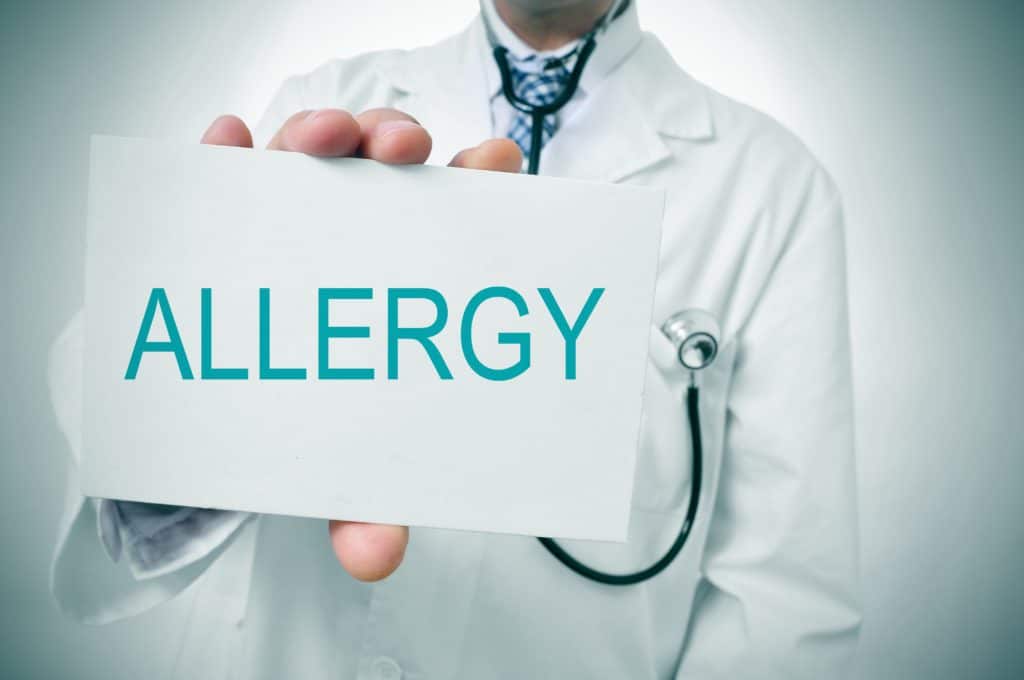 Your puppy or dog will probably need to be on hypoallergenic dog food if you suspect that he or she is intolerant or allergic to a certain ingredient (or ingredients). There are a few common signs that your beloved pet is not reacting well to something, and these may include:
He has a bloated tummy after mealtimes;
Gassiness, cramps, or wind;
Throwing up;
Tummy upset;
Diarrhea or constipation;
Skin irritations, such as itching, scratching, or redness; and
Chronic ear infections; and
Fur falling out.
These can be very distressing for a loving dog owner to witness, so if you can, it's a good idea to take your fluffy pal to the vet as soon as possible. Very often, a vet may recommend a limited ingredient dog food, so it helps to know what kinds are on offer.
What Brands Make The Best Dog Food For Allergies ?
Dog allergies and intolerances come in so many different forms, which is why we've searched far and wide to get as many of the best possible options we could find. You may find some brands that you're not yet familiar with in our reviews, but the same old favorites keep on popping up every time!
Our favorite brands which produce hypoallergenic dog food and limited ingredient options include:
In all the reviews here, we've tried to include both some puppy and adult food options. But at the end, you'll also find a special section dedicated to puppies, and one for those dogs who love a wet food dinner!
Best Dog Food For Skin Allergies
Purina One Smartblend Natural Formula
Pros
The first ingredient in Purina One Smartblend is chicken;
Contains peas and carrots for iron and Vitamin A;
Omega acids help your pooch maintain a sleek, lovely coat; and
Protein at 26%.
Cons
Includes some by-products, although these are a key glucosamine source; and
Contains corn, other maize-related products, and wheat.
Purina Pro Plan FOCUS Sensitive Skin & Stomach
Pros
Made, of course, with real yummy salmon as the primary source of animal protein;
Contains healthy fish oil, which aids in combatting joint problems;
Supplemented with skin-healthy Vitamin E, in addition to the Omega 6 and 3 acids that are found in salmon;
26% protein, a nice amount for dogs who are already all grown up; and
1% calcium, for lovely, robust and strong bones.
Cons
Some brewers yeast has been used in this Purina formula, which some dog owners prefer to avoid for its reputation as a 'filler' ingredient.
Wellness Complete Health Natural Dry Large Breed
Pros
Suitable for pooches of 50 pounds and upward;
Offers not only salmon meal for Omega acids but also E Vitamin Supplements;
Zero grains;
Has real fruit and colorful vegetables;
Has antioxidants, too, for an immune-system boost!
Cons
Sadly, dogs who can't eat chicken will need to try a different recipe.
Hill's Prescription Diet z/d
Pros
Contains hydrolyzed ingredients-chicken liver, in this case-to reduce the risk of allergic reactions in your pooch;
Gives adult dogs 19% of healthy protein;
This Z/D formula has great reviews from pet owners with itchy or inflamed pets; and
As it's so frequently prescribed by vets, it's developed quite a good reputation for alleviating the symptoms of sensitive skin.
Cons
Developed by professionals and vets alike, you'll find that the price for this Hill's food is considerably high compared to regular dog foods.
Iams Proactive Health Adult GF
Pros
Lots of different and varied protein sources will give your dog a tasty dinner-expect fish, chicken, peas, and egg;
Real green and multi-colored veggie sources in this Proactive dinner, including carrots and spinach;
Fruits also give your best friend a hearty serving of vitamins, such as C, B2, D3, and more;
It's totally without any grains; and
Those omega acids will also help contribute to your dog's shiny coat!
Cons
While all different breeds and sizes can enjoy this Iams formula, it's only for adult dogs.
Best Chicken-Free Dog Food For Allergies
Merrick Limited Ingredient Diet
Pros
347 calories in each cup, a healthy figure for…well, a healthy doggy figure!
Various diverse protein sources, but not a chicken in sight;
Made with natural antioxidants which come from flaxseeds;
It's even potato-free, too; and
Completely without gluten.
Cons
Nope, we're huge fans of this healthy, nutritious limited ingredient option!
Natural Balance Limited Ingredient Diets
Pros
Potassium-rich for healthy hearts;
You'll find this also contains Omega acids from succulent salmon;
Totally grain-free, so it won't trigger any gluten-related problems;
Natural Balance, as a brand, is well-known for carrying out pretty stringent safety and quality tests on its products; and
It's designed for each and every adult doggy breed-large and small!
Cons
This blend is only really suitable for those adult dogs. Puppies and growing pooches will not get sufficient protein or calcium from this blend.
Wellness Simple Natural Limited Ingredient
Pros
This recipe includes healthy bacteria to promote easy and smooth digestion;
Made with natural ingredients, so there haven't been any by-products used;
Zero of the corn or wheat additions that can sometimes trigger gluten intolerances;
All-natural additives only have been used to preserve and flavor this Simple product; and
USA-made!
Cons
Natural Balance Limited Ingredient Diets
Pros
Smaller, cuter kibble pieces let your puppy chew this food much more easily;
Contains no chicken (or chicken-related ingredients) whatsoever;
24% protein is a nice, healthy amount for growing puppies;
Made with a special formula that includes DHA for optimal development; and
Both Omega acids 6 and 3 will help your puppy maintain good skin care.
Cons
With only one ingredient, you may want to mix the menu up for your puppy once in a while.
Taste of The Wild Grain-Free Premium
Pros
Delectable smoked salmon flavor gives your pup a lovely refreshing break from common ingredients (including chicken!);
USA-made, with zero unwanted filler add-ins;
Contains no grains at all;
Offers your little pup a natural source of healthy DHA; and
Made with other animal proteins, too, such as venison and beef.
Cons
Contains some potato products.
Best Potato-Free Hypoallergenic Dog Food
Purina Pro Plan SPORT Formula
Pros
Real chicken, and not by-products, are the key source of muscle-building protein;
Made with joint-healthy glucosamine, which is super-important for lots of different doggy breeds;
One source for this glucosamine is fish oil; and
At 30%, it's protein-rich enough for fast puppy growth.
Cons
Contains grains, as well as chicken, of course; and
Some by-products have been included for their glucosamine content.
Ultra Dry Dog Food – Puppy & Adult
Pros
23% protein, suitable for both adult dogs and some pups;
Contains zinc for healthy canine coats and skin;
Lamb, salmon, and chicken offer your best pal some nice variety while avoiding over-exposure to any one ingredient;
It's packed with healthy superfoods, such as spinach and chia seeds; and
It's great for all dog and puppy sizes!
Cons
Some puppy owners may prefer food which offers slightly higher amounts of protein.
ACANA Singles Limited Ingredient
Pros
Both pups and adults can enjoy this potato-free recipe, as it's crafted with the crucial ingredients for all different stages of doggy life;
Also, small and bigger breeds can enjoy this formula, which contains DHA and glucosamine;
A generous 31% protein in each meal;
60% of the ingredients in this food are either raw, fresh, or dried; and
There are healthy servings of Omega acids to boost, boost, boost that doggy coat!
Cons
This Acana food may be a little expensive for some owners' preferences.
Natural Balance Limited Ingredient Diets
Pros
32% protein with beef as the top meat ingredient;
This is also actually an entirely chicken-free blend;
Made with only two different sources of carbohydrates;
Features flaxseeds for an antioxidant boost; and
Lovely E Vitamins for healthy doggy skin!
Cons
This formula contains beef, which some dogs cannot tolerate. Always ask your vet for advice if you feel your dog is not doing well on his food, hypoallergenic or otherwise.
Earthborn Holistic Venture Grain-Free
Pros
With only three ingredients making up 96% of this mouthwatering recipe, this really is a limited ingredient recipe;
That doesn't mean it's light on the nutrients, however, with zinc for skin, manganese, calcium, and more;
Zero dubious fillers in here, and no by-product nonsense either;
No gluten, no potato; and
26% healthy protein.
Cons
Sorry little puppies, this food is for grown-up dogs only!
Limited Ingredient Food With Hydrolyzed Protein
Royal Canin HP Hypoallergenic Hydrolyzed Protein Dog Food
Pros
Contains broken-down proteins, in a form that is much less likely to trigger unpleasant allergic reactions;
Suitable both for little pups and their adults;
This is also a nice source of glucosamine-rich fish oil;
All doggy shapes and sizes can enjoy this dinner-that means big breeds, smaller dogs, and even toy breeds of 4 pounds; and
Soft on our little doggies digestive systems!
Cons
While it's formulated as food for all different life stages, it contains 19% protein, which may be somewhat low for some puppies.
Purina HA Hydrolyzed Dog Food
Pros
Supplemented with loads of Vitamins, so your dog doesn't miss out on the essential good stuff that regular food provides;
Hydrolyzed protein can help avoid or prevent allergic reactions in even very sensitive or allergic dogs;
Purina always uses stringent quality controls, and enjoys a great brand reputation for doing so;
USA-made; and
AAFCO-approved both for growing and grown pooches.
Cons
18% protein only, perhaps slightly low for developing, growing puppies.
Blue Buffalo Blue Natural Veterinary Diet HF Hydrolyzed
Pros
24% protein;
Contains Omega acids from nutritious and natural fish oil;
Real pumpkin and kelp offer fiber for digestion, and vitamins for healthy functioning;
Zero rendered by-products ingredients, no grains; and
No synthesized chemicals for preservation or flavor.
Cons
While this is a really excellent healthy option, it is priced quite highly.
Diamond CARE Recipe Specialized Diets for Dogs
Pros
22% protein, great for older and grown-up dogs;
Skin- and coat-healthy acids from salmon aid in protecting your pooch's first layers of immune defense;
Limited ingredients (there's also zero gluten);
E Vitamins also play a role in keeping your dog's coat healthy; and
They contribute to a well-functioning immune system.
Cons
Not really, it's even quite an economical choice, considering that it is specially formulated.
Limited Ingredient Dog Food: Wet Food Reviews
NUTRO Limited Ingredient Diet Adult Wet Dog Food
Pros
Uses non-genetically-modified foods, for a natural take on limited ingredient food!
No synthetic colors, artificial chemicals for flavoring, or chemical preserving agents;
USA-made;
In total, it has under ten ingredients; and
Includes zero chicken products at all-that means no by-products, either.
Cons
While there are no chicken ingredients or wheat ingredients, there's potato in this recipe.
Royal Canin Hypoallergenic Hydrolyzed Protein
Pros
Fish oil in this Royal Canin hypoallergenic dog food means your pooch will get glucosamine;
The smallest pooches, all the way up to the largest gentle giants can eat this food, so you won't need to buy loads of cans if you have more than one dog;
It's specially formulated to reduce gastrointestinal upset (also known as tummy aches!);
Developed especially for dogs who have a known allergy to certain foods; and
It can even be used for short periods for feeding trials.
Cons
This contains chicken liver, so is not suitable for dogs who can't eat chicken!
Ziwi Peak Grain-Free Canned Dog Food Recipe
Pros
Lamb and mussels (yes mussels!) are the main meaty ingredients – now that's definitely a novel protein combination;
Zero chicken;
No gluten-containing grains, either;
No potato; and
There is 92 percent fresh meat, bones, and organs.
Cons
None that we can find, it comes as a chunky, tempting loaf for your puppy or dog!
Limited Ingredient Dog Food: Puppy Food Reviews
CANIDAE Grain Free PURE Dry Dog Food
Pros
Fish meal, egg, lentils, and genuine chicken are four of the simple, nutritious ingredients in this formula;
Suited for puppies of between 5 and 100 pounds;
Contains antioxidant-rich flaxseeds;
Omega acids and Vitamins make this an appropriate dog food for sensitive skin; and
Includes many of the essential minerals for proper puppy function and growth.
Cons
This is a slightly higher price than some other well-known brands; and
Of course, it's not suitable for pups who can't tolerate potato or chicken.
Merrick Grain Free Puppy Food
Pros
Real blueberries and fiber-rich apples give your pup both vitamins and antioxidants;
Not one chicken- or poultry-derived ingredient to be found in here;
Safe for our gluten-intolerant little pooches;
Provides your growing pal with 28% protein; and
All the Omega acids and Vitamins for healthy puppy skin!
Cons
Contains some potato protein.
Nutro Natural Choice Limited Ingredients
Pros
You'll find DHA inside to help that cute puppy's brain develop;
Omega acids come from salmon oil, and are known for keeping pups' skin healthy;
24% protein;
No potato; and
Suitable for all differently sized pups!
Cons
Please note that there is fat from chicken in here; and
While there is no potato on the ingredients list, it's always best practice to contact the manufacturer if you have any concerns about cross-contamination.
Last update on 2023-09-15 / Affiliate links / Images from Amazon Product Advertising API